Last week, we announced the results of Gartner's first ever Magic Quadrant for Content Marketing Platforms. Not only were we a leader, but we were the highest positioned for both execution and vision. I've seen a lot of Magic Quadrants over the last few years, but I've never seen a result with one company so far up and to the right. I was incredibly proud of our team and thankful to our customers. This was a shared victory. Some of you may know that this tremendous outcome was a result of a decade-long journey, and I wanted to share how it unfolded.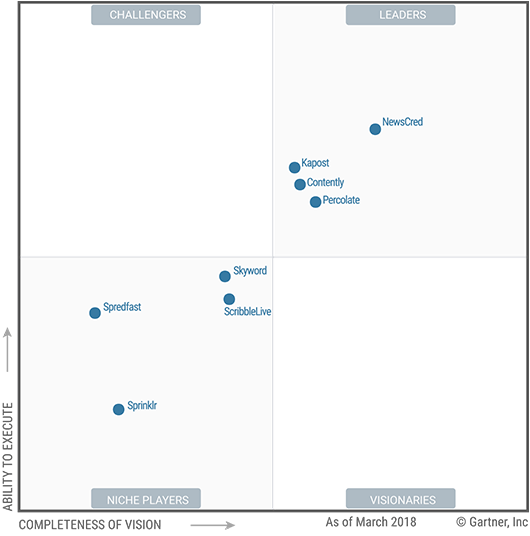 We started NewsCred a little over 10 years ago. A lot of us have spent the majority of our adult lives working on building this company. But one of our unique challenges (and also a huge opportunity) is that we are building a category and not just a company. A decade ago, content marketing was not a well-known marketing practice. There were no established budgets. There were no analysts covering content marketing. So what did we do? We spent the better half of a decade evangelizing and educating both brands, agencies, and analysts.
Over time, the category developed and matured. And one of the rewards of an established category is that analysts start covering it. A few months ago, Forrester scored NewsCred highest among content marketing platforms for B2B marketers. And now Gartner has done the same. Patience pays off. Coincidentally, I saw this post on Twitter earlier today, and it couldn't have summed up our journey better:
So much of building a great product is sticking together as a team, and doing it just long enough to see success. Leading the NewsCred team (both current and past) has been the greatest privilege of my life.
But, I have to say thank you to not just the team, but also to our customers and investors. Our early investors took a huge chance on us. Most investors put their dollars into massive industries where the addressable market is obscenely large. But in our case, there was NO market. Yet, they believed in us. We will be relentless in repaying them for the faith they put in us. A special shoutout to Mike and Ann at Floodgate, Amish at FirstMark, Rajeev at Mayfield, Doug, Liron, Alan, Brad, Chris and everyone else who saw potential in our vision.
Now let's chat about our customers. It's because of you that we can wake up and do what we love each and every day. Without customers, there is no company or market. Similar to our investors, our earliest customers took a big chance on us. Many of our earliest customers are still with us today. Their investment in NewsCred cannot be overstated. We've tried our very best to always listen to our customers and build products and services that solve real pains. It is with you that we initially built the NewsCred Content Marketing Platform. (Believe it or not, content marketing platforms did not exist before we created one based on our early customer feedback). We may be driving the car, but our customers often held the map and helped us find the path.
So what happens now? Well, we're still in the early innings of content marketing. Gartner's Magic Quadrant is a good indicator that the category has matured. But we're all still figuring it out together. There is a lot of excitement around content marketing, but we still have to focus on proving ROI, driving business results, and validating budgets to CEOs and CFOs. (We've invested heavily here.) We believe that as the clear and established leader, we have to continue to invest aggressively – in our product, in our company, and our employees. And we promise to always invest in the category to help our customers, prospects, competitors, analysts, agencies, and the market. It's a responsibility we take seriously.
If you're a marketer, we hope this news from Gartner will help give you confidence in your decision to not only invest in NewsCred, but validates the need to invest in content marketing, in general. Our vision is to help marketers publish exceptional content that drives real business results. If we are successful, we think we can make the internet better. It's a big, bold challenge, and I couldn't be more excited for our second decade as we continue to pursue our long-term mission.
Finally, a shoutout to our competitors. Congratulations on your inclusion in the report, and thank you for helping us build the category.
Read the full Gartner Magic Quadrant for Content Marketing Platforms report here.
Shafqat Islam is NewsCred's CEO and Co-founder.
This graphic was published by Gartner, Inc. as part of a larger research document and should be evaluated in the context of the entire document. The Gartner document is available upon request from NewsCred here.
Gartner does not endorse any vendor, product, or service depicted in its research publications, and does not advise technology users to select only those vendors with the highest ratings or other designation. Gartner research publications consist of the opinions of Gartner's research organization and should not be construed as statements of fact. Gartner disclaims all warranties, expressed or implied, with respect to this research, including any warranties of merchantability or fitness for a particular purpose.