It's that time of the year again. Yes, spring is upon us… but I'm referring to Gartner's release of its annual Magic Quadrant for Content Marketing Platforms.
And I couldn't be more excited to share that Welcome has been named a Leader and placed highest among all vendors — now for the 4th year in a row!
Additionally, we received the highest scores across all 3 Gartner use cases (B2B Demand Gen, B2C Demand Gen, and Complex/Distributed Marketing).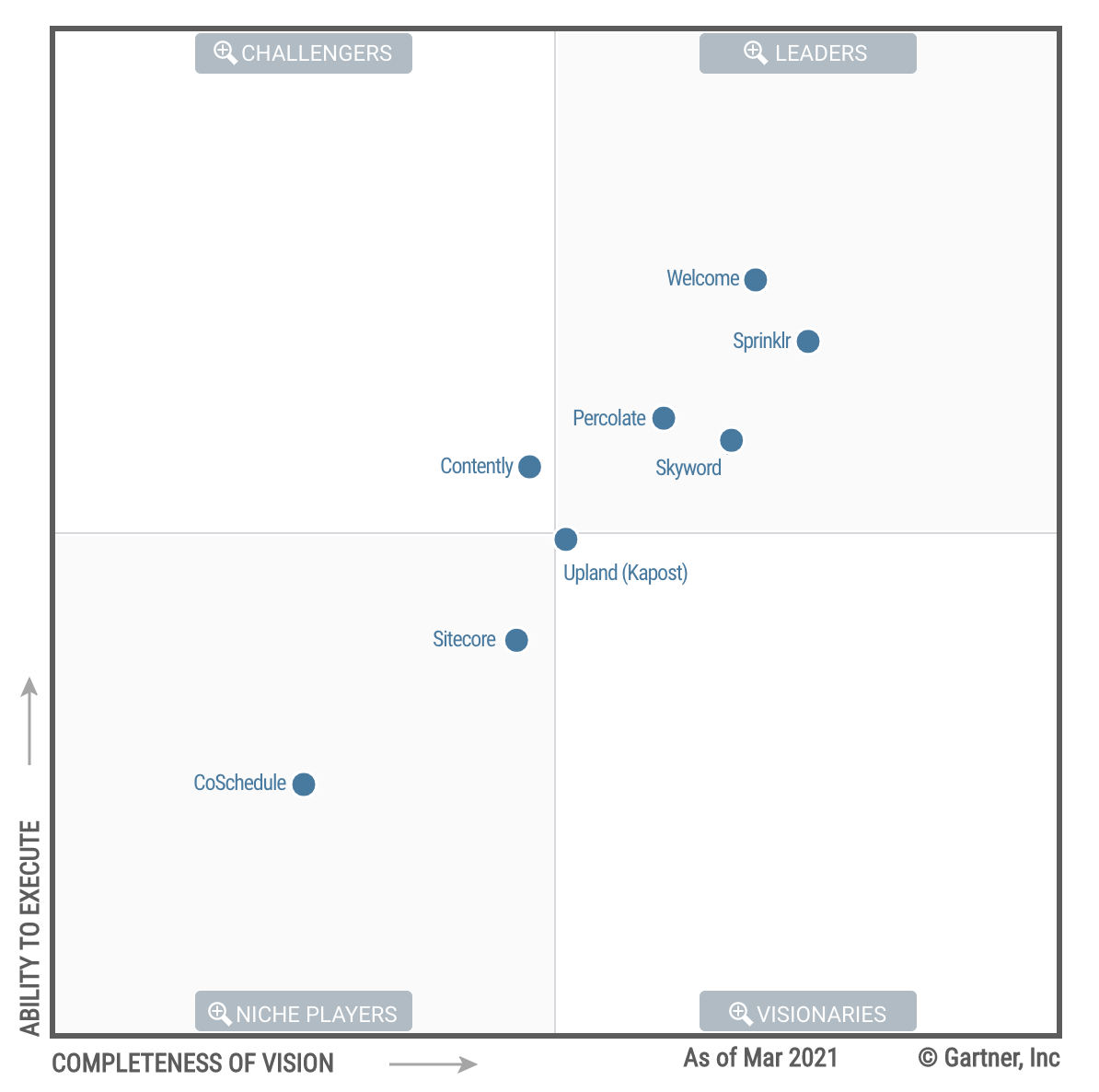 (Editor's note: Welcome was known as NewsCred in prior year publications.)
This is the 4th year we've achieved such a remarkable result, but it's not lost on our team what a distinct honor this is. First and foremost, shoutout to all our competitors who keep us at the top of our game. It's been great building this category with you all. 
And thanks to Gartner. It's an honor to be named a Leader. And we're super proud to (once again) be positioned highest on the quadrant, and rated #1 for all three use cases. 
But to do all of that 4 years in a row is truly rewarding… and validating. Here's why:
While the 2018, 2019, and 2020 results were each amazing in their own right, this particular year feels a bit different. For a long time, we were known as NewsCred — recognized as content and integrated marketing thought leaders and category creators.
Our roots ran deep in content ideation, editorial planning, creative workflows, publishing, content measurement, and more. We partnered with the world's biggest and best brands, and together, exemplified best-in-class content marketing.
Through all that, however, we saw an opportunity to help not just content marketers, but all marketers, work better together — and evolve the conversation from 'content orchestration' to 'marketing orchestration'.
So this past year (in the midst of a global pandemic, no less) we doubled down, and took a major leap.
We rebranded our business, unveiled the world's first marketing orchestration platform, and set our sights on something greater.
From the moment we introduced Welcome, our team has begun to reimagine the way that marketing teams work. We're leveraging our strong roots in content — and combining it with our vision for the future — to build a platform that thoughtfully combines the best capabilities of martech.
Specifically, by harmonizing marketing teams, the content they create, the channels they activate, the data they analyze and the technology that powers it all, we believe we can transform marketing.
And we're making strides.
We've designed an innovative, modern, and purpose-built solution for marketing teams — one powerful enough to support the largest of enterprises and flexible enough to support teams of any size (and we've made it available for free). Every day, we bring on more and more customers, grow our user base, and delight marketers all over the world.
In fact, "win the hearts of marketers" is our internal mantra.
And it's our belief that this latest recognition from Gartner is a testament to both our product capabilities of today and our strategy for tomorrow.
So, thank you to everyone who is along for this ride.
Employees past and present who helped build this (now 4-time) category-leading platform. Analysts (across all firms and categories) helping to shape the future of martech. All the thousands of customers/users who advocate on our behalf and help influence our product.
We've done it before with content marketing and we'll do it again with marketing orchestration.
And I'm thrilled to be on this journey alongside all of you.
– Shafqat, CEO of Welcome
Editor's note: download a free copy of the full Gartner report, and learn why Gartner recognized Welcome as a Leader for the fourth consecutive year.