Content is marketing's biggest asset
Now more than ever before, brands have an opportunity to build genuine and authentic relationships with their audiences through blog posts, guides, infographics, and even video. The creative possibilities are limitless, and the ROI potential is proven.
For banks and financial services firms, content is especially important. According to NewsCred's 2014 Trust Transaction Study, there is a major disconnect between consumers and their financial services providers. The survey revealed the following:
A third of surveyed consumers don't trust their own bank. Half of this group said that they would trust banks more if they provided helpful content.
50% of respondents said that helpful, useful content delays potential desires to switch banks; in other words, content can help a bank's customers stick around longer.
The numbers point to the fact that content can dramatically influence consumer perceptions. The rationale makes sense — after all, clients are human beings. The financial services industry is an extremely complex space, and time-strapped consumers often don't have access to resources that illuminate what's happening behind the scenes.

The Challenges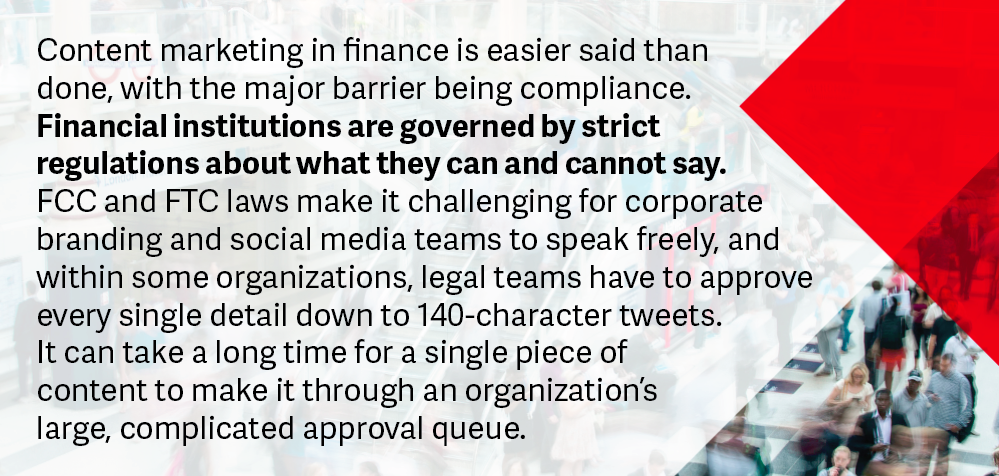 Not to mention, there are comparatively few content producers and agencies that understand the unique needs that financial firms face. It can be tough finding vendors and partners who have experience in finance and know what questions to ask. There needs to be a fair amount of R&D work done upfront, a process that some vendors are likely to ignore in considering the unique considerations of your brand.
Marketing leaders at banks and financial services firms often find themselves wondering whether it's even possible to get creative with content, given that their teams face significant messaging restrictions.

The Opportunity
Banks and financial services firms can't afford to take any chances.
But the opportunity cost of not building a content marketing program is much bigger than any potential compliance risk. That's because today's consumers are becoming increasingly research-driven and self-directed in their buying journeys. If your brand isn't present, you'll miss out on potentially valuable consumer interactions and touch points. These gaps will evolve into opportunities for your competitors.

Content is the most valuable investment a company can make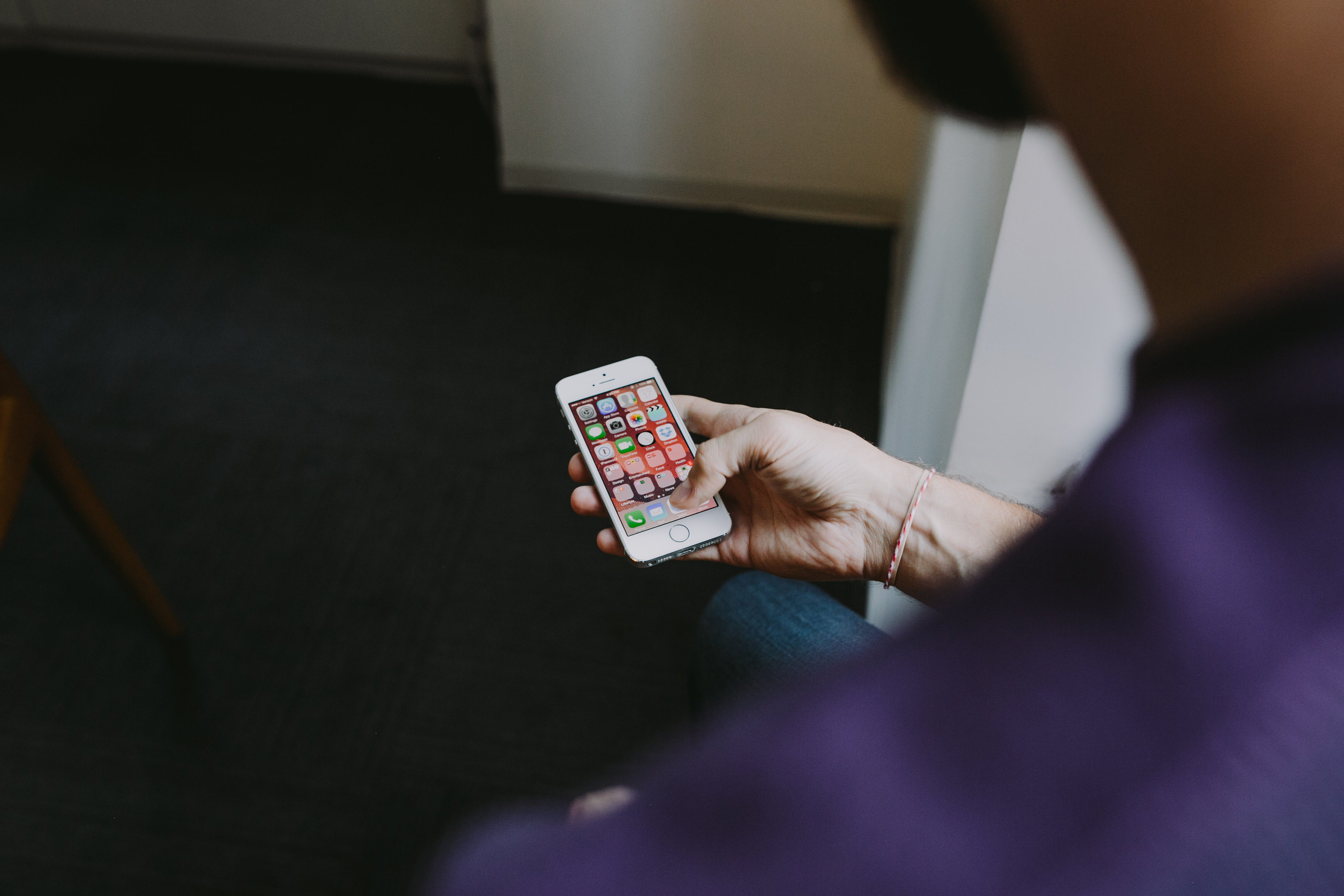 Here's why, according to Rishi Dave, CMO at commercial data firm Dun & Bradstreet and former Executive Director of Global Marketing at Dell.
1. Today's buyers are entirely self-driven
In the non-digital era and earliest days of online marketing, it was up to sales teams to discover pain points, uncover customer needs, and build business-to-customer connections. Today's buyers are completely self-driven – they're 60% through their journey before they engage with a brand or salesperson. Content helps customers self-nurture, self-research, and forge their own paths to conversion. It's only after they've made a decision that they'll connect with a sales rep. Content marketing empowers buyers with information at key decision points, just when they need it. Blog posts, white papers, resource centers, case studies, and guides are today's solution sellers.
2. Content embraces the customer's day-to-day life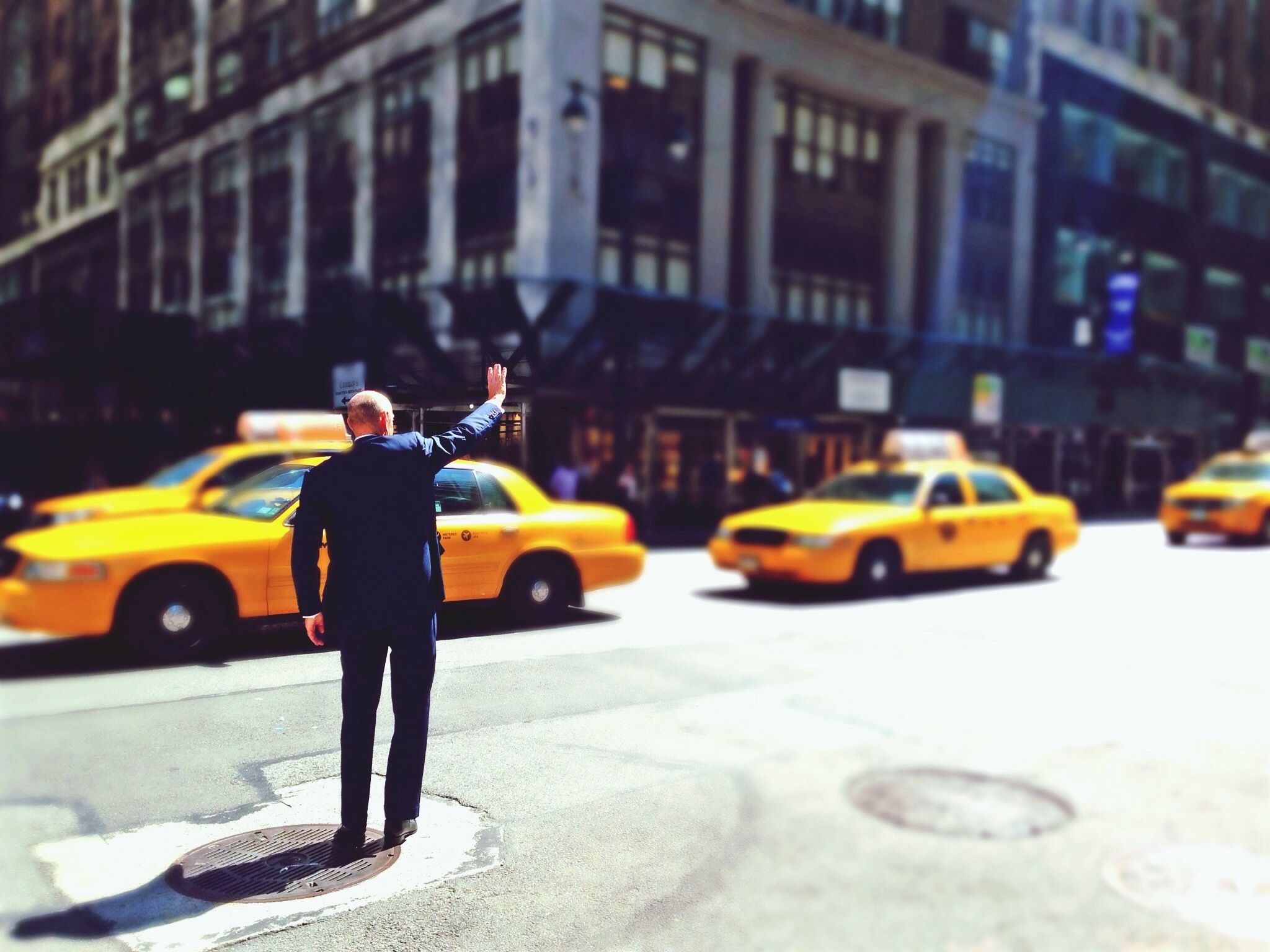 Through content marketing, brands connect with buyers on both practical and emotional levels. Dave recommends marketers use analytics to split platforms by persona and person. In addition to providing product-based resources, Dell inspires thought leadership through what Dave calls "content porn": irresistibly clickable content that's lifestyle based. If all goes well and customers enjoy what's produced, content will spread across the web, show up in search, and pull even more prospects into the conversation. But content doesn't stop at discovery. In addition to helping consumers enter the funnel, content provides a tool for navigating key decision points. When readers opt-in to your content, they send user-level data back to marketers who can then respond with the right message at the right time.
3. The content marketing ecosystem is a revenue engine
Customer management software, personalization, and curation technologies make it possible for brands to produce content at massive scale. Companies that deploy a mix of content production strategies through original content creation, licensed content aggregation, micro-content and user-driven conversations are more likely to retain and engage their audiences long-term. The key to success in content marketing relies on velocity, quality, and volume, says Dave. As long as companies keep creating content at a faster rate than it becomes outdated, there are massive opportunities for lead generation. Creating content as quickly and efficiently as possible means more and better leads as buyers are moved through the funnel at a faster pace. This momentum is amplified through social media exposure and community dialogue. Branding is a natural by-product but is secondary to revenue and growth.
Financial services companies have a tremendous opportunity to build thought leadership, generate value, and grow revenue



Even though consumers are hungry for content, financial services companies are hesitant to jump in. Some may not be sure how to get started, and others are unclear about how to best navigate complex compliance challenges. Just 20% of respondents surveyed in NewsCred's Trust Transaction study agreed that their bank writes and posts interesting articles on financial matters and products. We created this guide to give marketers and executives a solid framework to get started with a clear, compelling, and impactful content strategy. This guide was inspired by today's most innovative finance brands and will give you a clear set of actionable tactics that you can start pursuing right away. Here's how to build an engaging and high-performing content strategy that truly resonates with your audience:
Step 1: Involve legal and compliance teams in the planning stages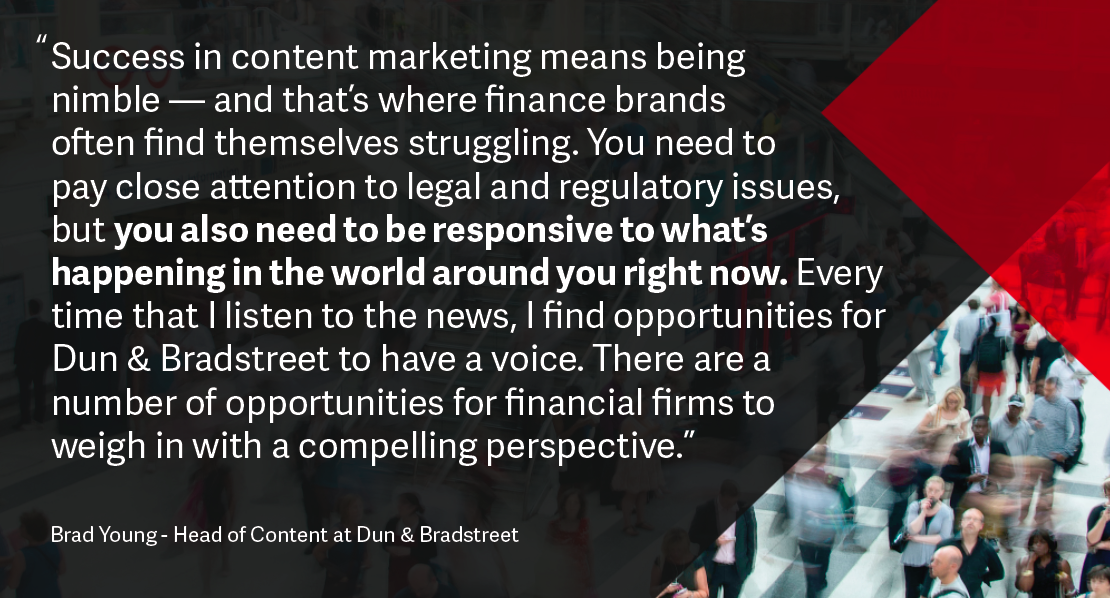 Content marketers in finance are balancing two seemingly opposite worlds — the ever-changing media landscape and strict regulations. There is a way however, to align these two equally important interests.
Involve legal and compliance teams at the planning stages of your content marketing plan. Work with them to create a style guide for content that you can produce with minimal oversight, and create a simple approval workflow that allows for swift execution. By getting legal and compliance teams involved early, you'll be able to avoid unforeseen challenges and start creating a steady stream of content. You can leverage technology (like NewsCred's software) to make sure that workflows are centralized and that you aren't going back and forth in emails or Google Docs that you can easily lose track of.
One way that your brand can avoid compliance challenges is to produce content that is unrelated to finance topics. These articles can be pieces related to entrepreneurship, retirement, home ownership, and other life stages. Banks and financial firms can build instant affinity with their audiences by choosing topics with strong human interest. After all, finances touch every aspect of consumers' lives.
Another way for brands to avoid compliance challenges is to source licensed content. Because these pieces are verified journalism from established third-party sources, they will already be legally compliant.

Step 2: Create a sophisticated strategy designed to educate and inspire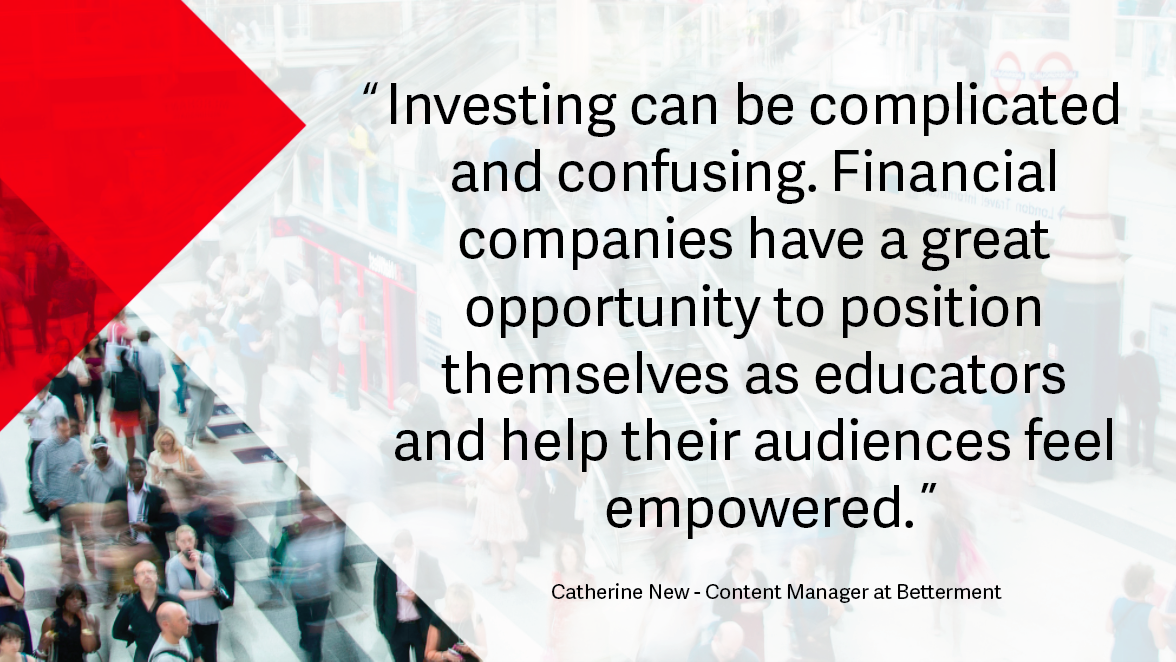 Whatever you do, don't fall into the sales trap. Consumers are constantly bombarded with sales messaging and as a result, crave information that can help them improve their financial health without a hard sell. Your content should aim to solve key consumer pain points and questions to help your audiences learn how to become more self-directed in their financial futures.
The value of content marketing boils down to one fundamental concept: reciprocal altruism. When brands give something away for free, they get much more in return. When marketers stop chasing sales and instead offer valuable information, the ROI is more substantial. That concept is the heart of content marketing, explains Scott Roen, Vice President of Digital Marketing and Innovation at American Express. "We're not out there trying to win our next customer," he says. "We're trying to take on a higher order need."
American Express launched OPEN Forum, a content-driven community for entrepreneurs, to empower small business owners with peer-driven knowledge. When small business owners succeed, American Express gets paid. OPEN Forum's editorial strategy was built on a foundation of listening and learning, according to Roen. The company spent time offline, researching what small business owners in its target market were seeking out. OPEN Forum's team spent time researching mentorship programs, incubators, and industry associations, ending up with 25 content categories, which became the foundation for what OPEN Forum is today.
That was seven years ago. Today, OPEN Forum is a top media destination for small business owners, driving tens of thousands of website visits per month.
In 2013, the financial crisis may have seemed like a distant memory for some, but Bank of America's perception continued to suffer. That year, the American Customer Satisfaction Index ranked Bank of America under JPMorgan Chase and Citigroup in customer satisfaction.
Bank of America knew it was in serious trouble. Their response was threefold. First they conducted a survey with Harris Interactive called "Bridging The Gap" and found that "89% of Americans believe that better management of their personal finances would go a long way toward bolstering the US economy." They also found that: "69 percent of people cite money as a top stressor. College graduates today are averaging nearly $30,000 in student debt. 32 percent of US adults recognize their lack of financial knowledge has led them to make poor financial decisions, and 43 percent feel they have missed out on good financial opportunities for this reason."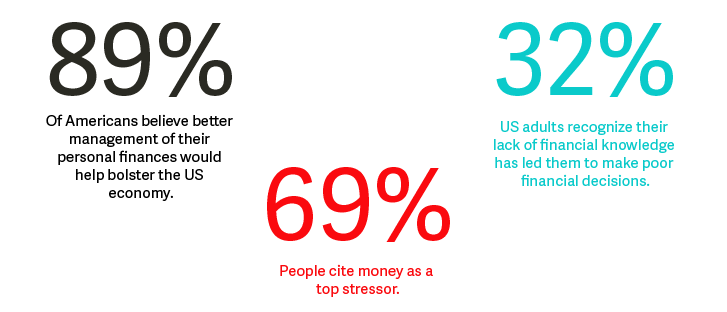 With this in mind, Bank of America launched two initiatives: the "Life's Better When We're Connected" campaign, and an alliance with the Khan Academy to create the "Better Money Habits" portal. The new campaign centered around a series of emotional, family-focused video ads, was intended to inspire some humility on behalf of the bank. Speaking with AdAge at the launch of the campaign, Meredith Verdone, Bank of America's SVP, Brand, Advertising & Research Executive, said: "We are a facilitator. It's not about us. We need to focus on customer needs first and we know our place. We know we're not the center of your life, but we will connect you to what it is."
In an effort to build that connection, Bank of America also partnered with the Khan Academy, a free online learning for kids and adults that covers everything from basic arithmetic to physics to build "Better Money Habits." Better Money Habits is described on site as: "A free service that enables everyone to understand finances through objective and unbiased videos and tools. We want to ensure all consumers have access to all the information and resources you need to have informed conversations with your financial institution and make the best decisions for your situation." Aside from a few logos, the portal is essentially commercial-free in addition to being interactive, customizable, and helpful. The site was a huge success with instructional videos on personal finance racking up nearly three million views within the first three months according to DailyFinance.

Step 3: Never stop learning about your customers' passions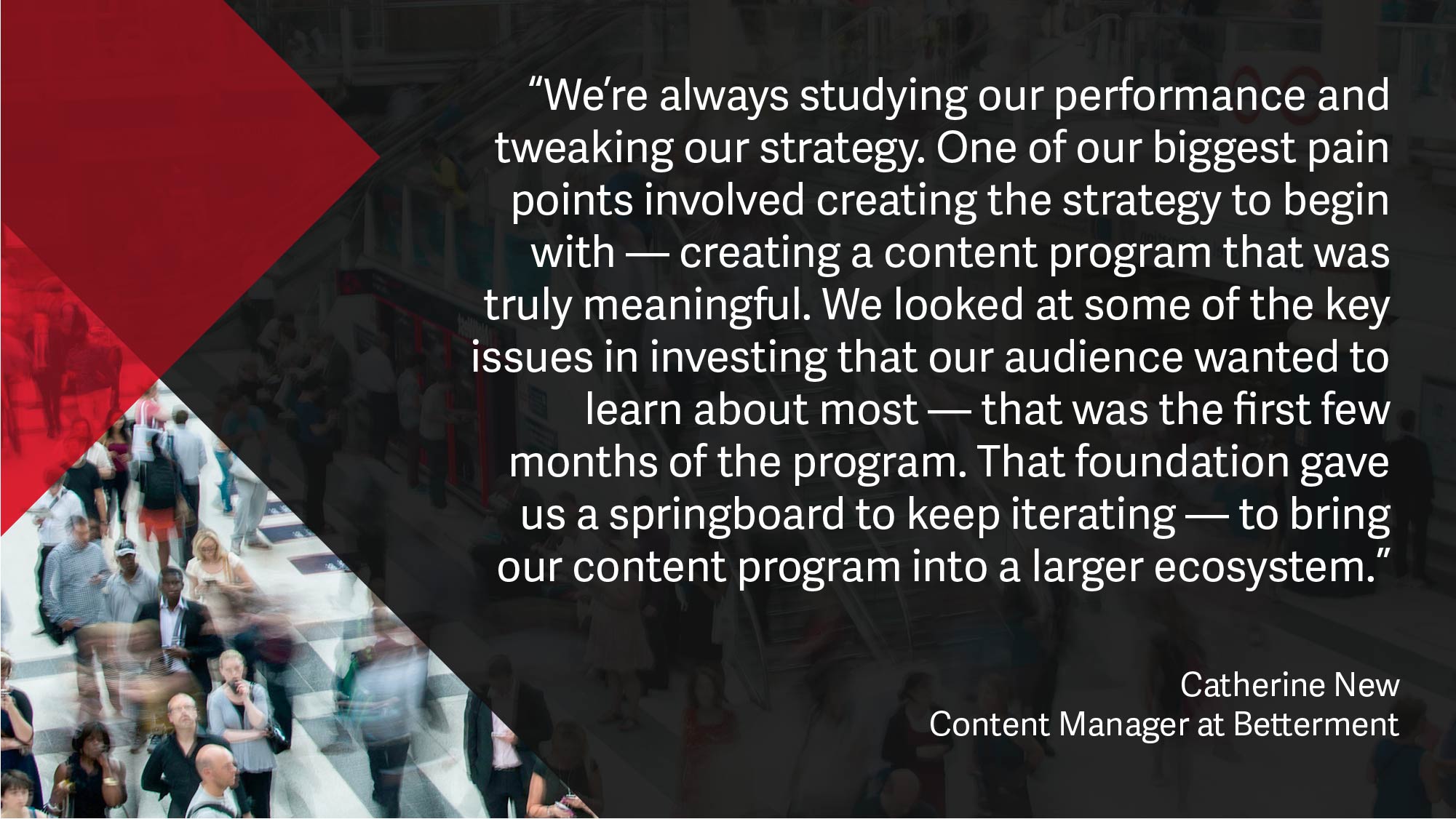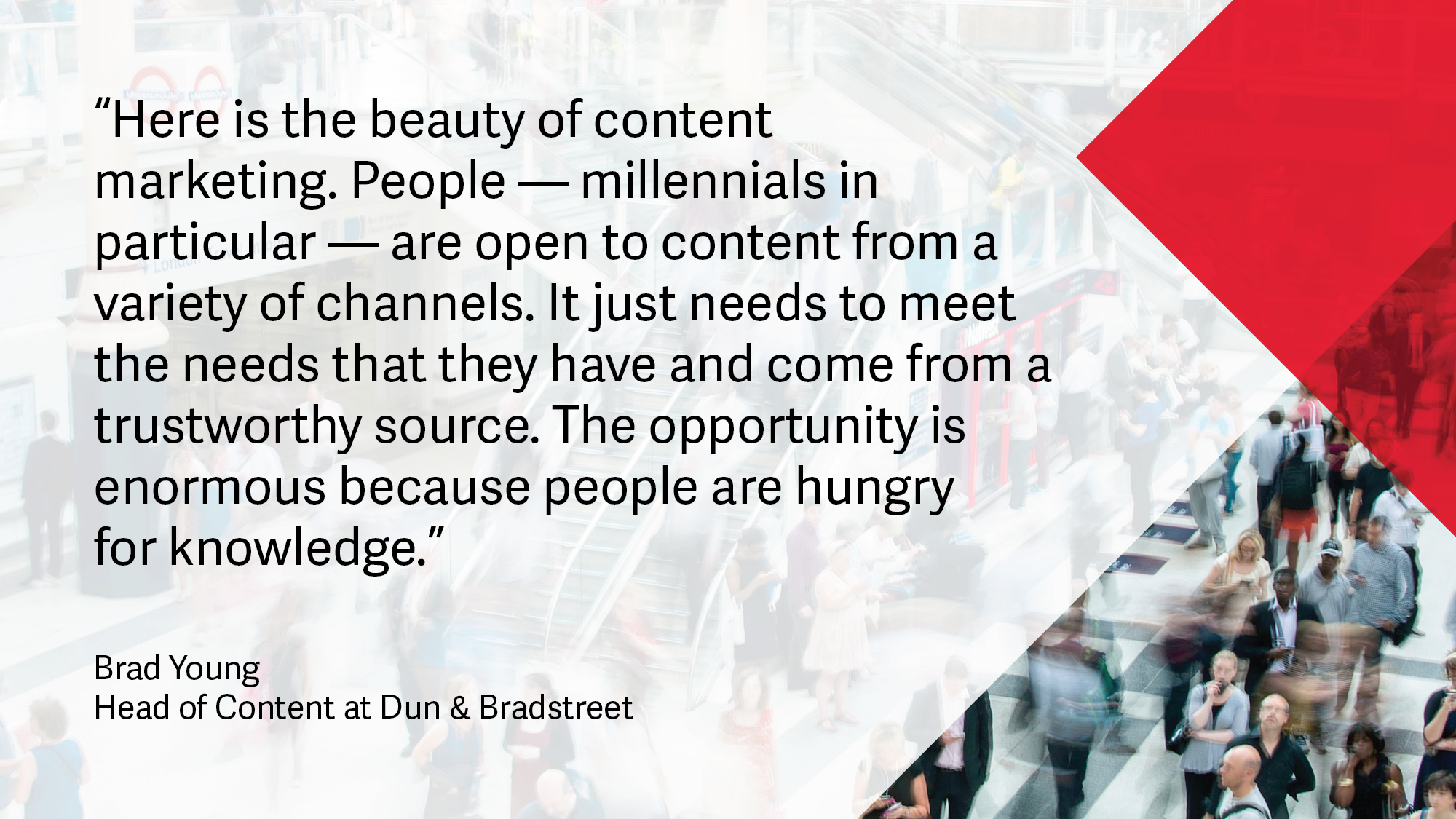 It's important to understand what your customers care about, on an emotional, human level. Many are frustrated with how the world of finance is operating today, with minimal transparency and high levels of uncertainty about consumers' assets. Finance companies don't need to necessarily write about finance. They should leverage data to understand what their audiences want to read, rather than create content they think their audiences want. Data can be derived from search and social data to track content discovery, consumption, and sharing patterns.



Take millennials, as an example: 18 to 24-year-olds are the most likely of all age groups to engage with their bank on Facebook. According to NewsCred's Trust and Transaction Study, 25% of them say that they do this, compared to the survey average of just 11%. Thirty-seven percent say they're likely to share interesting articles from their bank on social media.
But here's the thing: while millennials are the most socially engaged demographic, they're reading finance articles less often than other age groups — a few times a year or never at all. They're much more likely to consume lifestyle content related to travel, careers, and music. But as they advance in life, have families, and begin to acquire assets, they may begin to increasingly seek out finance-related content as well.
Financial institutions can better connect with millennial audiences by taking the time to learn what they care about and creating content around these key passions. Finance is a concept that touches every aspect of millennials' lives, and now more than ever there is a key area of opportunity for finance brands to connect the dots.

Step 4: Rely on trusted providers to help your program scale
A powerful content strategy needs spectacular content to come to life. That's why you need to build an army of freelance writers, brand journalists, designers, and syndication partners who have the expertise to bring your vision to life.
This process aligns closely with the previous steps, from compliance to education and inspiration. Great content providers will have experience in each of these three areas and will be well positioned to help your brand's content program grow.
Look for experienced financial experts and content providers — ones who are extremely familiar with the themes and compliance topics that are foundational to your industry. Involve them early, at the planning stages, and rely on them to pitch topics that represent your brand.
Established financial journalists and independent finance experts are naturally more trusted as authors of finance content than general journalists, as our Trust Transaction Study points out. Licensed content provides additional value, conveying name recognition from some of today's top media brands including The New York Times, Forbes, and Investopedia.

Case Study: Bloomberg: building one-on-one relationships with executives through content
"We value everyone in the industry — not just our prospects and clients. We want to provide information that we think will benefit them because it makes the overall industry stronger and it helps us increase awareness about our knowledge and expertise on relevant matters." Caroline Corrigan O'Hare Head of Content Marketing Strategy, Bloomberg L.P.
Bloomberg for Enterprise was looking to generate awareness and establish credibility with the IT audience within institutional financial services firms. They intended to highlight their enterprise services that help clients leverage technology to turn data into actionable insights. Doing so can help these organizations lower total cost of ownership, maximize workflow efficiency, comply with ever-changing regulatory requirements, enable smarter governance, and ultimately, free up critical resources to invest more in innovation. Bloomberg worked with NewsCred to launch "Bloomberg for Enterprise" in the fall of 2014, a microsite focused on the technology, workflow, and regulatory issues facing the financial industry.
They came up with the concept of "CaaS" — content as a service — and NewsCred helped Bloomberg turn that content marketing vision into reality. "This is a B2B program in one of the most complex industries undergoing a complex transformation," says Caroline Corrigan O'Hare, Bloomberg's Head of Content Marketing Strategy. "Having a company like NewsCred who was able to quickly jump in and get us going was amazing."
By launching the "Bloomberg for Enterprise" portal, Bloomberg not only created useful content for other players in the industry, but found their content informed and assisted their sales teams as well. "This content helps sales and marketing form a mutually beneficial bond," says Corrigan O'Hare. "You can demonstrate the value of marketing with digital metrics, and sales appreciates having content to share that helps them have more meaningful conversations."
Bloomberg uses NewsCred's software to access curated, on-brand, licensed finance content that they publish every week as well as experienced financial writers who write original long-form content. Immediately after launching, one of Bloomberg's original content pieces on technology-related regulatory challenges was picked up by Tabb Forum. This piece was written by Brian O'Connell, a NewsCred NewsRoom writer and former bond trader who now freelances full time. Since 1996, he has authored over 20 business books, and has been published in Forbes, The Wall Street Journal, Chicago Tribune, and TIME. He has also penned original pieces for Liberty Mutual, Fidelity Investments, and IBM. The combination of the NewsRoom and NewsCred's licensed content library helps Bloomberg reach their niche audience with speed, scale, and minimal impact on their in-house staff.
Corrigan O'Hare says she knows the licensed content is working because they can see it spread organically across social channels. In terms of their nascent success with original content, "NewsCred found us the writers who know the industry and live and breathe it. Brian actually worked as a trader before he started writing about the industry. NewsCred brings value to us with writers who actually know the stuff we deal with every day."
Corrigan O'Hare says the process has been nearly seamless working with a dedicated NewsCred editor who curates their licensed content as well as their hand-picked writers. It also helps that NewsCred is a LinkedIn content partner, as that is where Bloomberg conducts a large part of its outreach.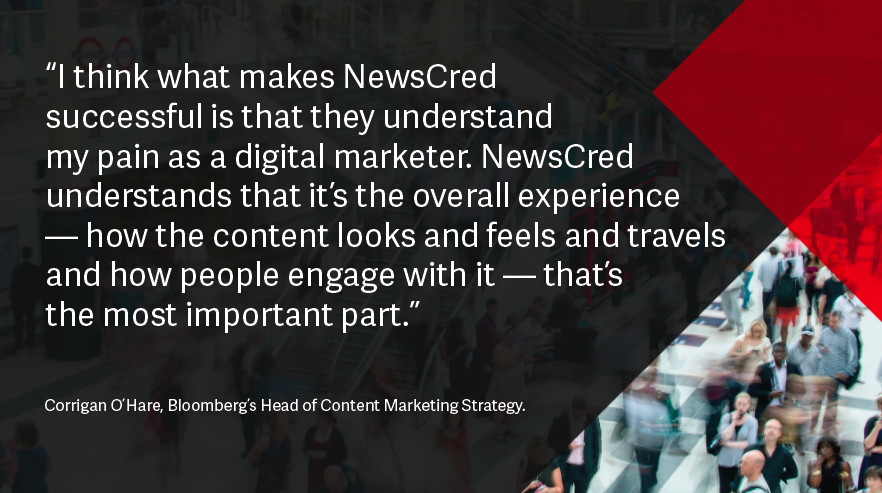 When it comes to building a strategy, Corrigan O'Hare advises marketers to clearly map out their personas before jumping into the content creation game, and to understand the diference between being topical and actually relevant. "Understand the overall story — don't just throw content at the wall like spaghetti," she says. "Some of the engagement and data we see suggests what we're doing well or might want to change as it relates to our brand theme, but it has to come together and mean something larger for your audience. The content has to be relevant and useful — I can't stress useful enough."
Step 5: Plan your distribution strategy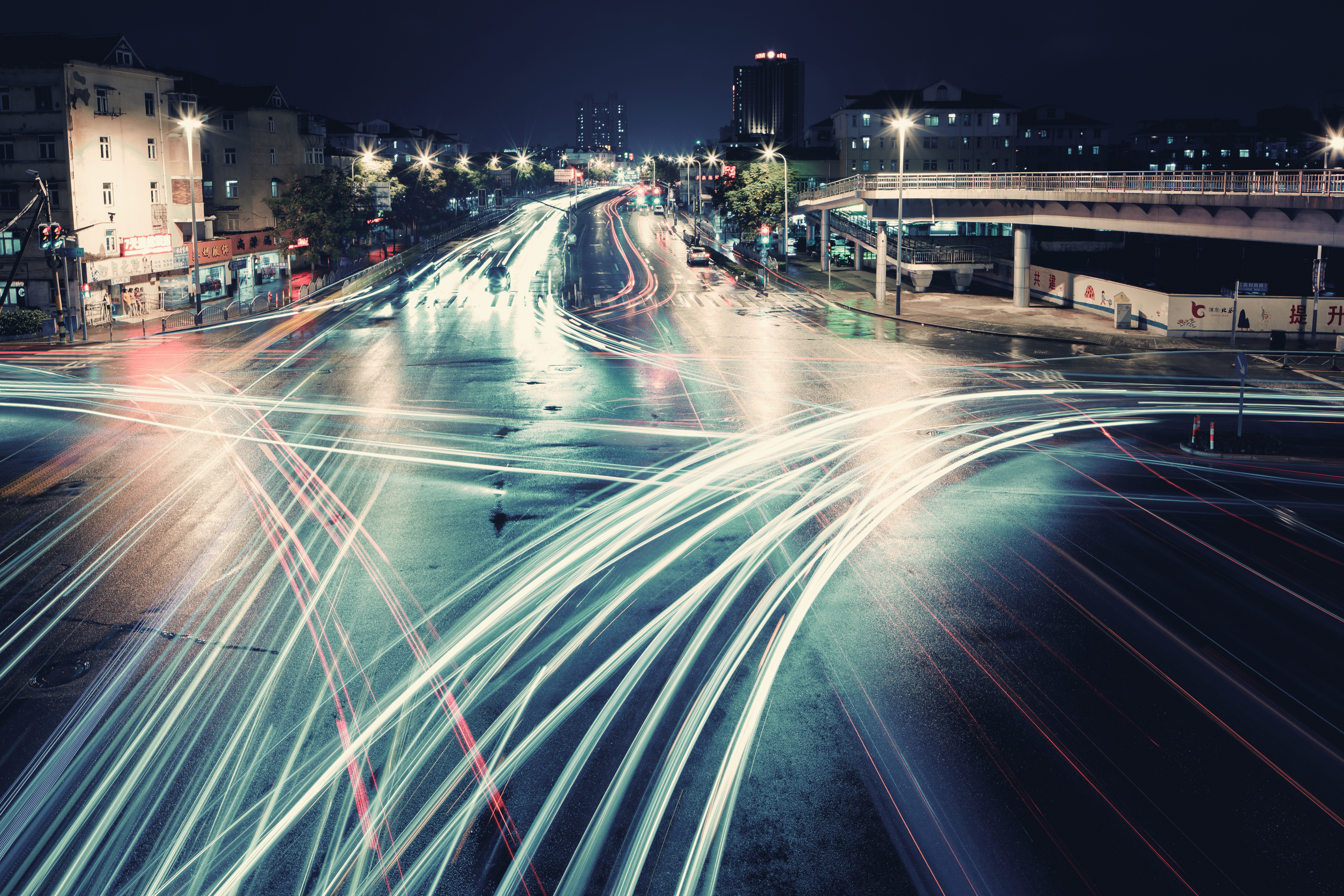 "Distribution is about filling knowledge gaps and 'white space' — an opportunity to facilitate a self-directed, self-nurtured process. You have the potential to build one on one, personal relationships with a wide range of audiences. It's critical to create content that meets real needs." Brad Young Head of Content at Dun & Bradstreet
"Content marketing consists of two parts — production and distribution. Once you produce the content, you have to make sure people are reading it. When it comes to marketing success, there's no magic bullet. Content works in conjunction with all paid, earned, and owned efforts — all three categories work together collectively." Sarah Kaufman Growth Manager at Betterment
This step should come at the beginning. As you've probably suspected and experienced, the process of building an audience is incredibly challenging, especially since more brands are venturing into the content marketing space. Finance brands are competing for audiences' increasingly limited attention spans, but once you are able to scratch the surface, the relationship-building potential will be immense.
A mix of paid, earned, and owned channels will help finance brands build connections with highly engaged audiences.
Distribution strategies will vary from brand to brand. To get started, take a look at the channels where your target customers are likely to be spending time. These will likely include top blogs and social media channels, as well as paid distribution platforms such as Outbrain, Taboola, Twitter, and paid spend on LinkedIn. You might also share these resources with your client-facing teams. At some companies, this crucial link between marketing sales is known as 'demand generation' and can be an extremely valuable point of connection between brands and audiences.
Ask your customers where they like to discover new information and how they like to learn. The answers to these questions will be the distribution channels that you will want to tackle first. Start with a series of small experiments, and scale where you uncover successes.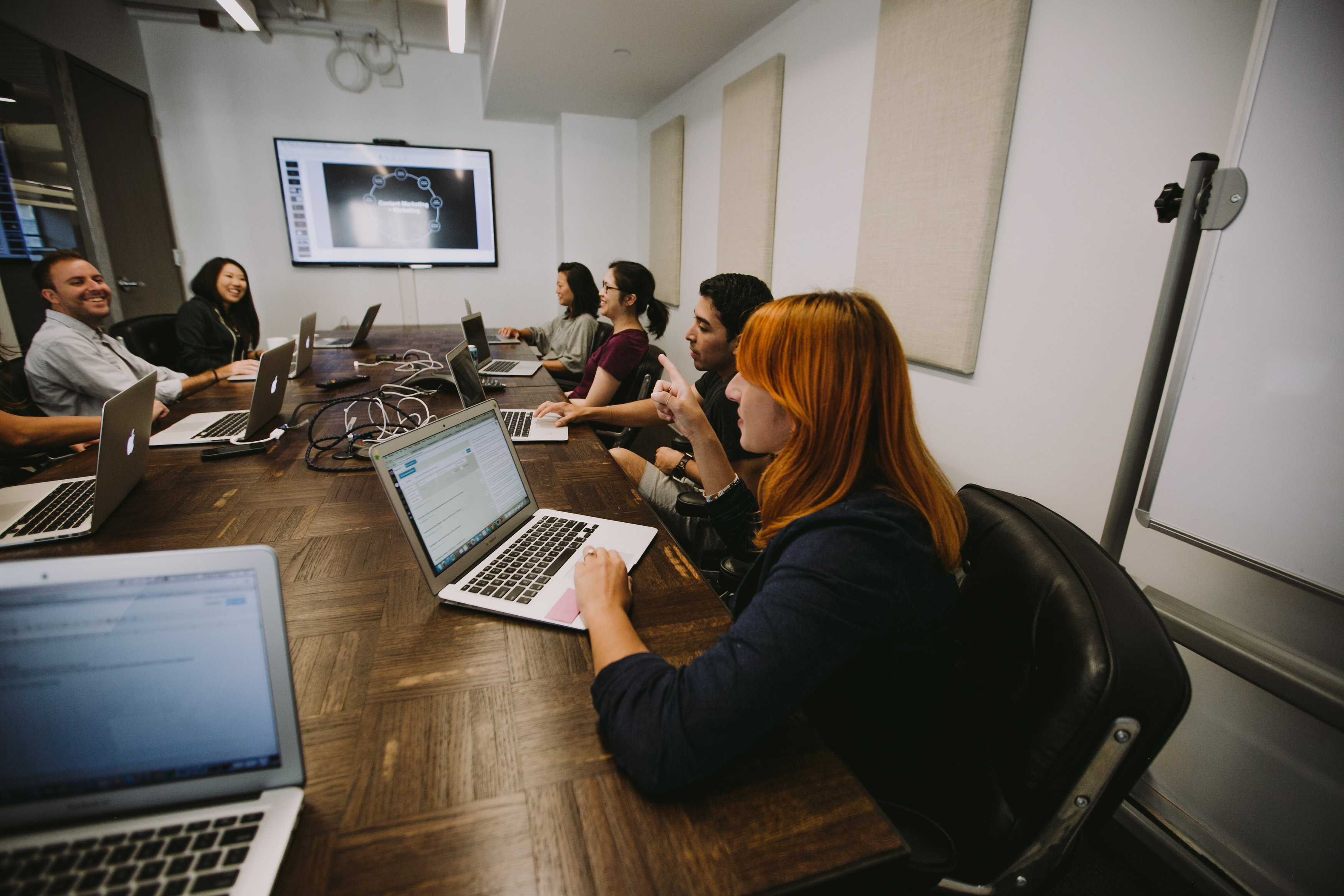 Step 6: Measure ROI
To be successful, your marketing team needs to unite around a common set of marketing KPIs. For content marketing, these metrics connect to all stages of the conversion funnel from discovery to engagement, conversion, and retention. The following breakdown (originally published via CMO.com) can help you identify the metrics that are most important to your company's bottom line.
1. Reach
When thinking about reach, it's important to understand the quality of your audience and the intentions behind those who are reading and sharing your content.
Word of mouth is powerful. When people value your services, they are more inclined to make their perspectives known. Given the nature of today's social web, the level of exposure is that much greater, with the potential to generate incremental business through organic traffic. At face value, shares and tweets seem hard to measure from an ROI perspective. However, social media metrics are important, as they reflect your brand's level of influence among certain audiences.
2. Engagement
This concept relates to stickiness – in other words, how much and how often your prospects and customers are engaging with and returning to your site. Pay attention to the following metrics to understand areas where engagement is strong:
Unique Visitors: The total number of distinct visitors, or individuals, that come to your site in a given time period
Page Views: The total number of pages viewed on our website in a given time period.
Average Visit Duration: The average time spent on your website, per visit. This number is determined by dividing the total duration of all visits by the number of visits in a given time period.
Return Visits: The number of total visits from users who have visited your website previously.
Bounce Rate: The percentage of visitors who enter your site, view one page and exit, or "bounce," without viewing additional content. You should also track pages per session, noting how many pages on average your readers visit before moving on.
Be sure to pinpoint areas of low engagement so you can make improvements, but also look beyond the numbers to fully understand why performance may be weak. Is the your copy engaging, to-the-point, and interesting to your end-user? Is your content easy to digest? Are you publishing topics that align with the needs and interests of your target audience? Make sure your content is converting to align with your goals: how many people reach sign up or contact forms after engaging with your content?
3. Leads and Conversions
As a marketer, driving leads to the sales team is your primary goal. Content marketing is crucial when it comes to building awareness, attracting new interest and driving leads through the sales funnel.
It's important to measure the number of leads coming in through content marketing, which contributes to tracking your overall content marketing ROI. This can be accomplished in a variety of ways, as we addressed earlier. It's crucial that every "entry point" into your content marketing is tagged with some kind of analytics code or munchkin. This allows you to see exactly where the leads are coming from, such as social media, blog content, or email marketing.
It's also important to measure the quality of these leads by forecasting a dollar amount on how much the lead will be worth based on things like company size, revenue, and level of interest. A lead that comes from a white paper might be less valuable than a lead that fills out a form requesting more pricing information.
Next, it's important to measure how leads are interacting with your content throughout the purchase funnel. Do they first become interested through high-value content such as a white paper or detailed guide? Do you offer up case studies later on in the buying cycle? It's necessary to map buyers personas against the full purchase funnel, this way you plan what content gets served at each step of the way, ensuring that content is appropriate for that lead at that specific point in the decision process. When you strategically control the volume and type of content a lead receives at each step, you can then determine ways to improve your content marketing efforts down the line.
4. Revenue
Tying revenue to your content marketing efforts is incredibly difficult, but, at the end of the day, it's absolutely necessary to prove your value as a content marketer.
In order to measure this, you must know the total amount of sales deals closed that can be attributed to content marketing. This can happen both directly (i.e. a user first engages with your business through content, either by downloading a white paper, subscribing to a newsletter, requesting to talk to sales after reading the blog, or signing up for a webinar) and indirectly (the lead was nurtured with content during the decision making process). What to look for:
Revenue attributed to content marketing
The percentage of revenue from content marketing in relation to other marketing efforts
The percentage of revenue from content marketing as a portion of total revenue
5. Lifetime Value
The lifetime value of a customer is the expected revenue you will receive from a customer until they churn. You want your customer relationships to last for the long-term, so adjust your revenue expectations accordingly. How much revenue do you expect your clients to bring in until they churn or until their contract expires? Make sure to address this question over the span of multiple years, across your various user segments.
Now comes the fun part. As a content marketer, you need to make the most of a finite budget for developing content and recruiting eyeballs. With so many marketing solutions available through channels such as email, social media, and paid advertising, you need to make sure your content plan attracts your highest-value customers.
Marketing teams should unite around one or two KPIs to help align the entire team or department. The more laser focused you are around your metrics, the better positioned you'll be to grow your content program.

Conclusion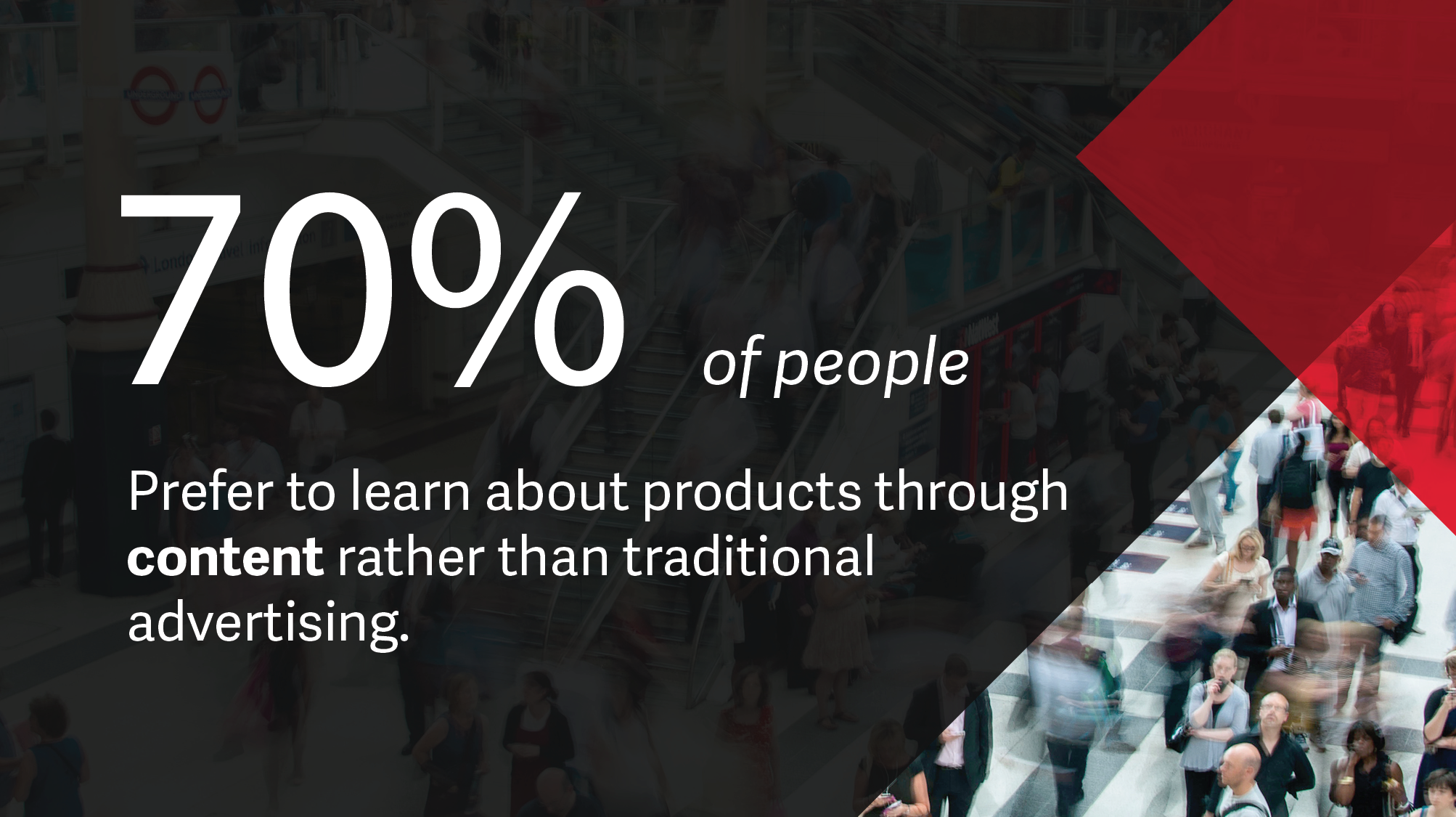 The value of content marketing can be distilled to the following stat:
70% of individuals want to learn about products through content rather than through traditional advertising That's why marketers, across the board, are placing so much value on business blogging programs and native ads.
The opportunity for finance companies to jump in and start building authentic customer bonds is strong. Make sure that your content program is designed to reach audiences at multiple touch points in their buying journeys — across devices and marketing channels. Content will be your brand's bridge to consumers seeking knowledge, advice, and ultimately, an ally.
Ready to get started with Content Marketing? NewsCred offers the most comprehensive content marketing management software tool that includes workflow, distribution, and social media management tools, high-quality licensed content from brands like Dow Jones, Bloomberg, and The Economist, and access to the NewsRoom — our pool of heavily vetted, experienced freelance writers. Get in touch and start making connections with new customers through content.