Today's consumer economy looks very different from 10 years ago.
Household names are no longer limited to Fortune 500 brands like P&G and Unilever. Now, an entire generation of direct-to-consumer brands – like Glossier, Away, Plated, Harry's, and The Honest Company – is winning hearts and minds. IAB recently shared these findings in the in-depth and fascinating report, "The Rise of the 21st Century Brand Economy," which speaks to how brands win in today's world – and the role content marketing plays.
The shift to content and customer-centricity
In the last decade, there's been a massive shift that's changed the way we shop. From 1879 to 2010, brands relied on mass media to reach consumers: radio, TV, newspapers, and magazines. Their relationships with consumers were always indirect. Brands with supply chain control and massive advertising budgets dominated for decades; Kellogg's, Campbell's, and Palmolive were in every store and household.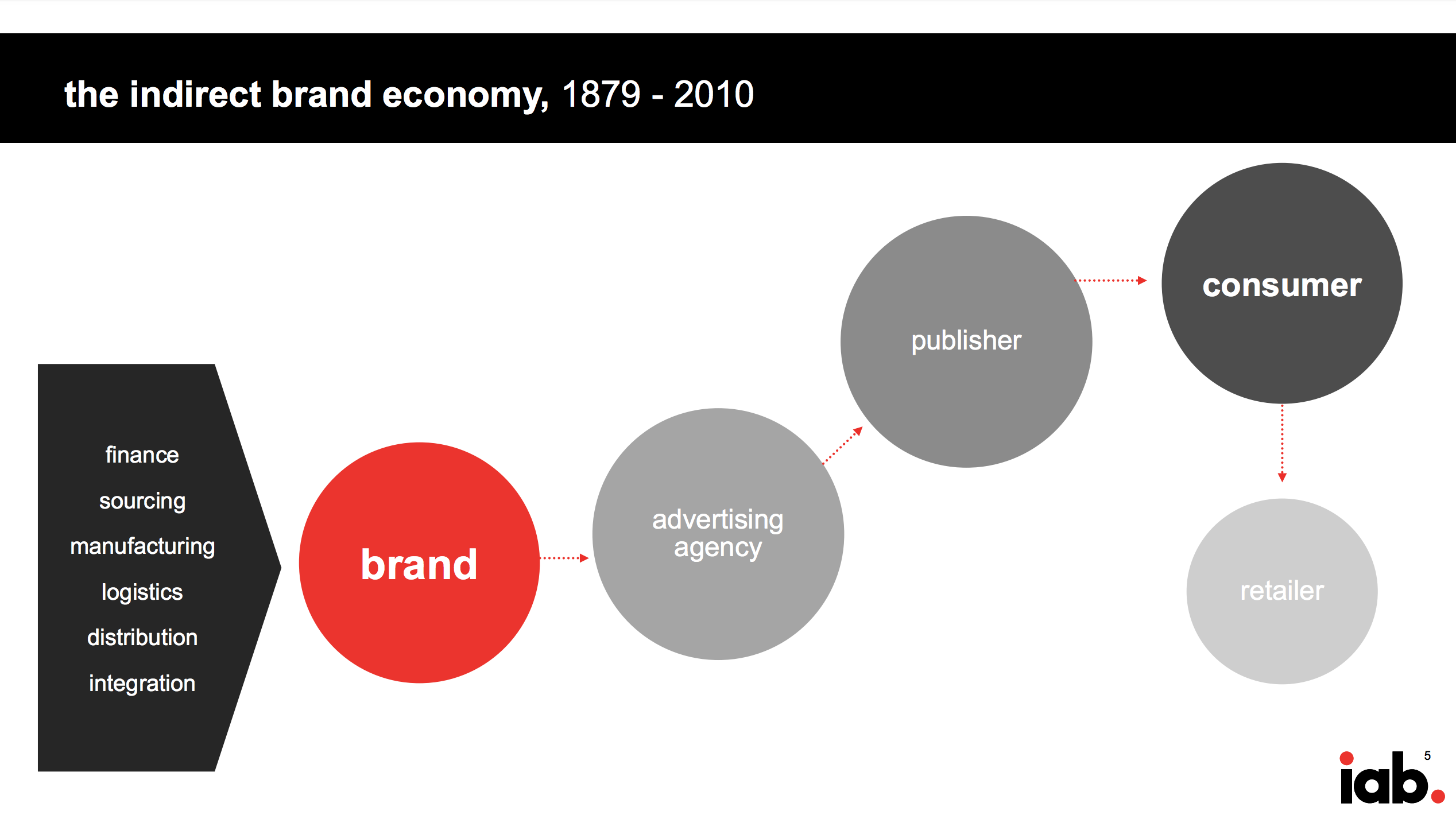 That changed with the rise of the internet. Upstart brands that specialized in hyper-niche markets like shaving razors, eyeglasses, and bed sheets could now "cut out the middleman" and reach their target audiences through channels like social media.


It's no coincidence that the rise of content marketing occurred simultaneously. We founded NewsCred and created the content marketing category because the indirect economy was ending. With a direct connection to consumers, brands needed something to say.
Reaching heads, hearts, and homes
IAB found that in order for direct-to-consumer brands to be successful, they must traverse the "three last miles": to the head, to the heart, and to the home. To cross the first two miles, companies must have strong purposes – and convey them through content.
"Storytelling is a central part of our marketing. We think about what stories we can feed to the press and to social media – things that make people take notice, things people want to share and talk about," says Steph Korey, Co-founder of travel company Away, which has raised $31 million in funding and sold more than $20 million worth of luggage.
In addition, this new generation of direct-to-consumer brands runs on first-party data. Traditional brands had no data about their customers because they sold through a shelf at Walgreens. The new generation of brands knows their customers and everything about them. Collecting opt-in identity data and then building on that relationship through content and services differentiates winning brands.
Take Glossier, the beauty blog that birthed a hot product line. It raised $8.4 million in Series A funding six weeks after launch. Founder Emily Weiss invested the money in data and analytics technology to determine how well each product performed on social media. That move is clearly paying off. Glossier saw 600 percent year-over-year growth from 2015 to 2016, has a massive, engaged fanbase, and just raised $52 million in Series C funding, bringing its fundraising total to $86 million.
Direct brands are interacting, transacting, and storytelling to their consumers online. These brands are built on intimacy, understanding their customers, and delivering value and, ultimately, thought leadership and purpose. They know "why" they exist, and their customers do, too. They are maniacally focused on customer service and experience.
What the rise of direct-to-consumer brands means for content marketing
Many big brands are struggling. Growth is slowing or stopping in nearly every category of the U.S. consumer economy, from retail to food to automotive. Online sales now account for about 90 percent of the overall growth of categories. This is still a very small piece of the pie, even for e-commerce giants like Amazon. But this positive trend means that digital will one day dominate.
Content marketing must be part of the way forward. A new type of digitally native brand is transforming every industry. This type of massive industry disruption happens once every hundred years or so. Content marketing helps brands win because it provides what they need: content to engage audiences, collect data, differentiate, and sell.
Content marketing can benefit both sides, whether it's the newcomer brands who will double down on their direct-to-consumer, content-based relationships, or the incumbents who will fend off the disruptors by themselves going direct, telling stories, and establishing strong ties with consumers.
All brands today need content. At a time when so many companies are facing uncertain futures, that factor is a given.

Shafqat Islam is NewsCred's CEO and Co-founder.