In order to be successful at content marketing, you need executive buy-in. And what moves executives to take action? A compelling business case, complete with statistics that support your content marketing strategy and proposal.
While content marketing, as a concept, is generally understood these days, there are some high-level, C-suite executives that might not fully understand the inner workings of it (e.g. how it differs from social media marketing), or how content marketing can directly help the company drive leads, boost revenue, and improve brand awareness and loyalty.
Whether you're a would-be content marketer looking to launch a program, or a veteran content marketer in need of a bigger budget, use these content marketing statistics to create an airtight business case. You'll get the buy-in that you need to run a content marketing program that drives the results your company wants to see.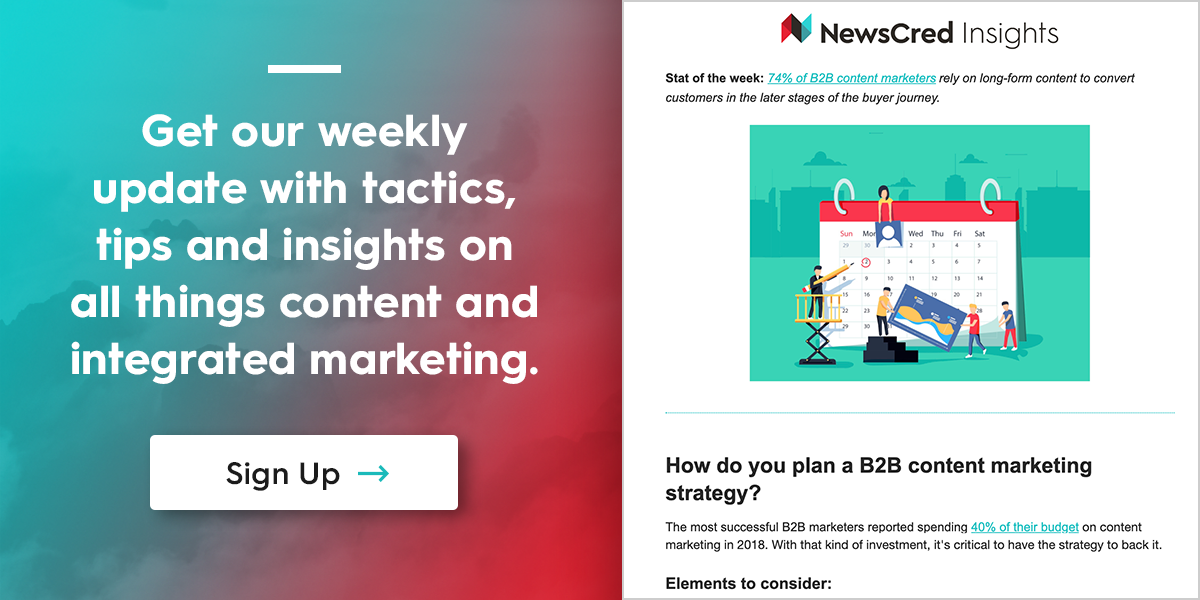 The Initial Pitch: Why Content Marketing Is Necessary
If your executives are not yet true believers in content marketing, here are some jumping off statistics to open your business case:
Customers want content, not ads.
Ad safety is a major problem.
With ads, you never know what site your ad will appear on or what content it'll be next to. In a 2017 survey by Trusted Media Brands, 81 percent of marketers said that having a brand safe environment for advertising is a high priority, while 71 percent said it's difficult to attain.
Brand safety and ad fraud inspire new approaches. Research from Teads reveals that CMOs at large U.S. brands have drastically adapted their digital marketing strategy in the last year because of worry about brand safety, transparency, and ad fraud. That includes 30 percent boycotting or reducing spending on channels that can't guarantee brand safety.
Ad spends often result in wasted money.
The Proven Solution: Why and How Content Marketing Works
Content is a major part of the customer journey, allowing brands to be discovered, and then creating an always-on relationship. And, if you do it right, it can be a big ROI driver.
Content powers the customer journey.
Content drives leads.
Content powers sales.
Content influences purchasing decisions. Wondering what has a significant impact on a B2B buying decision? Three-quarters of buyers said in a DemandGen survey that the content of the potential vendors had a "significant impact" on which one they chose. Additionally, 89 percent of respondents stated that winning vendors "provided content that made it easier to show ROI and/or build a business case for the purchase."
Startups rely heavily on content marketing. For brands trying to ramp up, 89 percent said they're using content marketing and 66 percent of respondents reported that it was important for driving growth in their business, according to a survey by WP Curve.
Content builds brand awareness and loyalty.
Content determines how people feel about your brand. Content strength accounts for 71 percent of how a brand performs on "improving personal well-being," which determines how "meaningful" people feel it is. Meaningful brands outperformed other companies by 206 percent in the stock market between 2006 and 2016. And customers are willing to pay more for meaningful brands; according to Havas Group, "meaningfulness" in brand marketing can increase wallet share up to nine times.
Content marketing results in cost-savings.
Content can drive steady traffic and conversions – without ongoing fees. Think about your monthly PPC spend. Let's say your cost per click (CPC) is $10 for the search term "best credit cards for freelancers." Each month, you spend $2,000 to drive 200 people to a page on your website, and four people fill out a form. However, say you commissioned an article for $1,000 about "The Best Credit Cards for Freelancers." It soon ranks as the first search result and drives 2,000 monthly visitors to your site, and 40 convert. Whereas your PPC spend would be $24,000 a year to drive 2,400 clicks and 48 conversions, the article you spent $1,000 on would drive 24,000 people and 10 times the conversions – making it a much more cost-effective and sustainable investment. This is what's known as the AdWords equivalency. (Bonus: A heavily optimized piece could actually rank for 10 of your bidded long-tail phrases, so one piece could be exponentially more efficient compared to PPC spend.)
Content marketing, as an industry, is growing.
The U.S. is the world's largest market for content marketing, exceeding $12 billion in 2016. Furthermore, content marketing revenues are projected to grow at a 14.4 percent compound annual growth rate from 2017 to 2021. Digital-only content marketing will replace hybrid print and digital content marketing as the largest platform in 2021, reaching $24 billion, according to PQ Media's annual Global Content Marketing Forecast 2017.
Case Studies to Cite
Mine these articles for specific brand examples that align with the program you're looking to run to further bolster your content marketing business case.
Additional Resources for Building a Business Case
There you have it: content marketing statistics to help you make your business case. Go to your management team armed with these points in a presentation and you'll be one step closer to getting a bigger marketing budget and launching or revamping your content marketing program.

Dawn Papandrea is a NewsCred Contributor.