2018 is coming to an end, bringing with it a wave of marketing trend research. According to new data from CMI and MarketingProfs, both content creation and content marketing budgets are on the rise for the coming year. That's great news for both marketers and consumers, as brand investments in personalization and integrated content experiences increase.
If you need help building a business case for a new content marketing strategy in 2019, here are some new statistics and key takeaways to get you started.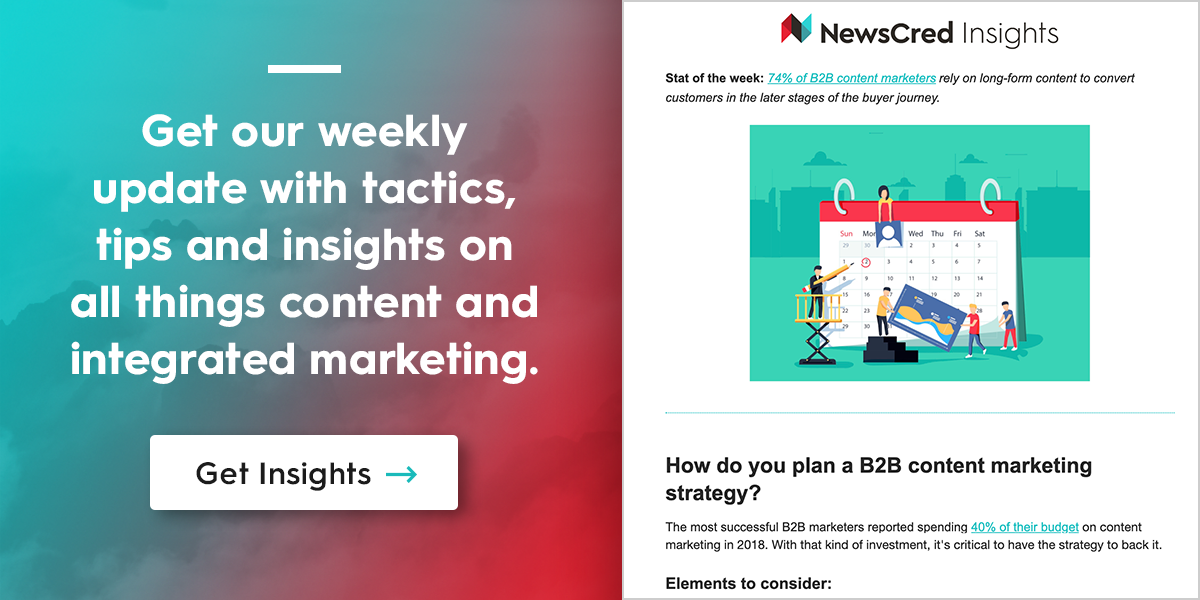 New content marketing stats and trends
1. In 2019, 84.5% of US companies with at least 100 employees will utilize digital content marketing strategies. (eMarketer)
2. 55% of marketers say blog content creation is their top inbound marketing priority. (Hubspot)
3. 55% of business professionals say a great story captures their focus and keeps them engaged with content. (Prezi)
4. B-to-C content marketers have increased their use of audio/visual content, written content, and images vs. one year ago. (CMI and MarketingProfs)
5. The top 3 types of content used by B-to-B marketers in the last 12 months are long-form content (in-depth articles, guides), video snippets, and social media stories. (CMI)
6. By 2019, 20 percent of brands will abandon their mobile apps. (Gartner)
7. By the end of 2019, Cisco estimates show 80% of all internet traffic worldwide will be video. (via IAB)
Key takeaway: Although voice content, innovative apps, and AR content get a lot of attention, high-quality written hub content (mobile-optimized) and compelling visuals are still providing core value to both B-to-B and B-to-C audiences.
Emerging gaps in content marketing strategies
8. Only 42% of B-to-B marketers have conversations with customers as part of their audience research. (CMI and Conductor)
9. Only 13 percent of B2B marketers believe they have a firm grasp on how to integrate data into customer relationship management (CRM) systems. (Dun & Bradstreet)
10. Approximately 45% of content creation is done on an ad-hoc basis. (IMN Inc)
11. Only 33% of B2C marketers surveyed have a documented content marketing strategy. (CMI and MarketingProfs)
Key takeaway: Marketers still have a chasm between the ideal content marketing strategy and program execution, with a need to move towards more data-driven, integrated campaign planning. Here's the NewsCred guide to building a documented content marketing strategy.
Marketing organization trends
12. By 2021, the term content marketing will be defunct as all marketing content rises to high-quality expectations of attention-limited audiences. (Gartner 2018 Magic Quadrant for Content Marketing Platforms)
13. 74% of CMOs have little to no confidence they have the right technology in place to achieve their marketing goals. (Nielsen CMO Report 2018)
14. 78 percent of ANA members reported having some form of an in-house agency in 2018, compared to 58 percent in 2013. (ANA)
Key Takeaway: This aligns with NewsCred's prediction that the most successful brands of 2019 will embrace internal collaboration, infuse all their marketing efforts with content marketing best practices, and work to deliver a more integrated content experience for customers.
What to read next
Now that you're armed with information about 2019 content marketing trends, here are some additional resources to help you kick off the year with high-performing marketing:
Ali Hart is NewsCred's Marketing Coordinator.