Every business strives to reach a state of predictability.
When a business becomes predictable, it can drive sustainable growth from knowing exactly how much money to invest to generate a precise amount of new revenue.
Predictability is what allows small business owners to march into ABC's "Shark Tank" and capture six-figure investments from investors like Mark Cuban. Predictability is also how the world's largest brands continuously delight Wall Street investors and increase stock prices.
Within many businesses, CMOs are under particular scrutiny to transform marketing from a cost center to a predictable profit center.
In order to do so, CMOs must figure out exactly how much to invest to generate the amount of quality leads the sales team requires to hit revenue goals each month, quarter, and year.
However, today, there's an over-reliance on marketing methods that provide immediate gratification but impede CMOs' abilities to accomplish that feat.
Every B2C marketer has been in a situation where sales weren't where they needed to be as the end of the month approached. The knee-jerk reaction is usually to pour money into advertising and paid social. This allows the marketer to quickly reach revenue goals at the expense of inflated customer acquisition costs.
On the B2B side, many marketers have purchased email lists to quickly drive leads. Months later, when they need even more leads due to an expanding sales force and rising revenue targets, those marketers have to spend incrementally more to buy lead lists large enough to appease the always-hungry sales organization. This practice greatly impacts a marketer's ability to create a budget-friendly solution that effectively scales for demand generation.
There's nothing wrong with a one-off execution of the above scenarios. But the truth is, these practices are expensive and unscalable because marketers don't actually own the properties from which leads are coming.
With a predictive model, on the other hand, marketers would own their lead channels and understand the investment needed to scale them.
Building a sustainable and scalable predictive model doesn't happen overnight, though. It requires an upfront investment in time, money, and resources. But the payoff can be huge. Let's take a look at how it worked out for Amazon.
How Amazon Implemented Predictive Analytics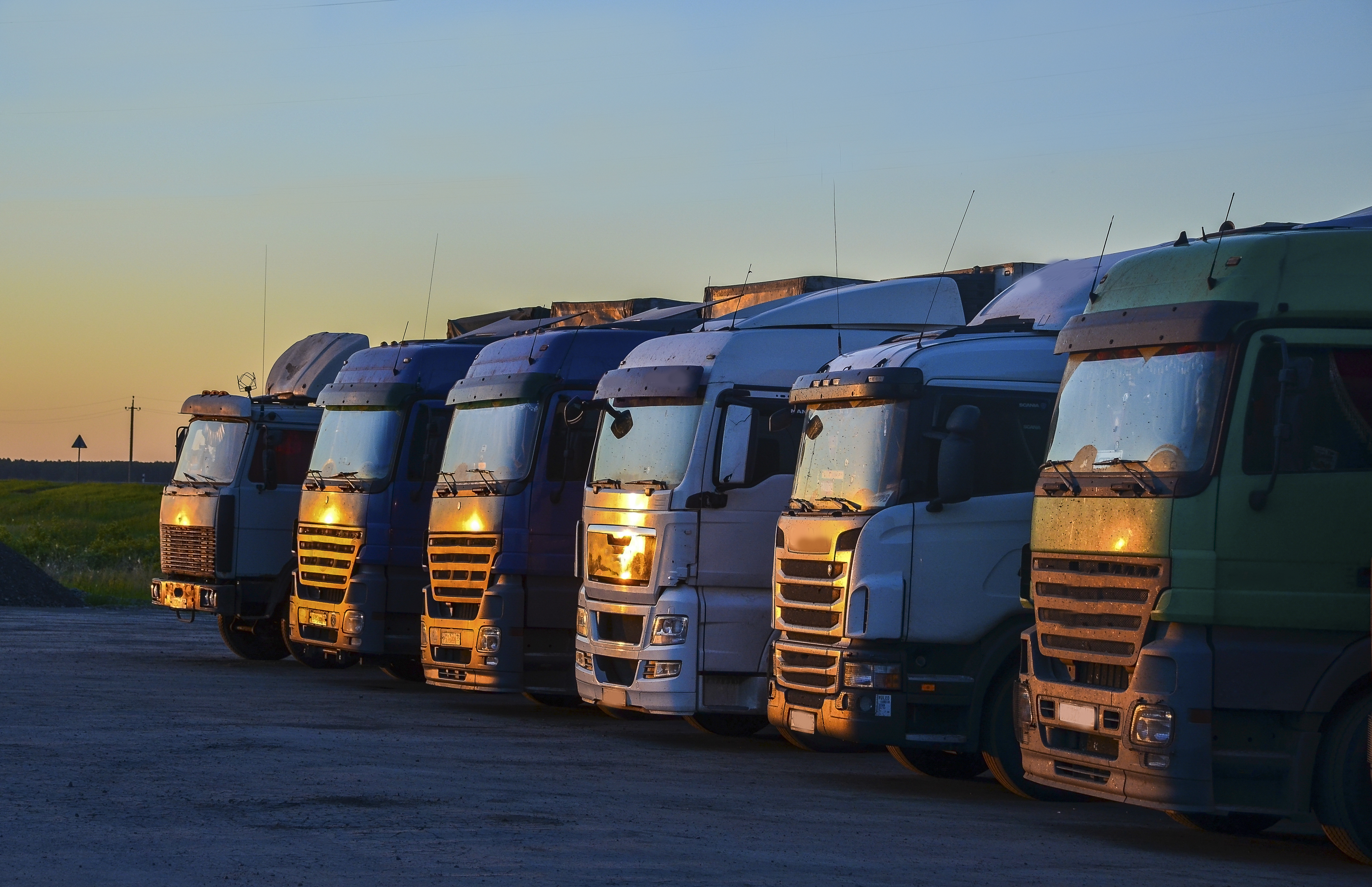 In 2014, Amazon obtained a patent for "anticipatory shipping."
This concept would allow Amazon to know the products customers in specific areas of the country would want by taking into account previous orders, product searches, and other customer data.
These predictive analytics would help Amazon reduce customer wait times, which would further differentiate Amazon in the crowded online retail space. This would lead to increased customer loyalty and profits.
Wall Street was initially skeptical. But Amazon was sure its strategy would pan out. It heavily invested in its supply chain and was rewarded with predictability.
That predictability has given Amazon seven straight quarters of profitability, turned it into one of the hottest tech stocks, and paid dividends in Amazon's ability to delight consumers – and increase revenue.
How Content Marketing Creates Predictability
Anticipatory shipping let Amazon understand what its audience wanted before they even knew they wanted it.
In the marketing world, content marketing can breed the same predictability.
Michael Brenner, CEO of Marketing Insider Group, has said that "the buyer journey is nothing more than a series of questions that must be answered."
If you agree with that, then think about the questions your customers have – and what "anticipatory content" you can create to provide answers. As you build relationships with prospects, you can use that content to accelerate their customer journeys, which will eventually result in increased lead/opp velocity and marketing sourced revenue.
While content marketing requires an upfront investment to attract an audience and drive initial traffic, it will, over time, become a predictable, cost-effective lead flow that doesn't rely on securing budget each and every month.
Marketers should keep in mind four key tenets as they look to scale and reach predictability.
4 Steps to Reaching Content Marketing Predictability
1. Produce Quality Content in Combination with Well Executed Calls to Action (CTAs)
Every marketer has heard about the need to "create quality content," so I'm not going to beat a dead horse and discuss that here. (Though if you need pointers, please check out NewsCred's Content Manifesto for inspiration.)
Instead, I want to focus on the CTAs that appear within content.
At NewsCred, we believe that the goal isn't to be good at content – the goal is to be good at business using content.
This means that as your audience engages with your content, you need to drive them towards a business action that positively affects your brand's ability to grow revenue or improve brand equity.
This could be converting an unknown user into a known email subscriber. It could be driving a user to a product or pricing page. It could even be recommending a similar article and asking a user to consume more pages on each visit to your content hub.
You might be nodding your head right now and thinking, "I already do this."
That might be true, but one common theme I've seen across several prospects and clients is that their CTAs typically appear at the very end of an article. And according to a Chartbeat study, on a typical article, only two-thirds of people exhibit more than 15 seconds of engagement. So, are marketers missing out on the ability to grow content conversions by placing CTAs at the end of articles?
At NewsCred we had the same question about our own efforts, so we ran a test.
NewsCred recently sent out a newsletter with an article about Clorox's CMO. Using the NewsCred Content Marketing Cloud analytics, we saw that the article received a 52% engagement rate and an average engaged time of 0:46. Pretty good in comparison to Chartbeat's average!
Next, using Google Tag Manager, we ran an experiment that fired an event when a user reached 25%, 50%, 75%, and 100% of the page to determine where on the page a user exited.
Quick caveat on this data point: 100% is literal bottom of the page, so 75% is actually the end of a story. So, if someone reaches 75%, we know they've reached the bottom of the content where the CTAs are.



The data shows that 38 people reached the bottom of the content, but 269 reached near the bottom and didn't fully finish.
Luckily, we've optimized our CTAs to capture users at 50% engagement – a pop-up appears at the halfway mark of a story. We've placed it there because if it were at the top of the story, users would immediately leave the page. And if it were at the bottom of the page, users may not even get to it.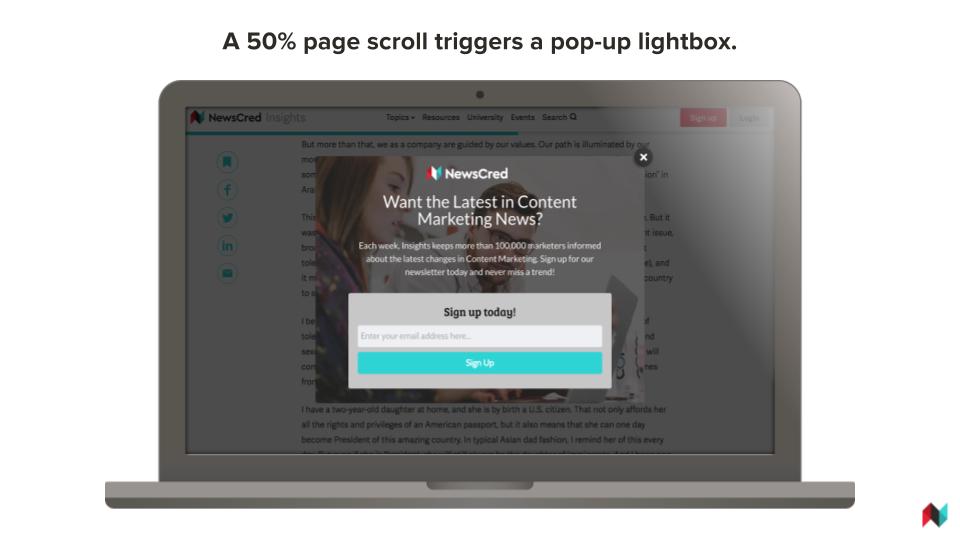 The pop-up is responsible for 70% of our newsletter sign-ups. To put that in context, we have more than 100K newsletter subscribers.
This is why CTAs are so important: By getting users to take desired actions, you're building relationships with them. They're opting in to engage with you, which makes them more valuable – and predictable – than a purchased list of people who may or may not want anything to do with your brand.
2. Establish a Sustainable Publishing Cadence
While all marketers would agree that content across every stage of the customer journey is a requirement for the success of any brand's digital marketing presence, the truth is, and I quote the great Tomasz Tungz here, "maintaining a drumbeat of content creation requires discipline and persistence that is difficult for many brands to achieve and uphold. However, the compounding benefits of creating an always expanding library of content can drive sustained growth and awareness of your product, brand, and company."
These compounding benefits occur for two reasons: Users love quality content, and so does Google.
According to Kissmetrics, "Good SEO means consistent output of content. Consistent output means that you're doing content marketing, and you're doing it right. Content marketing is an active verb, with ongoing action. You don't just do it, and then stop. You do it, and keep doing it. And on and on."
And when people anticipate good content from your brand on a regular basis, they'll continue to engage.
Producing content on a regular basis (even if just a few articles a week), and having readers who click and share that content, will build your SEO. Once your pages rank well, you've established predictable opportunities for people to find your brand – without on-going paid spends. This is the compounding effect of content marketing.
3. Build Your Owned Distribution Channels
Your next question may be: "How do I get this content in front of my target audience via a budget-friendly distribution strategy?"
Dear marketers, stop building your audience on platforms that you do not control.
Case and point: Even if somebody likes your brand's Facebook page, you still have to pay if you want them to see any of your posts.
Marketers who don't focus on driving traffic back to owned destinations, like their websites, sacrifice the ability to capture their audience on a place they can control.
Don't get me wrong – paid distribution can be very effective at amplifying your content's reach. But your goal should be to attract, capture, and convert your desired audience, and build a lasting, predictable relationship with them on the channels you control.
Again, the promise of content marketing is to earn your audience versus buying it.
If you look at NewsCred's own content marketing efforts, email makes up more than 44% of NewsCred's traffic. Organic (SEO) traffic makes up 25%. This means that we're not dependent on paid traffic and, therefore, we have a more sustainable and predictable program that doesn't fluctuate with social platform changes and ad spends.
4. Focus on Analytics: Traffic, Engagement, Action + Revenue
Analytics are only as powerful as your ability to understand, articulate, and take action on them.
As marketing teams continue to create valuable content to increase brand equity and marketing influenced revenue, it is important to understand what content is attracting and engaging an audience. In addition, they need to focus on what content is driving leads, opportunities, and revenue to articulate the business impact of content marketing.
Over time, marketers will start to see how their content maps to the customer journey and creates a predictable model. They'll have a sense of approximately what percentage of engaged users will eventually convert to leads, and how many of those leads will convert to customers.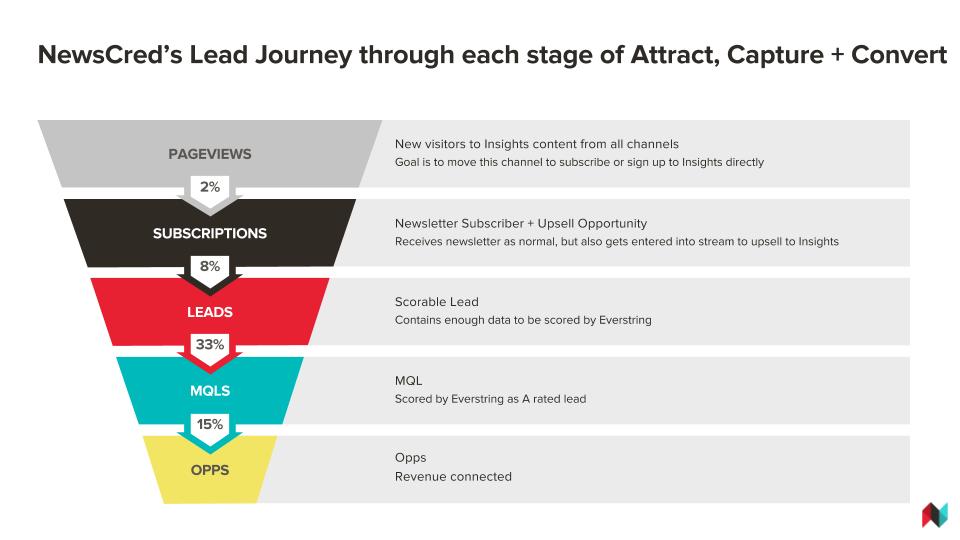 Conclusion
Although content marketing requires a heavy upfront investment in software and a team to create, optimize, and distribute quality content, the returns will compound over time.
Across various channels, you'll see increased site traffic, longer engagement, a better conversion percentage of unknown to known site visitors, higher organic search rankings for unbranded keywords, a larger email marketing database, better email open rates/CTRs, larger social followings, and, most importantly, the holy grail for any marketer: content attributed revenue and the gross profit from that.
And it'll all be predictable.
This will ultimately allow marketers to make a business case to their CMOs and CFOs and ask for increased investments because they'll know exactly how their returns will exponentially increase.

Neil Barlow is an Enterprise B2B Sales Director at NewsCred.