From building a content marketing strategy and writing briefs to collaborating with writers and making sure freelancers get paid, producing marketing collateral involves many moving parts.
If you can't keep up with these moving parts, executing a campaign becomes an uphill battle.
That's where the almighty content marketing platform (CMP) comes in to play.
This powerful software simplifies content marketing management by combining dozens of tools that marketers typically use separately into an all-in-one solution.
We're giving you the scoop on everything you need to know about content marketing platforms, including:
What a content marketing platform is
The benefits of using a CMP
Who needs content marketing software
How to evaluate CMPs
Features to look for in this software
The best content marketing platform
Alternatives to CMPs
How much content marketing software costs
CMP 101: What Is a Content Marketing Platform?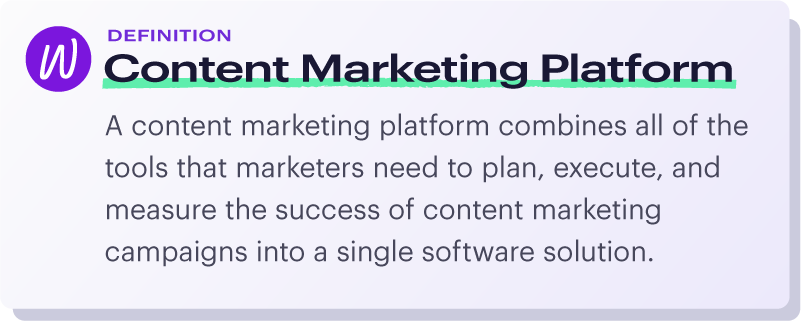 A content marketing platform combines all of the tools that marketers need to plan, execute, and measure the success of content marketing campaigns into a single software solution.
Without a CMP, a marketing team would need one product for creating a marketing plan, another for managing budgets, a third for tracking project progress, and one more for creating content
Oh, and don't forget a different one for publishing it, and yet another for measuring the campaign's ROI.
A CMP greatly simplifies this complex, multi-step process by rolling all of those functionalities into a single software.
The Many Benefits of Using a Content Marketing Platform
CMPs like what's included with Welcome make managing content campaigns easier, faster, and more effective.
They save marketers time and money, boost transparency and collaboration, and simplify impact reporting.
CMPs FTW!
Here's a closer look at what makes using a content marketing platform so great:
Time savings
Cost savings
Increased impact
Streamlined collaboration
More transparency
Time Savings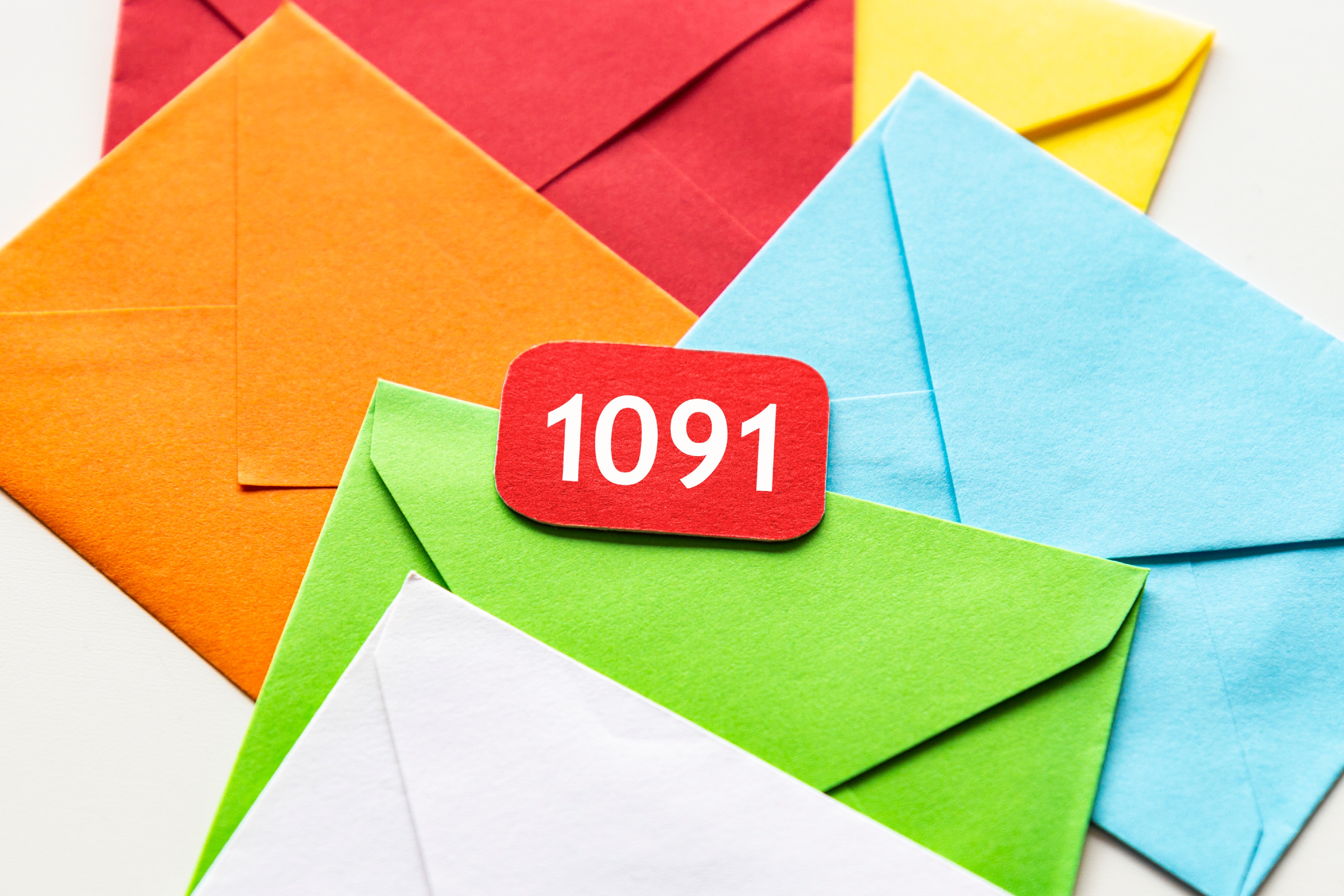 Think about the last blog post your team produced.
How many emails or Slack messages did you have to send back just to let a team member know it was their turn to leave their input on the brief, review a draft, or prepare the post for publication?
And no matter how informal your team is, you probably had to add some pleasantries to what would otherwise be very transactional messages.
We bet you spent more mental energy than you care to admit on choosing the perfect punctuation mark combination, emoji, or GIF to accompany your manual notifications.
Well, ain't nobody got time for that!
The good news is: CMPs automate notifications.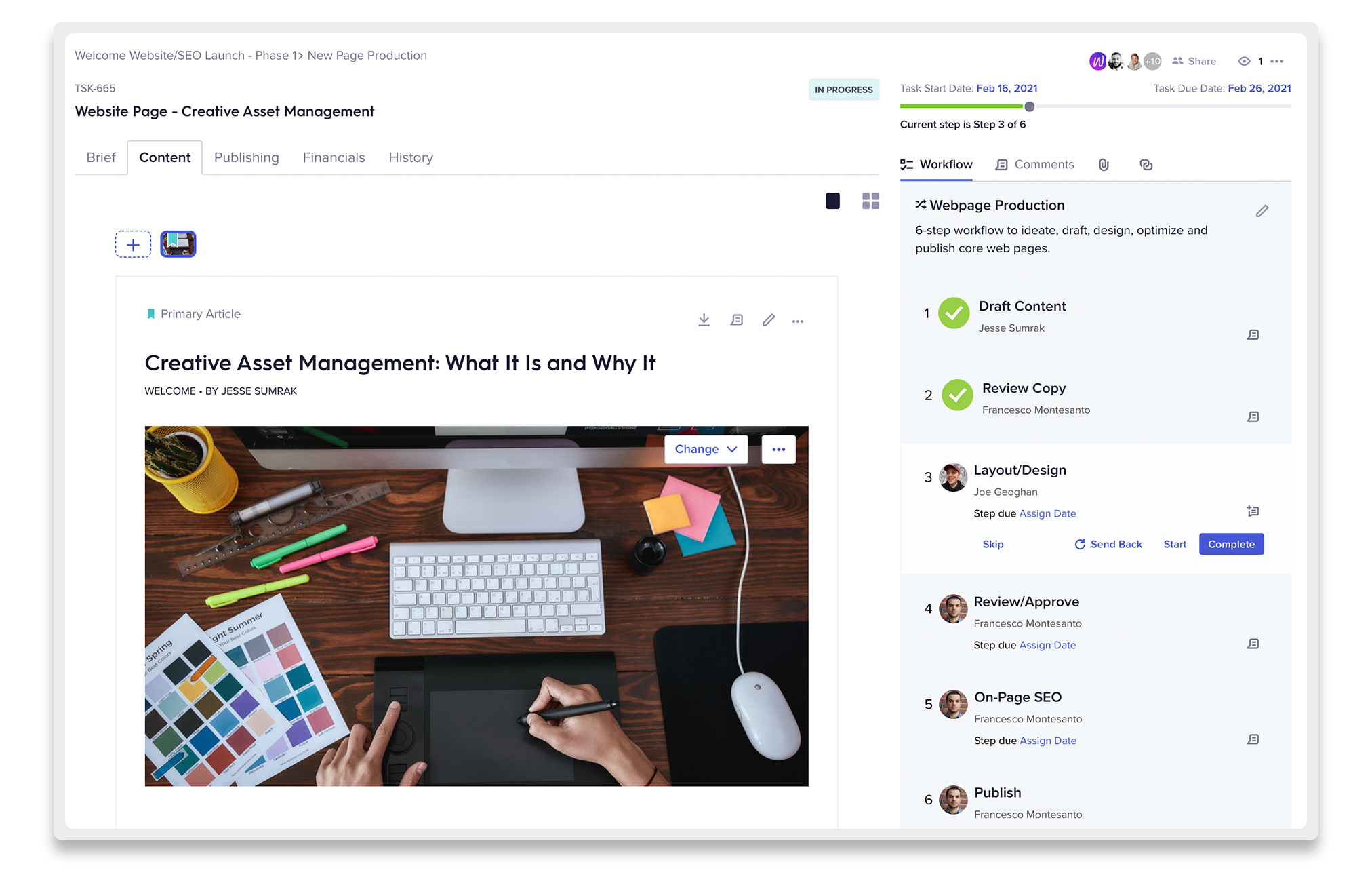 With Welcome, each team member can check off the step in the workflow they've completed. The next person in the workflow will automatically receive a notification that it's their turn to work their magic.
But that's not all. With a CMP, you also save time by not having to switch tools throughout the production process.
Why use WordPress to schedule the publication of a blog post and then open Hootsuite to schedule the social media promotion of that post when you can do both in one place??
From potentially forgetting your login information, to having to copy, paste, and re-upload work you've already done, working with multiple tools wastes time.
Don't even get us started on how tedious onboarding for a dozen different marketing tools is compared to learning how to use just one tool.
Plus, Welcome lets you create templates for briefs, workflows, content, and more, saving you even more time.
A CMP can free you up from managing marketing so that you can focus on doing marketing activities that move the needle.
Cost Savings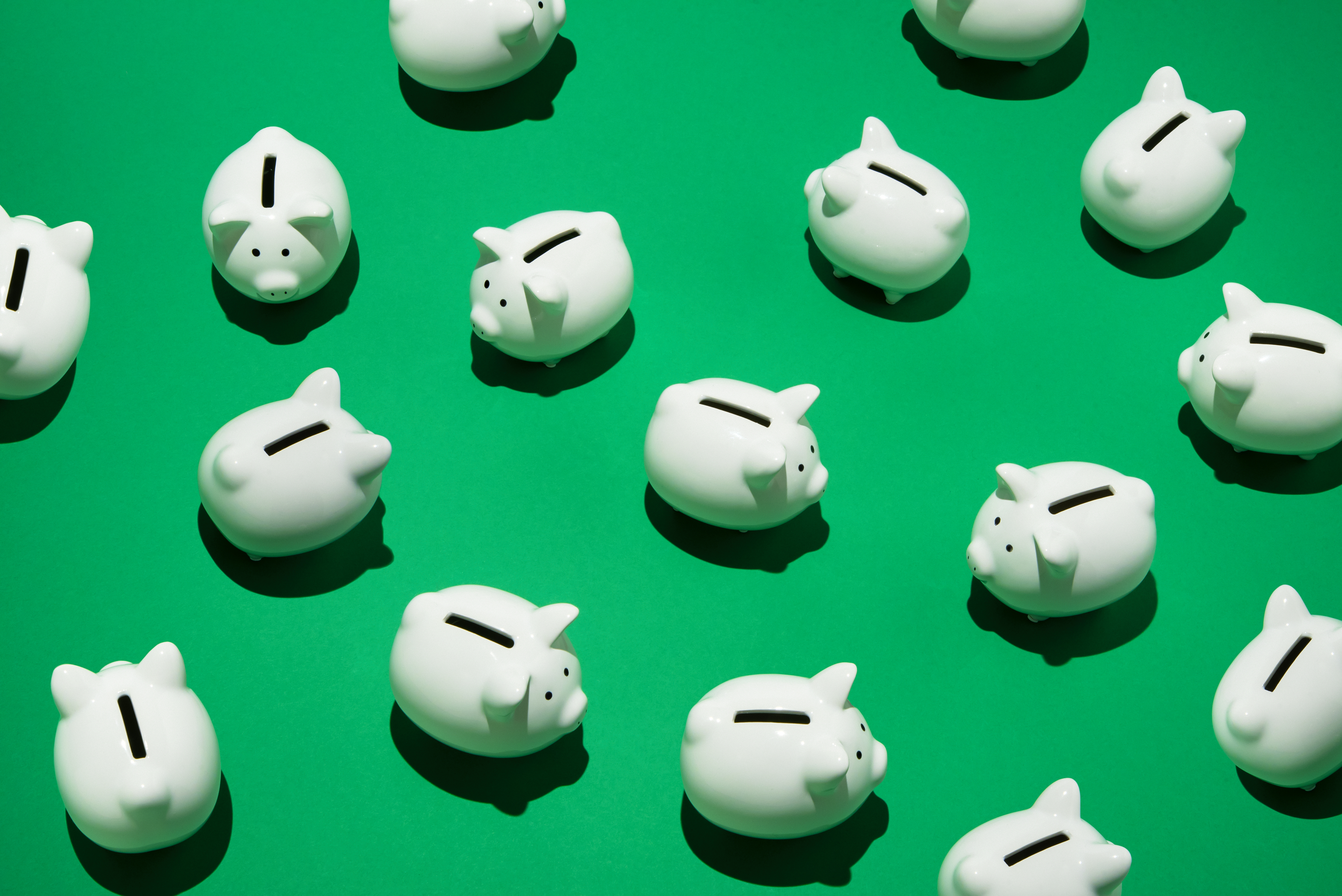 Content marketing platforms save marketing teams serious cash.
The obvious reason for these savings is that one CMP subscription costs less than the dozen or so subscriptions you'd need to get if you were building a digital marketing tech stack a la carte instead of using an all-in-one solution.
Plus, your team is freed up to work on more impactful projects.
That means you can produce more great content in less time with less paid, external help.
Measurable Impact
Marketers that use content marketing platforms can create more high-quality content and prove its success more easily.
With a CMP facilitating admin work, you don't have to waste your energy on mindless tasks, like notifications. As a result, you can produce better quality campaigns in less time.
And when all of your content marketing tools work together seamlessly – no wonky integrations necessary! – measuring the performance of white papers, case studies, and videos becomes simple. You won't lose any critical information while exporting data from your content management system to a separate analytics tool.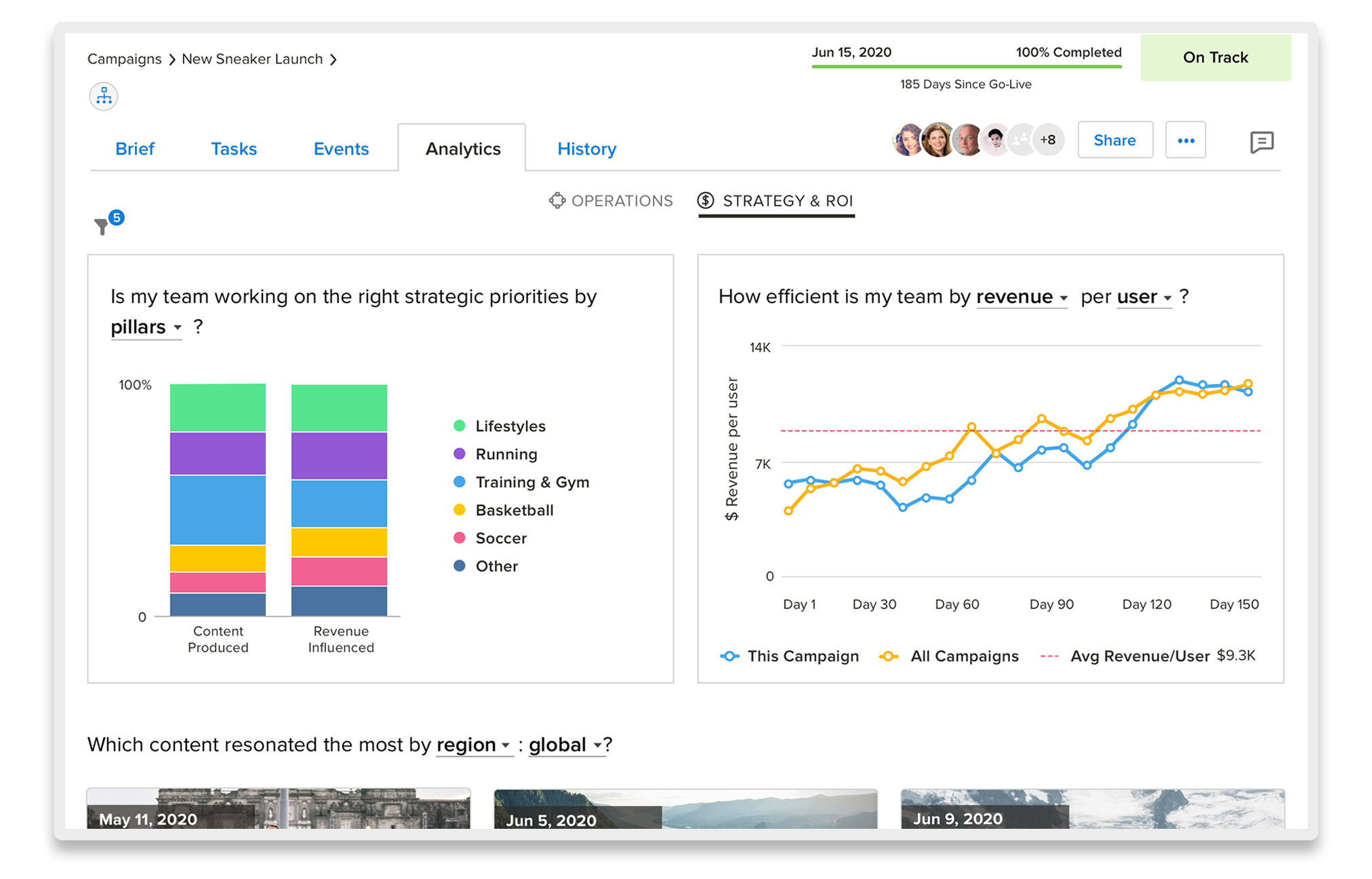 All of these factors work together to help you prove the value of your team's efforts to key stakeholders, other departments, clients, and decision makers.
Streamlined Collaboration
With a content marketing platform like Welcome, your team can work together effortlessly amongst themselves and with freelancers.
Forgetting to give a collaborator access to a document or asset is inevitable when you store things in various digital places. Fortunately, a CMP works not only as a marketing platform, but also as a digital asset manager (DAM).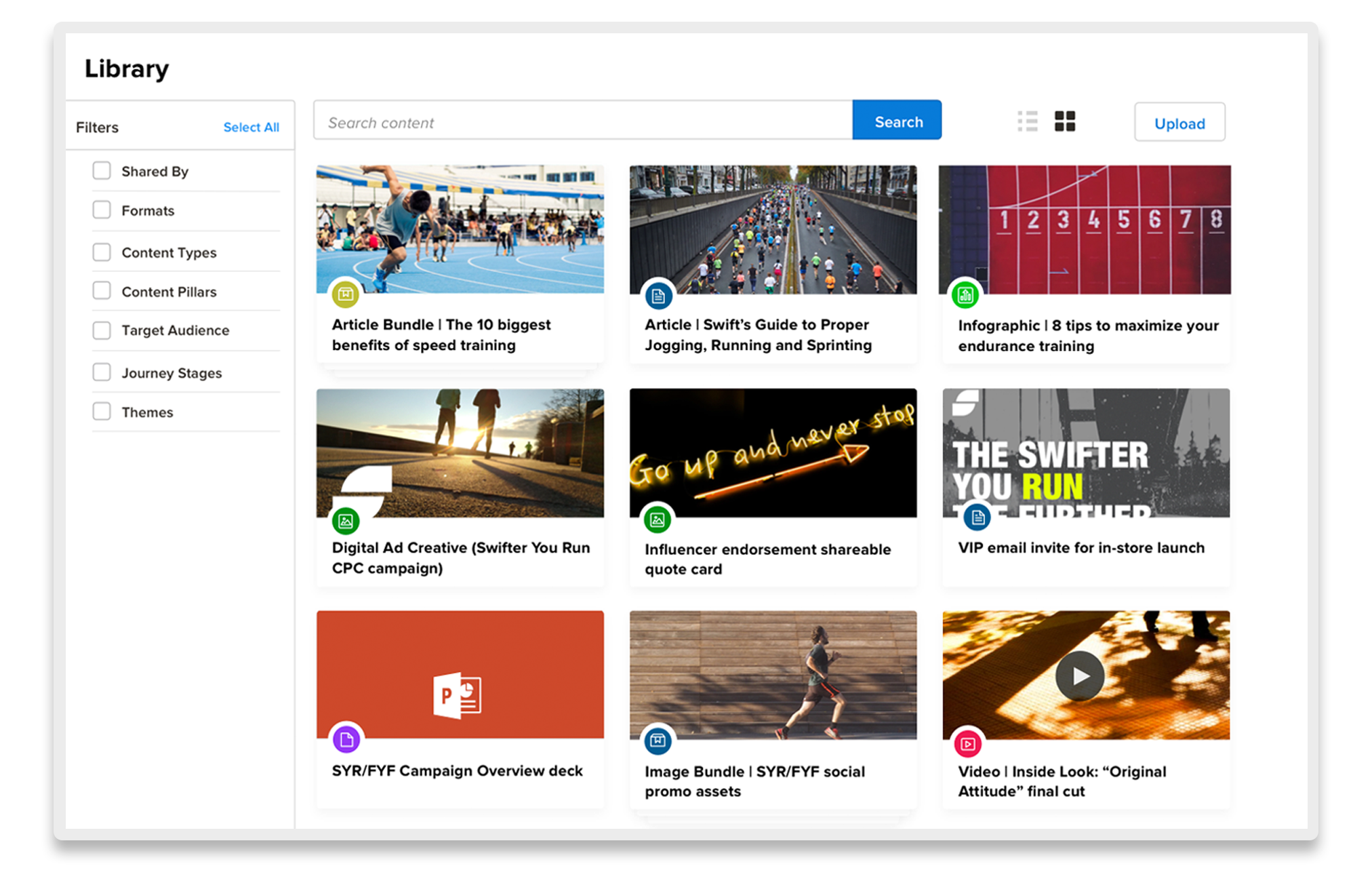 With a CMP, if you're hiring a freelance graphic designer to create an infographic for you, you don't need to share a folder containing your company's logo with them so that they can get started on the project.
Instead, you just need to give them access to your CMP, where they'll be able to find all of the collateral they need in one place.
And when the infographic is ready, your team can review it and provide feedback directly in the CMP. They don't have to retrieve the file from an email or download Photoshop to annotate the design; it can all be done in Welcome.
Streamlined communication makes for seamless collaboration, which is especially valuable during this time when many people are working remotely.
More Transparency
Content marketing software makes it easier for stakeholders who aren't involved in the day-to-day of a project to understand its progress and value. When stakeholders outside of the content marketing team can access your CMP, they can see and understand what you're doing and how it impacts the company.
For example, let's say your company's sales team needs to know when a new sales deck will be ready. Instead of reaching out to the head of content marketing to ask for an update, the head of sales can check out the deck's progress on the content team's calendar.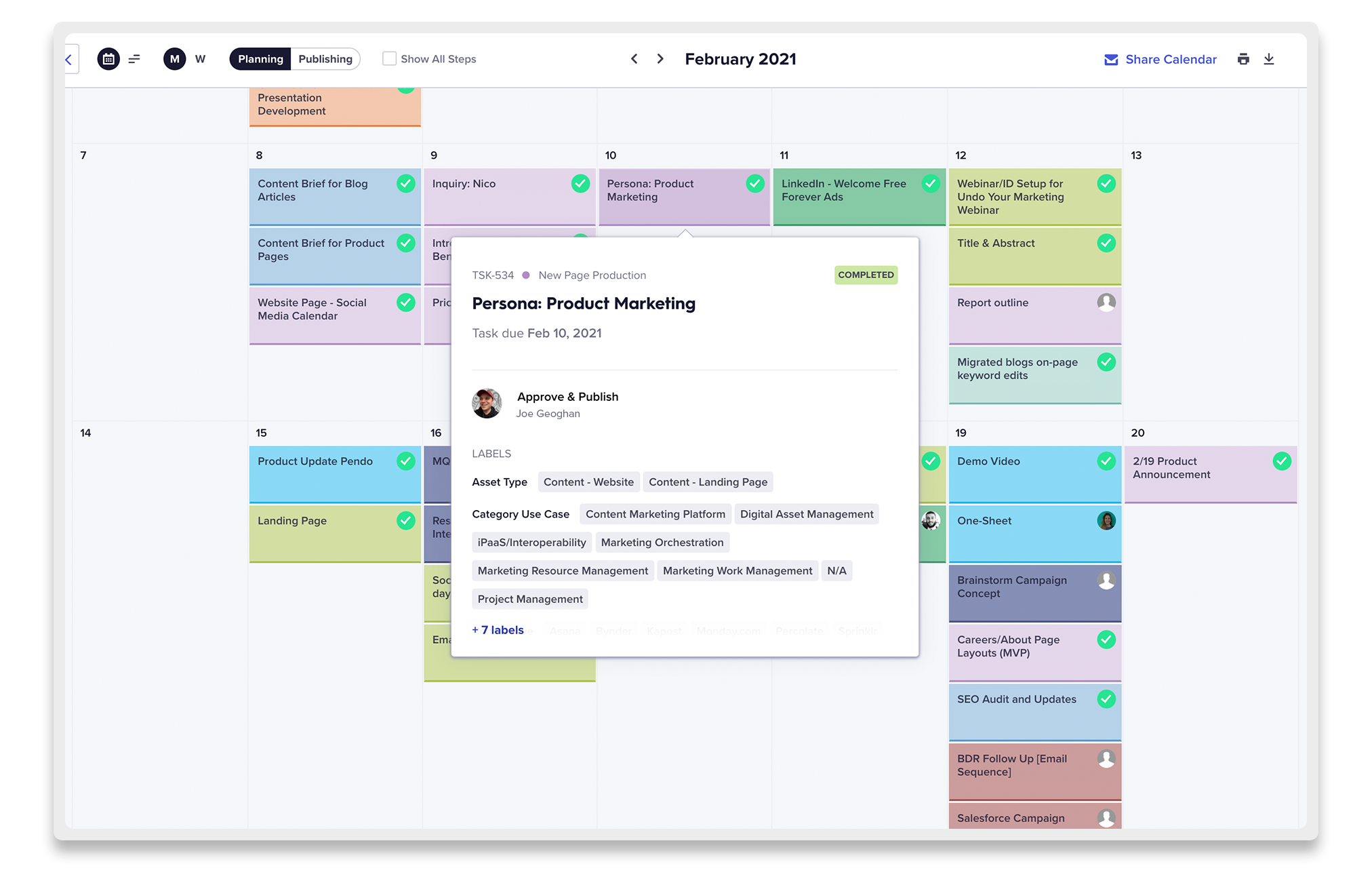 Transparency facilitates collaboration, prevents bottlenecks, and makes processes faster.
Who Needs Content Marketing Software?
Any professional who plans, executes, and measures the success of content marketing campaigns will benefit from using a content marketing platform like Welcome. That includes:
In-house content marketing teams
Marketing agencies that produce campaigns for multiple clients
Content marketing consultants who work with freelancers to execute large projects
And among those teams, you should give these roles access to your CMP:
Content marketing manager
Project manager
Creatives: writers, designers, videographers
Editors
Brand manager
SEO specialist
Social media manager
Web publishing specialist
Stakeholders or clients
Anyone who works on content or is interested in its success can benefit from working with a CMP.
How To Evaluate Content Marketing Platforms: 7 Questions to Ask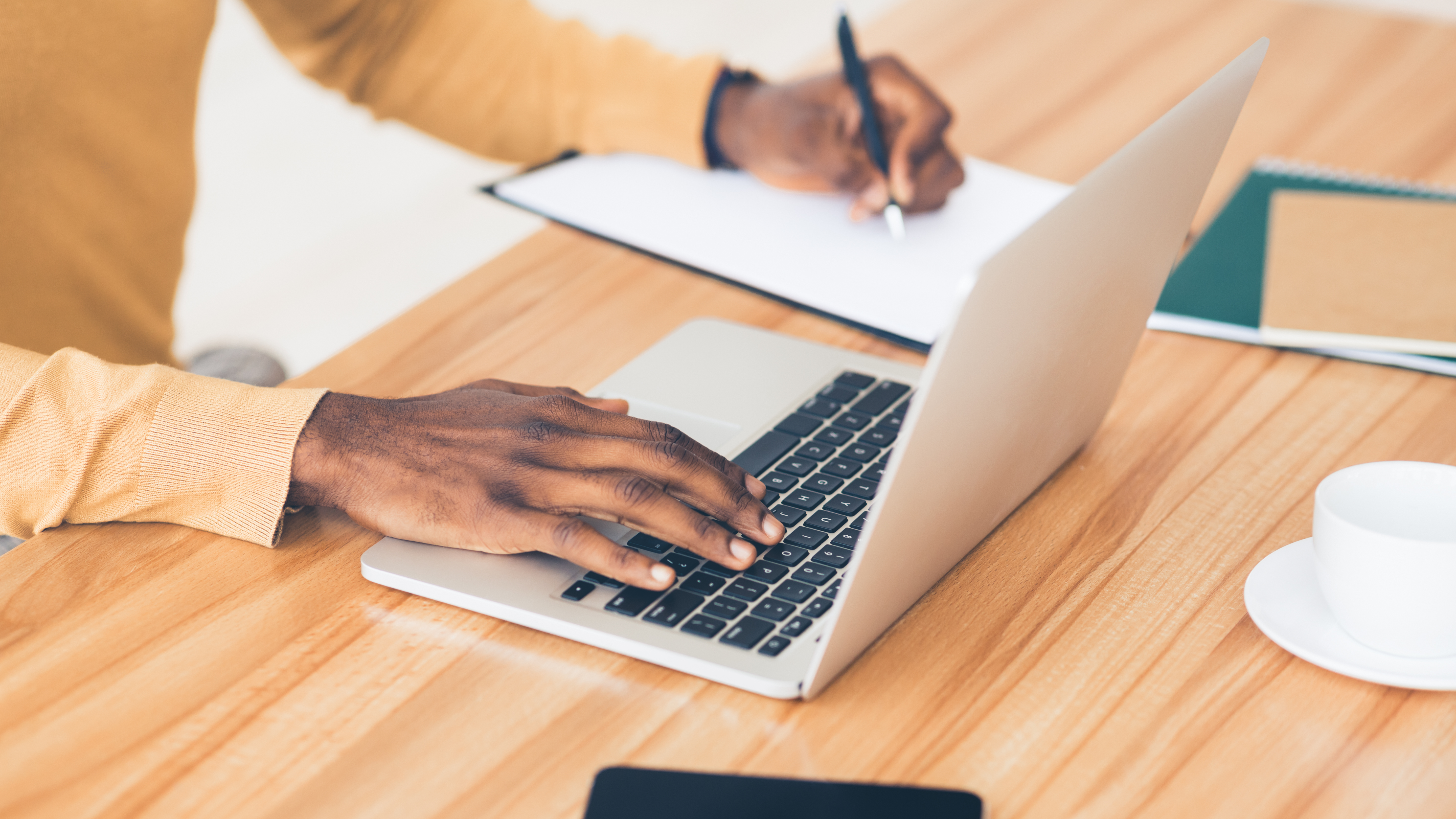 Shopping for content marketing software can be a daunting task. If you're going to put time, money, and energy into migrating your team from one way of doing things to another, it's crucial that the solution you choose meets your needs.
Ask yourself these questions to guide you in your shopping and ensure you're putting your needs first:
What do I need this software to do? Does this solution have all the features I need to meet those needs?
Will this content marketing platform make my job and life easier? What tasks can it automate for me?
Does this solution come with good customer support? Does it have detailed documentation?
Is this CMP continually being updated? How often are new features and updates released?
Does this software have good reviews?
Does it fit my budget?
What kind of integrations does it offer? Will it work well with my other software?
Explore your options thoughtfully to ensure the best investment for your team.
Features To Look For in Content Marketing Software
Entering a Target without a shopping list is dangerous.
You run the risk of going in with the intention of buying patio furniture, but leaving with a home gym setup and forgetting the outdoor coffee table.
In this case, Target has successfully distracted you with its beautiful displays so that you got sidetracked from the original goal at hand.
So why are we talking about Target in a guide about content marketing platforms?? Because it's equally as dangerous to start your CMP shopping journey without a shopping list.
You may think you want one thing, but end up settling on software that doesn't have all of the tools you need because the software's marketing copy was just oh-so-convincing.
In order to truly be an all-in-one content marketing platform, a CMP should include the following features:
Content calendar
Content creation space
Collaboration capabilities
Feedback features
Project management solutions
Budgeting tools
SEO keyword research features
Asset management capabilities
Asset licensing tools
CMS integration
Social media marketing and syndication capabilities
Analytics and reporting features
Here's an in-depth look at those crucial capabilities.
1. Content Calendar
A CMP should have a calendar that your team can use to organize campaigns, plan deadlines, and assign projects.
Welcome's intuitive marketing calendar helps you keep an eye on content, digital, and email marketing campaign progress and content production from global and granular views. It also works in conjunction with workflow features to automatically update the status of each project.
2. Content Creation Space
Working in a standalone word processor is so 2001.
To be truly comprehensive, a CMP needs to come with a text editor built in.
Welcome's CMP is loaded with a text editor that you can use to create and share briefs, and write and revise content. This text editor goes beyond the basics to let you format content, embed images, video, and code, and insert tables.
3. Collaboration Capabilities
An effective CMP should make working with team members and stakeholders easy. Welcome has several notable collaboration features.
First, marketing automations notify team members when it's their turn to contribute to a project. After one collaborator checks off the step they've completed in a workflow, the next person is automatically told that it's time for them to do their thing.
Second, all content creators instantly have access to creative assets like logos, brand guidelines, and stock images, thanks to the digital asset manager that's built in to Welcome.
4. Feedback Features
For a CMP to be worthwhile, it needs to simplify the feedback process. Collaborators should be able to give their input alongside each type of content, rather than via email or Slack.
Welcome facilitates the feedback loop in several ways.
Editors can track changes when reviewing content written in Welcome's text editor to help their writers improve. For bigger picture edits, they can add comments to particular sections of text and tag team members to prompt them to take action.
When it comes to visual content that's uploaded to Welcome, collaborators can give feedback through comments and annotations. The annotations feature is particularly helpful when it's simpler to demonstrate the changes you want instead of describing them.
5. Project Management Solutions
The right content marketing platform will help keep your team on track. Project management features help you stay organized and meet deadlines.
Welcome's granular and global dashboards ensure every stakeholder can access the insights that are most important to them. For example, project managers can plan the minutiae of campaigns, like subtasks, workflows, and deadlines, while investors can see a bird's-eye view of campaign progress and results.
6. Budget Tools
Look for CMP features that let you plan, manage, and maximize your marketing spend.
Welcome helps you budget for creative and creatives. You can track actual spend against the budget plan for unprecedented real-time visibility into budget health.
Budgets aren't only useful for freelancers. For in-house team members, Welcome's capacity planning tool makes it easy to see who is working on what, who can take on more work, and who needs fewer assignments to avoid burnout.
Plus, Welcome's invoice management features help you pay for professional services quickly and easily.
7. SEO Keyword Research Tools
Your search engine optimization (SEO) team shouldn't be the only one that can access information about your progress towards ranking for keywords. Look for a content marketing platform with SEO transparency to keep all teams aligned on and informed about SEO goals.
Welcome's built-in SEO tool helps with keyword research, competitive research, content ideation, and more. Collaborators can easily see how content is ranking without needing to ask the SEO team for reports.
8. Asset Management Features
A comprehensive CMP will come with a digital asset management (DAM) tool so that you can store all of your brand assets in the same place where you use them.
Welcome's built-in DAM helps you keep your images, logos, and other branded assets organized with tags, searches, and folders.
Plus, with content utilization tracking, you'll always know who is repurposing what content, so that you don't end up using the same image for two major pieces of content back to back!
9. Asset Licensing Capabilities
Sometimes your team won't have the bandwidth to create a new piece of content. That's why your CMP needs to come with an asset licensing marketplace.
Marketers who use Welcome can buy stock images from top sources like Getty and Reuters and license written content without leaving the platform. Content curation features are just as important as content creation features in a CMP.
10. CMS Integration
The best content marketing platforms integrate with your CMS so that you can create, edit, and publish content without leaving the platform, saving you time and hassle.
Welcome links with virtually any CMS, including WordPress, Drupal, Tumblr, and AEM.
11. Social Media Marketing and Syndication Capabilities
Your CMP needs to help you syndicate any content you publish to your website to your brand's social media channels.
You can connect your LinkedIn, Instagram, Facebook, Twitter, and other social media accounts to Welcome and share social posts directly through the CMP.
12. Analytics and Reporting Features
A CMP is only as good as its reporting features. Without them, your team will have a difficult time proving its victories.
Welcome uses powerful pixels to help you see key performance metrics, track lead generation, and demonstrate results. With these insights, you'll have unprecedented visibility into the content, topics, and formats that resonate most with your audience.
What's the Best Content Marketing Platform?
We might be a bit biased here, but…
The best content marketing platform on the market is Welcome… duh!
Why? Most other CMPs on the market aren't true content marketing platforms. They're just project management tools with features that can come in handy for managing content.
Welcome is the only content marketing platform built for content marketers.
Remember the 12 must-have CMP features we highlighted in the last section? Welcome has them all.
If you're still not convinced that Welcome is the best CMP, you don't have to take our word for it. Gartner has named Welcome (formerly known as NewsCred) a leader in its annual CMP Magic Quadrant for four years in a row.
Gartner, Magic Quadrant for Content Marketing Platforms, Nicole Greene, Rick LaFond, 22 March 2021
Plus, marketers at renowned brands like JP Morgan & Chase, Conagra, Blue Cross Blue Shield, GE, and Panasonic rely on Welcome.
What Are Alternatives to Content Marketing Software?
If for some reason you still don't think a CMP will make your life easier, you might want to check out some alternative options. You can either use an all-in-one platform like Welcome, or build a martech stack from scratch with the following tools:
A project management solution for organizing budgets, processes, and teams.
An editorial calendar for keeping up with deadlines.
A keyword research solution for planning SEO efforts.
A digital asset management (DAM) tool for organizing and storing visuals.
A platform for creating and editing content.
A CMS for publishing blog posts, web pages, landing pages, and more.
A social media tool for publishing content across channels.
Reporting software for proving impact.
Would you rather have to shop around for, train on, and use eight tools, or just one??
We think the answer is obvious. Why complicate the already complex content marketing process when you can plan, execute, and manage it from one place??
How Much Do Content Marketing Platforms Cost?
Content marketing platforms cost less than you think. In fact, Welcome is totally free for small teams of up to 5 users.
Need licenses for six or more people? Team plans start at $99 per seat per month.
Compare that to paying for the eight separate tools you'd need to replace a CMP:
Project management tool: $11-25/month
Editorial calendar: $207-990/month
Keyword research software: $100-$400/month
DAM: $30-$400/month
Content creation and collaboration software: $60/month
CMS: $300/month
Social media management platform: $50-600/month
Analytics software: $12,500/month
The total for this a la carte content marketing tech stack ranges between $13,258 and $15,275 per month.
The total for access to Welcome's all-in-one CMP ranges between $0 and $99 per month.
The Bottom Line: Welcome Is the Content Marketing Platform Built for Content Marketers
Content marketing management is a complex discipline that involves many stakeholders and moving parts. While marketers traditionally rely on a bevy of separate software solutions to take care of their content marketing needs, this hodgepodge of tools can make the process even more difficult.
That's where the almighty content marketing platform comes in: it ties together the dozen tools that content marketers need to get the job done into one platform.
Welcome is the best CMP on the market because it's made specifically for content marketers. It has all of the capabilities marketers need to free themselves of their elaborate tech stack, create more impactful campaigns, and prove their results.
Sign up for a free trial today.