Content marketing. Content marketing, Content marketing.
It's far from a valueless buzzword. But if you've read one of the many (thousands) of articles online about how content marketing will revolutionize your business, you'd be forgiven for mistaken claims about content marketing appearing more flash than substance.
"If you build it, they will come."
If you write valuable content, you'll draw in consumers — consumers you can convert to leads, leads you can convert to paying customers, and your sales will soar. Says every marketing blog ever.
But of course, it's not that simple.
Churning out a blog and a social media post every week isn't going to cut it. Nor is stuffing a dozen keywords or phrases into each page of website copy. And even as much as video content is consumed, publishing even the most polished videos is not going to get you where you need to be.
Content marketing, like most marketing tools, doesn't work without a plan. A fully formed strategic plan aligned with your marketing and sales strategies, realistic and achievable goals, and relevant success metrics.
Some marketers start by producing a content calendar (or editorial calendar). Unfortunately, that's also where many stop. A content calendar is a crucial part of your content marketing plan. But at the end of the day, it, in and of itself, is not a content marketing plan.


Effective Content Marketing Planning
An effective content marketing plan contains the following elements:
Measurable goals, success metrics, and KPIs
Target audience research
Competitive landscape analysis, including offline and online positioning
Content strategy
Resource allocation plan
Content calendar and production schedule
This may seem a bit much, but trust us, it's not. Especially if you already have a strategic marketing plan in place.
Brand new businesses just getting off the ground may be able to wing it without a complete content plan for a time. A social media adept CEO or co-founder may be able to drive traffic to your website by sharing their industry and errant thoughts from their cellphone while waiting in traffic each morning. For a little while.
But for brands that want to scale, mature brands, and brands that still somehow have a minimal online presence to speak of, you need a real content marketing plan.
Why You Need a Content Marketing Plan
Content marketing is deceptively simple. It's pretty easy to make mistakes that cost you time, money, and customers.
Mistakes that create headaches for you. And marketing. And sales. And customer service.
Do any of these scenarios sound familiar?
You started posting content weekly, but as your daily activities consumed you, your content marketing planning efforts fell by the wayside one week. Then another. Then another…
Your content is well-written, but your search engine ranking has not improved. In fact, it's gotten worse.
You're getting a lot of likes but are unsure what that means. Especially since sales remain static.
You're showing up in search results for queries that have nothing to do with your business.
You're attracting a lot of traffic, but because you haven't paired your content with your SEO efforts, few, if any, consumers have the intent to purchase.
You're realizing, belatedly, your consumers aren't where you post your content.
Your display ads are saying something different from your blog and social media.
We could continue, but chances are you've witnessed or even made one or several of these mistakes yourself. (Shh! Don't tell anybody, but so have we.) It happens. But it occurs most frequently when there's no plan in place.
Planning Your Content Marketing Strategy
If you've written or co-written a marketing campaign before, your content marketing planning should seem less daunting. In fact, you'll want to use your business' strategic marketing plan as a reference for this one.
If your business doesn't have one or has one in dire need of updating, you'll need to do a little bit more work. In either case, here's what you need to know about each element.
Measurable Goals, Success Metrics, and KPIs
Planning without establishing clear, reasonable, and measurable goals is planning to fail. Your content marketing planning goals should be a natural extension of your business goals and your marketing goals. You'll also want to identify the metrics that accurately measure your performance. (Hint: It's not Likes. Bonus hint: It's not Impressions).
Your metrics should be directly correlated with performance, quantifiable, finite, and difficult to manipulate. Think traffic, engagement, search performance, and conversions.
Drill down into the KPIs for each metric. For example, your conversion KPIs per period might include, among others:
Leads generated
Cost per acquisition
Number of conversions
Dollar value of new conversions
Average conversion time
Average conversion rate
Average turnover rate
Conversion rate by channel
Target Audience Research
Understanding your audience inside and out is crucial for any successful marketing strategy, and content marketing is no different. Use the behavioral and demographic information you've compiled to create a buyer persona (or two, but no more than three).
Your buyer persona should be a composite of the attributes of the average consumer you're targeting. In some cases, you'll need more than one when dealing with radically different consumer groups, in which case you'll want to develop tailored messages to each persona.
You will be writing for and producing content tailored to your target persona(s), so you must know precisely who they are. You'll also need to know what they find most compelling. Which influencers do they listen to? What types of content do they consume the most? Understanding what your target persona finds most persuasive is fundamental to developing effective content.
Competitive Landscape Analysis
You can't get to where you're going without knowing where you are. So:
Where are you positioned relative to other competitors and industry players?
Why are you in your current position?
What share of the market have you captured?
How large is your market?
Is your market growing or shrinking? How big or small could it become?
Have regional factors have influenced your positioning? How?
Have industry trends, laws, or other factors affected your positioning? How?
What threats and opportunities are on the short-term and long-term horizon?
By understanding your current positioning, and the factors that helped you attain your current position, you'll better understand the steps you need to take to achieve your marketing goals.
Content Strategy
This is the heart of your plan and requires both your analytical and creative skills to yield the best results. Here, you'll develop the overarching general and audience-specific messaging that will appeal to your target consumers. You'll also select the best channels to speak to your audience and the content types you'll need on each.
Make sure to pick the media they consume and the platforms they use. If many of them are on LinkedIn, publish blogs on LinkedIn. Or if your target audience responds well to visuals, forgo written explainer blog posts for infographics.
Do not overextend yourself, dilute your efforts, or waste your money trying to distribute content everywhere. Rely on your target audience research. Go where your consumers are.
You'll also integrate keywords and phrases from the research you conduct into your messaging. Make sure no matter what keywords turn up, your primary focus is producing engaging and valuable content, not jam-packing every article full of keywords or every post full of hashtags.
Resource Allocation
You'll need to do more than secure the money for the paid types of content marketing that may be a part of your plan. You'll also need to allocate the time and resources necessary to handle production, monitoring, and adjustments you will likely need to make.
Inadequate resource allocation is frequently a pain point for marketers. So think carefully for a minute about whether you have budgeted enough for every facet of your plan. The last thing you want is to scramble to pay a freelance videographer for the vlogs they shot days after they were supposed to go live.
Content Calendar and Production Schedule
Now you'll want to start scheduling everything out.
Consider how much time you have each day for this project and how likely you are to get pulled away from it. Make sure you include enough time to produce everything in your plan. And make sure you leave plenty of time for editing and fact-checking.
Build your content calendar around your projected peaks and dips in sales, holidays, and other vital periods, as well as your production schedule. Make sure to periodically check and adjust your content distribution schedule as needed.
Last Step
Implement! Dive into content creation and make sure every piece of content you produce is aligned with your plan.
Post-Script Step
Update and refine your content over time. Marketers often forget about post-publishing optimization. To keep your content fresh, schedule periodic content audits to assess all pieces of content. Updating articles and images, tweaking keywords, and adding or replacing new hashtags can help sustain engagement long term.
How Welcome Simplifies the Content Marketing Planning Process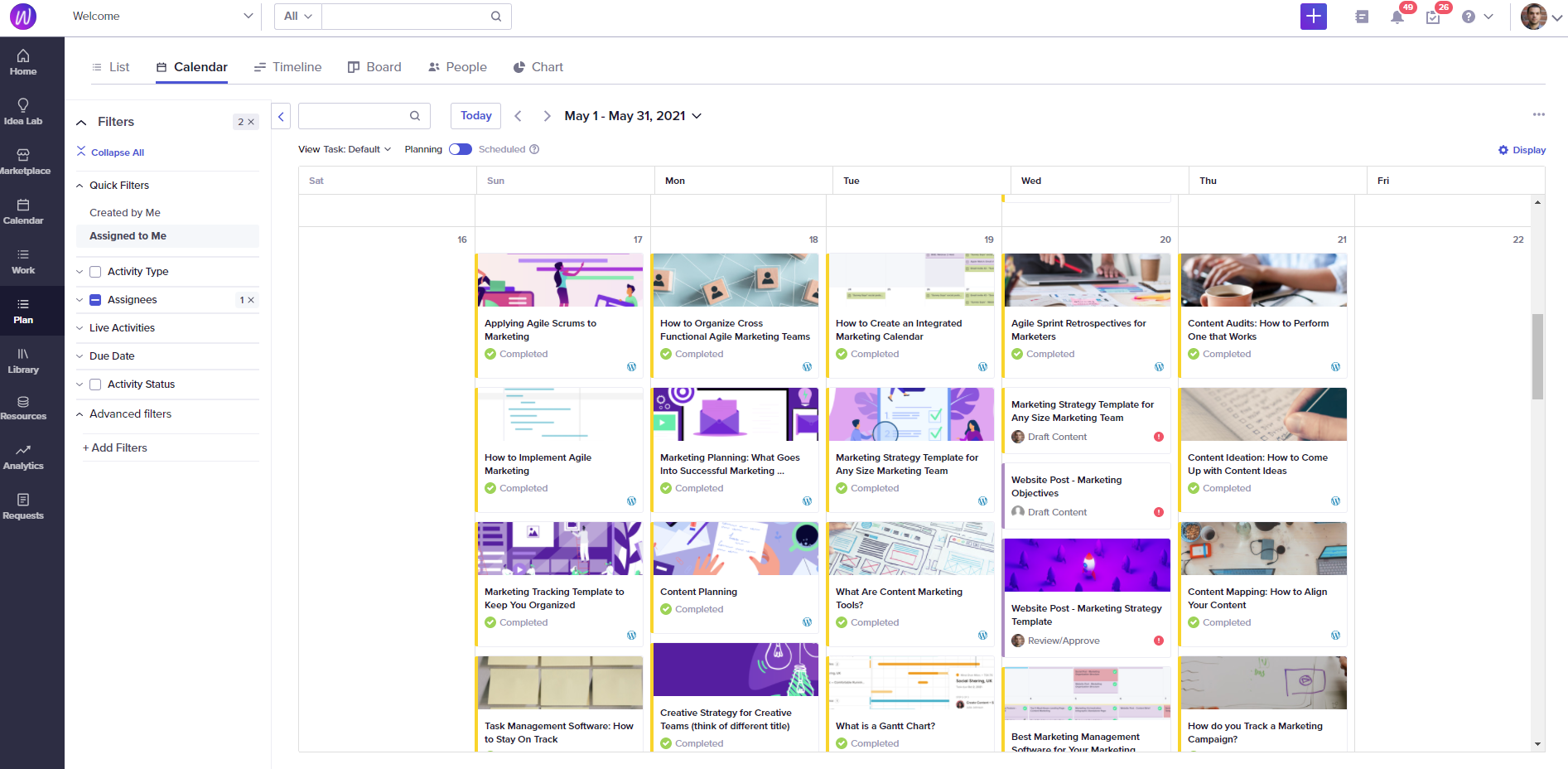 Of course, you could do all this on paper. You could download a content marketing plan template you find through a Google Search and start filling it out. When it's done, you could email it to your team with their roles clearly marked and get started, and hope for the best.
But there's a better way. A much, much, much better way.
With Welcome, a comprehensive marketing software package designed for marketers, you can quickly develop or refine your content marketing plan.
Even better, you can collaborate with your entire content team on Welcome to implement your plan. You can create production and editing workflows for content pieces, distribute them across multiple channels, and measure your impact with a robust set of analytics tools.
No matter your process, Welcome allows you to tailor workflows specifically for your business. You can ensure each team member has clearly assigned roles and responsibilities as you work together to produce great content.
Further, you can easily integrate Welcome into your CRM, CMS, and social feeds and publish your content from a single platform, helping you to provide a seamless cross-channel customer experience. And you can leverage a full suite of engagement analytics and conversion tracking tools to track your performance accurately.
You and your team can get started with our platform for free. You don't need a credit card to sign up. And if your content marketing is a little lacking, you don't need to hesitate. Try out Welcome today.