At ThinkContent London, NewsCred CEO and Co-founder Shafqat Islam shared these remarks about the performance era of content marketing, and how marketers can set themselves up for success in 2018. The talk has been edited and condensed for clarity.
The performance era of content marketing is here. Marketers are under more pressure than ever to prove that content is driving business growth.
This was inevitable, as the industry has matured. The amount we spend on content increases each year. But while content production has reached an all-time high, we're creating more than people can possibly digest.
Content creation shouldn't be our focus. As content marketers, our goal should be to use content to achieve the key objectives that our C-suites want to see. What follows will help you get there in 2018.
Align content marketing objectives to focus on business outcomes.
CMOs measure the value of content marketing in one of three ways:
Growing marketing influenced revenue.
Improving operational efficiency.
Increasing brand equity.
As content marketers, we should relentlessly drive to meet whichever goal is most important to our company. Performance marketing isn't new. What's different is that now we can create exceptional content and push our brand forward with memorable stories that matter – and quantify those results.
Use the NewsCred Methodology as your content marketing roadmap.
But that's easier said than done. When we learned that only a quarter of our customers and prospects can measure content marketing ROI, we developed a series of frameworks, methodologies, and research to help them.
First, we created the Content Marketing Maturity Curve. It starts simple, with whether marketers have a documented strategy, and goes up to whether they can track conversions and ROI and replicate the process on a global scale. We plotted our customers and prospects on it and found that most get stuck at some point, usually at driving to conversions and ROI.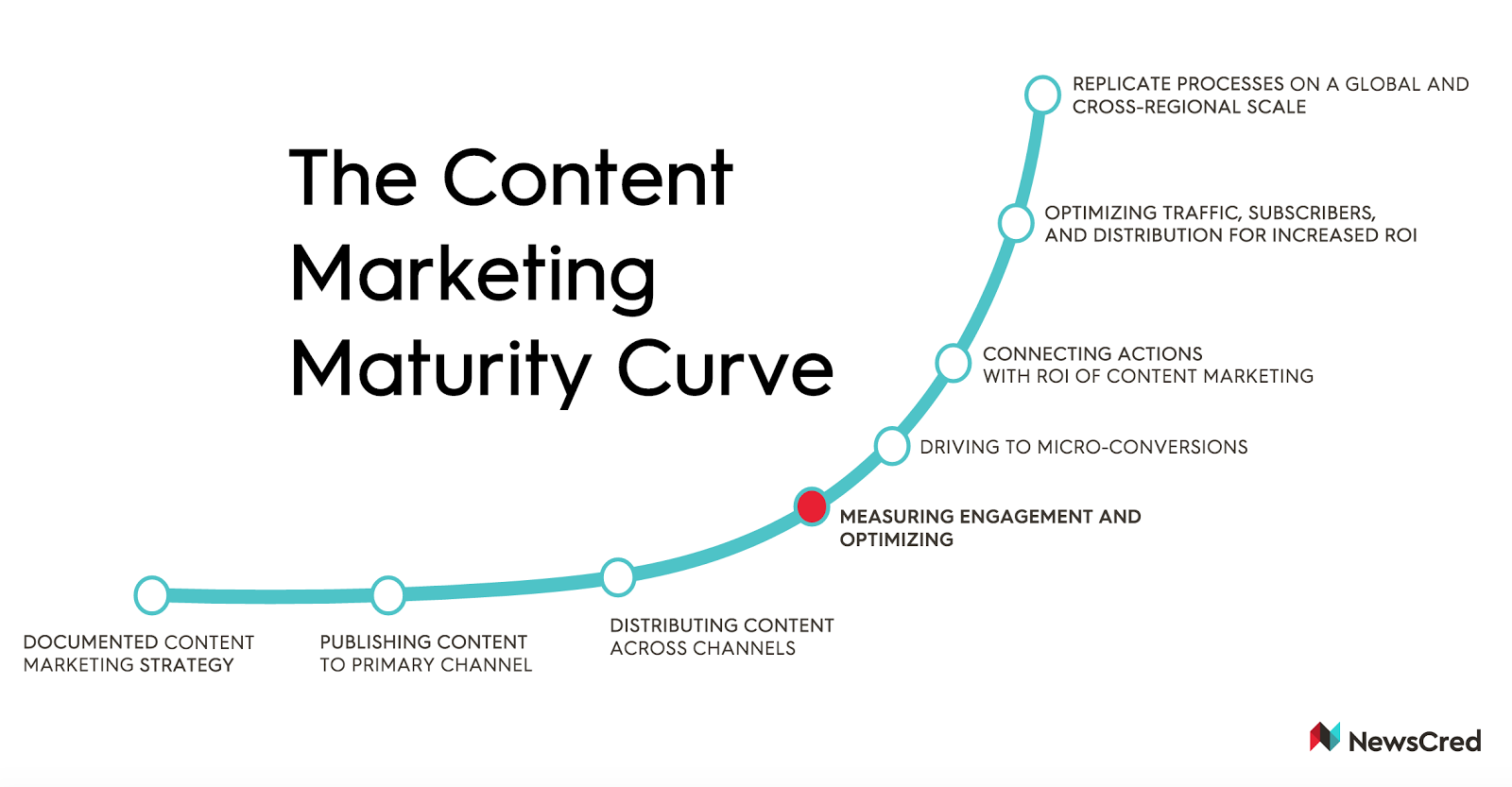 Next, we created the Content Marketing Maturity Index, a series of 100 questions aligned to five pillars: strategy, traffic, engagement, action, and monetization. This helps brands understand their strengths and areas for growth. (Get your Content Marketing Maturity Index score now.)
Alongside the Maturity Index, we developed the NewsCred Methodology, which is essentially a step-by-step playbook, aligned to the same pillars, to help marketers improve their processes and gain better results.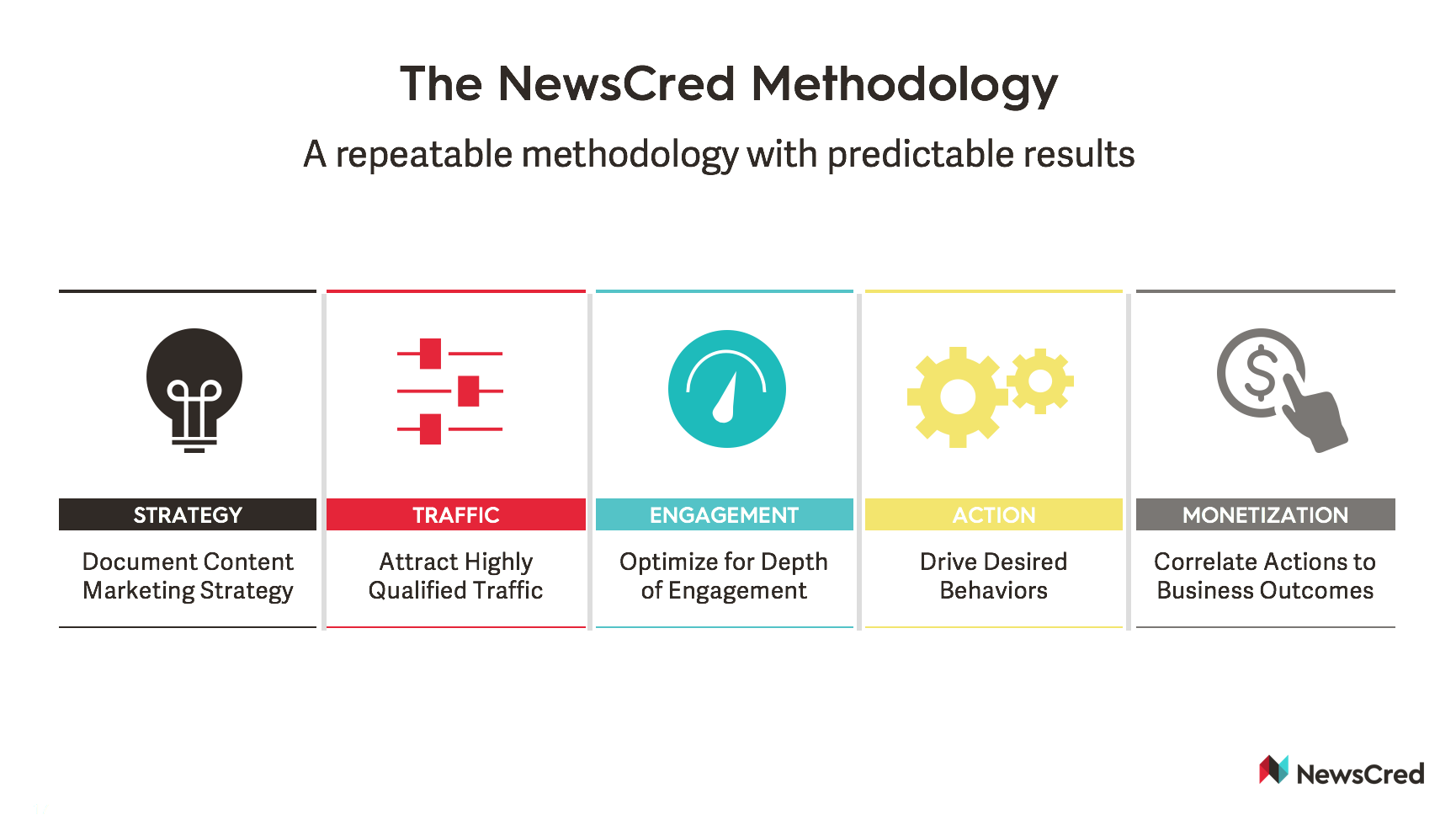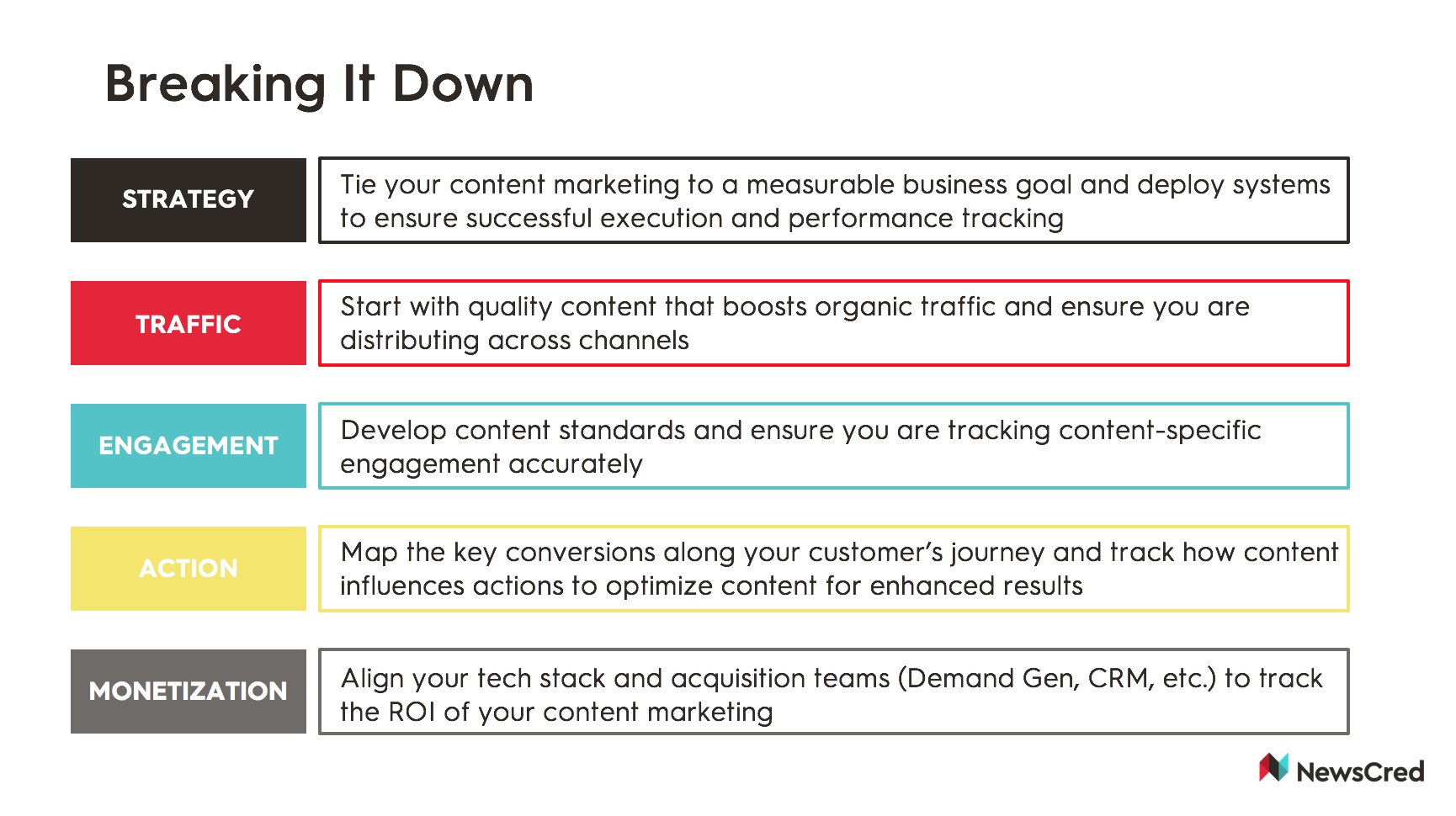 For each step of the journey, there are certain KPIs. The key is to select KPIs that map to your ultimate goal.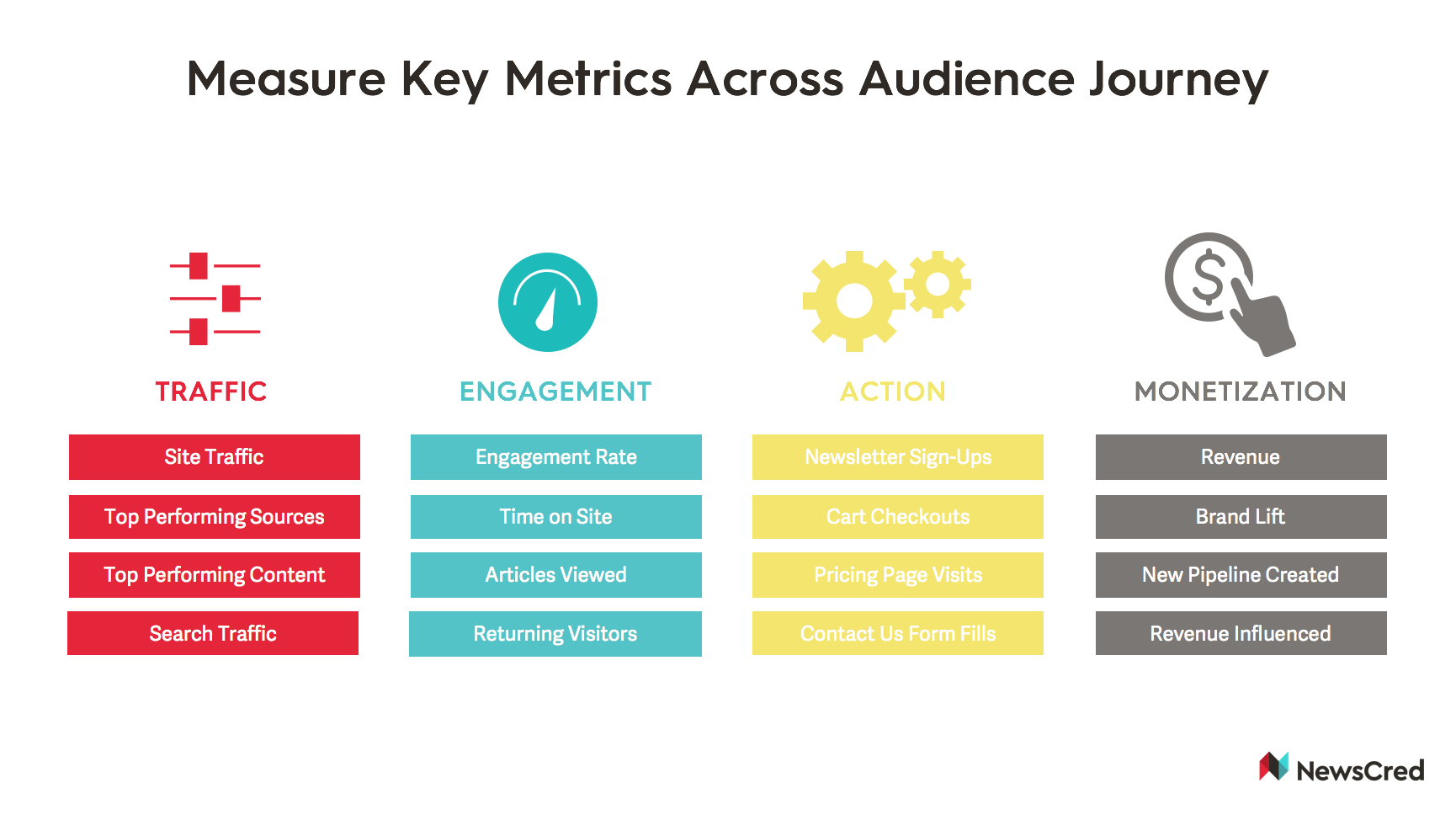 To continuously drive performance, create exceptional content, measure it, and use your learnings to optimize your editorial strategy at every stage of the journey.
Focus on unbranded search and use SEO data to inform content creation.
While it may sound like what's old is new again, there's no denying that SEO is critical to content marketing performance. It's how your audience will find you. Across our customer base, content drives approximately 50 percent of hub visits from organic search.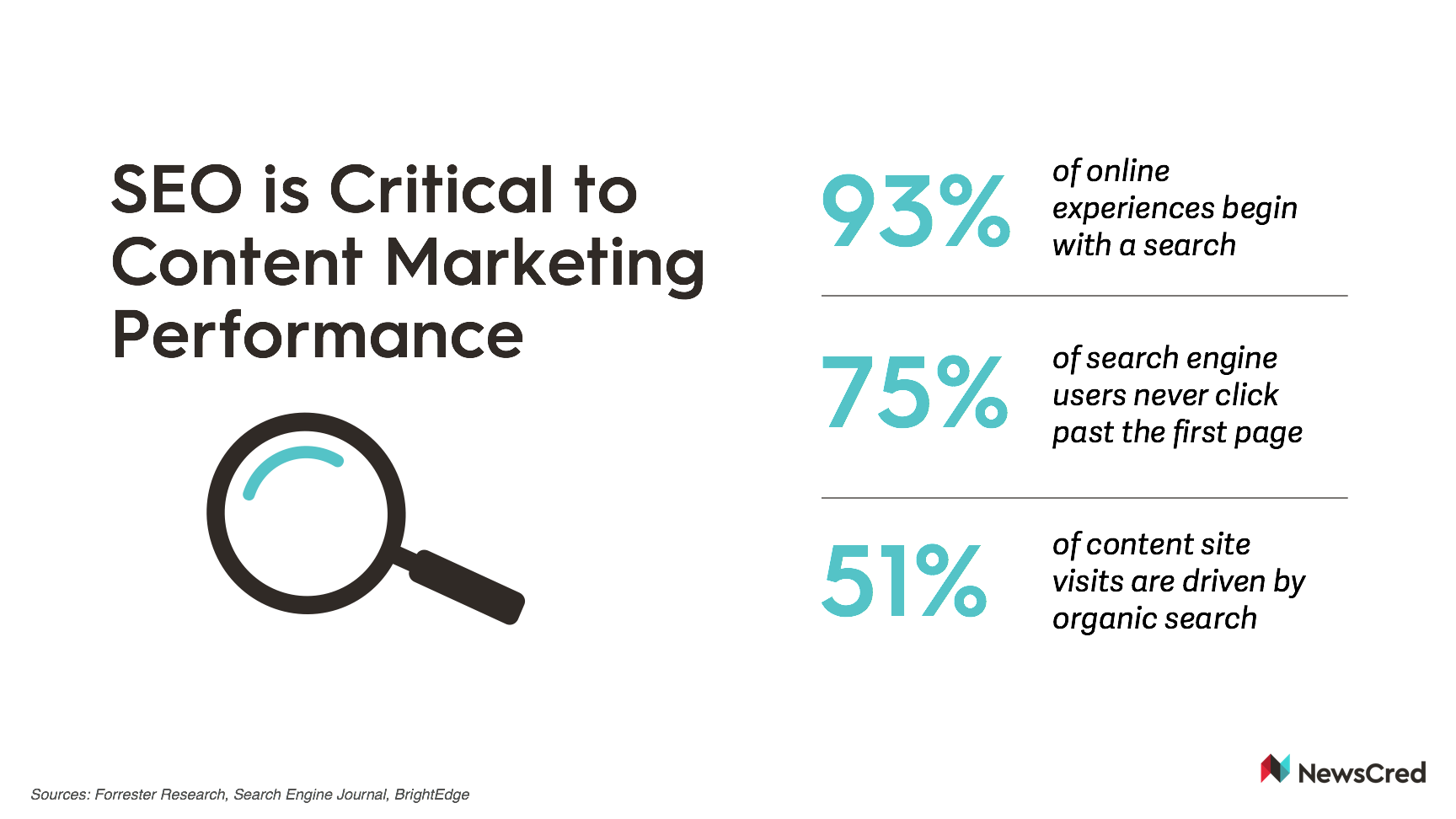 Content marketing is the single best way to win at unbranded search. This will increase your share of voice, influence, and sales. To rank well, nail the SEO basics, like optimizing your content hub and creating a backlinking strategy. But unless you have high-quality content, people won't come – and your search rankings will drop.
SEO can help you understand what your audience wants. Use tools like SearchMetrics, BuzzSumo, or even Google auto-complete to learn what questions people are asking and create content that provides answers. Amplify that content through paid, long-tail search. There's a big opportunity to own niche topics and longer phrases at lower CPCs in less competitive spaces.
Keep in mind that search is extending into the realm of voice-enabled devices, like Amazon Echo and Google Home. If your website ranks well in search, it will also rank for voice search – but the bar is higher. If you're not the top result or in the Google answer box, you won't be surfaced on voice.
Start personalizing content. First segmentation and then individualization.
Every CMO I talk to says, "This year, we have to do personalization." For many marketers, that starts with segmentation before evolving into individualization.
Marketers have been using segmentation for years. That's where you divide your user base and create nurture tracks with pre-selected articles for each group (e.g. 10 articles for business travelers, another 10 for leisure travelers, a different 10 for bleisure travelers). Segmentation helps increase performance, but it's manual and done in advance, rather than in real-time. Ultimately, it's not true personalization.
Individualization, on the other hand, is audience-led. We observe audience characteristics and know who people are and what they're reading. Based on that, we serve content specific to each individual. Companies like OneSpot and Idio are already helping marketers achieve this kind of personalization. It does, however, require a lot of the right content.
But people want and expect it. They already get it from Netflix and Amazon. Customers are willing to give up a bit of privacy in exchange for a better experience. In return, we owe it to them to be thoughtful about what we serve. Rather than chasing them around the internet with ads for items they've already purchased, give them content that enriches their lives. For example, if I booked a trip to Hawaii last year, don't just serve me articles about Hawaii every month. Send me stories about Caribbean destinations that may inspire me to travel somewhere new.

Don't stress about AI. Begin thinking about future ways it can help.
Artificial intelligence (AI) will not take over your job. We're not going to have machine-generated content that is memorable and inspirational anytime soon.
But start thinking about AI applications that are sophisticated enough to help with content marketing tasks like tagging content, writing successful headlines, and personalizing user journeys. At NewsCred, for example, we have a machine learning team that built a headline tester. It can predict, with a fairly high degree of accuracy, which will perform better.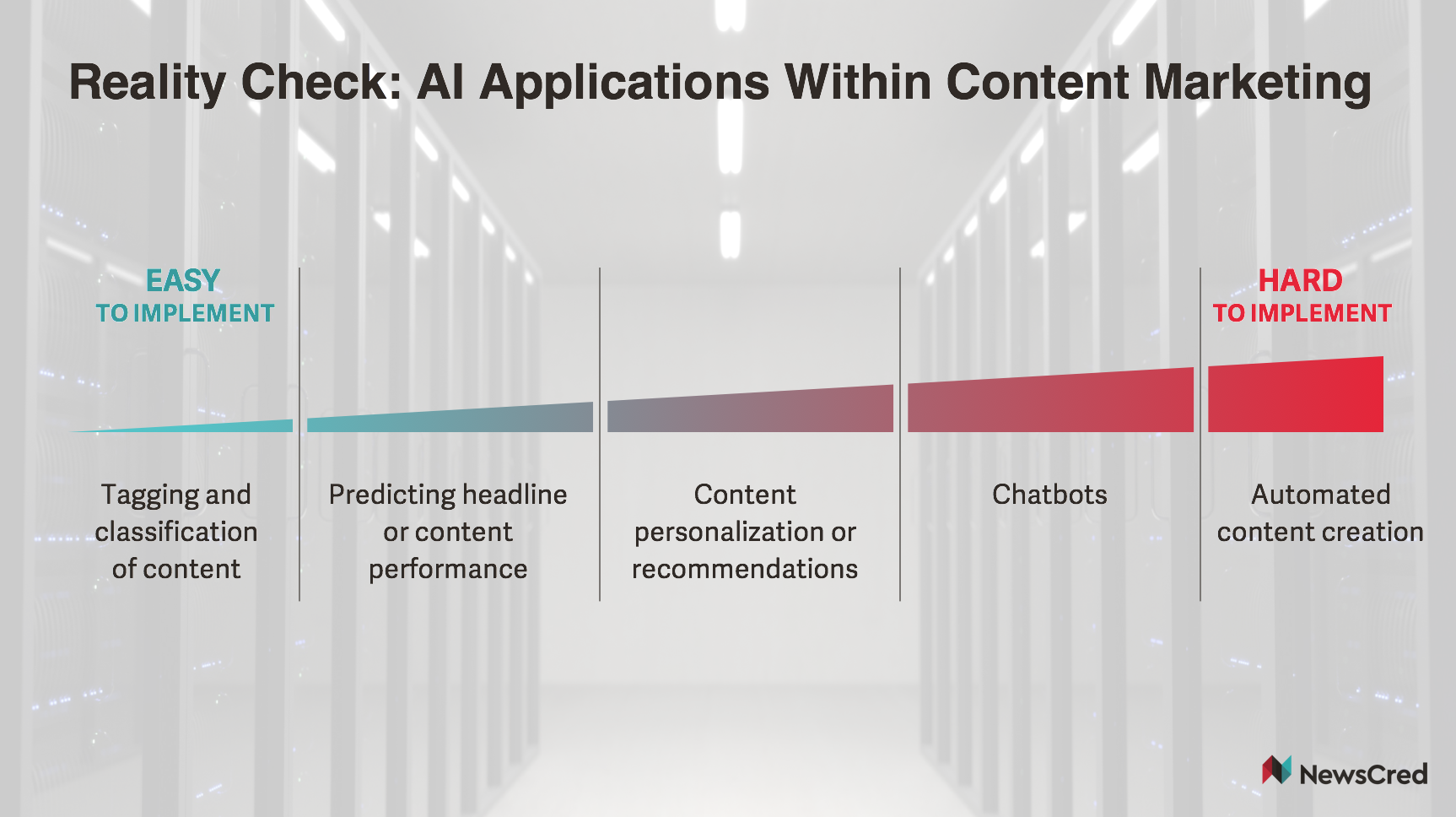 Set email subscription growth as a content marketing KPI.
Email is still the most effective distribution channel. You fully own the audience and the data. Across NewsCred's customer base, email drives three times more conversions than any other channel. Make subscription growth a KPI for your team. If you're not utilizing email, you're leaving money on the table.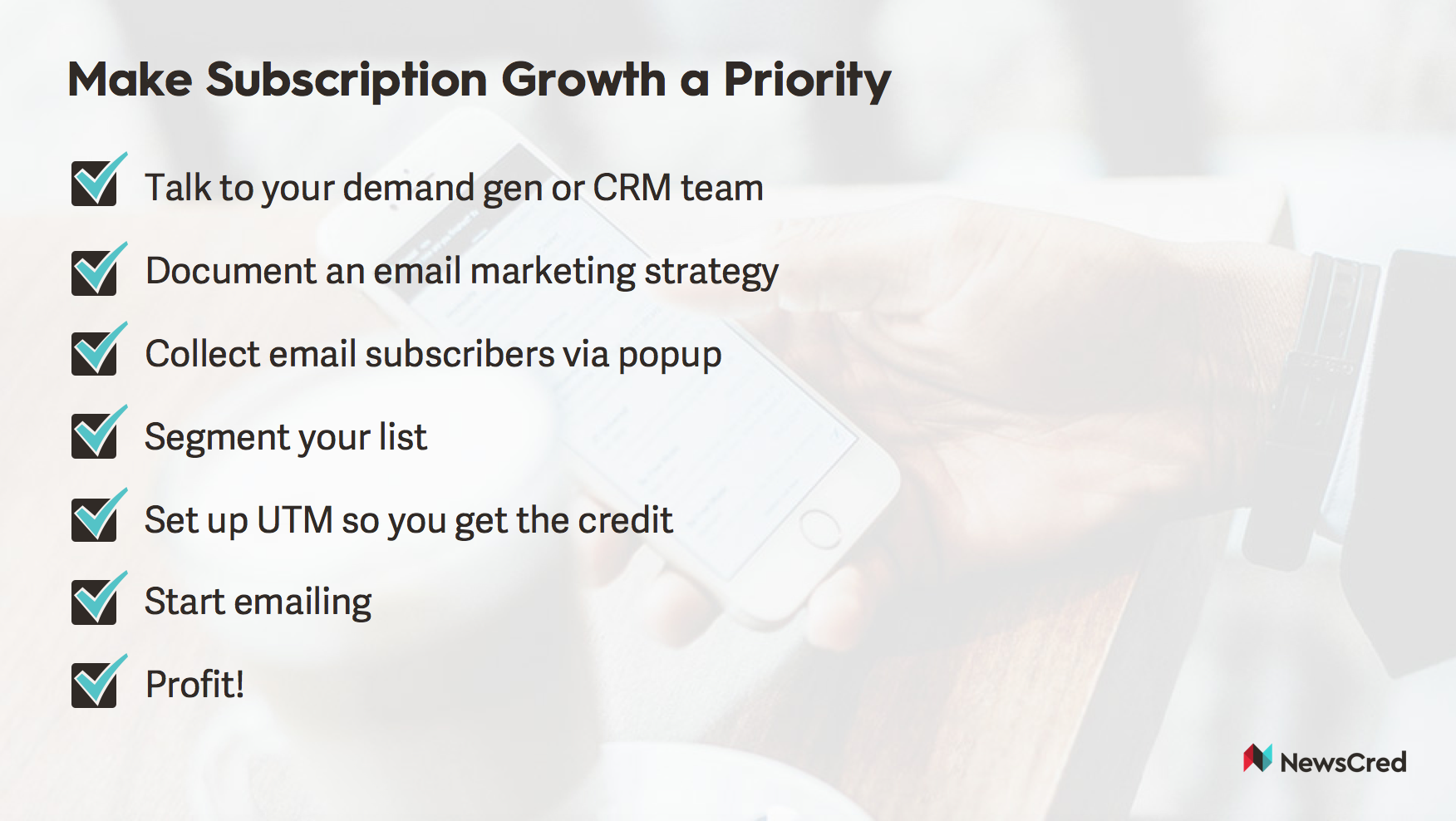 And I'll leave you with this, which is, perhaps, the most important piece of advice to remember when heading into 2018: The most riveting headline is only as good as the revenue it generates.

Shafqat Islam is NewsCred's CEO and Co-founder.