In launching The NewsCred Top 50, we not only had the opportunity to honor the very best content marketers – we also had a chance to do an in-depth survey on the state of content marketing in 2018.
To select the Top 50, we evaluated hundreds of brands, from global giants to scrappy startups, against three criteria: having a content hub and producing high-quality content; launching innovative, content-driven initiatives; and having measurable, meaningful impacts on their businesses.
During the selection process, we found much to celebrate – and a few opportunities on which all content marketers could capitalize. Here, our top takeaways.
Start with strategy, end with monetization.
We based the Top 50 criteria on three key drivers of content marketing success: Effective content marketing starts with a strategy that aligns with key corporate goals, like increasing sales or brand awareness. Once the strategy is in place, content marketers regularly engage audiences through content until they're inspired to take further action.
We found that today, most brands are doing some, but not all of those steps. Some brands wowed us with incredible videos or landing pages that were one-off campaigns but not ongoing content marketing efforts. In other cases, we saw content hubs that were frequently updated but lacking calls to action to drive readers to take further action, like visiting product pages or signing up for a newsletter. And some brands were still solely relying on advertising and only producing promotional content.
Yet, we were encouraged. The content marketing space is still young. It takes months, or years, to roll out a full-fledged content marketing program. We know that we were seeing many programs in the process of maturing, and we're excited to see where they'll be a year from now.
Put customers first.
Marketers are focusing on customers more than ever. Deloitte's 2017 CMO survey reports that CMOs are recentralizing their marketing organizations around the customer experience. It's no wonder. Today's customers have endless channels at their fingertips. Why would they engage with sales pitches or irrelevant content when something perfectly suited for them is just a click away?
Content marketing, as a practice, strives to provide customers with content so engaging that they will seek it out. But the very best content marketers create content that addresses their audiences' needs so they never have to ask questions first.
Last year, Headspace, the meditation app, launched a "How to Meditate" section that uses videos, illustrations, and conversational copy to address questions that newbie meditators often have. Headspace also offers "packcasts," which are podcasts featuring Headspace employees talking about trying to build their own meditation practices. Both content initiatives demonstrate how Headspace is helping its subscribers by making meditation seem less intimidating and more accessible – which, of course, benefits Headspace in the long run.
Lead with your values.
Perhaps it's the current political climate. Or the rise of the millennials and Gen Z, who aren't afraid to voice their opinions – and expect others to, as well. But we're now in a time when the majority of people want brands to take a stand on social and political issues.
Brands that have taken fearless stances are seeing the payoff. Ben & Jerry's has seen sales climb as it promotes social issues, like Black Lives Matter and immigration rights, as often as it pushes content about new ice cream flavors. Patagonia has rallied loyal supporters and won new ones by speaking out on environmental issues – like when it went viral after announcing on social media that "The President stole your land" when Donald Trump cut funding to two national monuments.
Big rock pays off.
"Big rock" content is aptly named. It's a major piece of content that's so impactful that your audience won't be able to ignore it. Big rock content requires a substantial upfront investment. It may take months (or years) of development, but can drive a major return.
Take Nike's Breaking2. The athletic brand came up with a wildly ambitious concept: Help the world's best runners smash the two-hour marathon barrier. Nike spent two years planning. But it paid off when more than 13.1 million people tuned in to watch the race livestreamed on Twitter, YouTube, and Facebook.

That's not to say that every big rock piece of content is that epic. Whitepapers, e-books, and interactives are also big rock content. Take a look at KLM's interactive, annual, where-to-fly piece that garners an average engagement time of more than five minutes and above average referrals to the KLM booking site.
Take risks and experiment with new formats.
Of all the brands we evaluated, Visit Seattle was, perhaps, the most ambitious. It's not a Fortune 500 with billions of dollars in revenue. Yet, it made a fearless commitment to video content marketing and has produced dozens of documentary-style videos that beautifully capture Seattle's spirit and diversity. Its efforts ranged from a Seattle version of "The Amazing Race" to "Turning Tables," a series that paired local musicians and chefs to see what musical and gastronomic creations emerged.

Visit Seattle's videos have earned more than 22 million YouTube views – and an in with its coveted audience of 25- to 44-year-olds.
Plan your personalization strategy.
Personalization is top-of-mind for every marketer. Amazon, Netflix, and Spotify have shown what's possible, and audiences see that standard as the norm. Which means that the rest of us have a lot of catching up to do.
Getting the right content to the right person at the right time is content marketing's holy grail. Many of the Top 50 have already started plotting their strategies.
"We're doubling down on richer data that strictly controls the content she's seeing, with our discretion," says Bryan Mahoney, Chief Technology Officer, Glossier, in Digiday. "This opens the door to things like machine learning: We can identify patterns and then change things around in order to get someone through checkout."
Consider content's role in other departments.
Content marketing is effective in driving sales and brand awareness – so why can't it be applied to areas outside of marketing?
It very well can be, and we were excited to see companies leveraging content to achieve other business objectives. Bloomberg uses content marketing to attract and retain diverse employees and foster an inclusive culture. Adidas' content hub, GamePlan A, exists to inspire those "tackling work life with an athlete's heart," both inside and outside the company.
We're excited to see more applications like these in the coming year.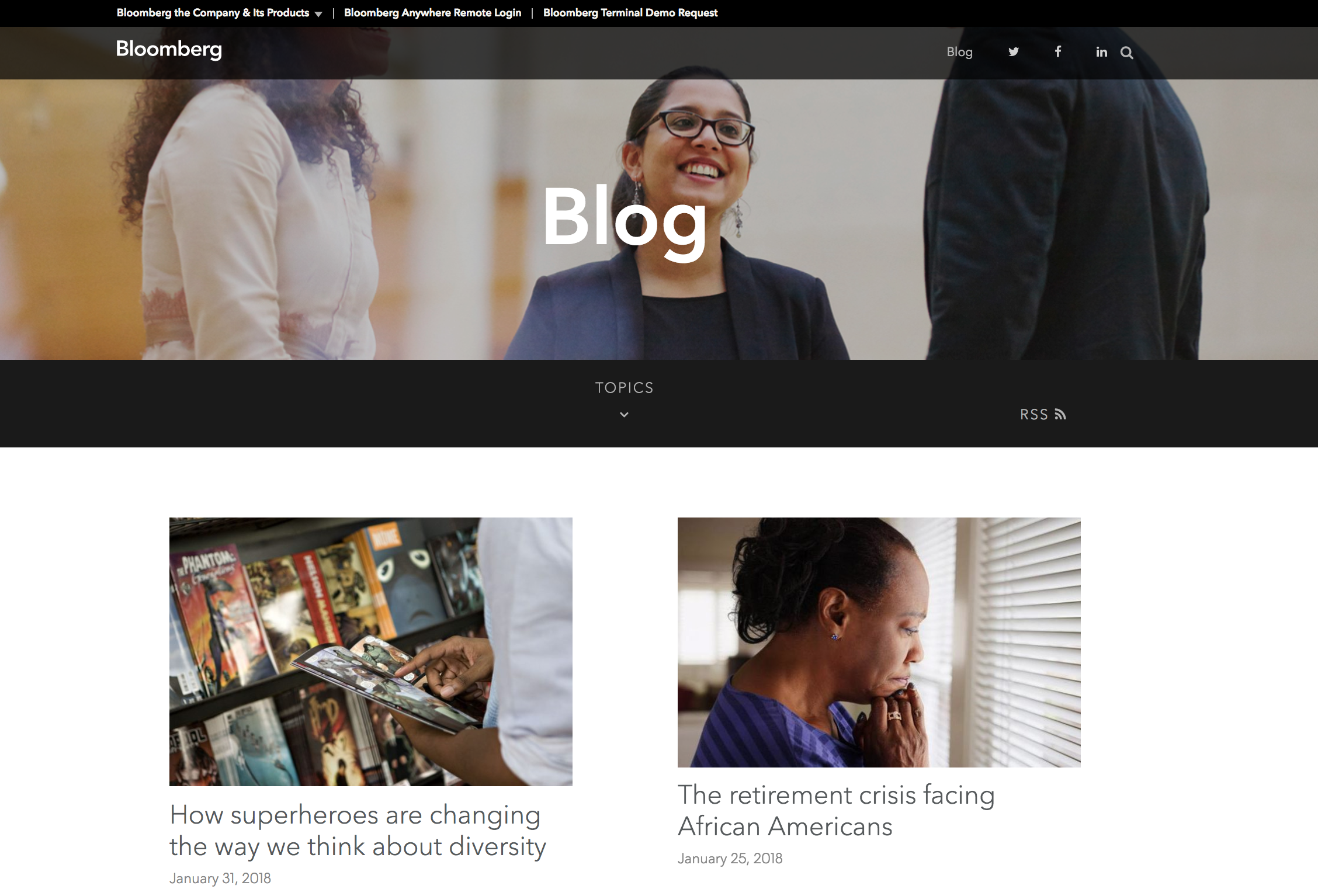 Bloomberg's Diversity & Inclusion blog
Seize content marketing opportunities in the food, travel, and auto spaces.
The food, travel, and auto industries surprised us. We expected to be overwhelmed with standout examples of content marketing, but we came across very few. That's surprising, because food, travel, and auto are prime for content marketing because they're visual, beloved by mass audiences, and emotional.
Many food and car brands lack content hubs. In cases where content hubs exist, the brands rarely promote the content on their distribution channels, favoring promotions, instead. While most hotel and airlines have blogs, many are not being used to their full potentials. Despite the content often being strong, travel companies are not promoting it across their entire distribution ecosystem.
User-generated content is frequently another missed opportunity. People love sharing photos of meals they've enjoyed, fabulous vacations they've taken, or new cars they've purchased. These industries have a huge opportunity to capitalize on fans' love (and content creation skills) to further their marketing goals.
Drive toward monetization.
To be named one of the NewsCred Top 50, brands had to generate business results from content marketing. We loved seeing the many ways they did so.
Shoe e-tailer Zappos recently launched The Ones, a content hub geared toward female sneaker fans. Shoppable modules with kicks featured in stories are integrated into the content. The Ones also has a shoppable Instagram feed that features photography and custom art from the content hub.
Sage, the UK-based B2B financial technology company, launched the Sage Advice content hub to externalize all the internal knowledge from its call centers. In one quarter, the hub drove more than 145,000 leads.
Always measure and share content-driven business results.
Even if your content marketing program is driving incredible results, they won't make a difference unless you measure and communicate them within your organization. This is the only way to gain internal allies and secure future budget.
USAA's content marketing team experienced this when it made a business case to launch a podcast. It was granted the opportunity to run a pilot that ultimately proved successful. USAA's "Money Drill" podcast gets more than 24,000 plays per month with no paid spend and very little distribution. The result: a major win for the content team.
"It put content marketing, as a program, on the map for USAA, where it had never been before," says Mollie Walker, Lead Marketing Manager and Content Strategy Lead, USAA. "Over time, we hope to show that the more we grow our content marketing as a program and discipline, the more we can save on the awareness media that we have to purchase. We're filling that gap and telling a story in between awareness and buying stages."

Heather Eng is NewsCred's Executive Editor. Marie DiDominica is NewsCred's Senior Manager, Customer and Field Marketing.