For the past 20 years, I've lived most weeks out of my suitcase while traveling for work. And in that time, I've seen the rise of and become a "bleisure traveler."
"Bleisure travelers," as the name suggests, are people who add a few extra days of leisure to their business trips. They take advantage of being in another city they may not have otherwise visited – while the company is covering some of the cost. These trips are also referred to as micro-vacations.
The Rise of Bleisure Travelers
When I first started traveling for work in the early 1990s, my brand loyalty was chosen for me. We stayed at Hotel X and flew Airline Z, depending on where the company, or frankly, where the most senior person in the group had a loyalty program.
All that started changing in the late 90s and early 2000s. The rise of online travel agencies (OTAs) encouraged customers to shop around. Compounding that, social media exploded. Travelers had more options and information at their fingertips, plus a plethora of peer reviews, blogs, and social influencers who knew where the locals go at any given destination. All the pretty pictures, hashtags, and FOMO created an allure around experiences rather than destinations. This had a lasting and profound effect on the diminishing strength of brand equity as a reliable driver for hospitality brands.
The bleisure market is huge and rapidly growing – and contrary to what you may think, it's not just comprised of millennials (who will make up 75 percent of the workforce in 2025). Here is a snapshot of some need-to-know data points: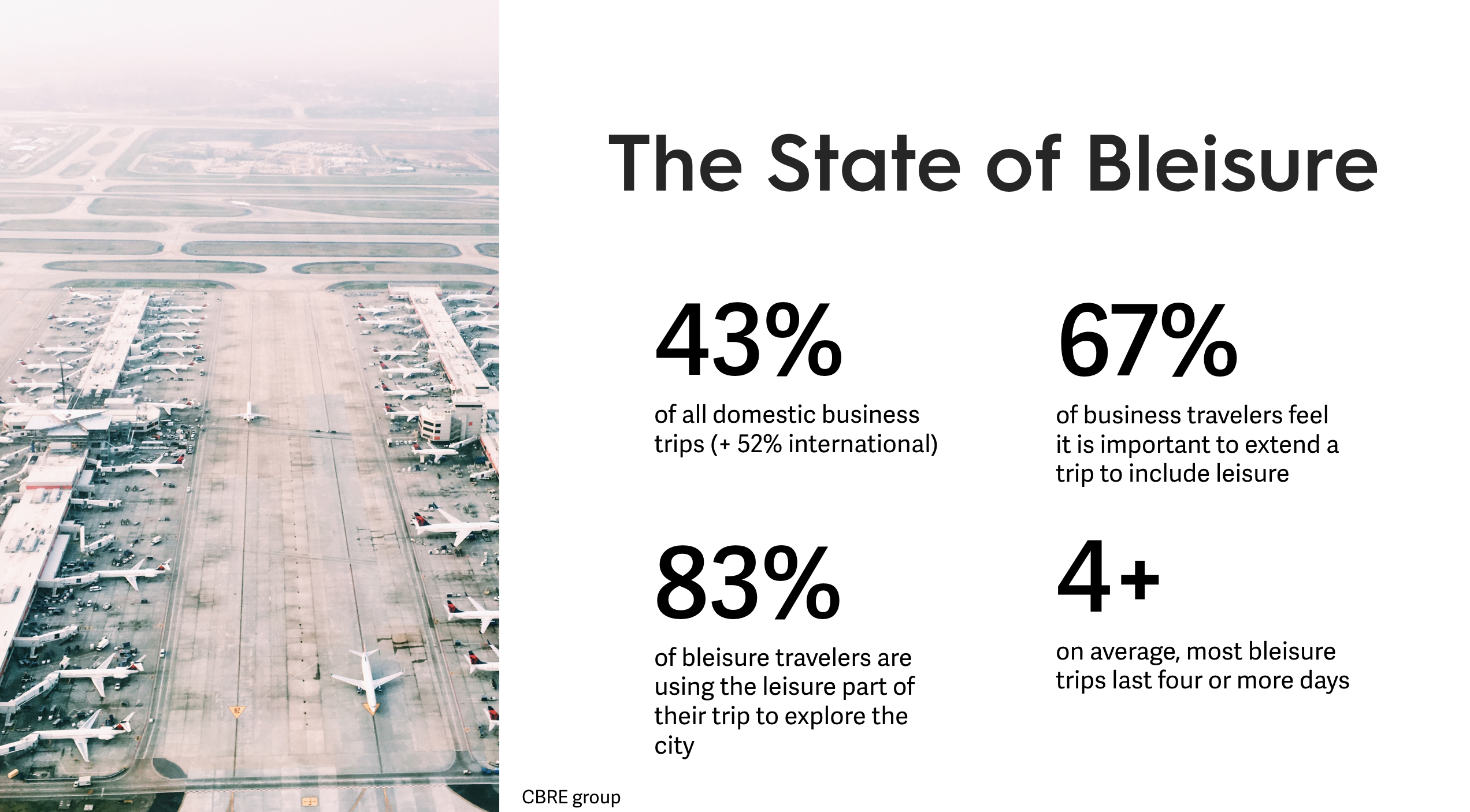 So how can hotels and airlines attract and retain bleisure travelers? Let's take a closer look at them. Bleisure travelers have three main needs:
Information: They want easily accessible information about what's relevant to them.
Convenience: Unlike purely leisure trips where travelers are willing to venture out and endure some discomfort to reach a far-flung destination, bleisure trips are about convenience and utility: What can travelers experience nearby while staying at your hotel?
Authenticity: Bleisure travelers want to live like locals.
Research shows that bleisure travelers are willing to share their information to receive more personalized results. (I know I am.) Bleisure travelers are also bigger spenders, because their companies are paying part of the tab.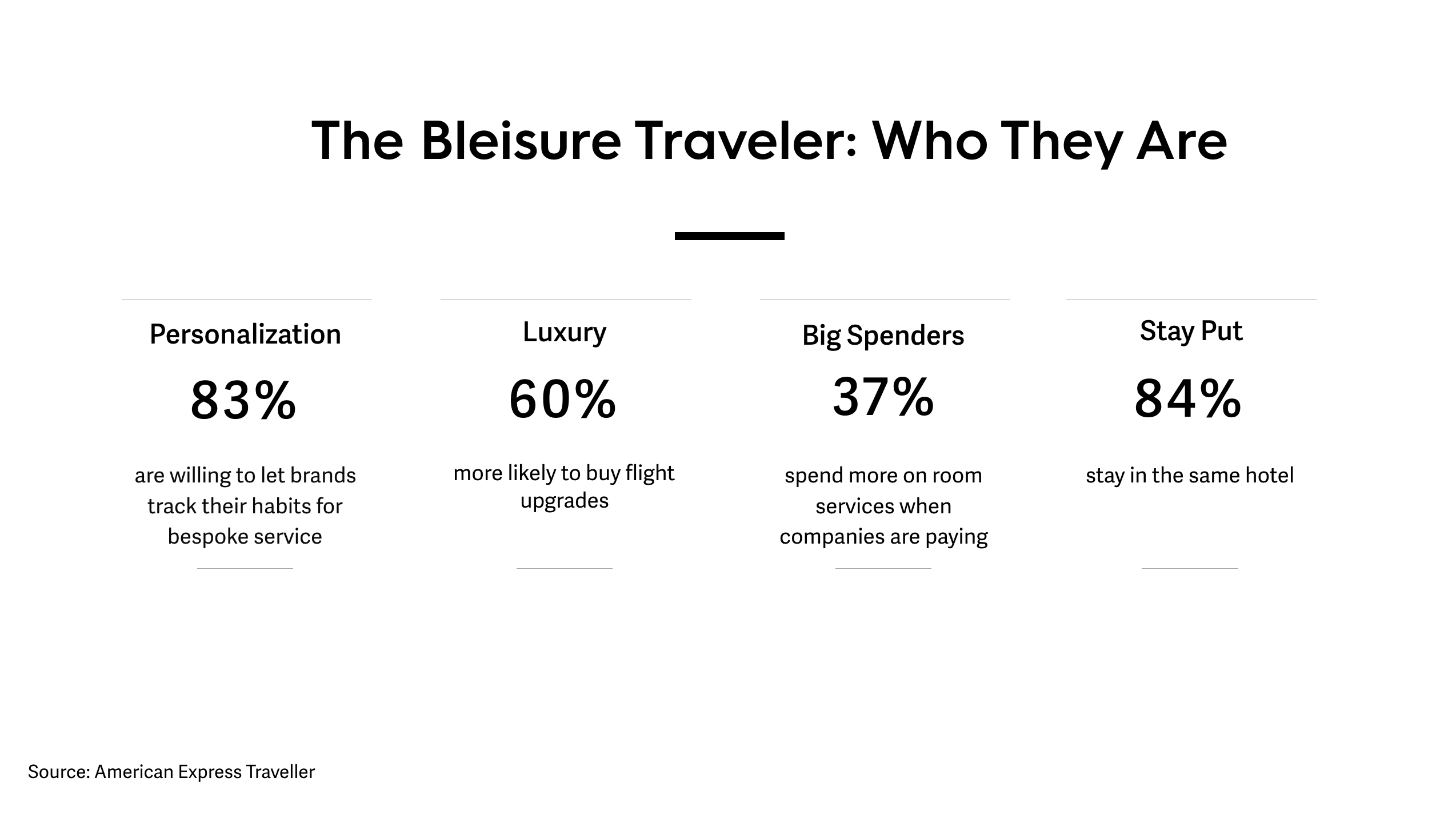 The Content Solution
Content is how you'll win bleisure travelers. You can't influence the destination. But you can serve as the digital concierge that provides bleisure travelers with inspirational, educational, and entertaining content, online and off, that will influence them to extend their business trip. (Positive side effects include increasing room rates and RevPar).
Here's how to get started:
Speak through your personality, not promotions.
Bleisure travelers want authenticity. They want to discover and be inspired. They don't want to constantly hear about deals and promotions. Attract your audience by leading with engaging content that shows off your personality.
Start in the upper funnel.
Brands need to insert themselves into the conversation starting with search. Travelers research experiences, first. What makes them decide whether and where to stay is what they find before booking. Make sure it's you.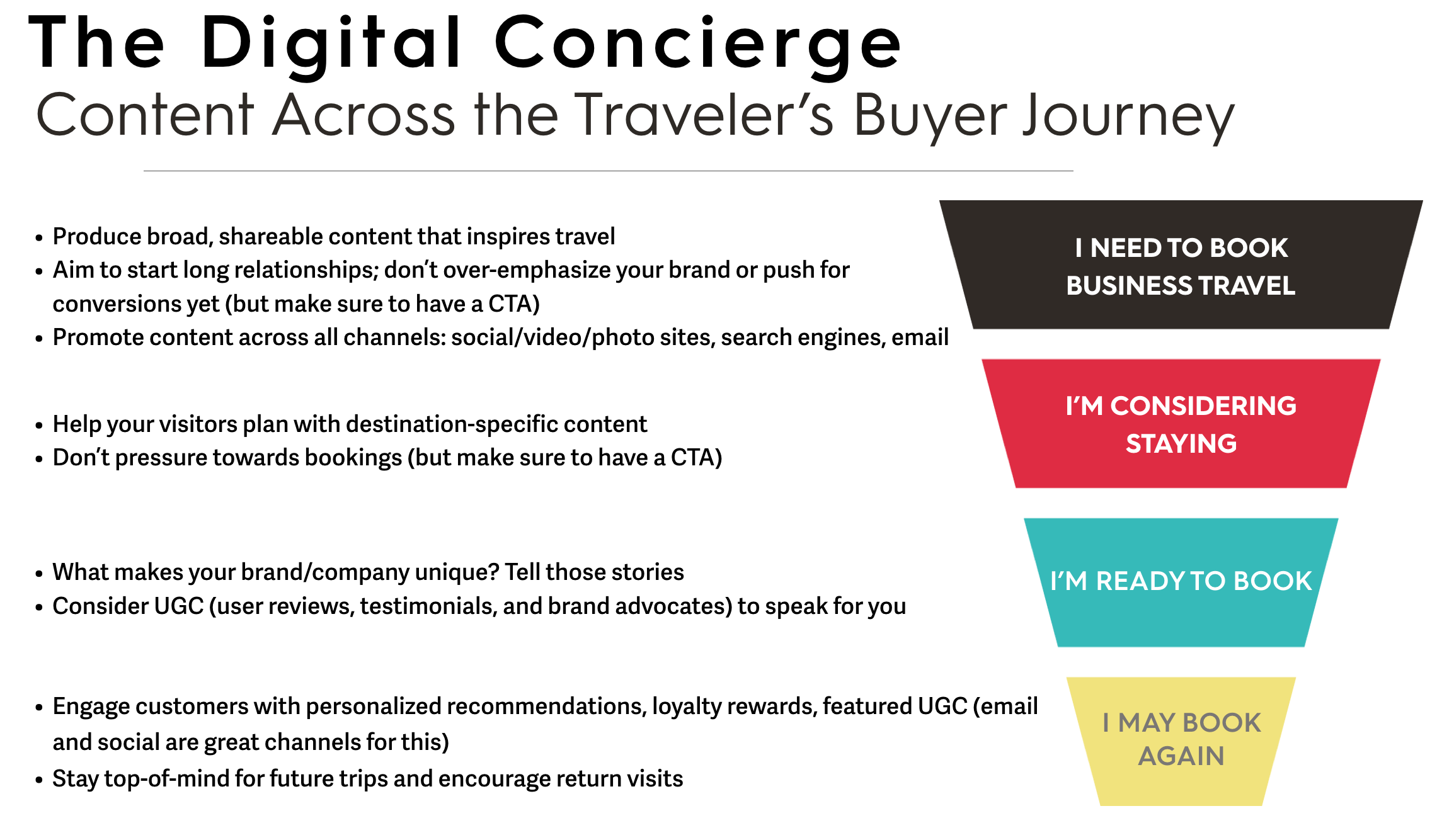 Use all your owned channels.
Distribution is key. Use every owned channel you have – emails, apps, booking pages, blogs, social media, events – to create an omnichannel experience. Your customer is everywhere, so give them a consistent experience wherever they encounter you. Be sure to include calls to action to drive them back to an owned site.
Revamp your email strategies.
People want brands to reach them over email, but they don't want promotions. They want content.
Promotions speak to a very narrow part of the purchase funnel. Too high of a frequency leads to fatigue and unsubscribes. But if you replace a good portion of your promotions with content that will inspire and educate, you're giving people a reason to open your emails and engage with your brand – even when they're not in the market to book.
Rethink your loyalty programs.
Most legacy brands in retail and travel are revamping loyalty programs because "points" are going unused, people don't even know they're enrolled, and most aren't aware of the redemption structure. Collecting enough points to redeem something of value is often impossible to achieve, so people don't even participate.
This is why travelers are more loyal to their OTAs and credit card programs, as they have the freedom to choose and personalize rewards based on their preferences. Brands need to move beyond redeemable rooms and offer tours, dining points, and concert tickets. Make sure to use content at all stages of the funnel to highlight those experiences.
Personalize content.
Use your data to serve people relevant content. A/B test push notifications when people are browsing your app, test email subject lines, and send different follow-ups to people who regularly engage and those who don't.
The bleisure market will continue to explode, especially with Gen Z entering the workforce. Putting new content marketing tactics in place will set you up for long-term success. To boot, you'll improve the customer experience and gather more data points along the journey.

Amy Solomon is NewsCred's Vice President Sales, CPG + Retail.