Marketing automation platforms have become core pieces of technology for most B2C and B2B companies. These powerful software tools (Marketo and Eloqua, for example) allow marketers to score leads and nurture databases of them through regularly scheduled email sends.
For many years, marketing automation platforms were complex, costly, and required dedicated resources. They were only available to companies willing to invest in building demand generation teams to run the platforms. However, disruptors, like MailChimp, are helping even the smallest teams deliver smart, automated, and personalized marketing emails to their audiences.
Yet, even as marketing automation becomes more accessible, there is still often a silo between demand generation (the team that usually owns marketing automation) and content marketing (the team that does not). As content marketing moves into the performance era and marketers must prove the value of their work, it's crucial that demand generation and content marketing teams align. Without insight into demand generation metrics, content marketers won't be able to demonstrate ROI. And without content, demand generation efforts will never reach their true potential.
In this post, I will walk through how and where content marketing fits into the marketing automation landscape. I'll also share examples of how NewsCred has bridged the gap between demand generation and content marketing for ourselves and our clients.
Technology across the Buyer Journey
When thinking about the buyer journey, content marketing often gets perceived as a top-of-funnel play, while demand generation exists at the middle and bottom of the funnel. This perception is gradually changing, as content plays critical roles at every stage of the buyer journey. But from a marketing tech stack perspective, this view is actually still quite accurate: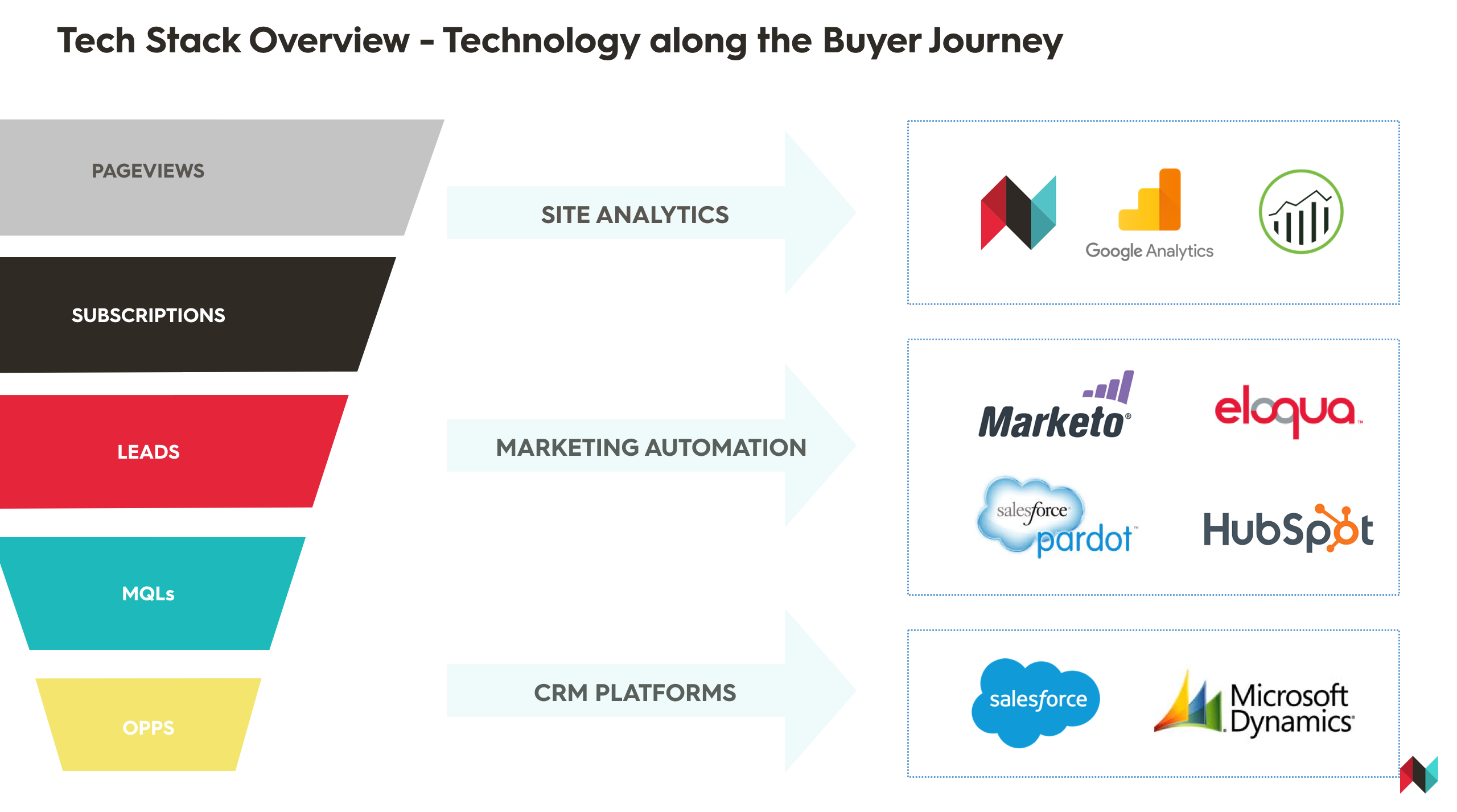 Let's take a look at each section:
Top-of-Funnel Platforms: Analytics Suites
At the top of the tech stack are analytics platforms, like Google Analytics and Omniture, and content marketing platforms, like NewsCred's. These platforms give marketers information on overall site health and audience through metrics like:
Traffic: pageviews, unique visitors
Engagement: engagement rate, average engaged time, new vs. returning visitors
Geographic/Demographic data: location, age
Content performance metrics: pages, topics, authors, formats
Behavioral conversion data: subscriptions, high-value page visits
This data tells a detailed and critical story about where people come from, what they do, and what makes them do it. However, these metrics just tell the beginning of the story. They don't tell us the end result of these activities: lead generation.
This is where marketing automation platforms come in.
Middle-of-Funnel Platforms: Marketing Automation
Whether you're driving people further down the funnel through a popup for a newsletter subscription, a gated asset, or a contact form, their final destination is often in a marketing automation platform.
While leads ultimately get converted into contacts in the CRM at the very bottom of the funnel, marketing automation platforms typically serve as the central reporting source for all leads. This is because marketing automation platforms qualify leads, so they have the full view of qualified, yet-to-be qualified, and unqualified leads, plus the campaigns that drove them. Marketing automation platforms are the tools that give "credit" for where leads come from and what moved them to a qualified state.
As a result, it is imperative that content marketing teams closely align with demand generation teams to ensure that they're receiving credit for content that drove leads. (Note: To ensure that content receives appropriate credit, content marketers should utilize UTM parameters on links and key calls to action).
At NewsCred, this is one area we focus on heavily with clients. NewsCred's content marketing platform has a powerful feature to show when content marketing drove high-value conversions, such as email subscriptions and form fills, and resulted in those leads entering marketing automation platforms.


Bottom-of-Funnel Metrics: CRM Platforms
Lead generation is a strong KPI for many marketing teams. But to prove ROI, those leads must result in revenue. Marketing automation platforms pass much of the attribution data to CRMs like Salesforce, but the final reports will always come from marketing automation. This is perhaps one of the hardest areas to prove content's influence, and is a huge focus area for NewsCred's platform.
The point of all this data is to illustrate that from a metrics point of view, content marketing teams often rely on tools that exist at the top of the tech stack, but they are dependent on data throughout to prove success. This is an important reason why we build measurement frameworks with our clients to map these KPIs and technologies. Here is a simplistic view of some of this data for a B2B organization like NewsCred:



While content technologies may exist at the top of these funnels, content's influence is far from just top-of-funnel. This is another reason demand generation teams will begin to depend heavily on content teams for their success, too.
Content in Marketing Automation
Here at NewsCred, we leverage our email newsletter heavily for lead generation and lead nurturing success. In fact, our newsletter generates 58 percent of all high-value leads. But this success comes only because our content and demand generation teams are closely aligned on their strategies.
We often see the same situation with clients: The content marketing team does an exceptional job growing an audience with content, resulting in a large subscription database of email newsletter readers.
However, the goodwill and trust generated at the content level can be quickly eroded when the demand generation team starts to batter these subscribers with promotional materials, resulting in swift and justified unsubscribes. Or worse, they don't touch these leads at all, and they sit idle in an anonymous, and valueless, state.
This is where close alignment can benefit everyone. We've seen time and time again that content leads are 3-5x more likely to convert than cold leads, so it benefits both content and demand generation teams to align on strategy.
1. Lead Nurturing
When a visitor subscribes to our newsletter, this is only the starting point. What happens next is critical to success. Our content team worked with our demand generation team to build a "Welcome series" that delivers automated and relevant messaging at the time of subscription aimed at moving the visitor to fill out higher value forms.
A simple example of this is:
Liam subscribes to the newsletter while reading a post about Google Analytics. The thank you email he receives from NewsCred (which gets a 60 percent open rate) tells him all about the great whitepapers and webinars it has on analytics, and he fills out a high-value form to become a scorable lead in Marketo.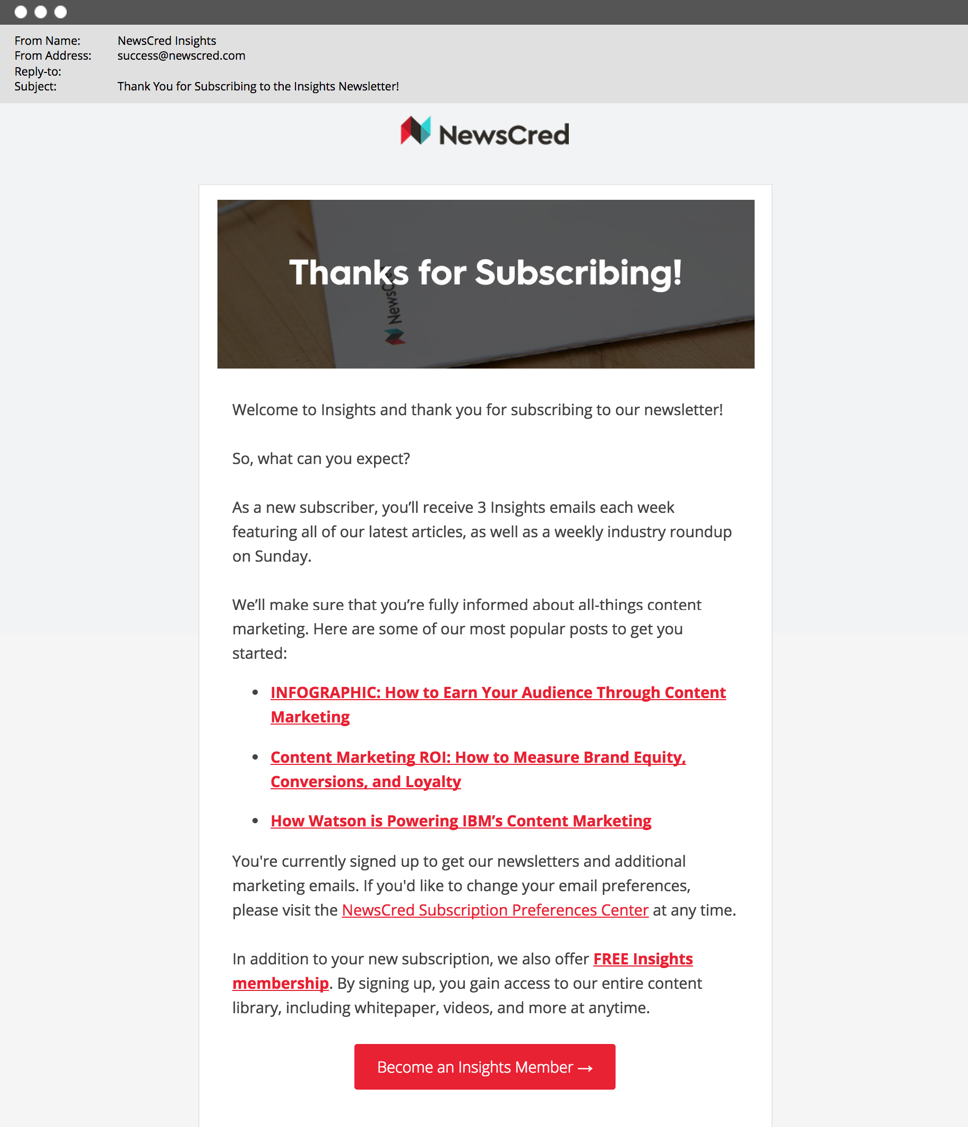 Simple as this tactic may seem, it requires alignment between teams and a continuation of the content strategy into the marketing automation platform. But the results are worth it. When we started our welcome email strategy, we drove 5x more leads to fill out a second form within the first week of being a subscriber. This had a huge impact on the output of Marketing Qualified Leads (MQLs).
2. Lead Scoring/Qualifying

Most marketing automation platforms have some version of lead scoring, which, at its root, is simply a way to add a behavioral layer onto leads to qualify them further. People who fill out a whitepaper form may have all the attributes of a potential customer (demographic, geographic), but if they haven't taken behavioral actions that show that they are interested, then the conversion rate is often very low. Examples of behavioral actions include:
Pricing page visits
Product/Service page visits
Multiple visits in a short timeframe
File downloads
Because this type of behavior can be hard to encourage leads to take, it can also be a slow process. Content can play a crucial role in shortening this timeframe. When we used a traditional lead nurturing style – via promotional emails – we saw low and diminishing open rates. So we made our content the central element of our emails.
Our newsletter gets consistent open and click-through rates every week. This accelerates leads toward qualified status, which has major benefits to our demand generation team:



The result is that content becomes a critical element for creating MQLs, and the demand generation team gets better performance metrics from its efforts, such as higher engagement, shorter time to MQL, and better email performance.
Everybody wins when the teams are aligned.
Summary
Marketing automation exists at a critical point in the tech stack and buyer funnel. It can be the driver of success or the point of failure for content marketing, depending on the relationships between teams.
For content marketers, it's crucial to understand the KPIs that exist within this platform so that they are correctly working with demand generation teams to get attribution for content. It's also critical that content strategy doesn't stop at the form fill. Weaving content into marketing automation activities can result in better outcomes for all teams involved.
As efforts like account-based marketing (ABM) become more popular, and as audiences become more demanding of personalized, considered marketing touchpoints, then having a content strategy throughout the funnel will become increasingly important.

Liam Moroney is NewsCred's Director of Analytics.