Chapter 1: Content Strategy
Content marketing requires content strategy and structure. A critical first step to getting your message right and keeping consumers actively engaged is understanding your brand's top-line goals and marketing objectives. A strong content marketing strategy will not only hold you accountable, but will enable you to deliver real results: increased traffic, engagement, leads and sales.
Connect the dots: link business objectives with consumer interests
In 2012 Pepsi launched Pulse, a socially fueled content hub populated by pop culture and entertainment news from across the web. In doing so, they took a radically different approach: no longer focused on product alone, Pepsi chose to put content first.
Pepsi staff spent nine months developing their content and social strategy, diligently researching their audience and talking to thousands of fans. With Pulse, the company hoped to recreate, as chief creative officer Brad Jakeman says, "the place that Pepsi already owns in people's hearts and minds."
From new music and video releases to in-depth concert coverage, they chose to mix an array of content they knew would foster participation and social sharing. Within the first month of launch, the newly minted homepage attracted 87% more unique visitors and saw a 2,700% increase in social referrals.
Pepsi's long-standing relationship with pop culture and music helped to mold their vision—earning them the right to participate in the conversation. Their focus was threefold: first, create an authentic experience around the brand's core proposition—entertainment and pop culture. Second, mirror consumer behavior patterns by delivering content in real time, curated to hyperlocal audience interests. And third, spark social sharing across Twitter, Facebook and Instagram through highly visual content, catchy headlines and consumer incentives.




Image: Pepsi Pulse
What you need to know
Put the end-goal first
Build a content strategy around the key performance metrics you're accountable for—whether it's sales, social sharing, brand awareness or lead generation.
Map audience interests
Develop a keen understanding of your consumer's needs. What are they passionate about? What challenges do they face? How can you help them live a better, more inspired life?
Keep it real
No matter what you do, be authentic. Your strategy should lead with content, not product. Tell relevant, useful and entertaining stories. If you don't, your audience will see right through you.
Build a Production Powerhouse: Act like a Newsroom


Image: GE Txchnologist
The responsive newsroom approach to content production has become a staple in the world of branded content. In order for this concept to work, however, editors must continuously churn out content that users find worthy of reading and sharing. This not only requires a clearly defined process—editorial resources, meetings, briefs and calendars—but a smart mix of original and licensed (third-party) content to scale.
GE's Tumblr-powered magazine Txchnologist successfully publishes brand-adjacent content that's both valuable to their target audience and reflective of the brand's inherent mission and services.
Like a traditional newsroom, topics covered by the Txchnologist editorial team, like renewable energy, computing, science and transportation, are strategically produced and promoted according to real-time trends and the way in which users consume content across screens. With clear editorial calendars and meetings, writers regularly create thought-provoking original content—on average, over 42 posts a month! Content is extremely niche and targeted to a specific audience drawn to the future of industry and technology, covering such granular topics as advancements in space exploration, climate change, pollution, mining technology and molecular science.
Ensuring that Txchnologist captivates readers, adds value and speaks to the brand's ambitions is top of mind, according to GE's head of digital marketing, Katrina Craigwell.
"With Txchnologist, we think a lot about what it takes to capture mindshare. We're competing with any publisher that's producing compelling content for audiences that are passionate about science and technology. It's pushed us to be really creative with our storytelling, with the goal of adding value alongside some of our favorite publishers."
What you need to know
Build an editorial calendar and production plan. Set up a disciplined process by clearly mapping out your content schedule and cadence, and you'll be able to churn out content with the speed of a real publisher.
Invest in talent
Hire a managing editor to oversee your editorial calendar and freelancers, edit posts and ensure content embodies your brand and voice. Your editor should be as much a marketer as a writer, and should be held accountable for hitting KPIs, including: engagement metrics, social shares, leads or closed deals.
Create content at scale
Scale your coverage by employing a mix of original and licensed content. For example, the Huffington Post uses a rule of thirds: 30% of content should be curated, 30% should be original, and 30% should be experimental, comprised of multimedia, social feeds and innovative platforms. Finding the right combination of original content, thought leadership and licensed content is key to executing a well-rounded content strategy.
Prove ROI: create content that sells
For marketing automation platform Marketo, content is the fuel that generates revenue. By organizing content into three stages—early, middle and late—Marketo is able to grasp customers at every step of the sales funnel:
The early stage: When a prospect has indicated no interest in Marketo
Is comprised of top-of-funnel educational content such as eye-catching videos, data, infographics and curated, actionable lists.
The middle stage: When a prospect has indicated some interest
Is comprised of industry-oriented content, such as analyst reports, buyers' guides and webinars, to help buyers solve problems.
The last content stage: When a prospect has strong interest in Marketo
Consists of solution-oriented content such as customer case studies, demos, third-party reviews and company-specific information to help close deals.
Marketo uses a "4-1-1" principle to calibrate the content it delivers to leads and move them down the purchase funnel. For every 6 communications, one should be "hard sell" content (e.g. "sign up for a Marketo demo"), one should be a "soft sell" (e.g. "attend this Marketo event"), and 4 should remain informative and educational, focusing on the lead's interests.
Marketo's strategy has paid off, literally. The company drives more than 9,500 inbound leads per month, more than 40% of which ultimately become prospects.3 From content on their website alone, more than 58% of prospects become real leads (with a clear intent to purchase). Even more impressive, more than 60% of Marketo's revenue can be attributed to marketing.
The bottom line? Take a cue from Marketo: create content that sells.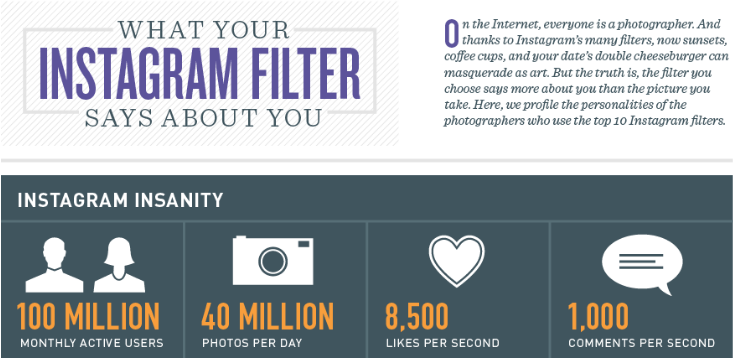 Image: Marketo Blog Instagram Infographic
What you Need to Know
Identify what you want to prove. Set concrete performance metrics to guide you in measuring your campaign's success.
Target with content
Map out content against each distinct stage of the sales process. Breaking up the sales funnel into stages allows for a targeted approach to how you publish your thought leadership, using content to draw in potential clients every step of the way.
Work backwards
In order to accurately determine ROI, it's important to think inversely, backtracking to assess how each piece of content contributed to individual milestones, whether it's a spike in traffic, engagement or newsletter sign-ups or the inbound of a highly qualified lead.
Think in quantifiable terms
Be sure to tie content directly to your company's profits by thinking of each piece of content as a percentage of your marketing efforts, rather than an abstract component.
Utilize extensive A/B testing
Improve conversion performance at all junctures. Test click-through rates at all points, from blog post to landing page, and form completion rates on the landing page itself.

Chapter 2: Content Design
Images and video are quickly becoming main drivers of how we consume content on the web. Tumblr is now the world's most popular blogging platform, and both Tumblr and Pinterest see significantly higher engagement levels than that of Twitter, LinkedIn or Google+.5 A strong visual narrative is integral to content curation; a site's design should be informed by the content it houses. On-brand content design allows consumers to identify your brand from a visual standpoint, and compels brands to create a clearly defined style.



Use Strong Visuals: Build a Lifestyle Through Design
J. Crew, renowned for its strong visual philosophy and carefully curated lookbooks, has used their revamped catalogue, or style guide, as a catalyst for the brand to develop a uniquely identifiable personality. The universally recognized brand, once a catalogue-driven business with little marketing cache, has emerged as a force in the social media and content space.
The style guide layers designer profiles and style insights on top of eye-catching photography and spreads of bold, colorful products. The publication bears a closer resemblance to a monthly fashion magazine, rather than a sales-focused platform promoting seasonal items and sales.
J.Crew has developed an acutely discernible style, taking the notion of traditional New England prep from conservative to cosmopolitan. Clean lines, geometric shapes and tailored edges are key aspects of the line, elements of which are reflected in both the line's clothing and content. J. Crew's Tumblr is simple, sophisticated and proportional—similar to the crisp Oxfords and simple slacks they produce. The
J.Crew lifestyle rests upon the foundation that visually appealing images are more likely to catch customer attention than deep discounts. From the moment a prospective shopper encounters the retailer's e-commerce site, a physical retail location, or even its monthly catalogue, Instagram account or company blog, they're flooded with a visual narrative that screams J.Crew.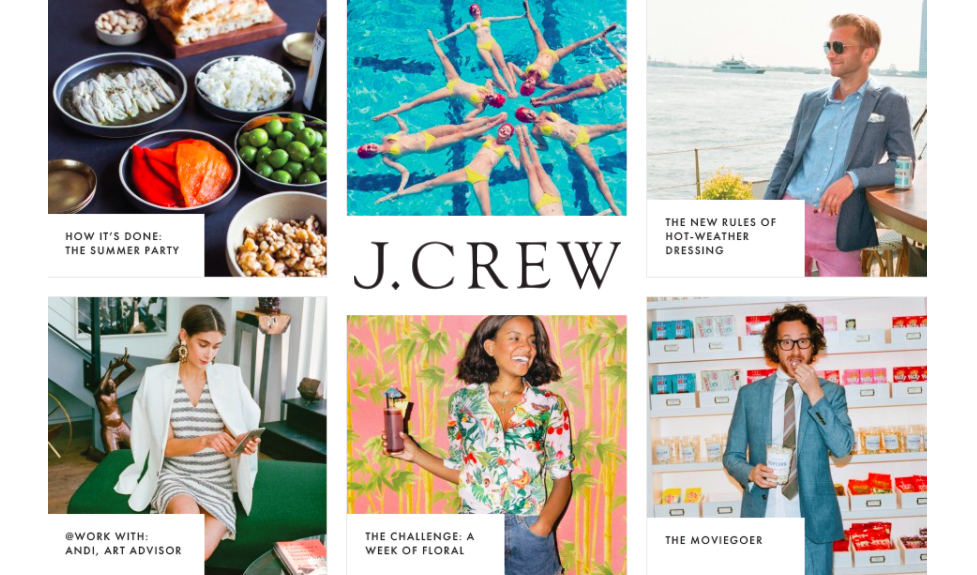 Images: J.Crew Blog
What you Need to Know
Lead with purpose
Design is much more than shapes, colors, and fonts alone. It's about storytelling, conversation and developing a meaningful consumer experience. Leverage good design in order to bring emotion, creativity and purpose to your brand.
Tie it all together
A choir sounds a lot better when everyone in it is singing the same tune. Ensure that the look and feel of your content—from typography and color to your site and collateral—is consistent across all of your brand touchpoints and social platforms.
Fuel your social channels with visual content
Strong, arresting visuals are key to producing high-quality, viral content. Photos are 200% more likely to be shared and liked than text alone, and videos are shared 1,200% more than text and links combined.

Use Multimedia to Craft Immersive Experiences: Storytelling Across Platforms
Whole Foods Market's digital magazine Dark Rye is proof of the fact that visual storytelling is most immersive when told using multiple mediums. Dark Rye's content is created with the company's target customer in mind: individuals who identify with an organic, sustainable lifestyle and have an appreciation for beautiful design and the culinary arts.
"While exploring the Whole Foods Market story, we came across really inspiring and interesting people," said Vadan Less, senior director of content at Whole Foods. "We found we had a lot of content and that there was a need for it in the community. Out of that, Dark Rye manifested. We tell stories about vendors, but we also delve into people's lives with the hopes of inspiring others to make a change themselves, and to change the world around them."
Dark Rye, published monthly, is ripe with various mediums and means of narration. The stories within the publication are organized as a series of multimedia pieces that revolve around a single topic. For example, a recent issue showcased the story of actor Kumar Pallana through a short video and written feature. These stories were accompanied by more content related to his life: simple recipes, a written feature on Ayurvedic healing, and an illustrated, step-by-step guide to meditation. Content is then broadcast using a variety of channels, including a beautiful Tumblr, Twitter, Vimeo, and a recurring post on the Huffington Post food blog. Since its launch, the digital magazine has won numerous awards including a recent James Beard Award for Group Food Blog.
What you need to know
Capture the people, stories and context behind a piece
Context and background are crucial to telling a captivating story. Go behind the scenes with 1:1 interviews, capture emotion through video and paint a picture through rich visuals.
Repurpose content across multiple platforms
Get the most out of your thought leadership by repurposing content for videos, blog posts, webinars, slideshows and so on.
Think of storytelling as multi-layered and multi-platform
Get readers hooked by creating a narrative across social channels and your owned properties. Draw readers in through social, then connect the story across your blog, video platforms and website.

Craft a Complete Content Experience: Consider all Elements of UX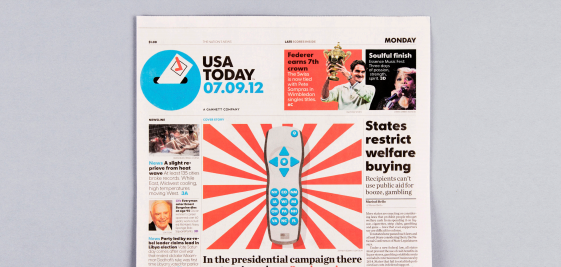 Image: USA Today
Poor structure and web design prohibit users from fully immersing themselves in your site, compelling them to exit at a higher rate and absorb and share less. Before you determine the look and feel of your site, craft a content plan that is complemented by intelligible and straightforward navigation.
The online version of USA Today is a great example of development with multiple screens in mind. The site, designed once for cross-platform usage on mobile, tablet and desktops, allows for easier publishing on the back end and a seamless user experience that is both device agnostic and consistent.
A simple navigation bar makes for easy discovery, and the use of dynamic headlines that appear when you hover over an article's photo icon provides a glimpse into an article without any commitment. In the absence of continuous scrolling, users are able to choose when they want to populate new content, and personalized functionality allows readers to decide how headlines are displayed, using either a grid or list structure.
The site employs horizontal flip navigation, reminiscent of an iPad app, encouraging continuous reading to guide users section by section. Calls to action like "read story" and "get home delivery" are suggestive, not forceful, and inspire discovery, allowing the reader to consume more without fully leaving the page.

What you need to know
Design for multiple screens
Responsive design guarantees that users have the same experience on every screen and ensures publishers don't miss out on a visit or view.
Put content before technology
Don't overwhelm users with too many dynamic modules or special effects. Make your site easy to use and intuitive. In turn, your users will stay longer and consume more.
Encourage discovery
Thoughtful calls to action should suggestively lead users towards more content, related information or applicable services. Layers of additional content or product offerings allow for increased engagement and lead to a more fluid experience overall.

Chapter 3: Content Delivery
Even the most compelling content can get lost in the shuffle without a proper distribution strategy to support it. In order to hook consumers and keep them coming back, you must be armed with a tactical approach for delivery and promotion.



Deliver Content that Matters: Achieve Real-time Marketing Success
Generating buzz in real time requires knowledge of social media and consumer behavior. When Oreo jumped on the back of the Super Bowl blackout earlier this year, they had more than just quick Twitter fingers ready at the gate.
Oreo chose to lean on the iconic brand's 100th birthday as a way to promote their rich history via modern-day media, using Super Bowl 2013 as their stage. So, when an electrical delay caused the stadium's lights to go dark, Oreo's marketing team took advantage of the blackout's shock factor with their "Dunk in the Dark" campaign.
As viewers and Oreo fans sat in the dark, waiting for the game to resume, Oreo cleverly tweeted "Power out? No problem." with a picture displaying a new slogan "You can still dunk in the dark"—a timely and amusing play on a moment that resonated with millions of viewers at the time. By tapping into the moment, Oreo became hyper-relevant in the midst of an event with critical mass and eyeballs. The tweet was retweeted nearly 15K times and the brand's Twitter following increased by about 8K that day
The key to Oreo's strategy and execution was its keen understanding of social measurement. Relying on dashboards to monitor tweets, posts and comments, the team quickly identified when the conversation altered. This newsroom-style approach to content production proved to be far more sophisticated than the traditional means of social media stunt programming: not only is it proactive, it's reactive as well.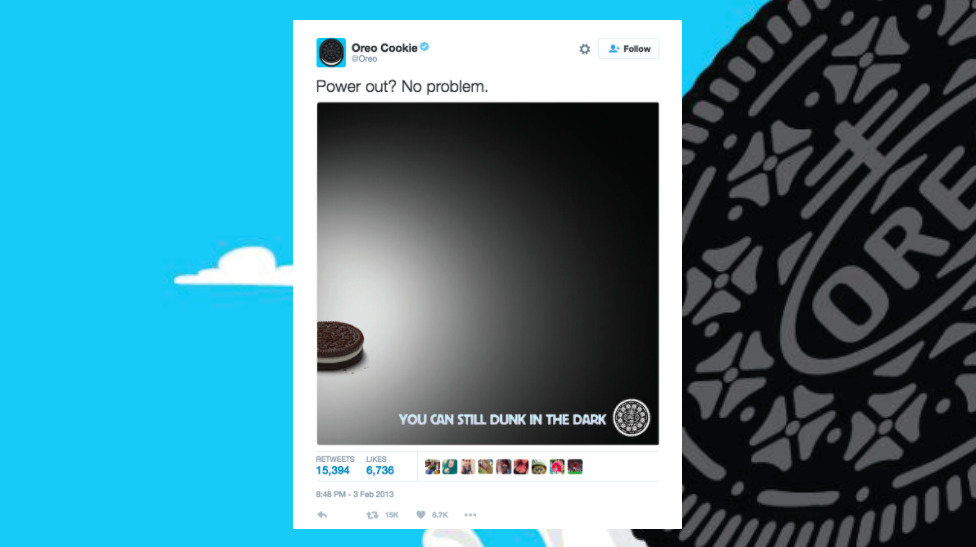 Image: Oreo Cookie Twitter
What you Need to Know
Align real-time content with a long-term brand narrative
Responding to events in real-time is not just about capturing attention in the moment; it should be one piece of the marketing puzzle that keeps your audience loyal for the long run.
Remember, real time is about more than being timely
Your content should be timely, but it doesn't always need to be created on the spot. When building your editorial calendar, plan for the events you can anticipate and react quickly when you cannot.
Evaluate before you react
According to PR agency Edelman, brands must ask themselves three questions before rushing to push content out. Is it relevant (does it align with your brand's values)? Does it resonate (map to audience interests beyond your brand)? Is it timely (are these stories that drive interest and conversation now)?

Start a dialogue: pair utility with conversation
Citibank's Women & Co. is a financial and educational resource geared towards the brand's target audience: women with rising financial influence. The platform, which provides educational content and commentary on personal financial management, showed early success. But, after running the site for 12 years, Citi was looking for a boost.
Enter LinkedIn. In an effort to increase audience reach and ignite conversation, Citibank partnered with the B2B network on the Connect Professional Women's Network, an interactive discussion board. LinkedIn is responsible for curating content and guiding relevant discussions through polls, a way to drive engagement and gain insights.
"We evaluate the subjects trending on LinkedIn today and which topics are popular at what time of day. We also get pitches from various outlets with story ideas so we keep a pulse on what content is interesting and we look at the RSS feeds of members to also decide what people are thinking about at the moment," said Alison Engle, senior director of global marketing at LinkedIn, during an interview with Digiday.
The network has proved to be a brand awareness and lead generation vehicle for Citi, evidence that creating a targeted distribution strategy via LinkedIn works. Within one year, the group has grown to over 130,000 members, including over 30,000 senior level executives9. Members leave over 1,000 comments each week and 30–50% of users returning on a weekly basis.

What you Need to Know
Chose the right social channel for your brand
Citi generated incremental buzz by turning to a community they knew contained their target audience. As the top social platform for work-related discussions12, LinkedIn was the ideal channel to spark awareness through business-minded dialogue.
Nurture individual relationships through community
Allow the power of community to cultivate your brand's relationship with consumers. Citi successfully leveraged LinkedIn's inherent notion of community and professional conversation to organically grow their follower base and influence, addressing timely financial issues important to women.
Get creative with distribution
When it comes to engagement, having strong content isn't enough; how you distribute that content matters just as much. By leveraging both original and licensed content, Citi maximized the amount of content being pushed out to users thereby increasing the likelihood of readership and engagement.

Drive Sales: Distribute Digital Content with Revenue in Mind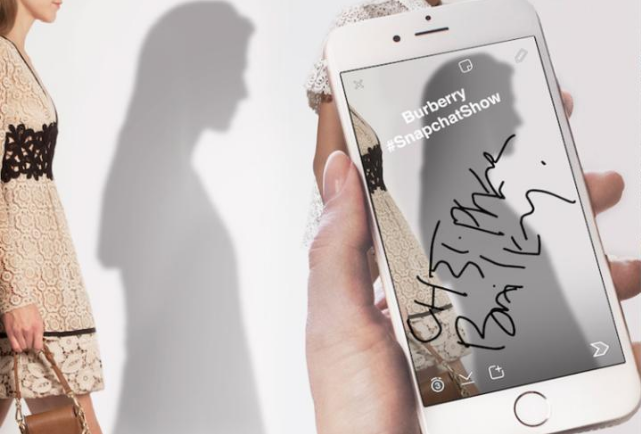 Image: Burberry Snapchat Discover Channel
After introducing Christopher Bailey as the Chief Creative Officer in 2014, digital became the core component of Burberry's business strategy, paving the way to become luxury fashion's first fully digitized brand. Always the first to test new digital platforms, Burberry became the first luxury retailer to have its own Snapchat Discovery channel, next to the likes a major publications such as Buzzfeed and Cosmopolitan. Unlike other luxury brands who avoid testing the balance between luxury and exclusivity, Burberry chose to be where their customers are. An app popular with the younger crowd might seem counter-intuitive for a luxury brand to market through, however Burberry relys on entry-level priced purchases made by young consumers with small disposable incomes. By promoting fragrances and cosmetics through Snapchat, Burberry is communicating directly with those who are likely to make those purchases, and through Snapchat, Burberry successfully bridged the gap between engagement and commerce.
Burberry's goal is to make their content as memorable as their products. By building a strategic distribution strategy that touches consumers at every step of the purchasing process, and on every platform relevant to their customer, they've shifted from being one of the world's most recognizable fashion retailers to one of the most recognizable names in digital marketing as well.

What you Need to Know
Merge online and offline content
Leverage multiple platforms and social networks to engage consumers in unique ways. Take advantage of technology and real-time marketing tactics to distribute content, via livestream or social channels, on a global scale.
Encourage consumer participation
Embed consumers within your campaign via calls to action that inspire both competition and engagement. Augment your original media library by calling upon users to help with the creation and delivery of content.
Use exclusive content as added value
Gating, or protecting premium content can be done in a variety of ways. One way to do so is by making it an added benefit to conversion, whether that comes in the form of downloading a white paper or purchasing a luxury item. Withholding content allows for engagement to occur post-conversion, or purchase, and encourages the consumer to interact with your brand for a longer period of time.

In a world where every brand is a media brand, quality content sets people apart
"Quality," as John Ruskin once wrote, "is never an accident."
Blending powerful technology, creative design, and a world-class editorial team, NewsCred powers content marketing for the world's leading brands. At our core, NewsCred is about relationships. Over the past four years, we've built steadfast partnerships with thousands of publishers, including the New York Times, The Economist, The Guardian, Getty Images, and more.
Our content library gives business unprecedented, real-time access to millions of articles, images and videos from every corner of the globe. Our product suite includes end-to end content marketing solutions: the technology to filter and curate relevant content; the publishing tools to design and build campaigns with speed and scale; and the editorial teams that bring authenticity to every content experience.