Content collaboration has become a vital part of content operations over the past few years.
Content can't be created on an island (metaphorically, that is).
Sometimes it takes a village of content marketers working in harmony to produce meaningful work.
Implementing a system for the internal sharing of content and knowledge amongst your employees can empower them to perform their roles efficiently. It can also help them grow and develop within their roles.
What we'll cover:
The concept of content collaboration
The importance of updating your content operations by implementing collaboration tools
How Welcome's content collaboration platform can help your marketing team make plans and execute them efficiently
Content Collaboration is a Vital Part of Every Business
All companies rely on digital data of some kind, whether it be articles, studies, or spreadsheets.
Without a centralized and fully digitized system, all of this information can easily become overwhelming for your employees.
And impossible to find.
Content is created much more easily when writers don't need to conduct a scavenger hunt to find every bit of information that's needed.
Trust us.
What is Content Collaboration?
Content collaboration refers to the system a company uses to manage, store, and process its data from day to day.
With a digital content management system, teams within the company can easily store or retrieve the files they need to complete their tasks.
That's where we come in.
Welcome's marketing software offers a one-stop solution for your marketing needs. With our platform, you can keep all of this information in one place.
According to a Reuters report on internal information practices, 38% of managers claimed that substantial amounts of time were wasted searching for information, and 43% claimed that this disorganization caused delays.
Today, we'll be looking at how Welcome's software can solve all of your content management needs.
A Guide to Choosing Content Collaboration Software for Your Business
In order to achieve successful content collaboration, a company must make use of various software tools. Let's take a look at how this software works and a few examples of common collaboration tools.
Cloud Content Management
Cloud content management is a term used to describe most modern content collaboration software. Using a cloud storage system to manage your company's data means your information is always:
Accessible
Retrievable
Documented
Up-to-date
Cloud-based technology empowers you to store documents, files, and other pieces of information online, making it the ideal solution for forward-thinking businesses.
As of 2021, most businesses have already embraced the cloud. According to research, 94% of enterprises are already using at least one cloud service.
Welcome offers a content collaboration platform tailored to marketing professionals.
Our cloud-based software empowers marketing teams to orchestrate their operations by creating intricate marketing strategies on one centralized dashboard. This tool creates a visualization of all of your upcoming aspects from each campaign.
Examples of Other Content Collaboration Tools
Welcome's software is the answer to your marketing platform needs. It's an all-in-one solution that empowers you to centralize each stage of any campaign.
However, there are other useful options when it comes to content collaboration software. In fact, your business may already be using some of these popular content collaboration tools. Here are some tools that work well alongside Welcome.
Google Drive
Google Drive is a cloud-based alternative to the Microsoft suite. With this app, you and your team can write and edit documents in real-time from separate locations using Google Docs or Google Sheets.  
With Google Drive, you can set up a file storing system that is organized and accessible. You can also configure privacy settings so that internal files are public or only accessible to specific team members.
With the Google suite, you'll also be able to set formatting guidelines and save them in a template to ensure your internal documents are cohesive and follow a company style.
OneDrive
OneDrive is an alternate cloud-based file storing system. It offers personal storage through Microsoft.
If you want your team members to save their own work files to the cloud, OneDrive is a good option. Plus, this tool makes sharing possible at the click of a button — in other words, no more inefficient email attachments.
Dropbox
Dropbox is a simple, easy-to-use file sharing app. Simply upload files onto the Dropbox server and share them via a link or email to the relevant parties. This tool makes it easy to quickly transfer documents in a secure, time-efficient manner.
Slack
Slack is a communication app that enables you to create channels and chats with everyone in your company. It also empowers members to share links, files, and other pieces of content to relevant people or groups.
ShareFile
ShareFile is a highly secure app that lets you and your team to share content and documents. Because of its exceptional security, it's perfect for companies that may also need to share sensitive information to external parties.
The Benefits of Cloud-Based Content Collaboration Platforms for Your Business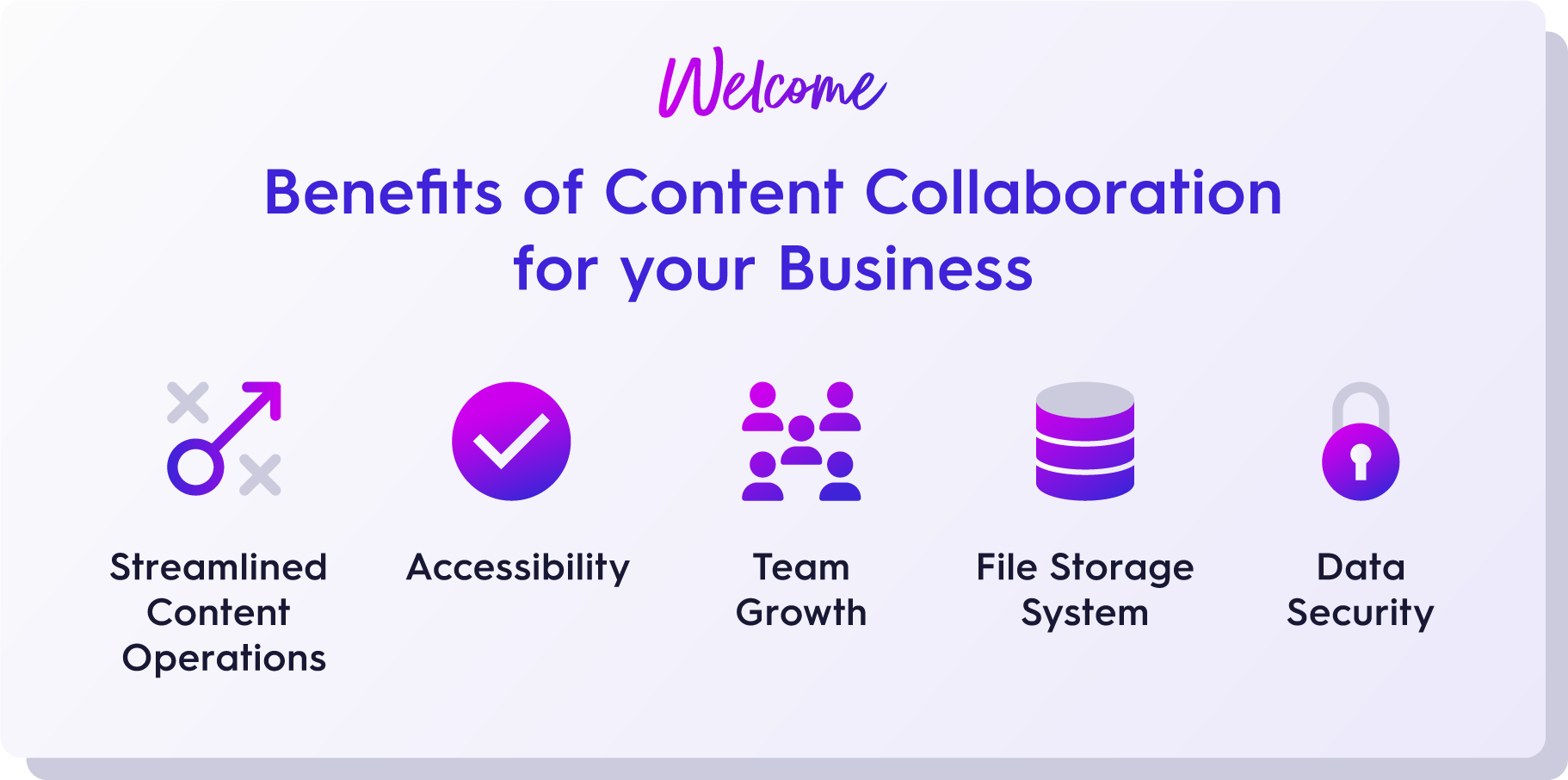 Adopting certain cloud content collaboration tools for your business comes with several benefits that you may not initially anticipate. Here is what you can expect.
Streamline Your Content Operations
As we've already mentioned, all businesses have their own content. This content is used in the daily processes that keep your company going.
By adopting certain intuitive content collaboration systems, you'll find the workflow becomes simplified, predictable, and, in most cases, much quicker.
According to Forbes, 64% of companies found that cloud-based product management workflow tools improved the quality and speed of their employees' work.
Welcome's marketing platform offers a one-stop dashboard where your team can view each campaign plan in full. By keeping all of your campaign plans in one accessible place, you'll find your processes run smoothly and seamlessly.
Make Your Company Information Accessible
An Owl Labs study reported that 62% of employees across the country claim to work from home occasionally or full-time. Making company information easily accessible has never been more important.
By incorporating content collaboration tools into your company's culture, you'll open the possibilities for remote working. Your employees will be able to virtually collaborate with their colleagues from any physical location.
Welcome understands that employees often spend hours browsing through their company's intranets in search of relevant files.
With our collaboration platform for marketers, you'll be able to centralize all of the relevant content for each project to simplify your daily work and speed up every process.
Encourage Growth and Development in Your Teams
When information is easily accessible and well documented, you'll find that your teams begin to use old documents to inform their work.
Organized content means your employees can become collaborators and learn from previous employees, adopting the processes and approaches that work best.
This culture of collaborating is vital for keeping employees engaged and intelligent.
With Welcome's marketing platform, your team will have the opportunity to work together, even from remote locations. The platform encourages a smooth back-and-forth between team members so your employees can learn together and grow as a whole.
Create an Intuitive File Storage System
Because all businesses rely on files for their daily processes, it's important to provide your employees with a fully-functioning file storage system. Opting for Welcome's cloud-based system means your teams can keep their documents up-to-date and easily retrievable.
Improve Data Security
As a business, you're probably in possession of highly sensitive data about your customers and employees.
Whether you're storing credit card information, passport screenshots, or other similar documents, security should always be a priority. After all, as Statista reports, 51% of U.S. companies have fallen victim to ransomware attacks.
With Welcome's secure file storage system, you will be able to use advanced technological methods to keep your information safe.
A Campaign Lifecycle on Welcome's Marketing Platform
Still curious about how Welcome's content collaboration software works in practice for marketing teams? Here is a step-by-step guide to our platform.
Planning
In the initial planning stages of your campaign, Welcome's software offers the tools you'll need to create a visual, fully realized plan. The platform features:
Advanced shared calendars for planning out your campaign timelines.
Campaign workspaces for collaborating in real-time with team members. Think of this as your digital shared office.
Budget management for planning, allocating, and tracking your spending as a team.
Capacity planning for allocating tasks to team members and keeping workloads balanced across the campaign.
Project Management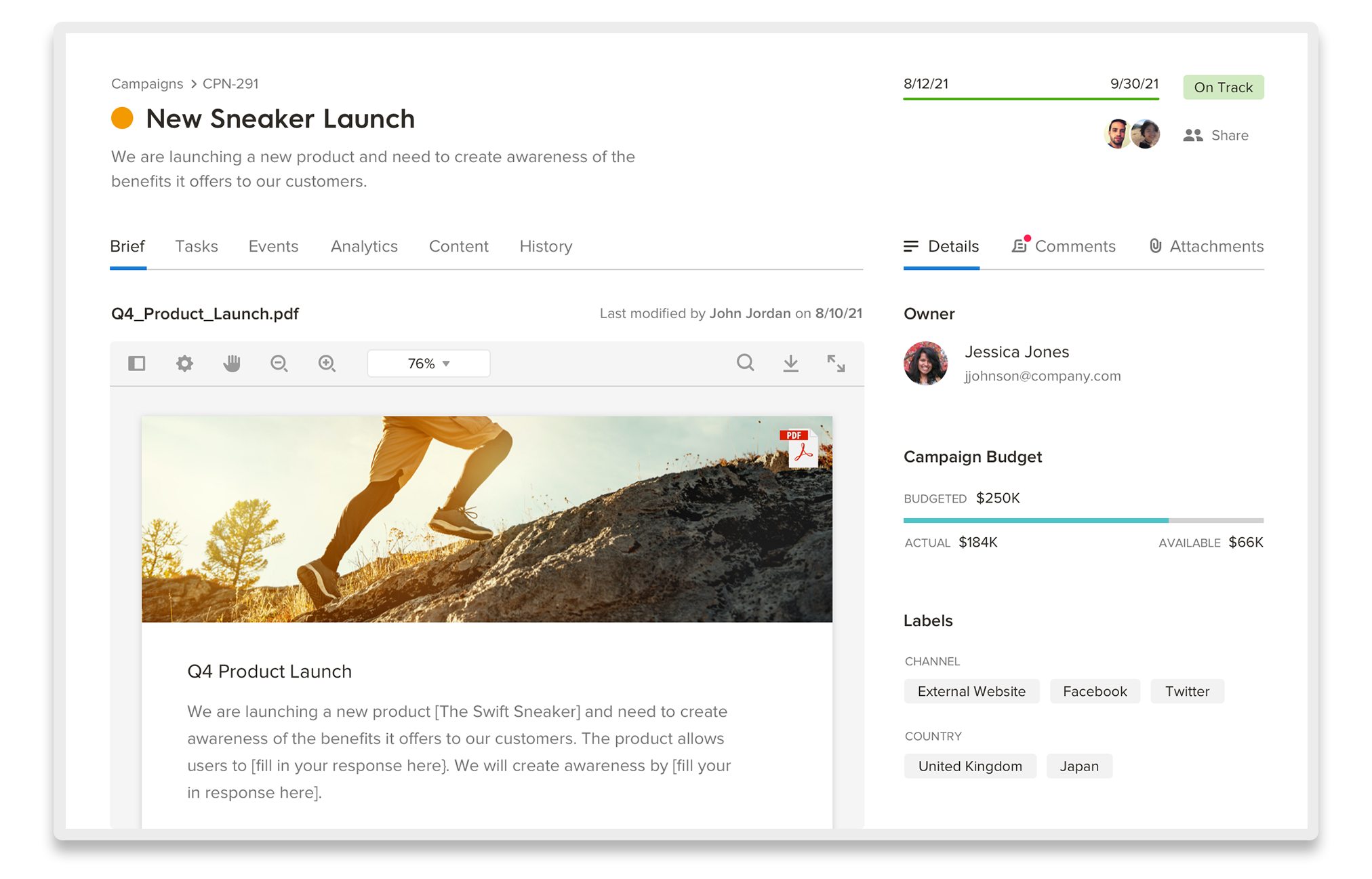 Throughout any marketing campaign, your marketing team is likely to have plenty of tasks to perform. Keeping track of all of your outgoing emails, social posts, blog posts, and ads in real-time can be difficult.
Welcome's platform makes the project management part of the campaign much more efficient and straightforward with:
The campaign dashboard where you'll be able to visualize and track every task in your campaign.
Campaign workspaces where your team can continue to collaborate on tasks throughout the campaign.
Review and approval workflows for collaborating on and monitoring team members' work before publication. Our content editors let you annotate and edit content directly within the platform.
Campaign analytics for tracking the success of each element of your campaign as you go.
SLA reporting for tracking requests against goal KPIs to finesse your campaign and improve your processes for future projects.
Digital Asset Management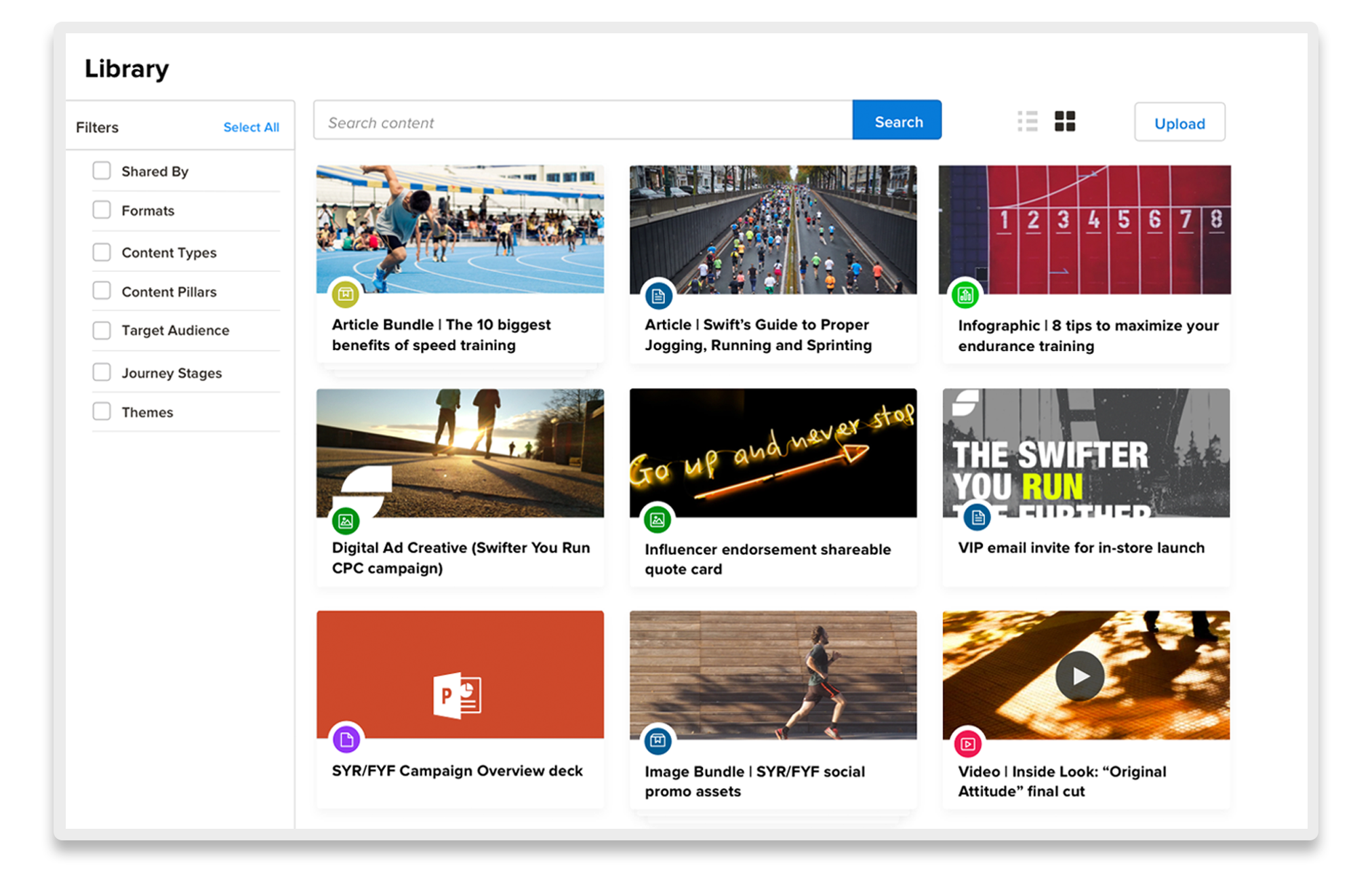 Our platform's digital asset management empowers you and your team to store and access your files quickly. Features include:
Global Asset Governance for creating and maintaining brand compliance templates to efficiently produce branded marketing content.
Library for searching and sorting multiple types of files and workflows in one place for easy access later.
Asset Management for tracking the use of your content and tagging it.
Analytics
No marketing campaign is complete without a rigorous analytical phase. Welcome's analytics features include:
ROI Analytics for completing the sales funnel. Track conversions and complete lead generation.
Content Performance offers a full run-down of each aspect of your campaign and how it performed. Track engagement and conversions with your content to learn from mistakes and grow as a team.
Campaign Analytics offers cross-campaign insights to help you create optimal campaign plans in the future.
Operational Analytics empowers you to track how your team worked throughout the campaign to further optimize task allocation and time management.
Final Thoughts: Content Collaboration and Content Operations at Welcome
Welcome's platform for marketing teams can transform the way you manage and execute your marketing campaigns. We're trusted by companies like Twitter, JPMorgan Chase, Panasonic, and American Express.
Interested in finding out if our software is the right option for your team? Explore our pricing options to begin your Welcome journey.