As Citi prepared to launch its new "Life and Money" hub and content marketing program, Jenn Eldin, SVP and Global Head of Content at Citi, shared an inside look at how it all came together at ThinkContent New York 2018.
Jenn Eldin, SVP, Global Head of Content, Citi
Here, her highlights, from planning to getting buy-in to setting objectives:
The plan
Citi had three distinct content portals that needed to be merged into one. It was a huge undertaking, but necessary. "We spent as many months deciding how to get this done as we did doing it," Eldin said.
That's because the three sites – one for Citi Private Pass, one for Citi Benefits, and another for Citi Credit Cards – all had different looks and content types, and required lots of resources and dollars to maintain. The big decision that needed to be made was: "How do we build an overall vision for content at Citi? It is a moment of change for our brand, and we wanted to use content as a vehicle to bring it to the consumer," said Eldin.
That vision helped inspire Citi's overall content goal: "Deliver a customer-driven content experience that energizes and sparks action during the big and small moments that matter most."
The next logical step was to figure out: "How do we design the site so it's exciting and relevant?" asked Eldin.
But first, buy-in
To get stakeholders from across Citi to buy into the new content initiative, Eldin used the following playbook: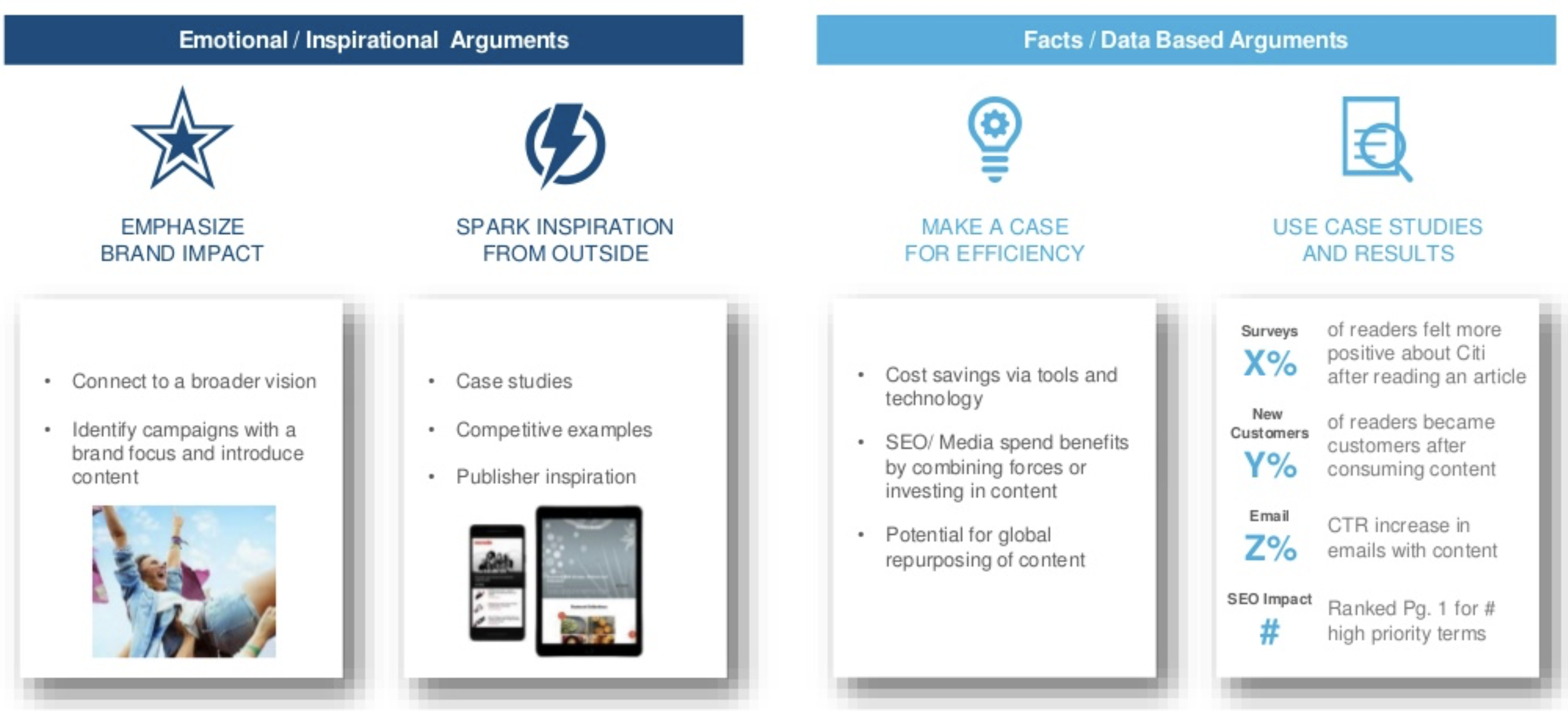 Emphasize brand impact. Connecting content to a broader company vision can give stakeholders something to rally around.
Spark inspiration from outside. Explore competitive examples and look at publishers that are the "gold standard" of content to figure out how they are pushing the boundaries.
Make a case for efficiency. Think about your current content practice and how you can do better, efficiency-wise. For instance, just from an SEO perspective, there's a benefit to having everything all in the same place. Also, you can figure out ways to take the content you create and repurpose it globally. Bottom-line discussions like this can help you build your case.
Use case studies and results. Surveys are great tools to measure how people feel about your brand after consuming a piece of content. If there are ways to track conversions, the click-through rate from your content, and/or the SEO impact, do it – there's power in the data.
Next Step: Setting the Objectives
Before getting into content topics and design elements, Eldin said that it's important to figure out the big objectives you need to deliver. For Citi, they included:
Brand voice: "We needed to create one place where customers experience a consistent message." The team spent a lot of soul-searching time figuring out "Who is Citi?" And what partnerships and assets does it have (i.e. Citi Bike)? They also looked at analytics to discover which themes resonated with customers and looked at the editorial landscape for inspiration.
Scale: "Knowing that if you want to grow, what works now might not work in a year. Invest in the right things from the outset."
Customer-first: "It's easy to talk about messages you want to share, but make sure what you're creating is things people want to hear about."
Excellence and innovation: "Use a test and learn approach, staying fresh for customers and engaging them as they get desensitized to what they've seen before."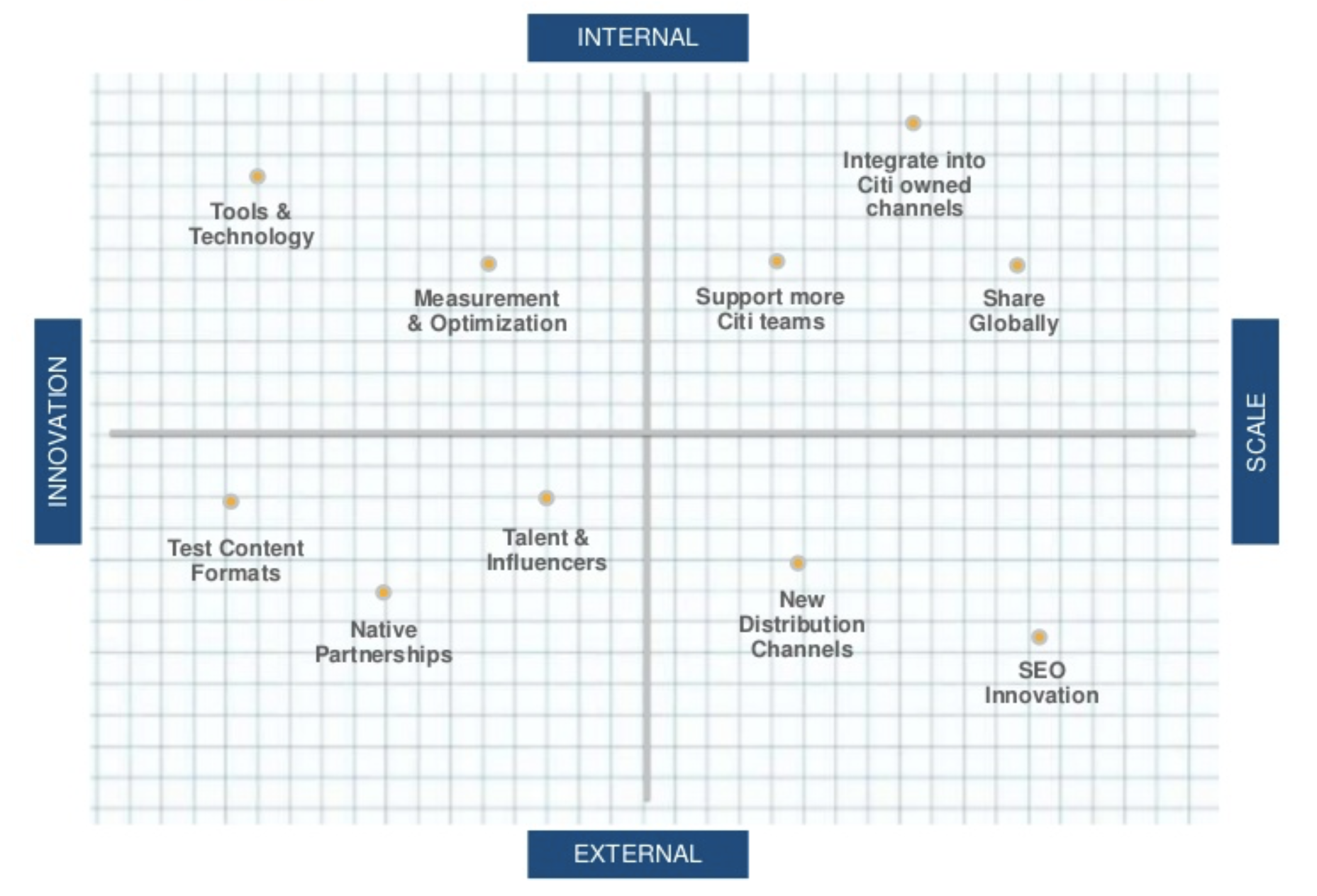 Finally: The Look and Feel of Citi's New Content
Eldin's team knew it would continue to cover the main content pillars of culture, travel, milestones, well-being, and money, but in doing so, it would be more strategic about taking advantage of the assets it has from a content perspective. "For instance, only Citi can tell stories about the impact that Citi Bike has had as a cultural movement in New York," she says.
Another major push has been to make financial education more personal. "It's all about integrating finances into relationships, cultural passion points, and moments like dining and entertainment," said Eldin.
Finally, the team wanted the new "Life and Money" hub to offer a more visual experience. "We wanted to give it a magazine look with images big and prominent, and pull quotes on articles pages," said Eldin.
Even after launching, "Life and Money" will continue to be a work in progress, as all good content marketing should.
"We're excited to keep learning and growing," Eldin said. "We're asking, 'How do we make ourselves better, and are there tools to help in our growth journey?'"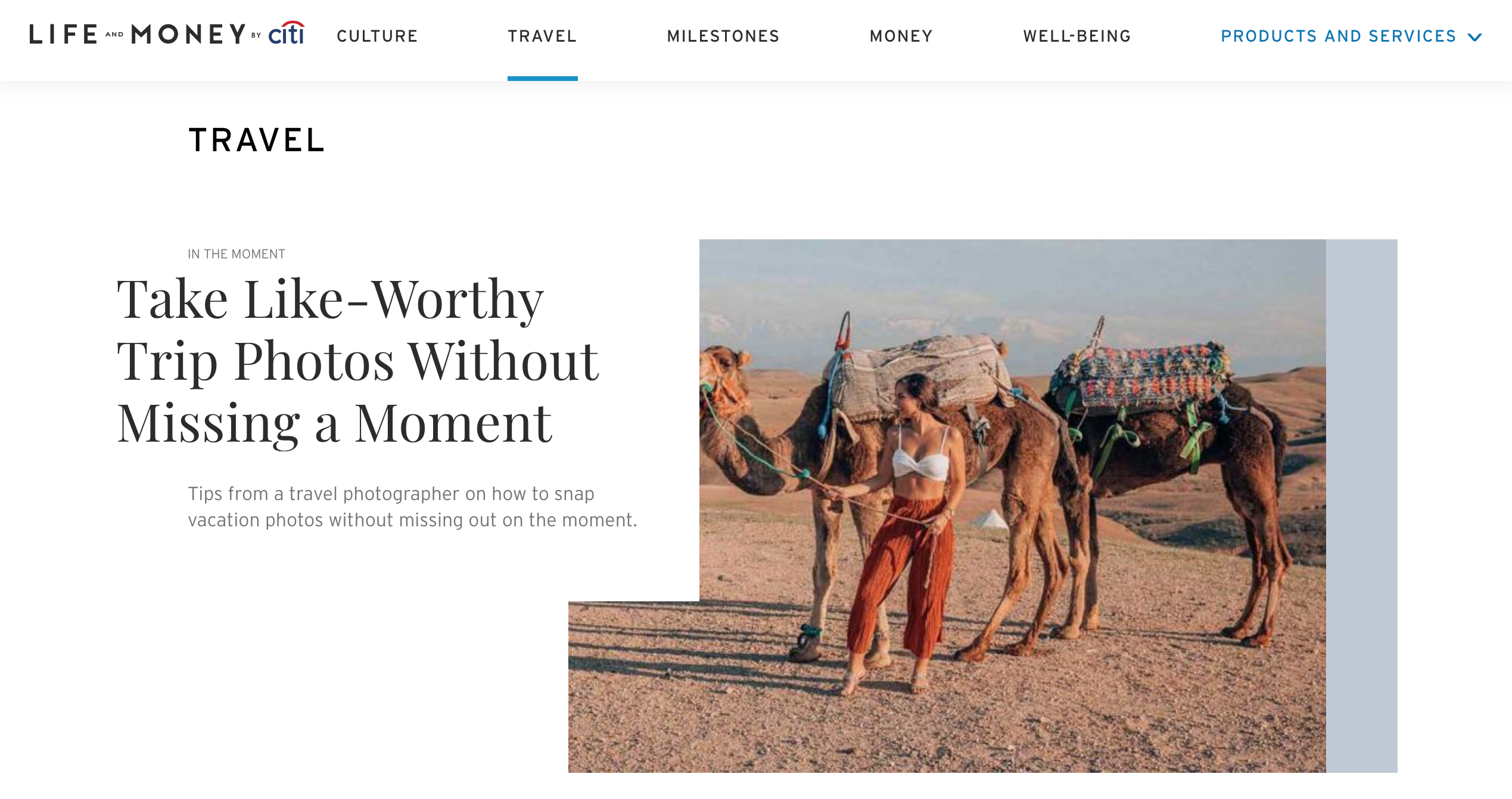 Citi's "Life and Money" site launched on June 18th; check it out here. To watch Eldin's full presentation, head to the ThinkContent New York 2018 video collection.

Dawn Papandrea is a NewsCred Contributor.