Convincing your CMO to give you budget for content marketing isn't easy. When it comes down to it, you need to prove ROI before you even get started.
So what makes it so hard? Content marketing is not a short term game — it's a long term strategy with long term results. Investing in content requires an entirely different mindset than what traditional marketers are used to. It requires CMOs to move away from the crutch of traditional digital advertising, and instead move towards a more customer-centric, value-led approach to marketing. Convincing your team to challenge the status quo means that YOU need to become the change agent in your organization.
In order to get the budget and support you need, it's your job to build the business case for content marketing. I'm talking about the things your CMO actually cares about: brand loyalty, revenue, operational efficiencies, and cost savings.
At NewsCred, we want to make this conversation easy for you. Below, you'll find the strongest proof points, grouped into business themes, that will give you the ammunition necessary to build your next presentation, present to your exec team and boss, and get the budget you need.
EXECUTIVE SUMMARY
Great content drives purchase decisions (Nielsen 2014, Forrester 2015):
85% of consumers regularly seek out content from trusted experts when considering a purchase.

Consumers engage with 11.4 pieces of content on average prior to making a purchase.

By a factor of 3 to 1, B2B buyers educate themselves by going to sellers' websites and learning about their offerings before making a purchase decision.
Which is why CMOs are investing heavily in content (Forrester 2015):
Between 2013 and 2014, marketing leaders polled by Forrester saw content marketing budgets rise by over 30%.

57% of marketing leaders polled by Forrester saw top-line benefits such as increased sales or revenue from content marketing.

75% of marketing leaders polled by Forrester saw bottom-line outcomes, such as loyalty or reduced marketing or media expenses from content marketing in 2014.

According to the report, Marketing And Media Efficiency Outcomes Drive Content Marketing, Forrester assesses why content marketing drives bottom-line efficiency and top-line growth:
1. Lowering content development and management costs across teams.
Many brands use a content marketing initiative to reduce the amount of content they produce, not to increase it. Intel dramatically reduced the amount of content it produced, as it was able to get more reuse and results out of a smaller volume in production, through more efficient planning and collaboration. Marketers aspire to manage fewer, higher-quality content assets and make better use of existing ones.
2. More efficient media utilization from organic and subscribed reach & engagement.
With advertising costs like pay-per-click rising and reach slipping, marketers see content marketing as a means of shifting from paying media owners each time they want attention to paying once and then earning sustained attention. Unilever worked with influential vloggers, for example, who had verified subscriber totals of up to 8 million to publish sponsored content directly to their followers. Marketers aspire to generate more attention over the lifetime of a customer using fewer, more valuable assets.
3. Improved loyalty from positive content-enabled customer experiences.
As retaining existing customers is six to seven times cheaper than winning new ones, marketers are using valuable content to maintain stronger links between their brands and key customer segments. The starkest example of this in practice is Patagonia's Worn Wear content strategy, which draws attention to stories of customers using its products until they literally fall apart — essentially evangelizing not purchasing new products for the sake of loyalty.
BUILDING THE BUSINESS CASE FOR CONTENT MARKETING: THE PROOF POINTS YOU NEED
GE proves that content marketing drives significant brand lift over traditional advertising.
GE partnered with BuzzFeed to create branded content through custom editorial posts and found that branded content significantly lifts brand perception in comparison to display advertising. Users exposed to GE's content overwhelmingly viewed GE as a "creative" powerhouse resulting in a 138% Brand Lift via social media. Furthermore, when the content was discovered via trusted social recommendations (via Facebook post, Tweet, email link, etc), nearly 80% of respondents assigned a positive brand attribute after discovering GE's branded content through social media.

Intel shows why content marketing can be a more cost efficient way to drive engaged subscribers.
Intel's Global Media and Content Strategist, Luke Kintigh, recently conducted an analysis looking at the impact and reach of TV advertising vs. content spend. While most marketers would love the chance to spend $5 million on a 30-second spot at the Super Bowl, Luke wanted to understand what kind of impact that budget could have if directed towards content marketing.
His analysis drew up some interesting conclusions:
The traffic from a $5 million spend on Facebook would drive drives 83 million clicks to their content hub, Intel IQ. With an email sign-up conversion rate of 1.8%, Intel would get 1.5 million subscribers from $5 million Facebook spend. 1.5 million subscribers! This is an audience that is opting in to Intel's content and wants more of it — arguably more valuable to them than users who passively watched a 30-second TV ad.
Since clicks aren't enough to build a business case on, Luke went one step farther to understand engagement from the same spend. Users typically spend 02:31 minutes on Intel iQ. If Intel were to receive 83 million clicks from a $5 million Facebook spend, they would receive 257.5 million engaged minutes. That's an astonishing number compared to 57 million engaged minutes from a 30-second TV spot.
NewsCred customers prove that content marketing drives 10.35x greater return on their budget than traditional banner advertising.
In Q4 2015, one of NewsCred's customers, a Fortune 500 financial services company, conducted a test measuring the efficiency and value of their media spend via content-driven ad units vs. traditional banner ads. Their results showed greater media efficiency, reach and engagement across the board:
The company's budget was 2.73x more efficient when measured by clicks for content-driven ads vs. traditional banners. The results make sense: people are more prone to click on content that is informative and useful than traditional banners. When looking at it from budget efficiency, this was a clear sign for the company to double down on their global investment in content and move it away from traditional banner advertising.
For every dollar that the company spends, they get 1.53x the reach using NewsCred's content than without it. In addition, when measuring engagement on their site, the company's money was 10.35x better spent on content ads. In this scenario, engagement rate is measured by any time a person spends more than 5 seconds on the brand's website after clicking through an ad.

Content-driven advertising via LinkedIn Sponsored Updates drives 4.3x greater engaged visits on their website VS. traditional banner advertising. Content driven ads had a 74% engagement rate, while traditional banner ads had a 24% engagement rate.
Hubspot proves that increasing your publishing cadence directly ties to greater customer acquisition.
A 2014 Hubspot study found that 82% of marketers who blog daily acquired a customer using their blog vs. 57% of marketers who blog monthly.
NewsCred customers see a compounding effect of content marketing over time: the more consistently they publish, the greater ROI they get.
When looking at all our customers, we've found one consistent insight: there is a compounding effect to content marketing. This means that if you publish consistently month over month, the ROI for your content will increase over time. This doesn't always mean that brands have to publish more content. It all comes down to consistency – delivering a regular cadence of content – which you can achieve by more efficiently utilizing the content you already have, ensuring more seamless workflows and content management, and implementing a smart distribution strategy.
For example, let's take a look at one of NewsCred's Fortune 500 financial services customers:
Looking at the graph above, the pink color represents the number of articles published by a NewsCred customer every month. Our client was diligent about creating quality content, executing a multi-channel distribution strategy, and maintaining a regular publishing cadence.
However, the total number of articles viewed (blue color) increases over time. Note that the number of articles viewed is the number of unique articles that people visited in a given month. Why are we seeing this trend? Articles published in early months continue to drive traffic over time due to SEO.

In addition, the number of pageviews also increases over time, showing that even if publishing cadence remains consistent, you'll see a compounding effect to engagement and traffic. This means that the cost per article steadily goes down over time and value goes up.
So what kind of business impact did all this have? In just one year, our customer drove significant top-line growth and bottom-line efficiencies through content marketing.
Yielded a 27% annual cost savings in content development and management by leveraging NewsCred's software, licensed + original content vs. managing all content-production in-house

Increased content production and publishing by 41x across 5 lines of business (from 12 to 494 articles / year)

Turn around time for content creation publishing decreased from 3 weeks to just 10 days

Increased monthly page views by 2.6x, driving 4M page views in just one year (67% licensed, 38% original)

Increased unique visitors by 700%, Facebook followers by 19x and LinkedIn followers by 35%
Kraft drives 4x better ROI than advertising via content marketing.
Kraft tags and tracks more than 22,000 different attributes of their audience based on their behavior and engagement with web content. With 100M annual visitors to its web properties (and 98% product penetration in US households), this is no easy challenge. So why is Kraft "all-in"?
According to an eConsultancy interview, content marketing enables Kraft to own first party data which allows them to understand customers based on their interactions with content. This means that Kraft can not only quickly identify new trends, but also target advertising to jump on the growth in interests that they have identified. In two years, Kraft has proven that its content marketing yields 4x better ROI than its traditional advertising.
Xerox yielded $1.3B in pipeline revenue via content marketing.
Xerox created a targeted "Get Optimistic" campaign to connect with their top 30 accounts and partnered with Forbes to create a magazine that offered relevant business tips. Following the campaign, over 70% of targeted companies interacted with the microsite and readership increased 300-400% over previous email campaigns. Most importantly, they connected their content marketing efforts to bottom line pipeline. Through the campaign, Xerox added 20,000 new contacts, generated 1,000+ scheduled appointments and yielded $1.3 billion in pipeline revenue.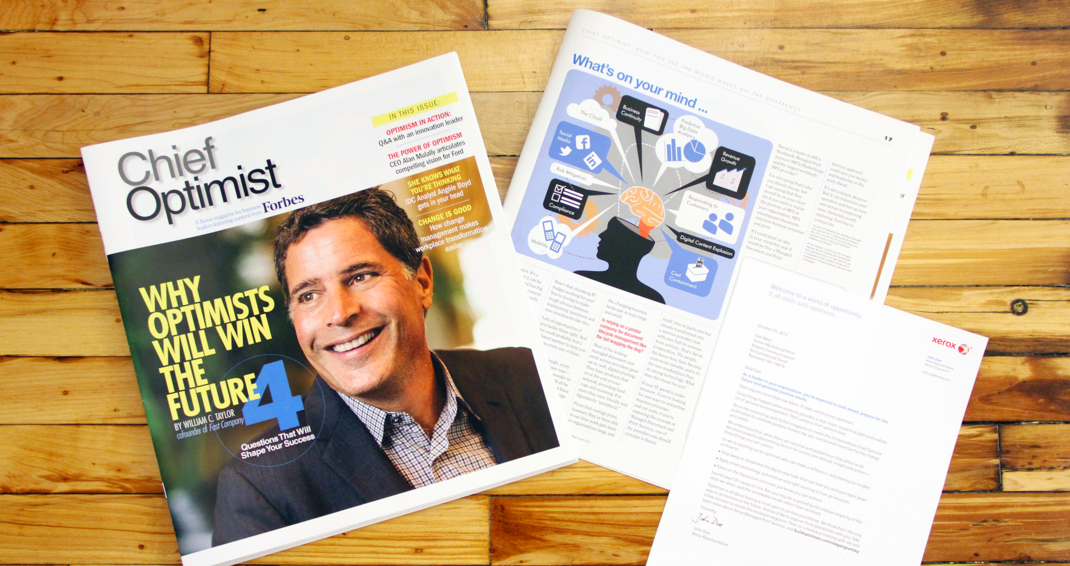 ASUS leveraged content to drive brand awareness and achieve a 16% increase in global sales.
With limited budgets across 16 markets, ASUS was not in a position to run a TV based broadcast awareness campaign to a wide audience. And yet, they had a massive brand awareness problem they needed to fix. Most people have never heard of the company and yet they are the world's 5th-largest PC vendor (according to 2014 sales numbers) .
In 2013, ASUS partnered with Microsoft to launch a content marketing campaign targeting a select group of media-savvy influencers. ASUS created a microsite, "In Search of Incredible," celebrating stories of extraordinary creativity and imagination. They created a mix of editorial and customer content with articles and videos, and launched the campaign across 8 countries.
According to Microsoft, ASUS saw incredible results:
An online audience of 16 million

Sales objectives exceeded by 60%

16% increase in global sales (target was 10%)

2.6 million increase in computer sales
NewsCred's marketing team proves greater customer acquisition, renewals, and upsells via content marketing.
For NewsCred's own blog, we've seen the same trend: increasing publishing cadence from 2 to 6 blog posts per week enabled NewsCred's own marketing team to increase their subscribers by 30% per month at 50% of the normal acquisition cost.
In addition, on average, NewsCred customers engage with 22 pieces of content in their first year.

Customers who engage with our content have a 41% higher renewal rate, are 33% more likely to be sold, and have 24% higher MRR (monthly recurring revenue) than average.
Okay, WHEW. We've reached the end! Hopefully, this post gives you the proof points you need to build your content marketing business case and crush that next presentation. Still looking for more? Contact us and we'll share more about how NewsCred can help you achieve your content marketing goals.
Alicianne Rand is the VP of Marketing at NewsCred