This brand spotlight comes to you from NewsCred's London-based European team.
If judged in words and sentences, paragraphs and articles, the British Library might well be the biggest content marketing organisation in the world. With well over 150 million items within its collection, brought to life by a small, 30-strong marketing team, it has one of the biggest impacts, both for the million people who come to the library each the year, and the many more who engage with its sizable online presence.
So how does such a content-rich organisation marshal its resources to deliver on its core missions of getting its assets utilised, not left un-accessed and unloved in a warehouse somewhere? Graham MacFadyen, former Head of Digital and Marketing Operations at The British Library, explains how its content marketing program operates, sharing everything from objectives to search engine optimisation (SEO) strategy.
Objectives
As a public institution and cultural repository for much of the United Kingdom's collective written knowledge, the British Library is not held to the same strict profit maximising standards of most companies. Instead, MacFadyen explains the organisation has three core objectives:
Expand reach: Get more people into the library and aware of its online presence.
Measure engagement: Grow the amount of library content that people access.
Generate revenue: Increase ticket sales through readers buying books, gift shop merchandise, and via donations.
Audience
For the million plus people who visit the library in person every year, and the hundreds of thousands that access its online resources, their primary reasons for visiting are, by and large, because they want to do or create something, as opposed to view something (like one would in an art gallery). They could be researching for their PhD or first novel, or working on setting up a small business.
Whatever the visitor chooses to access, says MacFadyen, the most important stance the library takes is to avoid aggressive segmentation based on labels. Instead, the library segments its audience pool through a behavioural approach, such as what materials they've accessed recently. This, MacFadyen says, is one the most important indicators of intent, far outranking outdated forms visitors might have submitted 10 years ago when they were still students.
The Four Pillars of the Library's Content Strategy
So how does the Library achieve its objectives and satisfy its target audience at the same time?
MacFadyen explains that he and his team operate via a content strategy that they call "Owning the domain." That means achieving a top three search ranking for key terms like "English literature" or "medieval history," then moving the visitors from those keywords down the funnel to purchase a ticket, make a donation, or buy an item in the shop.
The British Library accomplishes this through a four-pillared structure:
1. Work out what you want to be known for
By assessing what assets the Library has – what material it owns and experts it has access to – it can make a judgment call as to what areas of interest it can conceivably be seen as the leading, credible expert.
From there, the team creates a thorough SEO plan and conducts keyword research to ensure the content maps to what people are actually searching for.
And this plan works, with the Library attaining a number one ranking for "Magna Carta" searches in the charter's 800th anniversary year (2015), beating content giant Wikipedia to the top slot.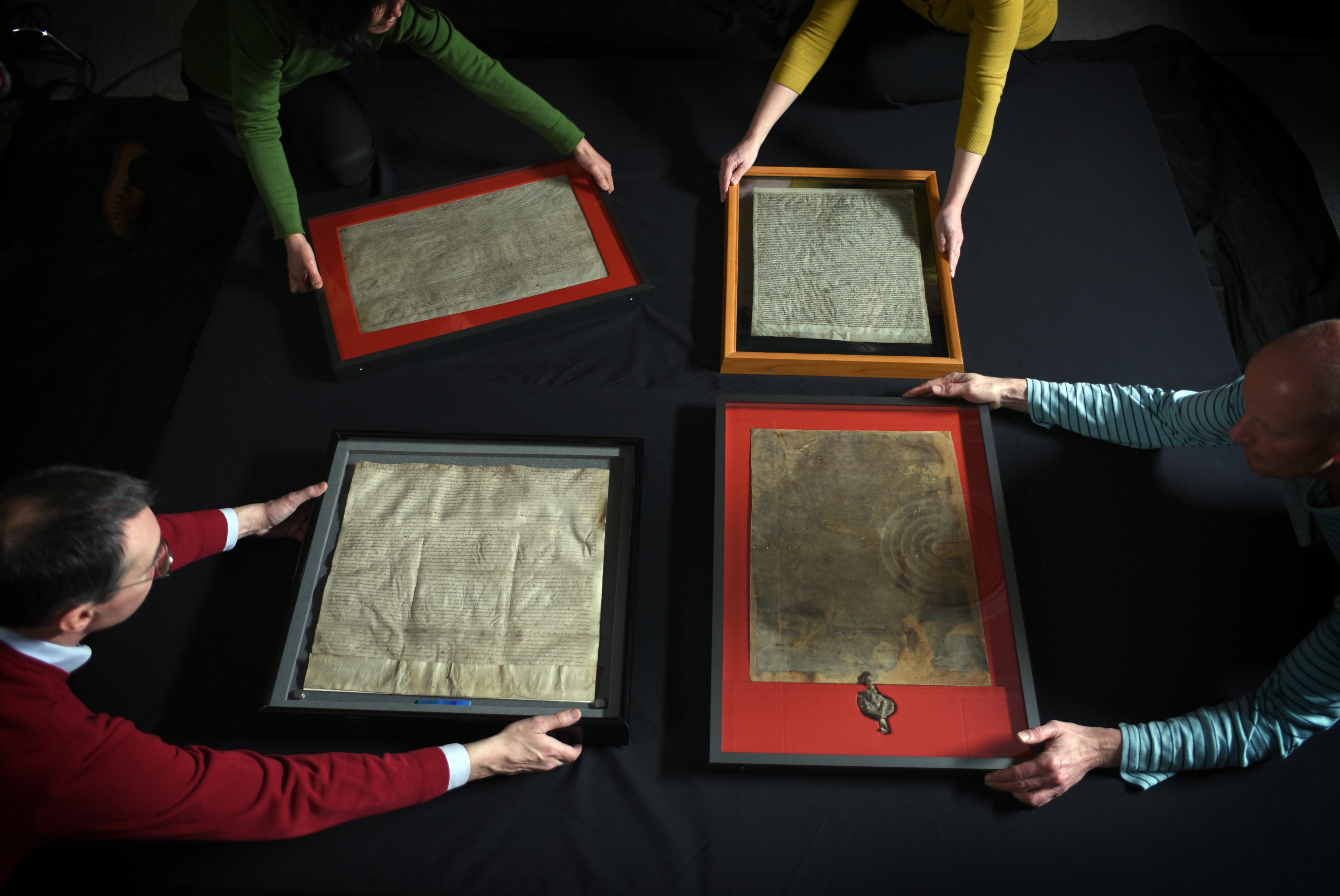 The four original Magna Carta manuscripts being prepared for display at the British Library
2. Find a role in peoples' lives
Getting out of the campaign-driven approach is not easy for many marketers, but MacFadyen argues it's vital if you are to be seen as something more than a flash in the pan. Instead, find out what value you can bring to peoples' lives every day and provide it constantly with an always-on approach through your key channels.
3. Design for growth
Prior to 2011, the British Library had a "Victorian Hospital" problem. What had started as a minimal, but effective digital presence, had grown and expanded, with more resources being tacked on to other resources, linked to others, and then forgotten.
Upon auditing, the Library discovered that it had 109 separate websites. None of the sites worked in harmony with each other, resulting in poor SEO throughout. A Google search for "Shakespeare" could turn up 12 British Library results: one for Shakespeare audio CDs in the shop, another for an e-learning resource for schools, and yet another for digitised versions of original items.
The Library brought the content down and rebuilt its digital assets for core items from the ground up – ensuring a seamless interaction for people and search engines between all the different areas of interest.
4. Structure for storytelling
Lastly, the Library realised it was never going to buy its way to content marketing success. Instead, it would focus on owned and earned media. The Library restructured teams to take account for this. It changed its internal design so that marketers worked as content community teams, rather than siloed in channel-specific roles, like social media, newsletter, and printed brochure teams.
The Types of Content
What types of content are necessary to support that "Owning the domain" approach? The British Library has found success with two overarching types of content: "stock" and "flow."
Stock is the permanent, evergreen content that will still be valuable in five years time. These digital resources are large and comprehensive, and can take the Library a year or more to develop. They're usually backed by thorough keyword research.
Flow, by contrast, is firework content: the social media posts that remind your audience you're around and consistently providing good value. These are planned up to a month in advance.
And Finally, Distribution
The platforms the Library uses for content distribution include all the usual methods, especially Facebook, Twitter, and YouTube. But the Library plans on making more of its secondary channels, like Pinterest and Instagram, in the near future.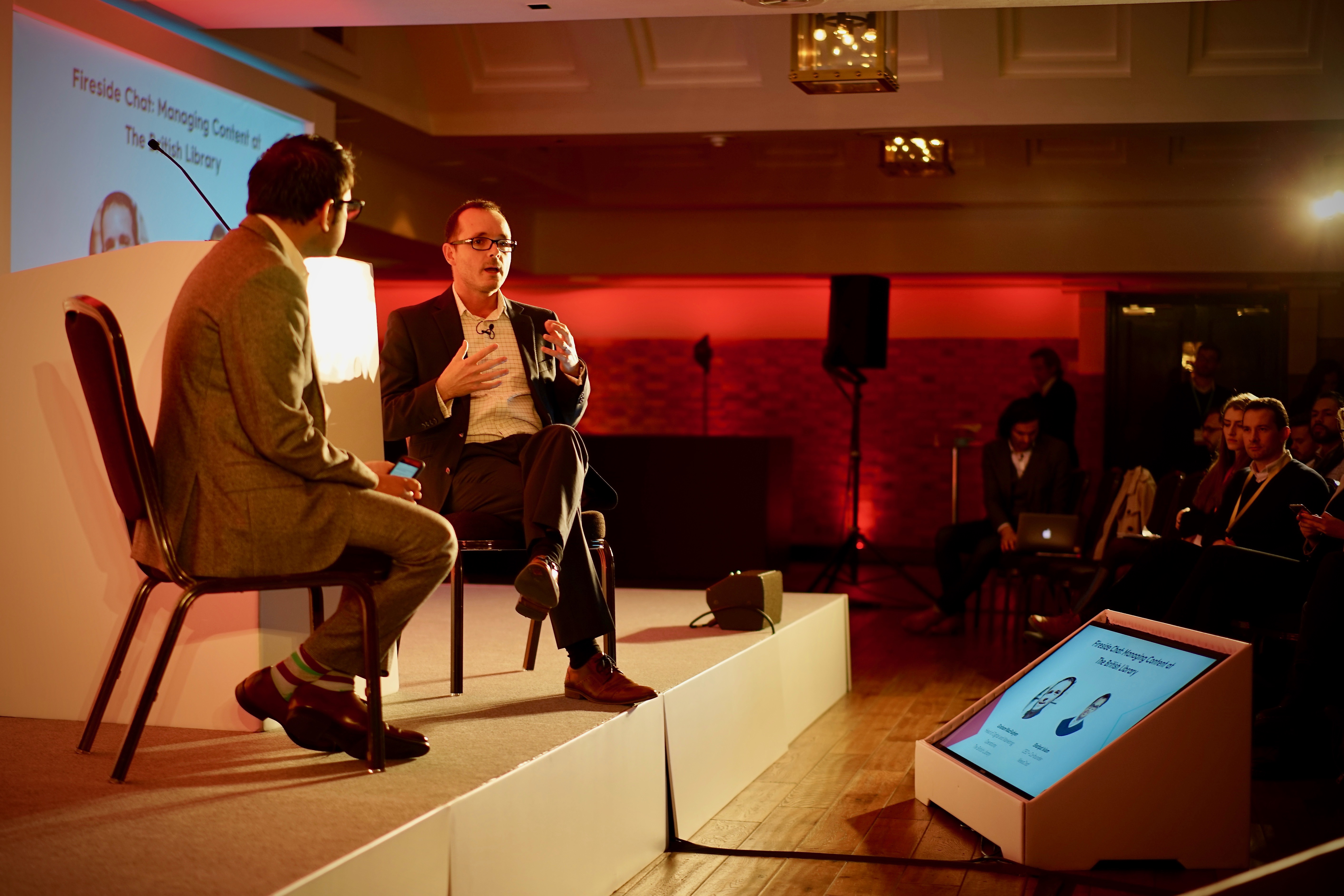 Graham MacFadyen, former Head of Digital and Marketing Operations at The British Library, with Shafqat Islam, CEO and Co-founder at NewsCred, at #ThinkContent London 2016.
Jamie Maddison is a Senior Content Strategist in NewsCred's London office.