Take a look around. You might notice some familiar faces. There's been a recent resurgence of beloved brands from yesteryear.
Whether we knew them firsthand as children, through stories of our grandparents' glory days, or via some kind of strange nostalgia for things we never actually experienced, certain brands stand the test of time. And people want them back.
But how do they get noticed?
"Content needs to be highly entertaining or informative to break through the clutter in today's media environment," says Stacy Taffet, Senior Brand Director at PepsiCo.
That's why the old View-Master toy now has 360-degree imagery and virtual reality capabilities. Automaker Lincoln put itself back on the map with stylish ads featuring an alluring new identity with Matthew McConaughey.
And they're not the only ones. The following old-school brands have recently made comebacks through clever, creative, and strategic content marketing.
Crystal Pepsi Traverses Time
Crystal Pepsi only sold for about a year back in 1992, but the clear cola quickly became a cult favorite, with fans pleading for a rerelease over the years.
Despite a promotional sweepstakes in 2015 – where Pepsi launched a dedicated site, digital competition, and giveaway of 13,000 Crystal Pepsi six-packs – people wanted more.
Last summer, '90s buffs had reason again to celebrate. For a limited time, Crystal Pepsi hit shelves across the U.S. and Canada, accompanied by an ingenious piece of content.
Pepsi unveiled a video game to get people excited – and not just any game. It partnered with what is known as the "longest-published, most successful educational game of all time": "The Oregon Trail," which last year was inducted into the World Video Game Hall of Fame.
"Our goal was to create engaging and nostalgic content that was reminiscent of the time when Crystal Pepsi was first introduced to the market," says Taffet. "Gaming is growing in popularity right now, and there is latent love for 'The Oregon Trail.' 'The Crystal Pepsi Trail' delivered the type of fun, engaging experience that consumers are seeking from any type of content."
The result? A viral gaming experience that garnered 300 million impressions across social and an incredible 8-minute average time spent on-site.
Takeaway: Capitalize on what your brand stands for. What do people associate with it? What does it make them feel and remember?
"The 'aha' moment came when we realized how much fun we could have with the 90s," says Taffet. "There is a consumer movement around 90s nostalgia and we knew we could give consumers something they would love on behalf of Crystal Pepsi. From there, the ideas just started flowing."
Identify what that means for your brand and settle in for a brainstorming session.
LEGO Goes Hollywood
Crowned the "World's Most Powerful Brand" by Brand Finance in 2015, some may forget that Lego wasn't always on top. Back in 2004 – after a stream of ill-advised expansions into everything from jewelry and electronics to amusement parks and franchise partnerships – the brand was losing hundreds of millions of dollars year after year and on the brink of bankruptcy.
Now, the company is careful to practice controlled innovation. New management helped streamline and relocate production to more cost-effective facilities while refocusing design efforts on what fans wanted most: the original, inimitable Lego block.
Things began to pick up with yearly double-digit growth after 2005. And with the help of a little 2014 film called "The Lego Movie," the brand even briefly surpassed Barbie, Hot Wheel, and Fisher-Price-producing Mattel to become the world's biggest toy manufacturer that year, reporting over $2 billion in revenues.
And following this year's "Lego Batman Movie," everyone's talking about Lego's two box office hits.
Hailed as the ultimate pieces of content marketing, these films are essentially two-hour toy commercials disguised as genuinely awesome, animated action movies. They consist of quality storytelling – smart, hilarious, and heartwarming in all the right places – while managing to find ways to poke fun at the brand itself (e.g. gender marketing efforts gone awry).
The result? Record brand awareness and an excited and engaged audience. And hundreds of millions of dollars in profits. 2014's "The Lego Movie" made nearly $470 million worldwide while "The Lego Batman Movie" made more than $297 million globally in just over two months. The best part – Lego is just getting started. A sequel to the first film is due in theaters in 2019.
But before the first film's success, came skepticism. "People thought we were making a craft commercial for a toy," "The Lego Movie" and "The Lego Batman Movie" producer Dan Lin told Fox Business. "So we went in stealth mode, and then surprised the audience stealthily, and became a cultural phenomenon." And that's not even an overstatement. In 2014, the brand had 285K followers on Instagram; today that number is at a cool 1.9 million.
Moving forward, Lego's research and development team, known as the Future Lab, considers and creates the evolution of the brand along with its products and projects. Recent endeavors include exploration into possibilities with the Internet of Things, digital experiences that incorporate the use of smartphones and tablets, and the launch of a popular crowdsourcing site called Lego Ideas. The site allows fans to interact with each other and the brand, while sharing information on various builds, posing questions, providing answers, and so on. It's a hit with AFOLs (Adult Fans of Lego) – a very important demographic for the company.
Takeaway: Build a community around your brand. Listen to and observe your super-users to better understand your product and how to go about presenting it to the world. Lego has has studied child play for decades, for instance, and Lin says inspiration struck as he watched his young son's imagination unfold into complex narrative adventures – all while playing with the simple, colorful blocks. And those adult super-fans? Some of them make great content creators on social and influencer partnerships.
Polaroid Remains an Instant Classic
Polaroid, which turns 80 this year, is another brand that's been around for generations. Slow to evolve in the face of technological revolutions, it, too, has undergone a recent resurgence.
The first-ever service to offer instant color prints, Polaroid was an overnight success, producing 5,000 cameras per day within a year of hitting the market, making $3 billion in annual revenues at its peak, and attaining cult status among photography connoisseurs and everyday people. But with the rise of digital came the downfall of film – and two bankruptcies for the company. Polaroid quit making traditional cameras in 2007, and then film two years later.
Now, the company touts itself as a totally digital brand, offering gadgets that give modern photography something fun and tangible to focus on. Its popular pocket printer, the Polaroid Zip, instantly produces wallet-sized stickers of smart phone shots while the Snap, the closest thing to the original Polaroid model, takes photos, digitally saves them, and prints out a copy right then and there. The Socialmatic camera goes another step further with an LED screen and built-in WiFi capabilities for immediate sharing.
And there's more where that came from. Thanks to a series of licensing deals, the Polaroid name now graces a range of more than 60 products as well as an online educational program on better picture taking.
Self-proclaimed "curators of innovation" with a "retro hipster cool factor," Polaroid's devices are all fun, easy-to-use, and aesthetically pleasing. So is its content. Influencer marketing has played a large role in the brand's strategy over the past few years, as has the content generated by those social media celebs. According to Adweek, using those images in digital marketing efforts led to as much as a 180 percent jump in sales.
"The idea was to tap into what our target audience was already doing," Aaron Paine, Director of Social Media and Digital Strategy at C&A Marketing, told Digiday recently. "Polaroid has always been about instant sharing, it's in our brand DNA. And Instagram is the perfect marriage of both the film and digital medium." The brand uses the platform with a strong social presence, consistently producing prizes, competitions, and various campaigns to get people engaged and sharing content.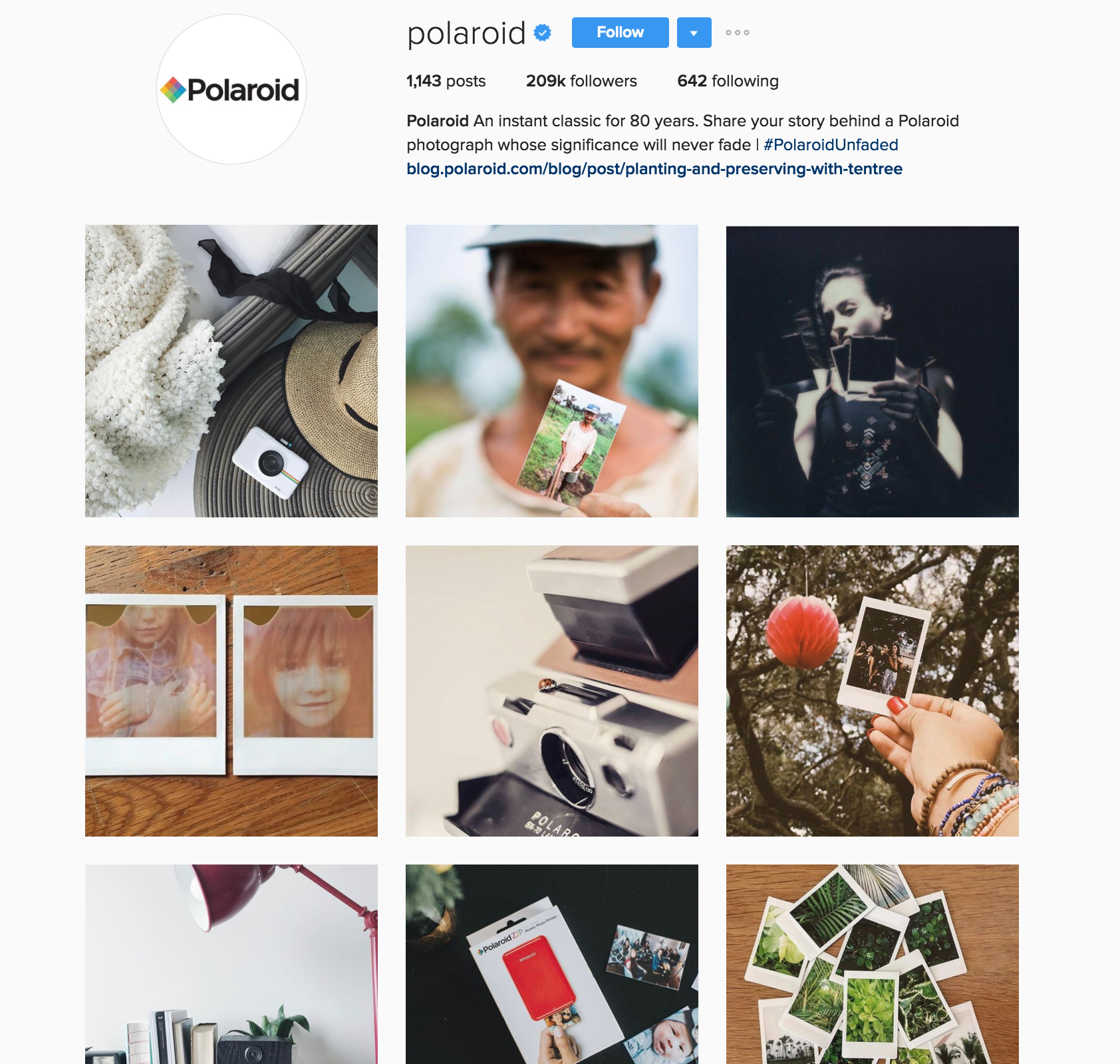 Takeaway: Take risks, be creative, and meet your audience where they are. Smart innovation and expansion has lifted Polaroid from the edge of extinction. The brand continues to forge along, most recently with explorations into 3-D printer and drone projects as well as constant experimentation with content on social media, which has been a strong suit.
"It's about celebrating our heritage and bringing it forward through our products and brand promise," continued Paine. "It's about being present, and making our brand relevant, in life's various moments."
What might that look like on your brand or content marketing efforts?

Anastasia Dyakovskaya is a NewsCred Contributor.