Showing off your brand, tracking where and how it's displayed, and gauging awareness are critical to marketing success, especially in a day and age when so many brands have larger digital footprints than offline presence.
Brand management is becoming increasingly complex because there are more opportunities than ever to share your brand with both customers and internal stakeholders. With so many moving parts and players, brand management can be the source of lots of bureaucracy.
Fortunately, brand management software (BMS) can save the day. In this definitive guide to BMS you'll learn:
What brand management software is
The benefits of using a brand management platform
Who needs a brand management system
How to evaluate this type of platform
Critical features to look for in a brand management system
What the best brand management platform is
How much BMS costs
Back to Basics: What Is Brand Management Software?
Brand management software helps you control how and when your brand's collateral — such as logos, colors, visuals, and messaging — is used, and by whom.
It usually combines several functionalities, like a data asset management system (DAM), calendars, and project management tools, to streamline collaboration and increase transparency into the use of branded materials.
Here's Why You Should Be Using Brand Management Software
If your team or company isn't using brand management software to facilitate marketing campaigns, you could be missing out on a number of important benefits.
Increased Productivity
BMS facilitates collaboration by giving everyone involved in a campaign a centralized place to create and share work.
This platform also makes creative teams more organized. One way it does this is by making assets easier to find with a searchable, integrated DAM.
Maximize Your Assets
A brand management tool helps you extend the value of your assets.
Built-in budgeting features help you monitor spending on brand collateral, and reduce unnecessary expenses. A brand management system helps you maximize existing marketing content by making it easy to reuse.
Streamlined Collaboration
With integrated workflows and approvals, a brand management platform simplifies asset sharing with internal and external collaborators, so you can launch campaigns faster.
As soon as a teammate marks a task as finished in a workflow, the next person is automatically notified that it's their turn to do their thing.
No more losing sleep over transactional emails about logistics!
Greater Efficiency
Brand management software helps companies be more efficient in a number of ways.
The first is by letting you upload and access all of your brand collateral to and from one place, so you can find what you need more quickly and go to market sooner.
Another way is by eliminating the need for those aforementioned pesky, transactional emails.
More Control Over Your Brand
Brand management software tracks every use of every asset so you can make sure collaborators are using the most up-to-date version of each asset and avoid costly mistakes. You'll never have to worry about using a slightly outdated logo on a social media post, infographic, or newsletter again.
Who Needs Brand Management Software?
Anyone who is involved in brand marketing and awareness should be using BMS. This includes professionals who plan, execute, or measure the success of marketing campaigns, including in-house marketing teams, marketing agencies that work on campaigns for a number of clients, and branding consultants who work with contractors on large accounts.
If your company decides to adopt a brand management system, who on these teams should have access?
To maximize efficiency, productivity, collaboration, and transparency, we recommend granting access to:
Brand managers
Project managers
Creatives including designers, writers, and videographers
Editors
Social media management leads
Web publishing specialists
Internal stakeholders, like your CEO and sales team
External stakeholders, like clients and influencers you collaborate with
10 Questions to Ask When Evaluating Brand Management Software
When comparing BMS solutions, ask yourself these questions to ensure you're keeping your needs top of mind instead of being swayed by compelling marketing messages:
Does this brand management software have all the features that meet my needs?
Will this software simplify my work?
What tasks can it streamline through automation?
Does this tool offer reliable support?
Does it come with easy-to-understand and thorough documentation?
Is this software updated regularly?
Are updates released often?
Does this brand management system have good reviews?
Does this tool work with my budget?
Does this software integrate with my existing tech stack?
Treat your answers as your north star. They'll guide you towards the best solution for your needs.
Must-Have Features To Look For in Brand Management Software
The better you understand what you should look for in a brand management platform, the more discerning a consumer you'll be. You'll be able to spot features that are missing from incomplete solutions and pass on upsells you don't actually need.
These are the 10 features to look for in brand management software:
An

integrated DAM

Content calendar
Budgeting tools
Brand governance capabilities
Project management solutions
Integrated workflows
Collaboration features
Asset licensing capabilities
Publishing integrations
Analytics and reporting features
1. An Integrated Digital Asset Management Solution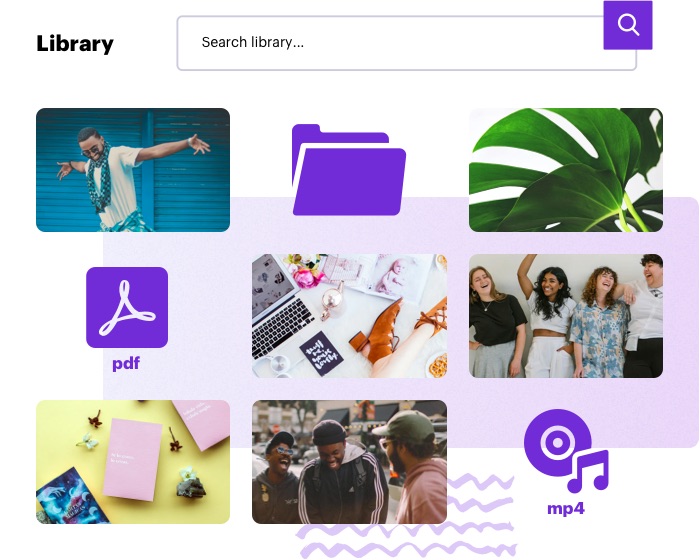 An integrated DAM is essential to any brand-related project. You need a centralized brand portal where you can store, tag, and search all of your visual, written, audio, and video brand assets.
Welcome, the leading brand management software, has a cutting-edge DAM that empowers brand projects.
With Welcome's brand asset management software you can easily search for collateral, filter it, and organize it with folders and tags.
You can also upload multiple file types – like a PDF of your brand guidelines or your marketing strategy.
Plus, Welcome lets you integrate workflows into your DAM to streamline collaboration.
2. Content Calendar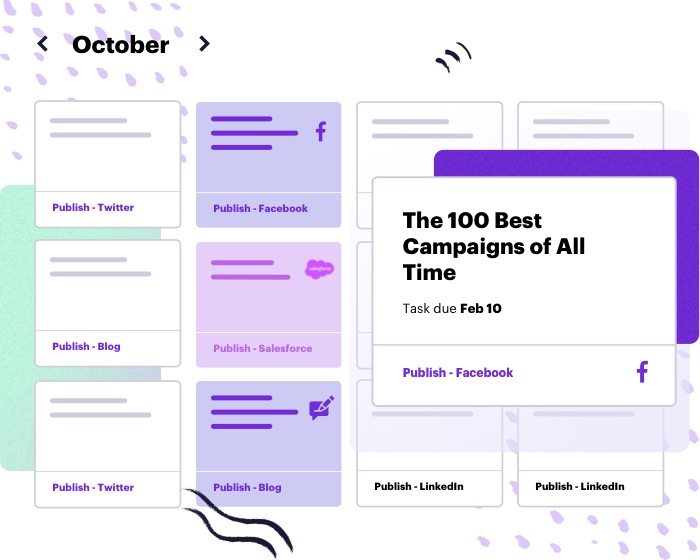 BMS should simplify the distribution of marketing materials like blog posts, emails, and social media content. That's where an effective content calendar comes in handy.
Welcome's content calendar helps you plan and manage when branded content is distributed to avoid overlaps in use of the same assets.
With multiple customization options, you can easily configure your calendars to show what matters most (type of asset, owner, publication date, etc.) in a way that works best for you (traditional view, timeline, Gantt chart, etc.).
3. Budgeting Tools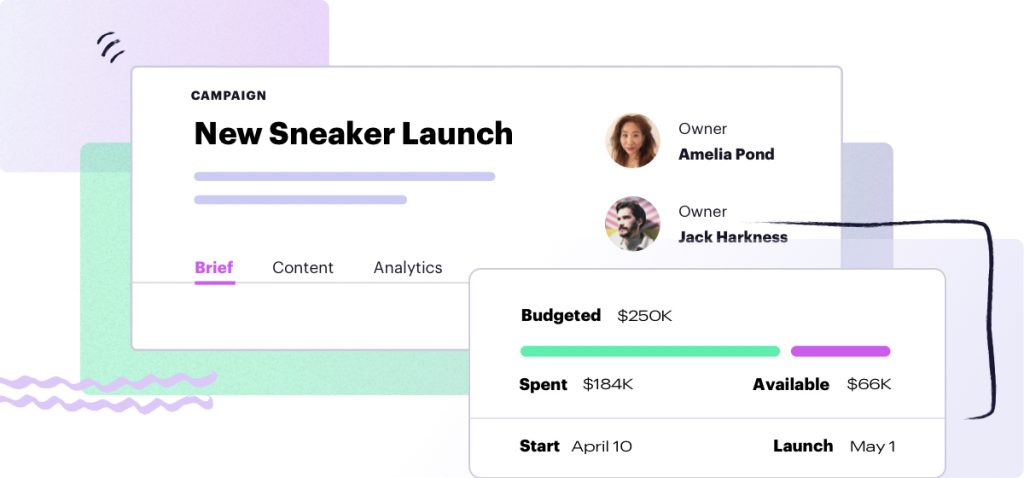 You need to be able to easily plan and manage your brand's budget, whether you work with freelancers, or rely solely on an in-house team.
Welcome makes managing your budget a breeze. This platform gives you unprecedented visibility into your spending by tracking actual spend against your budget.
Plus, its capacity planning tool helps ensure your in-house team isn't being spread too thin. You can also easily pay for outsourced help with Welcome's invoice management tools.
4. Brand Governance Capabilities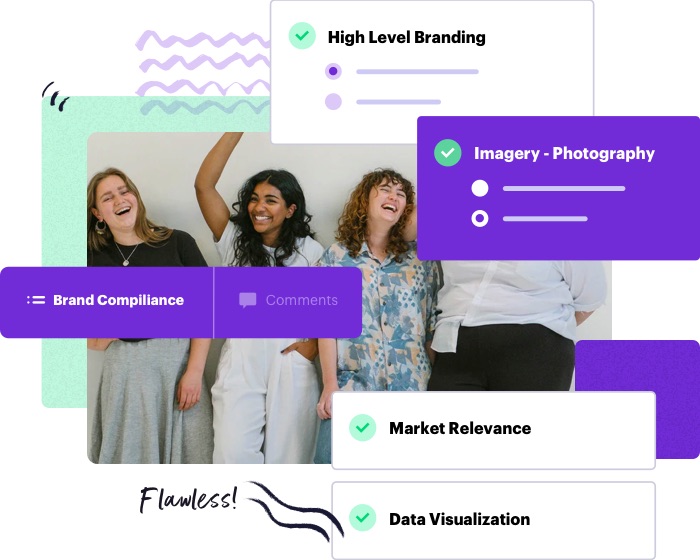 Look for a brand management platform that helps you maintain brand consistency and lets you monitor every step of an asset's life cycle: when it was uploaded, who uploaded it, who edited it and how, and more.
With Welcome you can upload and manage multiple versions of a file, track usage history, and even create brand compliance workflows to ensure proper use of assets. Welcome helps you preserve the integrity of your brand identity.
5. Project Management Solutions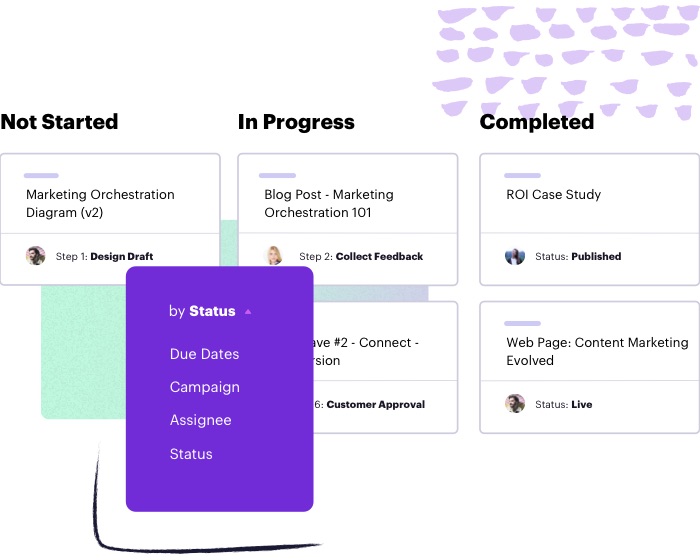 Whether you're working alone or with a team of 100, your brand management system should help you and your colleagues meet deadlines.
Welcome does this by letting you create both detailed and global dashboards so collaborators and stakeholders can see what they need to know to stay on task. For example, you can show your clients deadlines and progress on those deadlines, and show the graphic designers on your team their deadlines plus workflows and subtasks.
6. Integrated Workflows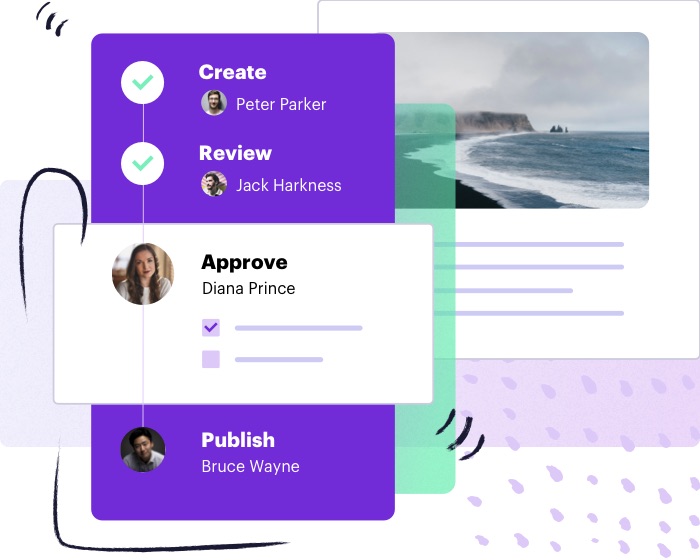 Approving marketing assets and content shouldn't be a bottleneck. Your BMS should let you create workflows in the software to streamline uploads, versions, approvals, and asset creation and use at scale.
Welcome's integrated workflows make it easy to make progress on campaigns.
You can use workflow templates, or customize them for each type of project your team tackles. You can also assign a deadline and team member to each task.
Plus, make the most of content by letting collaborators download, edit, and repurpose approved content through built-in compliance workflows.
7. Collaboration Features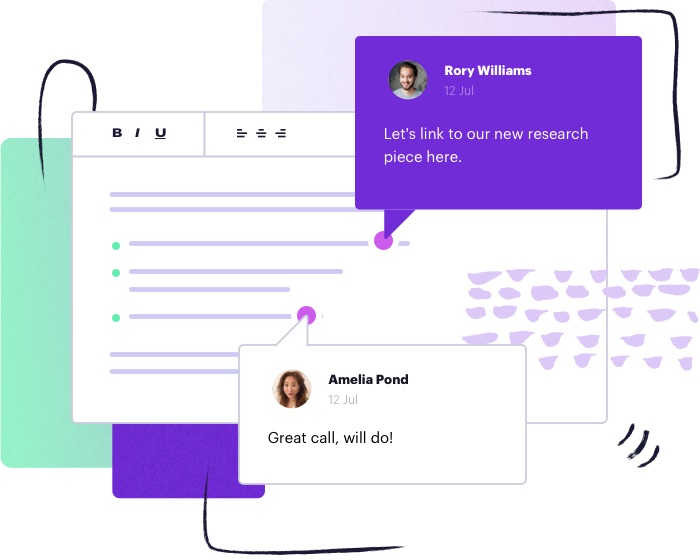 Brand management tools should simplify real-time collaboration and feedback collection among everyone involved in a campaign or brand project.
Welcome does this by letting collaborators annotate and comment on visual assets, and enabling editors to track changes on written content in Welcome's built-in text editor and tag team members in comments.
This all-in-one brand management tool also automates notifications and lets collaborators know when the person before them has completed their step in the workflow. Now they know it's their turn to begin the content creation process or leave their feedback on new brand experience guidelines.
8. Asset Licensing Capabilities
If you don't have the bandwidth to create branded assets totally from scratch, you may need to license images or blog content.
Welcome comes with an asset marketplace built in so you can license written content, like articles, and buy images from Reuters and Getty. The marketplace helps you maximize your resources and streamlines purchasing because you can do it all without leaving Welcome.
9. Publishing Integrations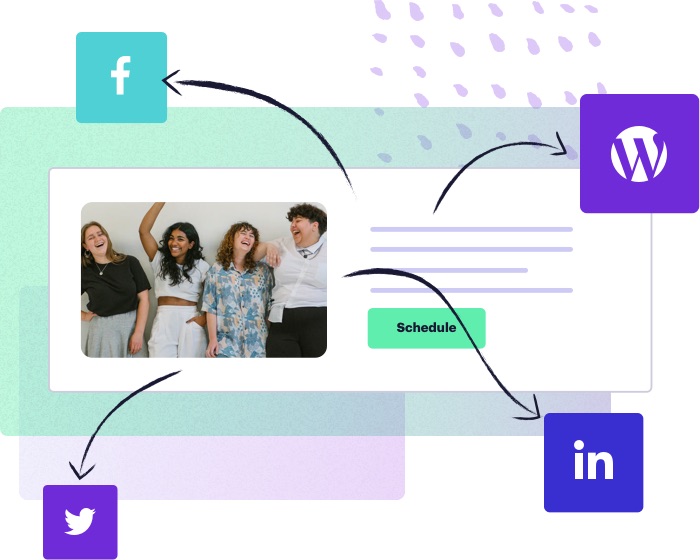 The most important part of brand management is putting your brand out into the world! Unfortunately, that can be difficult when you have to jump from one platform to another to write and publish a blog post, tweet, Facebook post, and so on.
Welcome streamlines publication by integrating with CMSes like WordPress, Tumblr, and Drupal — just to name a few. You can also connect your social accounts to Welcome and publish directly to Twitter, LinkedIn, Facebook, Instagram, and other social media platforms.
Plus, our platform's open API makes integrations even more powerful.
10. Analytics & Reporting Features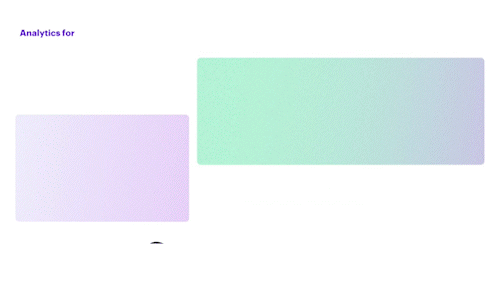 A critical part of any branding team's job is to measure brand awareness and the success of marketing campaigns. Brand management software should simplify this for you with robust reporting.
Welcome helps you maximize the value of your content in several ways.
First, it shows you which assets are being used by your team the most to help you plan content production and more efficiently use your marketing budget.
Second, it helps you identify high-value content, and therefore prove a branding initiative's ROI.
Last but not least, Welcome simplifies asset distribution through global content accessibility. Anyone on your team can easily find assets through the DAM, so you no longer have to respond to emails from colleagues asking you to email them the company's logo.
What's the Best Brand Management Software?
Welcome is the best brand management solution on the market.
It has all the features you need to streamline collaboration, save money, and scale your marketing efforts. Plus, it integrates with the tools you already use.
We're constantly innovating to keep up with the needs of brand managers and marketers. That's why Welcome (formerly known as NewsCred) has been on Gartner's CMP Magic Quadrant for four years in a row.
How Much Does Brand Management Software Cost?
The best brand management software on the market costs $0.
Yep, Welcome is completely free for teams of up to five people.
For teams of six or more people, pricing plans start at $99 per seat per month. Compare that to paying for the six separate tools you'd need to replace an all-in-one brand management system:
DAM: $30-$400/month
Editorial calendar: $207-990/month
Project management tool: $11-25/month
Content collaboration software: $60/month
CMS: $300/month
Analytics software: $12,500/month
That comes out to between $13,108 and $14,275 per month for this a la carte brand management tech stack. No matter how you look at it, Welcome is a terrific deal.
The Bottom Line: Welcome Is the Brand Management Solution Built for Marketers
Most of the platforms that tout themselves as brand management systems aren't made with marketers in mind. They're just general project management tools marketed as brand management solutions.
Welcome, however, was built exclusively for marketers to help them spend less time coordinating the logistics of branding campaigns so they can spend more time getting their brand out there.
Welcome combines powerful project management, budgeting, and workflow capabilities with a best-in-class DAM, content calendar, and asset marketplace so you can take care of all of your brand management needs in one place.
Like what you've heard? Give it a test run.
Start your free trial of Welcome today.