This article comes to you from NewsCred's London-based European team.
Whether or not the The Clash's eclectic 1980 album "London Calling" counts as punk rock is debatable; that it's a truly great record is not.
"London Calling" ranks eighth on Rolling Stone's list of "The 500 Greatest Albums of All Time," which describes it as "19 songs of apocalypse, fueled by an unbending faith in rock & roll to beat back the darkness."
To Jason Miller, LinkedIn's Head of Content and Social Media Marketing, "London Calling" is more than that. The Clash made "London Calling" in dire straits. The band was broke and in open war with its record label. They wrote the album in guitarist Mick Jones' grandmother's flat, then rehearsed and honed it in a garage in Pimlico, under a single electric light bulb, and with dirty carpet on the walls for soundproofing. Arguably because of the conditions under which they were working, The Clash ended up making a masterpiece of modern music.
"London Calling" is a perfect example of creativity thriving within constraints – and a lesson to all content marketers.
In a lively #ThinkContent London talk, Miller used his favorite bands to illustrate how content marketers can build an empire on owned media through a "big rock" content strategy. Here, his top tips – starting with The Clash.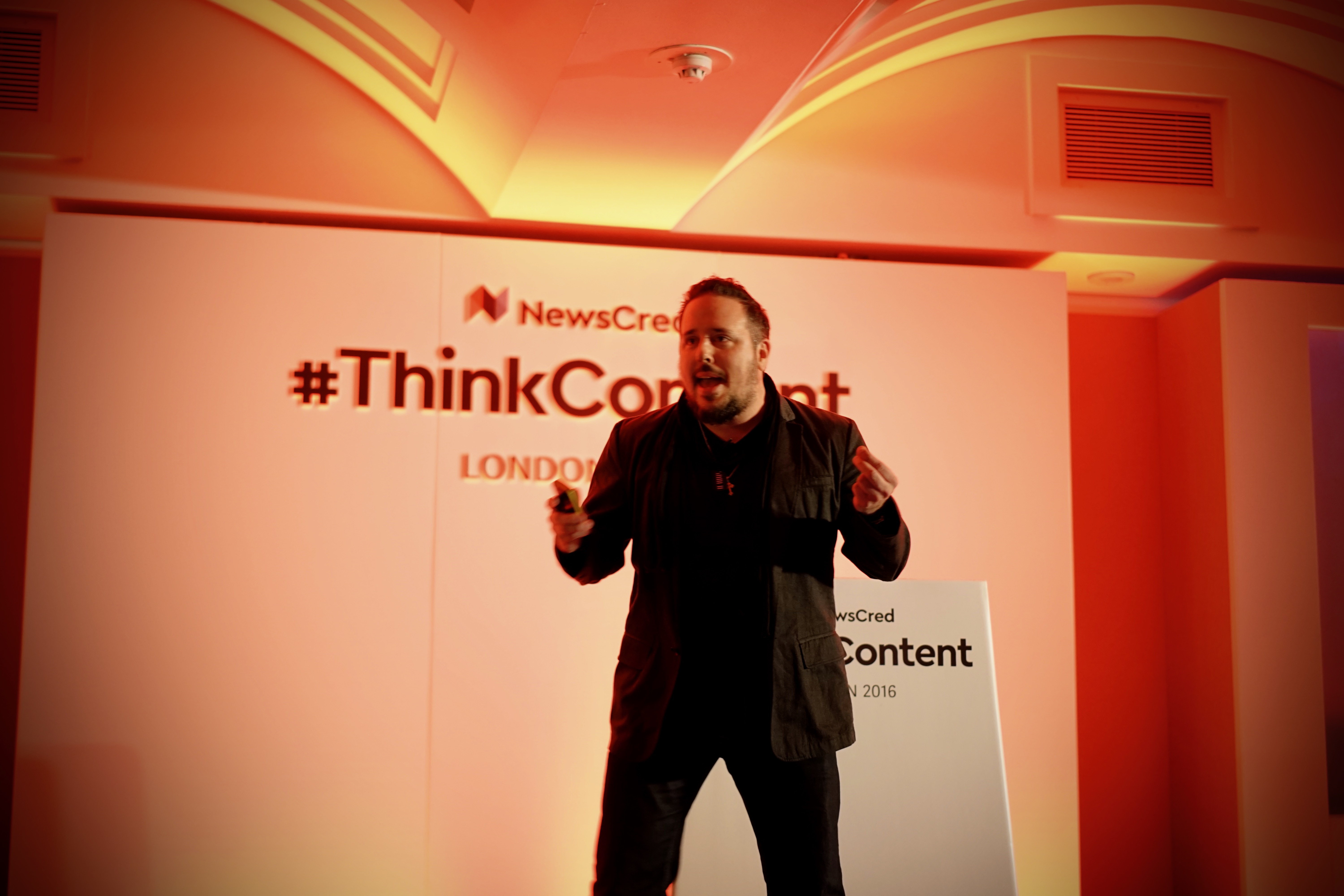 Jason Miller, LinkedIn's Head of Content and Social Media Marketing
Give Your Audience a Reason to Follow You
When The Clash first pitched a record label, they said they were, "The only band that matters." That's hyperbolic, but it was their way to cut through the drivel and make themselves distinct from all the manufactured pop at the time. And it worked. They came across as authentic.
In marketing terms, this was their mission statement, a way to align themselves with their audience: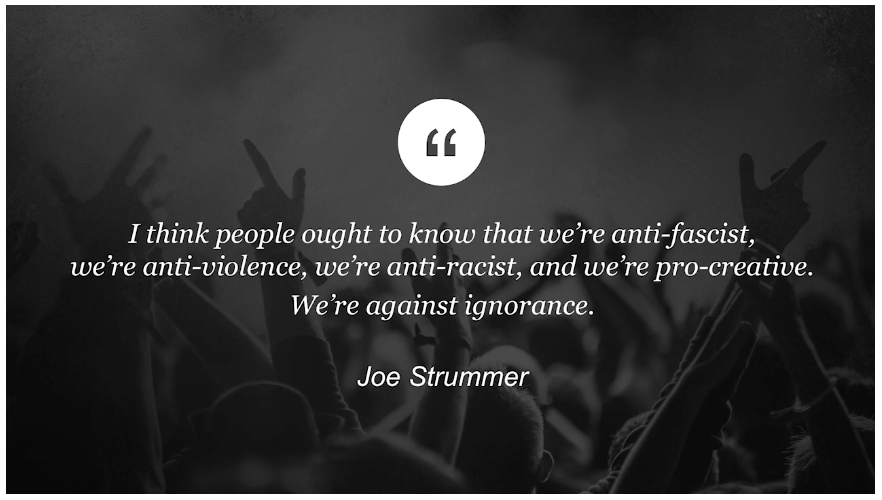 Here's how you let people identify with your brand. There is no doubt whatsoever what The Clash stood for.
To Miller, the reason The Clash was different from other punk rock bands was because they had a vision and they believed they could change the world.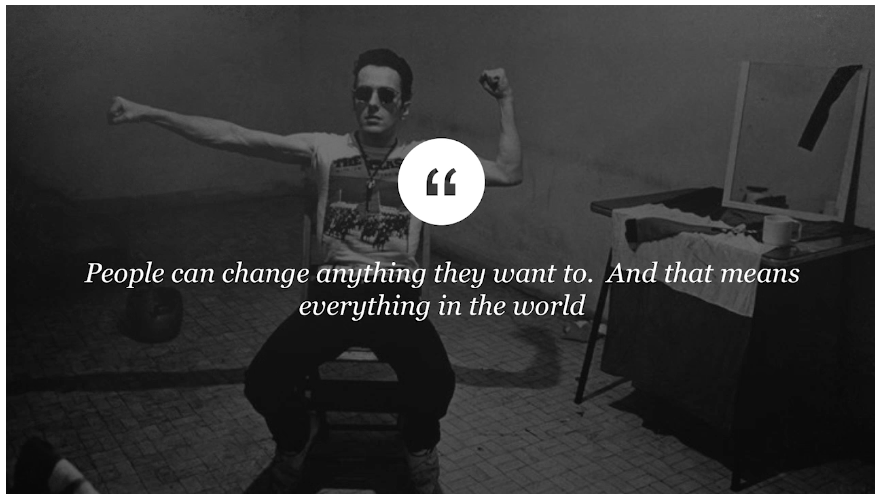 Joe Strummer's famous quote, which is on display at the LinkedIn office.
When referring to Strummer's quote, Miller says, "It's on a grandiose scale, but that's how I think about content marketing; I think we can change the way people think about things."
"The takeaway here is that The Clash had a decade-long content marketing empire that is just as relevant today as it was 30 years ago," he adds. "Can you say that your business, your brand, your company will have the same empire?"
So what lessons can we learn from The Clash? Here's one: When you lead a conversation that matters, you give audiences a reason to follow you.
"If you think your brand or your product is is too boring and no one wants to follow you, then you're simply thinking too transactionally," Miller says. "Then you're bidding on price alone, and the cheapest bidder always wins."
Don't Just Create Content. Create Relevant Content.
The world doesn't need more content. It needs more relevant content.
Search engines have killed "content farms," which means that Google no longer favours content volume. It favours content that's relevant to its customers – and that's content that is high-quality and original.
"You used to have to write nine million blogs and a bunch of e-books to rank," says Miller. "Now it's a matter of being smart. It's brains over budget. It's about writing for your audience, not for SEO, but understanding how the web interprets your content so you can optimise it to be found."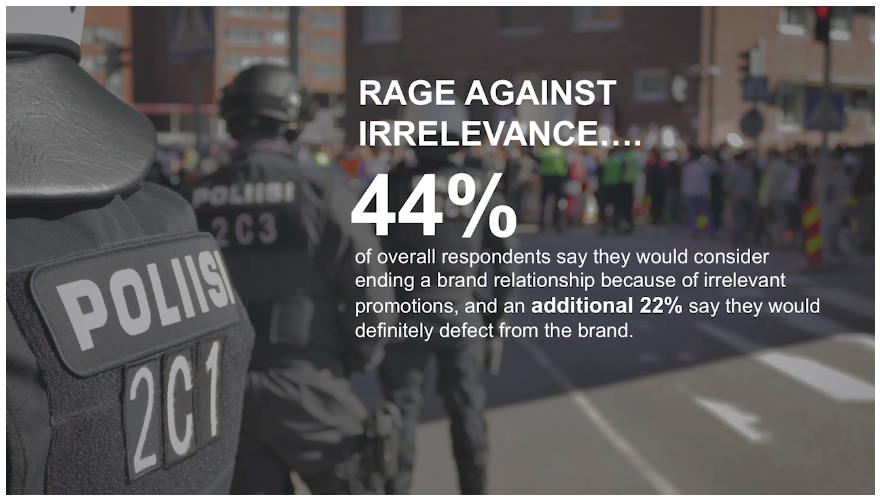 Research by LinkedIn shows how important relevancy is to an audience.
Those customers you fight so hard to get onto your mailing list and keep on your mailing list? You can lose them in the blink of an eye if your content isn't relevant.
So, what is the answer?
Have a "Big Rock" Content Strategy
"Big rock" content should be a central part of every content marketer's strategy, according to Miller. Consider producing one significant piece of content per quarter: an ebook, a video, a whitepaper.
"Whatever it is, it has to be big," says Miller.
To determine what your big rock content should be, Miller suggests asking two questions:
What conversation do you want to own?
What is the number one question on your prospects' minds?
It's very likely that the answers to these questions are one and the same.
Next, research keywords: Work out all the ways people will find your content in search engines. Write down all the possible queries that will lead to your content. (Miller recommends consulting the website Answer The Public, for marketers who don't have access to an SEO team or agency.) Then optimise your content. Place your keywords strategically throughout.
Miller suggests using long tail, or bottom-of-funnel keywords.
"The longer the long tail keyword, the further the searcher is down the buying journey," he says. "They're also more specific, which means less competition, lower search volume, but higher conversion."
Endlessly Repurpose Big Rock Content
Don't think of your big rock content as a singular entity.
View it like leftover turkey, says Miller. You've fed your family on the big day, then what are you doing? For the next 30 days, you're slicing and dicing that bird every which way, into turkey sandwiches, turkey curry, turkey pie. You're making things with turkey that you probably shouldn't be, but you're efficient with the bird. Think about your content in the same way.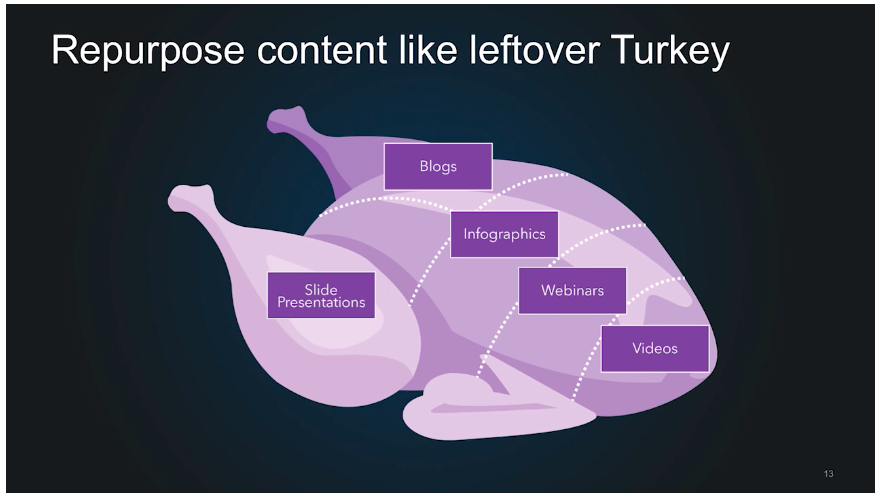 Don't wait until your turkey is this colour before you start making other meals from it.
Miller also refers to this as the "Bat Out of Hell" strategy. The "Bat Out of Hell" album is Meatloaf's "big rock," and each time the material is repackaged or repurposed, it's a turkey slice.
Even though "Bat Out of Hell" came out in the seventies, Miller keeps on buying it in different guises, first on eight-track, then as an LP, then as a live Vegas performance, then on DVD. He'll probably keep buying it in future, because it's relevant to him.
Same with your big rock content. Gate that piece to drive leads. But use all the un-gated "turkey slices" to capture your audience's interest and persuade them to access your big rock piece – and become a lead, in the process.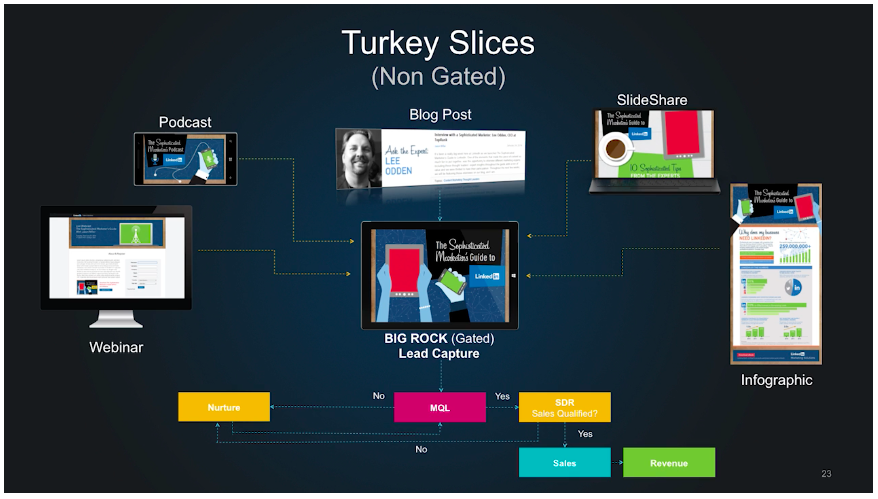 This is what demand gen looks like: ungated small rock content, leading to the gated big rock.
Release and Promote Content Strategically
Those turkey pieces may be appealing, but marketers know that even the best content won't be seen without any promotion.
"We don't launch a piece of content by putting it on the blog and walking away," says Miller. "We launch it like we're launching a product."
Three years ago, it was Miller's job to prove that LinkedIn was a viable content platform. He didn't just send out a little tweet.
"Every person in the organisation who could possibly help me get eyeballs on this content was on target, on deck, and ready to go: email, the blog, InMail, sponsored content, SlideShare, display, PPC, and Twitter," he says.
So you come out guns a-blazin' and what happens? Exploding pie charts, that's what happens:

LinkedIn's MQL (Marketing Qualified Leads) from the different distribution methods used for the big rock.
Take note of the top two results: email and the blog. Of course, email response is high following a big email launch – and this channel is most effective in the first 30 days. Second on the list is the blog, driving MQLs, indicating social and content are working together and proving ROI.
Interestingly, after 60 days, email MQLs diminished, but the blog took over. After 60 days, the blog became the main lead source, thanks to weekly posts (turkey slices) driving users back to the big rock. And, as Miller notes, "that goes on until you run out of turkey slices."
That's when you turn on paid promotion.
Miller elaborates, "There are people out there that will tell you that inbound marketing is all you need. That is ridiculous. Inbound marketing is like hanging out with the same high school kids your entire life. I hated high school. I don't want to go back to experience that again."
Miller argues that if paid promotion can move you beyond organic reach to secondary reach, to the connections of connections. "And that's when the magic happens," he says.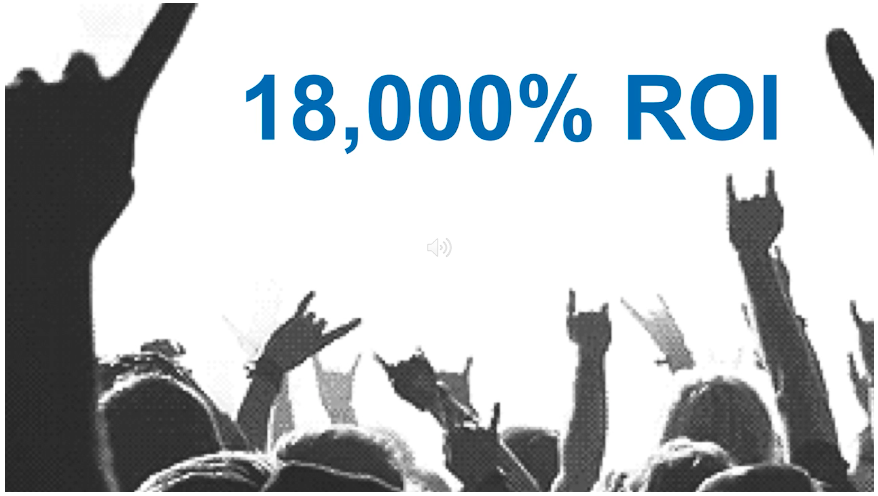 One piece of content drove $4.6 million in revenue for LinkedIn; it cost about $25,000 to put together. That's around 18,000 per cent ROI.
Personalise and Amplify Your Content
What's the next big thing in content marketing?
"Personalisation and amplification," says Miller, "We're leaps and bounds away from the Netflix and the Amazons of this world, but there's stuff we can do right now."
Miller shared an example of slicing and dicing the guide, "The Sophisticated Marketer's Guide to LinkedIn," in different ways for numerous audiences on LinkedIn.
For example, he knows from research that CMOs are interested in transformational change to their businesses, so he took that one piece of content and targeted them with that message. Directors need to demonstrate the ROI of their marketing efforts, so Miller served them the same piece of content, but with a message that shows how this content helps them solve that problem.
This is known as "dark social," where the only person who sees the content is the one who is targeted. As Miller notes, "This is doing more with less. You can blast it out to everyone, but you're not going to get the same results."
Customising images, specifically for your target audience, also plays a huge role. Using personalised images can produce a CTR increase of up to 38 per cent on LinkedIn.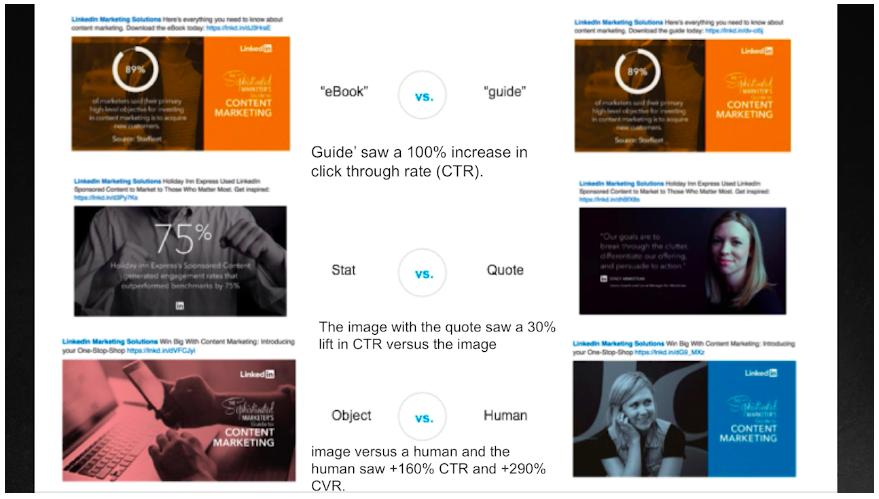 Basically, "Guide" is better than "eBook," a quote is better than a stat, and a human face is far, far better than an object.
And if all you're using is text, then make it personal, too. "Don't say 'check out this' or 'check out my blog,'" says Miller. "Write them a damn message that means something to them!"
That said, here's a great stat from Miller: Content drives 73 per cent of MQLs at LinkedIn. Fully one-third of those MQLs came from big rock pieces like the guide.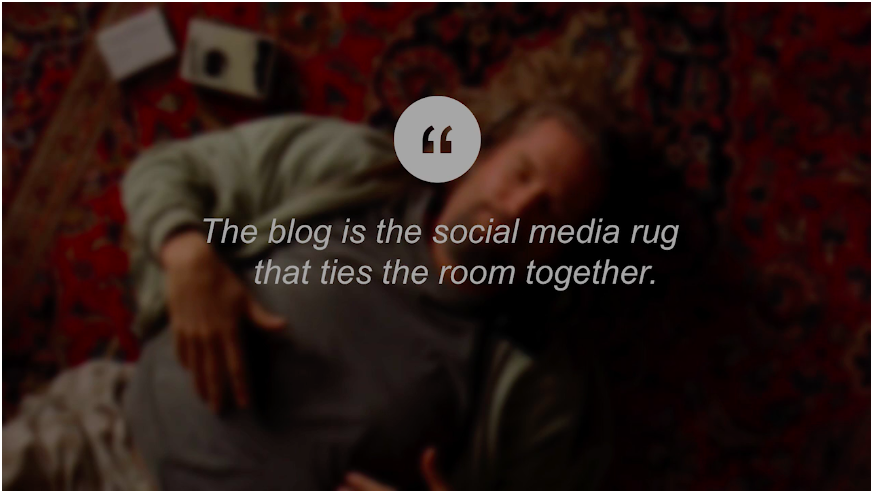 All this content lives on the blog, dude.
"The blog is not the sexiest piece of social media. It's like the grandfather of social media," Miller says. "But it's certainly the most important. It's a running narrative, where you tell your story. It's moving in one direction – it's got likes, it's got comments, it's got shares. It's living and breathing, and it's indexed within seconds. Why would you not love your blog?"
The message: Pay attention to your blog, folks.
Diversify Your Skills
As a content marketer, it's no longer enough to be an expert in one thing. If you're an expert in one thing, you're easily disposable.
You can't just be a social media or a content marketing expert. Miller elaborates: "Am I an email marketing expert? No, but I can write a helluva subject line and I know how to do targeting. Am I an SEO expert? No, but I understand how the web interprets my content, I understand how to optimise it so it'll be found."
All these things together make up what we can call the "hybrid marketer," which Miller says is the model of the future.
Or, the marketing team of the future, as demonstrated by KISS.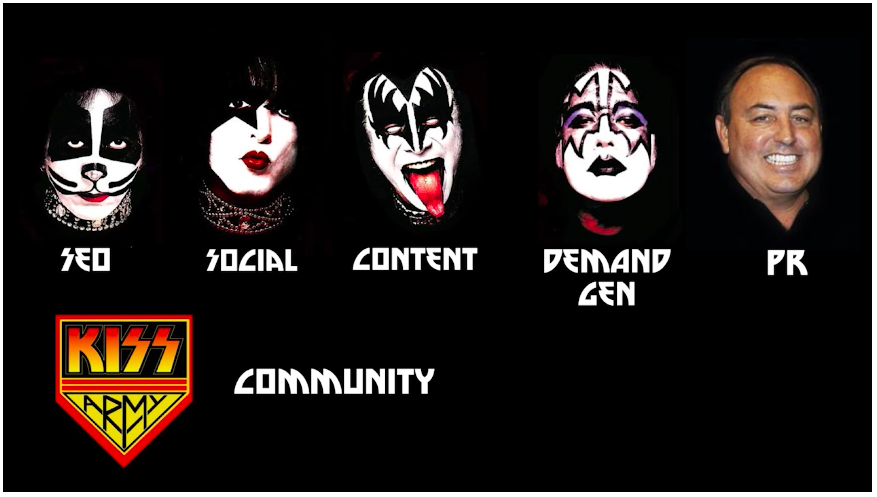 For your marketing team, face paint is optional but preferred.
Miller says that KISS figured it all out 40 years ago. The four unique KISS band members work together and sync up perfectly to deliver an amazing product. Like Peter Criss on the drums, SEO lays the groundwork, which feeds into Paul Stanley on vocals; he represents the social, the voice and tone of your brand. Then it moves onto Gene Simmons, who represents content; he writes all the best songs and sings the songs that Paul can't because his voice is too high. Gene fuels demand generation, where Ace Frehley ties up everything with a sweet guitar solo.
But they don't stop there, says Miller, "KISS take it a step further, consistently delivering content that their fans want to consume and share."
Each album they release is a big rock. And PR is involved with everything the band does. Doc McGhee goes on tour with them and guides their vision.
And they do event marketing! KISS takes its big rock content on tour, delivering an amazing experience and building a thriving community.
"I can go anywhere in the world and connect with the other KISS fans," says Miller, "My point is that sophisticated marketing is a movement; we're trying to create a place where other marketers can connect."
Ask yourself: Does your community have other people to lean on? Do they feel like they're part of something bigger?
Miller turns to KISS's vocalist to sum up top-of-funnel content marketing: "As Paul Stanley said, 'People want a thrill, people want a spectacle, and people love to be entertained.'"
For those about to big rock, we salute you.

Nick Jones is a Senior Editorial Strategist in NewsCred's London Office.