See that circled date on your editorial calendar; that's when your digital marketing project with some new client is due.
And it's approaching fast.
Oh! Then there's that notification on your desktop, probably a warning of some approaching invoicing deadline.
And those 36 tabs on your desktop? They're about an email marketing campaign that's still ongoing.
Sound familiar?
This is the diary of anyone who owns or works in a marketing agency, and as John Wayne would say, "It Ain't Pretty."
If you're having difficulty managing your marketing agency, or you're having trouble in finding the right agency partner, you're not alone.
Reasons Why You're Having Difficulty Managing Your Marketing Agency
Let's backtrack a little for more clarity. Here are some common problems:
The lack of centralization
If the invoices and other important documents in your ad agency move through departments on two feet like pizza deliveries, your agency needs help. This is the most common sign of decentralization and its inefficiencies.
Data and software stack silos
Many agencies are guilty of having data that's all over the place. The lack of a single unified system makes your marketing agency require multiple software solutions just to get through the day. As a result, you end up more inefficient and error-prone.
Poor Communication
Is the data transfer in your organization peer-to-peer? If your employees rely on software such as email and communicate outside your systems, you have a problem.
Why You Need Marketing Agency Software
Enough with the problems; let's get to the solution.
Running a marketing agency is no walk in the park.
That said, software that does the heavy lifting is a necessity for both you and your team's mental health and productivity.
Some of the advantages marketing agency software will bring to the table include:
Visibility
Marketers say visibility is one of the essential aspects of a campaign (Welcome- Sirkin Study).
These marketing apps and software will give insight into your unified marketing strategy through collection reports, analytics, as well as real-time notifications.
Efficiency
81% of marketers in a Welcome-Sirkin study say being able to produce campaigns and content faster is essential (marketers say a lot of things).
Marketing management software offers a timely solution: the ability to streamline your workflows from onboarding to launching.
It will automate your creation of initial project estimates, adding and assigning tasks, setting up budgets, as well as invoicing the clients.
Progress Tracking
84% of marketers also say demonstrating meaningful results is important (internal Sirkin study). That said, you'll be surprised at the number of agencies in operation without tracking progress.
Project management software will leverage analytics and metrics together with management features to track progress in your organization.
The Best Management Tools for a Digital Marketing Agency
A game of bowling against Pete Weber is easier than knowing what makes the right marketing agency software (and what doesn't).
Seriously, who wants a piece of this?
On that premise, all content marketing platforms are not created equal.
Fortunately, you can reduce the thousands of software solutions out into a few that are worth looking at.
We compiled a list, the marketing tools that made it are:
1. WELCOME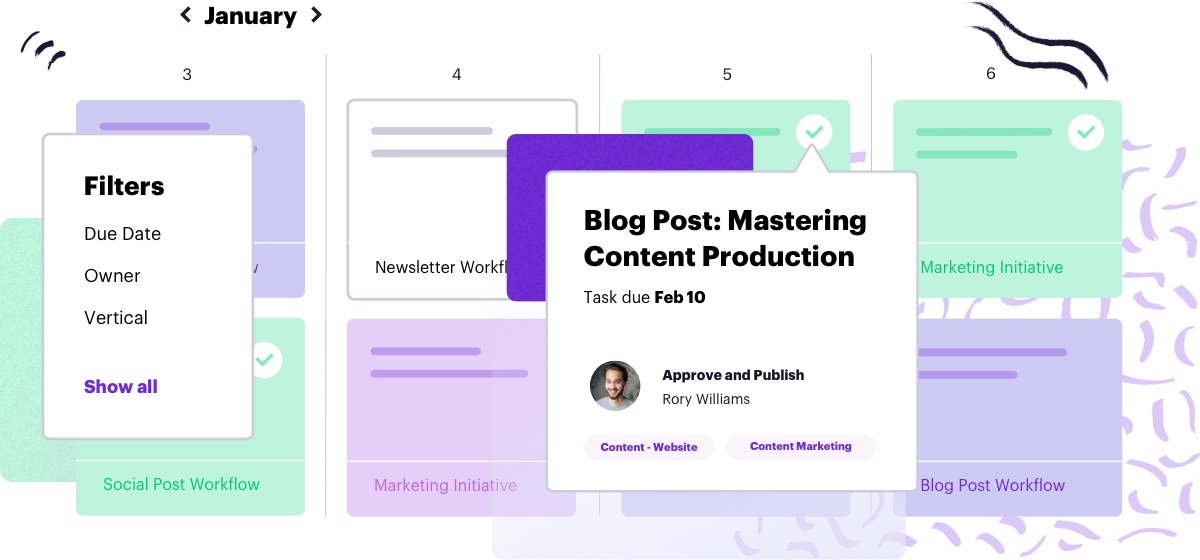 Even less shocking than Pete Weber obliterating all 10 pins on that final frame is Welcome's position on this list.
Having been named by Gartner as a leader now four times in a row, it's easy to see why it's the go-to tool for marketing agencies.
This solution builds a bridge between your marketing agency's plans, revenue, as well as eventual profitability.
Welcome's approach is pretty unique, bringing all your marketing needs under one dashboard. This means:
Productivity management
Invoicing and finance
Communication between marketing teams
Metrics and performance tracking
intuitive and easy to use interface
All under a single dashboard. Welcome achieves this through:
Features
Welcome makes this dream possible through its wealth of features. First, there are more productivity tools than you can name. These include visual Kanban boards, interactive Gantt charts, as well as list views that improve productivity and teamwork.
Integrations
Second, Welcome has an army of integrations that work to cut down on your data silos. It integrates with YouTube, Jira, Salesforce, Pardot, Marketo, WordPress, Google Drive and Docs, Dropbox, CRMs, as well as a ton of other types of essential software.
Client Management
Another strength Welcome has perfected is client management. Welcome automates your client reporting, invoicing, and most of your communication intricacies.
Centralization
So that you don't have to run a parallel stack of productivity tools, Welcome comes with time tracking, billing, invoicing, as well as tracking software.
This solution enables you to aggregate all your marketing data into one place. You'll love its branded templates that standardize all the internal and external communication in your marketing agency.
Productivity
The innovative automation feature makes it easy for content creation and development without leaving the app.
Your teams also get to stay up-to-date with their workloads through real-time notifications.
Holding this all together is an interactive drag and drop interface that even your week-old intern can operate.
The Competition
Other software solutions also have a lot of features that could find a place in your marketing agency.
2. MONDAY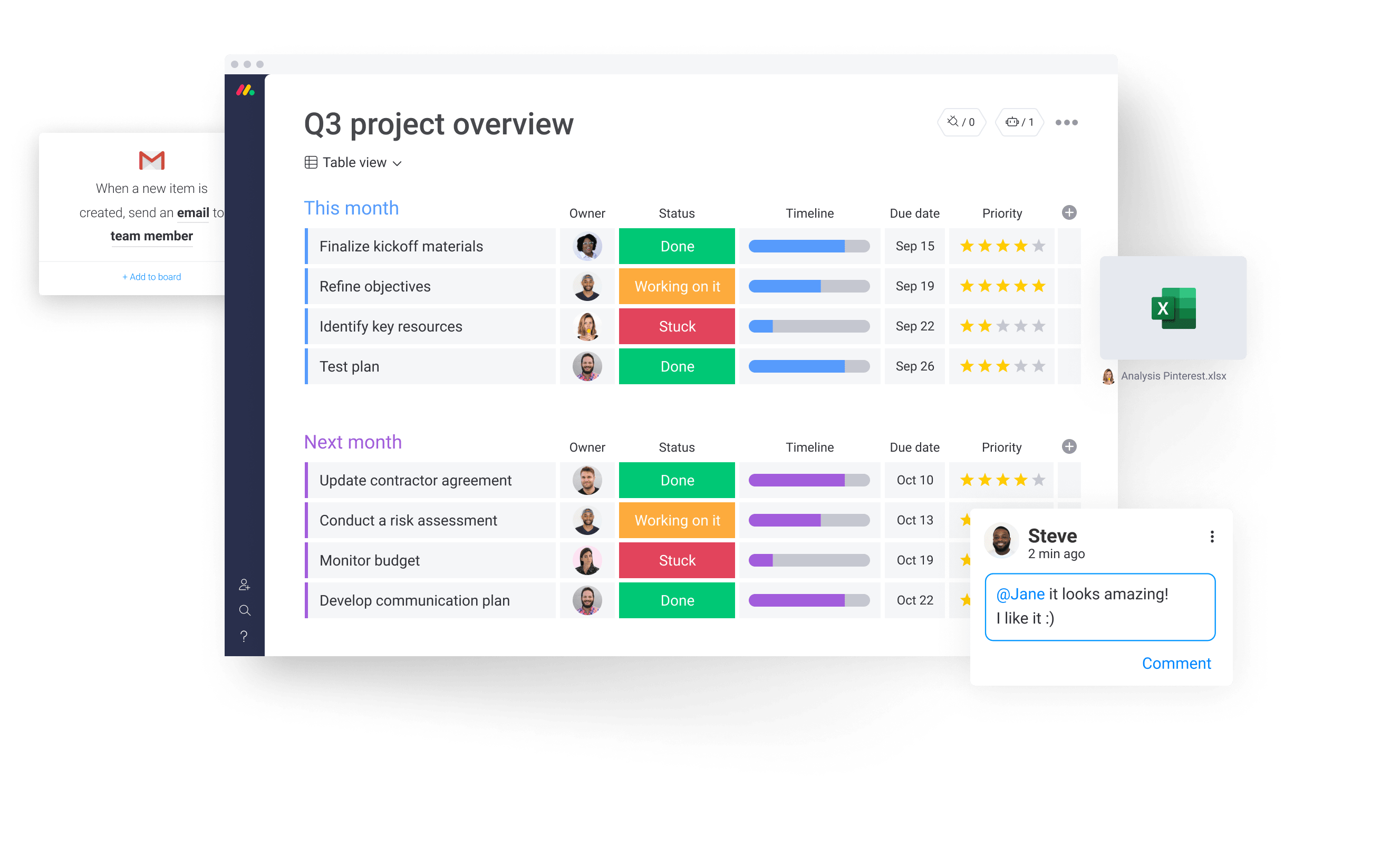 Coming in at a close second is Monday. Named after the most stressful day of the week, this all-in-one solution is beloved for its intuitive functionality and a broad range of essential integrations.
Unlike its lack of features, the integrations don't disappoint. It links and integrates with several other essential software, including Slack, GitHub, Dropbox, customer support available 24/7.
Monday streamlines task assignment and progress tracking in your marketing teams that make them more productive and efficient.
3. SMARTSHEET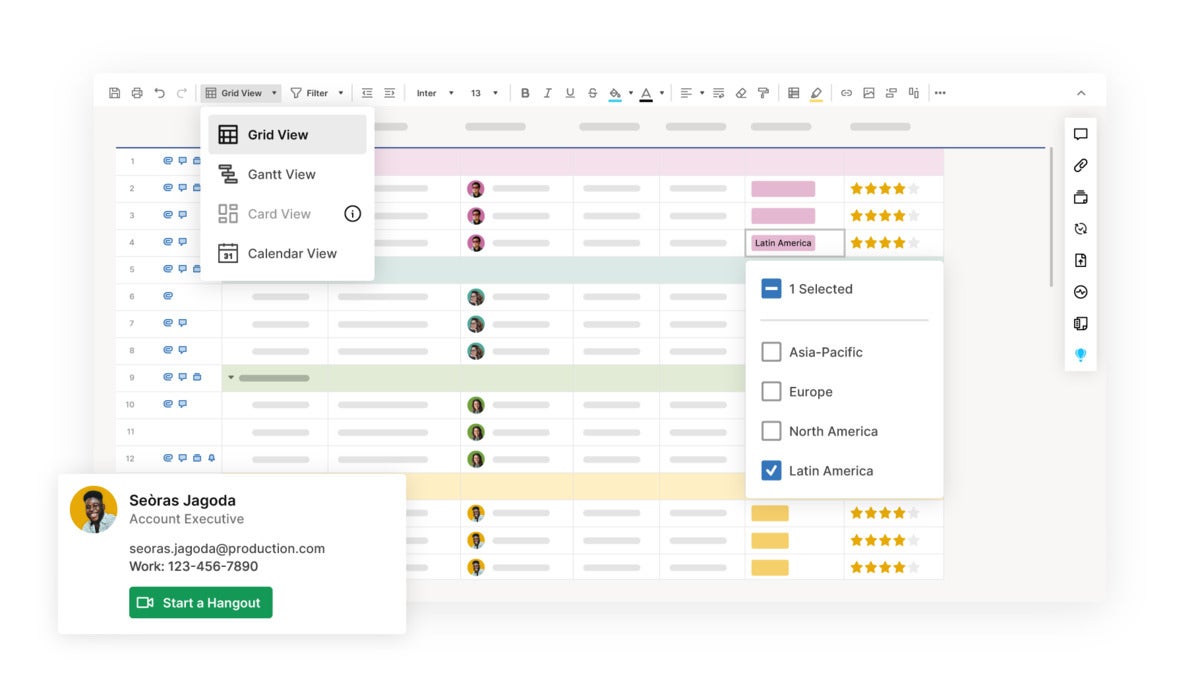 Anyone who's been around marketing agencies probably knows SmartSheet. It's a solution agencies use to dip their toes into the world of marketing tools.
SmartSheet also promises to bring all your marketing needs under one roof, which it does. However, good luck navigating their interface; you're going to need it.
One strength that stands out, however, is its shared team collaboration tools. This includes shared views, detailed history, automated alerts, reminders, as well as status reports.
4. SCREENDRAGON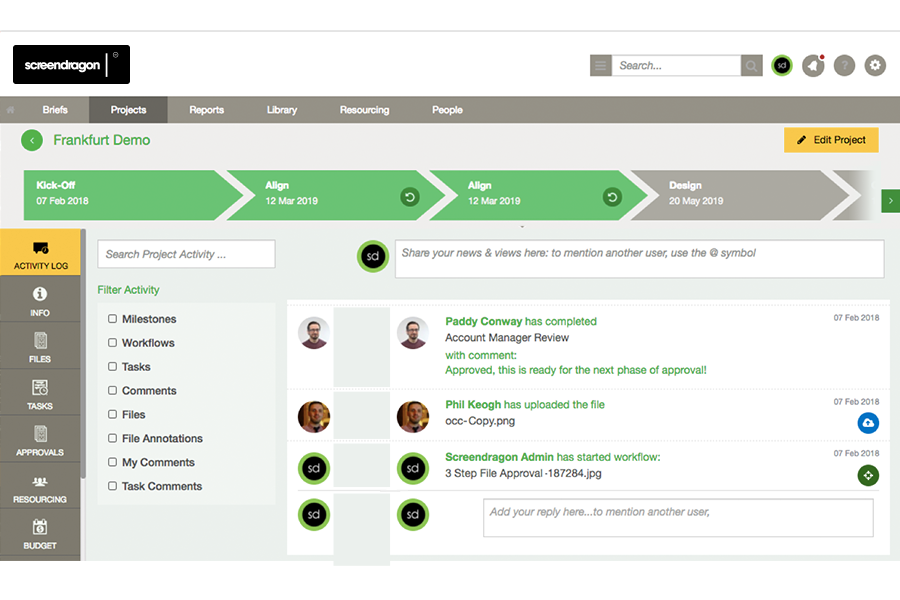 This software has a lot to offer marketing agencies craving automation, from its intuitive interface to features such as Kanban boards and Gantt charts.
It also offers limited functionality in terms of client management; its reports, analytics tools, and invoicing leave a lot to be desired for a management platform this big.
That said, it would have been a much better software with integrations and data analysis such as KPI and critical marketing metrics.
5. MAVENLINK
Mavenlink is another popular marketing automation solution for agencies out there. The idea is to use its communication and planning software to streamline your team's workflows.
It also offers data centralization through its file sharing, and email integration that works to reduce peer-to-peer data transfer in your organization.
Above that, its limited functionalities for metrics and performance come in handy for aspects of inbound marketing such as SEO.
Its interface, together with pricing that makes it the most expensive software, double up to make Mavenlink unfeasible for most ad agencies.
6. SCORO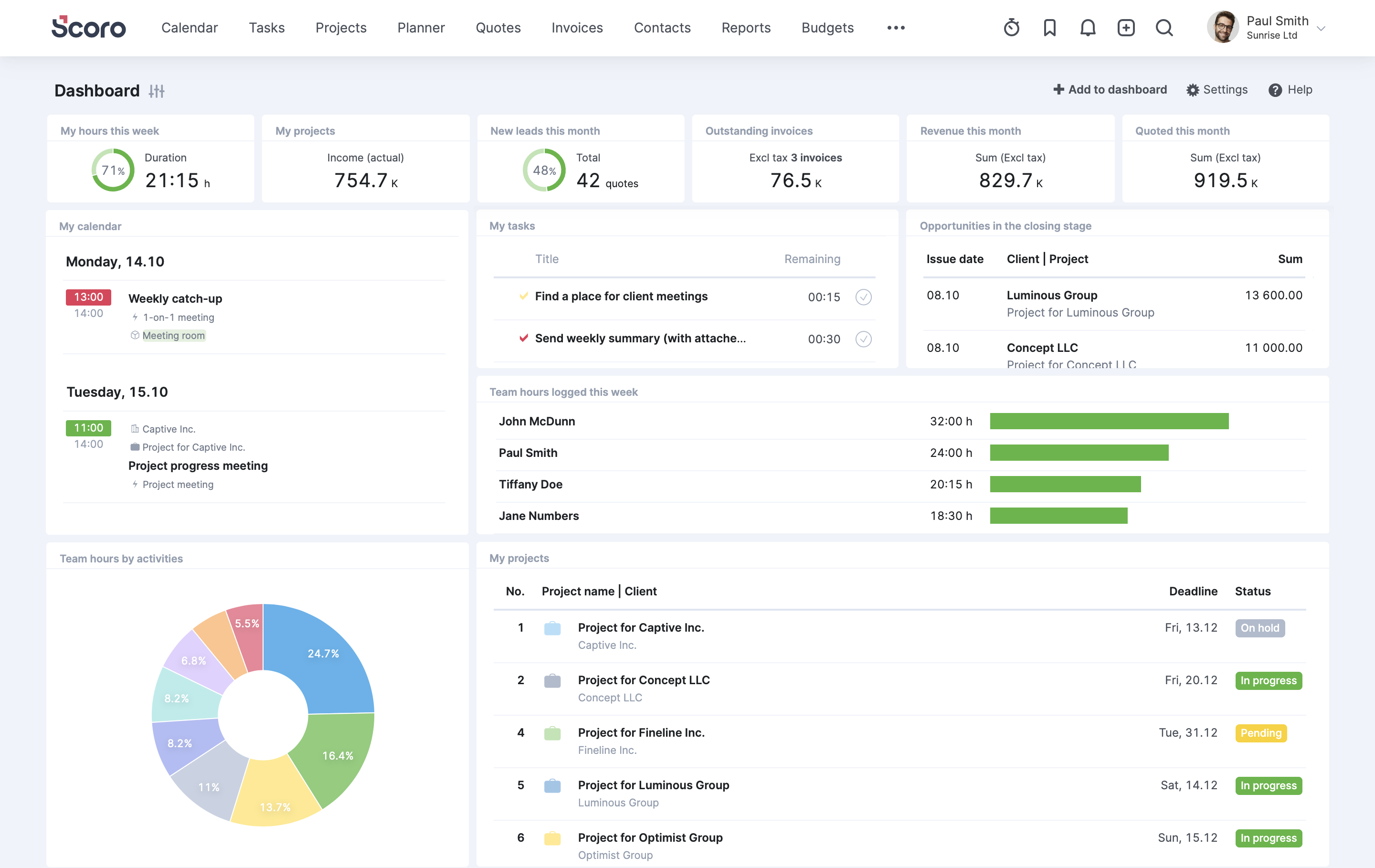 70% of marketers lack a well-documented content business strategy, most of these being small businesses.
Scoro is a favorite for small and medium agencies. It offers the management system functionalities that every small business needs in a package these businesses can afford.
The interface is intuitive, and you won't struggle to get along with its drag and drop feature. Its pricing is competitive enough for a small business.
You probably think that there's a catch somewhere, and you are right.
There's only one problem: the lack of features. Marketing agencies that get attracted by its price soon find themselves back in the market looking for more.
7. MOCKPLUS
This software is a big name in agency project management. On one side of its reviews are customers satisfied with its key strength, which is prototyping and project ideation.
MockPlus specializes in helping remote teams work together in creating websites and apps for marketing campaigns. It also boasts excellent visualization and team-building capacities.
It has a simple and intuitive interface that won't be giving your team headaches. Above that, it offers effortless planning, scheduling, as well as time management functionalities.
However, MockPlus' greatest strength also doubles as its greatest weakness. Given that the teams gave their everything to prototyping, the software falls short in other marketing aspects.
8. ZAPIER
Zapier's idea is that while the software focuses on streamlining your workflows, your team members can get to work on the bigger picture.
Through its excellent collaboration, Zapier brings all your stakeholders on the same page. Subsequently, your campaign won't be in isolation because of the many integrations it supports.
From its dashboard, you can plan and track the progress of all the client projects in your marketing campaign.
However, the interface leaves a lot to be desired and will require quite a learning curve before you or your teams understand it fully.
9. PROOFHUB
This is automation software that seeks to reduce mundane and redundant tasks in an organization.
It offers customizable workflows, dashboards, request forms, as well as reports. Above that, this marketing agency tool also provides employee capacity management among its features.
However, their tutorials and training do a terrible job at making their already complex interface easier to work with, hence creating a relatively long learning curve.
We Can Help!
Besides its reputation and reviews, the team at Welcome shares a sincere passion for making marketing less of a hassle for agencies by bringing all the dynamics of marketing under one roof.
For more information, contact us today, and our teams will be more than willing to help.