How do you translate the intimate experience of shopping for beauty products into the digital world? The answer: high-quality beauty content marketing.
Bobbi Brown

Images: Bobbi Brown Instagram + EverythingBobbi.com
Overview
Since Bobbi Brown has always been simultaneously fresh-faced, sophisticated, and All-American, it's no wonder that it places an emphasis on positioning itself not just as a beauty brand, but also as a total lifestyle brand. Through its highly visible social media campaigns and blog, hundreds of thousands of followers and readers religiously check in for the latest tips and tricks, tutorials, and trends from this cosmetic leader.
Social
The Bobbi Brown brand boasts over 3,788,000 Facebook likes, 500,000 Twitter followers, 1,500,000 Instagram followers, and 56,600 Pinterest followers. With numbers like these, it's clear the brand is succeeding on each of its major social channels. But what's really instrumental to the brand's success is its broad range of lifestyle content and direct conversations with consumers.
Given the type of woman Bobbi Brown wants to reach, the content mix across the brand's social channels addresses not just makeup and beauty concerns, but women with a range of relevant interests. Successful audience targeting is accomplished through Facebook posts, Pinterest boards, Instagram photos, and tweets that talk not just about how a woman can get the Bobbi look, but how she can live the Bobbi lifestyle. As with any brand who wants to remain relevant in today's evolving digital world, Bobbi Brown joined Snapchat. The woman behind the lens is Bobbi Brown herself, giving a behind-the-scenes look into the everyday life of the company's CEO. Her content feeds into the lifestyle aspect of the brand by showing the life of a successful business women, makeup addict, and mother as she travels the world and commands a global, multi-million dollar business.
Bobbi's Facebook posts include personal photos from a trip to Africa, as well as a playlist created for Prince George's birth. The brand's meticulously organized Pinterest boards include product shots and how-to's, as well as bridal boards and inspirational quotes from Bobbi herself. As for Instagram, images run the gamut from short video ads for new products to filtered snaps from events like press reviews at New York's famous SoHo House. All these factors come together to form Everything Bobbi, Bobbi Brown's beauty and lifestyle blog.


Image: EverythingBobbi.com

Blog
While the Bobbi brand is sophisticated, its social voice is welcoming and engaging. The official Bobbi Brown Twitter account not only mentions other big brands and partners who tweet at them, but also consistently replies to individual followers. One of the strengths of Bobbi's social campaign lies in its ability to have direct conversations with its VIP consumers while retaining a voice that isn't too stuffy for casual shoppers and new fans. Bobbi Brown's blog mantra nods to its lifestyle content: "a blog based on truth, beauty & being amazing." Like its other channels, the blog content does not stick to the usual beauty content of tutorials, product reviews, interviews, and photo shoots. Instead, it reaches out to its audience by applying the Bobbi Brown voice and perspective to news and culture stories, as well as producing lifestyle segments that position Bobbi as an expert in women's lifestyle issues like Beauty, Life, Happenings, Beauty Food, Be Who You Are, allowing viewers to quickly find what interests them most. The blog acts as an online version of a traditional magazine such as Vanity Fair: recent stories include a recipe for "Bobbi's Brussels Sprouts (Faux) Pasta" right alongside a more traditional beauty blog post on "Old Hollywood Glam" that received 27,816 views and 2,975 comments – pretty amazing for a post that had only been published for one week.
All the while, Bobbi's blog keeps the brand's persona front and center – it frequently features posts that include her first-person voice. Bobbi's favorite products across industries are regularly spotlighted alongside snaps from her family trip to Colorado, giving the consumer what feels like full access to Bobbi. With over 14 percent of online adults in America blogging themselves, the Bobbi Brown blog is able to tap into the "personal blogging" hobby that many women of Bobbi's target demographic practice daily, thereby building an even stronger connection. Visually, the blog remains consistent with Bobbi's other digital platforms. It's important when planning the layout and visual elements of a blog to keep constant with the look, feel, and organization of other platforms.
Takeaways
Decide if it serves you best to position yourself as a singular expert in the beauty industry, or if it makes sense to branch out into complement categories, like Bobbi's brand strategy.
Consider the implications for audience growth in both scenarios, and plan your beauty content marketing calendar and strategy accordingly.
Reflect on the subjects that your target audience is interested in. Does it make sense for your brand to discuss topics ranging from manicures to Mandela, as Bobbi's blog does, to capture the attention of its sophisticated and informed target audience?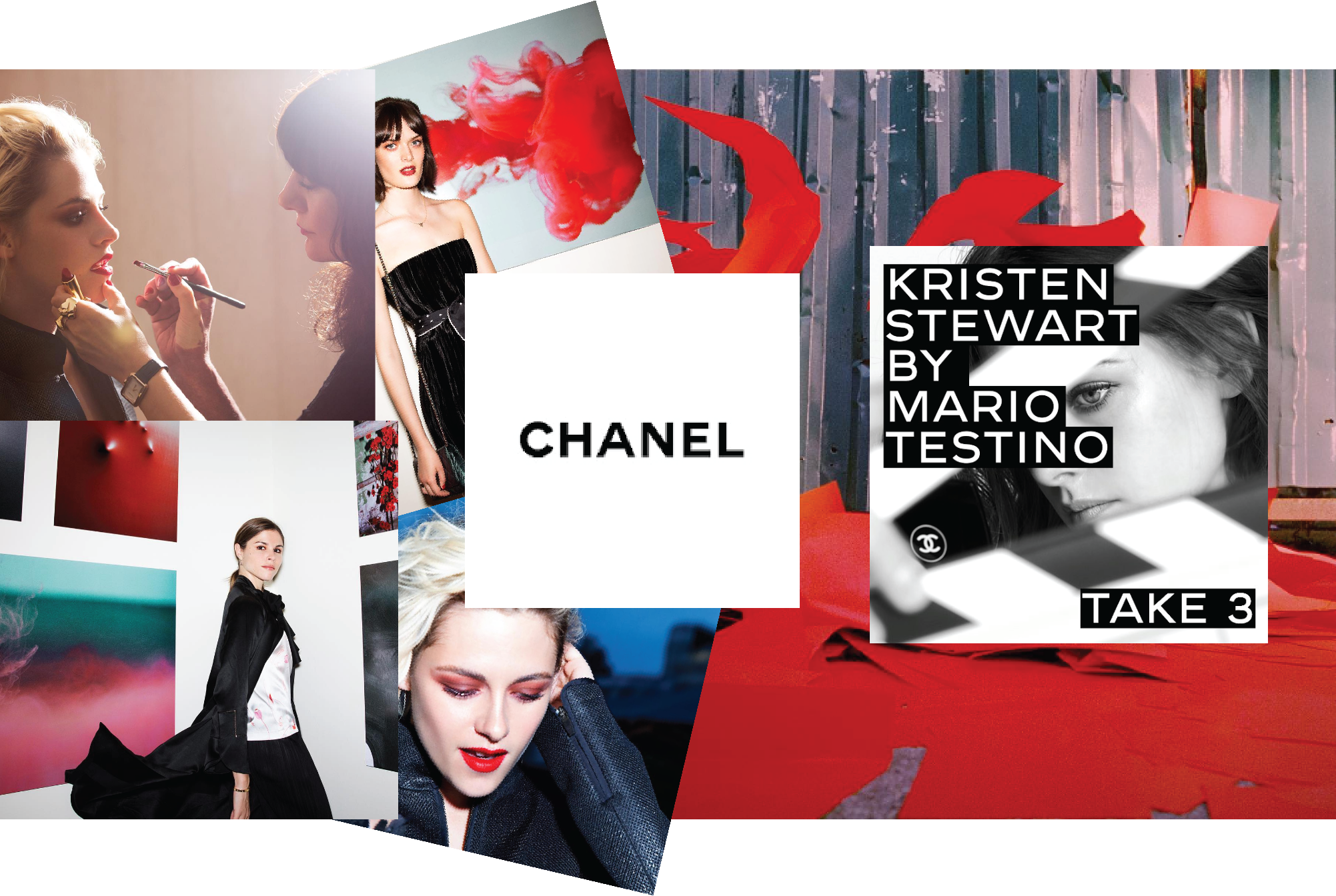 Images: Chanel Instagram
Chanel
Overview
Chanel is one of the world's most prominent luxury fashion brands. Known for its elegant clothing, luxurious beauty products, and Parisian flair, the brand exudes cool, contemporary, and classic. Through behind-the-scenes videos of international fashion shows, interviews with popular models, and the latest couture news, this established brand brings its haute lifestyle to new audiences through social media. With over 16.7 million Facebook and twelve million Twitter followers, Chanel's social audience dwarfs other fashion brands. While up-and-coming brands can reach new audiences through relevant themes and trends beyond their product, Chanel takes advantage of its audience's longstanding affinity for the brand.
Social
While Bobbi Brown posts everything from sailing to holiday shopping, Chanel remains Chanel-centric. While Bobbi engages directly with consumers on Twitter, Chanel does the exact opposite by not following anyone on Twitter. This sends a huge message about the level of exclusivity the brand hopes to convey. For all its popularity, there is nothing populist about Chanel's social presence. It's worth noting that while Bobbi presents her products primarily through visuals of the products themselves, Chanel gives its audience photos of beauty products on a model. This is a notable distinction: the visualization stage of the buying process versus the fulfillment stage. For Chanel, representing the fulfillment stage works well; large photos showing makeup on a (usually famous) face regularly receive over 100,000 likes on Chanel's Instagram feed. Chanel's blog, "Chanel News," is an extension of the tactics that make the other parts of its web presence successful. Chanel News reads like the New York Times Style section. It's strictly promotional in nature, and details the various events (most of which are black-tie), that the company hosts globally: who was there, where it was held, and all the elegant details. Posts profile art openings, fashion shows, and product launches. Where Bobbi Brown wants to meet the consumer in her everyday life, Chanel creates an aspirational air of elite aloofness.


Image: Chanel News

Blog
Chanel's blog content also features separate pages for Karl Lagerfeld, Chanel's creative director, as well as fashion shows, collections, celebrities in Chanel, and Coco Chanel herself. Chanel's use of multimedia on its blog is innovative, featuring tracks from fashion shows and concerts, as well as video footage of runway shows and "making of" featurettes. Since 47 percent of internet users share videos from web sources via social media, creating video assets and sharing them as blog posts can help drive traffic back to your site. A great overall mix of content can help reach viewers with different preferences, and Chanel's blog succeeds in variety. The design of the blog contributes to the aspirational branding. It is minimalistic and clean, and some of its major design assets include large close-ups of products and events as well as high-quality stills from videos. The layout matches the elegance Chanel is known for, containing a single scrolling column and a small amount of text. An added benefit of large, high-quality images is that they translate well to mobile devices. In a world where 63 percent of American adults use their mobile devices to access the web, this is an important factor to keep in mind when planning blog content mix and design.


Image: Chanel's YouTube

YouTube
Similar to other beauty brand channels, Chanel uploads makeup looks and tutorials into a playlist for all-things beauty. However, since Chanel's product range expands outside the realm of beauty, makeup is only a small piece to Chanel's channel. To highlight their makeup, the brand promotes their artistic direction and sophisticated brand identity, as well as the history behind the iconic fashion house. By presenting their makeup collection alongside evidence of their brand heritage, and using the same famous faces who model Chanel's couture range, their beauty range communicates high value and prestige – despite being a small fraction of the cost of the brand's core product line.
Takeaways
Always consider your brand's audience and identity when determining whether to keep beauty content marketing broad or narrow. Think about what relates to your industry or company directly.
For a pedigree brand like Chanel to remain slightly aloof in its beauty content marketing and social tone aligns with the aspirational lifestyle the brand represents – that's what consumers expect from it as a status symbol.
Do your product shots represent the buying process or the fulfillment process? Which is more appealing to your audience?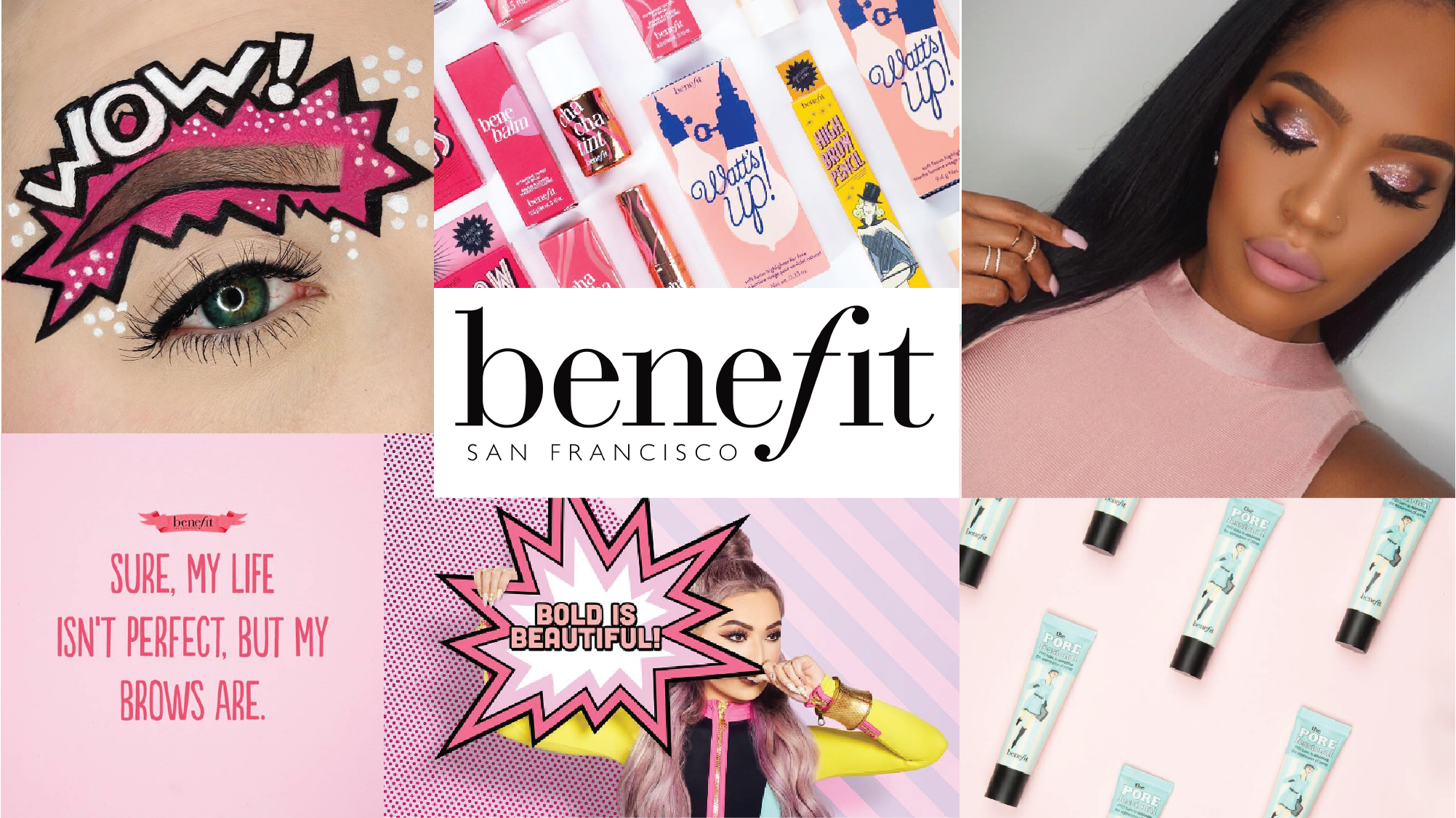 Images: Benefit Cosmetics Instagram
Benefit
Overview
The words that come to mind when considering Benefit's branding are retro, feminine, and sassy, and Benefit's social presence presents a seamless continuation of these characteristics with their spunky mix of beauty-related posts. Benefit's 5.5 million Facebook fans, 53,700 Pinterest followers, 694,000 Twitter followers, 115,000 YouTube subscribers, and 4.3 million Instagram followers are treated regularly to beauty content marketing that centers on the brand itself.
Social
Benefit doesn't like to wander outside the world of beauty, but that doesn't mean it doesn't sparkle on social. While its Facebook and Twitter tactics are more customer service-oriented than the other brands we've looked at, taking a closer look at Instagram and YouTube reveals how the brand is capitalizing on its online interactions with customers in clever ways. Relative to other brands like Maybelline and Chanel, which have four and ten times more followers on Facebook respectively, Benefit makes a strong showing on Instagram and YouTube by truly embracing the world of beauty bloggers, employing famous YouTube influencers in their branded makeup tutorial videos.


Image: Benefit Cosmetics YouTube

Benefit recently collaborated with plus size model Tess Holiday, beauty vlogger Dulce Candy, and transgender YouTube star Nikita Dragun to introduce The Bold Is Beautiful Project, which donates money to domestic and international charities focused on promoting women's education and health. Combined, these influencers amass a following of over 5 million across YouTube and Instagram alone. Using a diverse group of influencers is appropriate for a mass market brand like Benefit as they can easily reach their target audience and be in the forefront of their consumer's mind as a fun-loving, forward-thinking brand.
Consistent design and tone of voice accounts for the familiarity users can expect on Benefit's social channels. To the knowledgeable beauty consumer, there's no mistaking the sassy tone, retro fonts, and prissy-pink color scheme that define Benefit: the brand's Pinterest account features an entire board celebrating the color pink, and a recent Instagram post reads, "Don't let anyone with bad eyebrows give you advice on life." Across all social channels, content is fun-loving and makeup-centric. Sticking to one theme has its benefits (pun intended), making it easier to control quality and produce content in-house.
Takeaways
Only want to focus on beauty in your brand's digital presence? Be where your consumer's influencers are. Today, YouTube is the best platform for beauty due to the high concentration of beauty vloggers – with new channels popping up everyday.
Remember that to retain audiences and to keep them coming back, you'll need to create a brand personality, tone, and atmosphere that is familiar to your fans. This will help your beauty content marketing stand out as well.
Know your strengths on social – if visuals are your strong suit, going all out on Pinterest and Instagram can help you stand out and acquire followers in a less traditional way.

Image: Sephora Instagram

Sephora
Overview
In order to build a consistent online presence, Sephora has a bit of a challenge. Since it's a retailer that sells a large range of beauty brands, its marketing materials need to address and appeal to tons of mini-audiences. By juggling truly engaging digital experiences alongside curated user-generated content, Sephora can hold the attention of a variety of beauty brand audiences. Sephora claims over 5.9 million Facebook likes, 1.3 million Twitter followers, a staggering 440,000 Pinterest followers, and 7.7 million Instagram followers.
Social
Similar to Chanel and Bobbi Brown, Sephora is attracted to image-friendly platforms where their largest group of followers are. Encompassing nearly every popular digital platform, Sephora's strategy is focused on creating a seamless transition between the physical world and the digital world, where their customer can see product swatches and real-life makeup looks via user-generated content, creating a winning e-commerce strategy that fits their customer's lifestyle. This is evident on Sephora's Instagram feed, which reaches nearly 8 million people. Followers can shop each Instagram post through Like 2 Buy, a social shopping feature designed to compensate for Instagram's lack of hyperlinks so Sephora can still capitalize on the platform's reach and popularity to increase sales.
Facebook and Twitter serve as Sephora's information hub, notifying followers of new products and beauty tips, while the company can directly communicate with their audience to solve customer service issues faster than traditional methods. Sephora's YouTube channel boasts over 600,000 subscribers who come to watch their videos of makeup, hair and all-things beauty. Trending beauty topics on YouTube, such as contouring and eyebrow tutorials, have their own playlist for their large audience to see. These videos are made with a diverse demographic of women catering to Sephora's global audience.
Sephora's brand colors of black, white, and a touch of red are consistent across all platforms where Sephora creates unique content for each of its social properties. For reaching social-obsessed consumers who might check several platforms, having different content on each can reinforce a brand's value to the consumer as an expert on beauty.

Image: The Sephora Glossy

Blog
"The Sephora Glossy," the company's blog, does an excellent job of executing beauty-centric content while showcasing its many brands, driving traffic to stores while increasing digital engagement with helpful how-to's, playlists, and other thoughtful posts. As Pew Research notes, 66 percent of consumers engage with a brand after purchase. To create loyalty, it's important to have a blog like Sephora's where your brand can be integrated into your consumer's daily routine.
Sephora's blog is divided into five content buckets: news, inspiration, how-to, people, and video. "News" features text articles with big visuals to accompany them, and the video page is primarily composed of—you guessed it—video tutorials, serving a variety of content for an audience with diverse needs and preferences.
One of the interesting page types that Sephora experiments with is an "inspiration page." Other beauty brands should take note of this integration of a Pinterest-like board that drives sales directly from the blog. Sephora's inspiration page features beautiful, high-quality photos of different makeup looks in a collage with no text. When readers click on the photos, they are taken to a sub-page where products used to create the look are featured, giving readers the opportunity to buy right from the blog. As a platform that over 25 percent of women on the internet use, leveraging the same concept behind Pinterest helps Sephora win over their target demographic.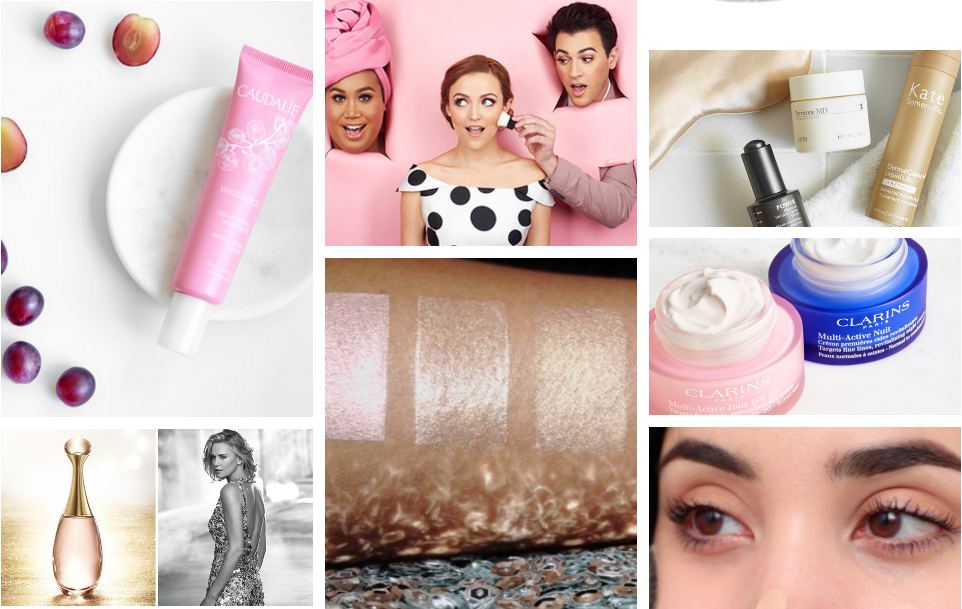 Image: The Sephora Glossy

Another clever feature on the Sephora blog is the "People" page, which features profiles of women in the beauty industry giving beauty advice. Posts include an interview with nail artist Naja Rickette: "the master manicurist on Formula X, interplanetary nail looks," as well as Laura Slatkin of Nest Fragrances: "Slatkin pays a visit to Sephora HQ to talk about the floral, spicy world of fine fragrance." These endorsements give credibility to the brands that Sephora sells, and also leverages the social followings of the people the blog profiles. Sephora's blog design takes into account not only overall branding, but also the functionality of each page. Instead of applying the same template for each page, Sephora carefully implements designs that allow viewers to fully engage with various types of content easily


Image: The Sephora Glossy

Takeaways
When putting together a beauty content marketing strategy for a blog or social campaign, it's important to think about how blog content can be used across channels. Also consider how new and disruptive social platforms can engage users.
How can content contributors' and influencer networks be used to increase the number of people who see your content?
Embracing UGC can be one of the best ways to both engage your audience and add to your beauty content marketing pool.
Maybelline
Overview
For mixing multiple types of beauty content marketing together with a healthy dose of user generated content and promotion, there is no better example than Maybelline. The younger, trendy brand is rocking social media and blogging in exciting ways. There are two qualities that distinguish Maybelline's social campaign: the interactive nature of its posts, and the way its platforms have been linked together to encourage click-throughs from one Maybelline property to another. Building up audience participation in real-time and creating a complex beauty content marketing map is what innovative digital brands do, and Maybelline totally hits the mark.
Social
While Maybelline's over 4.8 million likes on Facebook, 75k Pinterest followers and 3.5 million Instagram followers tell a story about how successful a brand has been at building a following, metrics such as post likes and shares tell a story about how engaging its content is. Often, Maybelline's Facebook posts linking back to their blog garner not only hundreds of likes, but dozens of shares and hundreds of comments. The brand's team has clearly considered each platform's unique marketing potential, and Twitter is no exception: Maybelline's presence here (with over 500k followers) shows the brand taking full advantage of Twitter's conversational nature. The account is written in a first person voice that's "reporting live from Maybelline's headquarters in New York City" and talks in real time to its followers in a friendly, conversational tone.
Like many beauty brands, Maybelline followed their younger consumers as they migrated from the traditional social media channels, Facebook and Instagram, to the more popular networks of Instagram and Snapchat. This transition to image-heavy platforms gives Maybelline the opportunity to curate a mixture of high-quality, branded editorial images along side user generated content. By encouraging followers to share images with the hashtag #mynitlook on Instagram, Maybelline is turning their fans into brand ambassadors, increasing its reach beyond their millions of Instagram followers. As a true pioneer in digital strategy, Maybelline has embraced Snapchat's quick 10-second images and short videos, filling their story with behind-the-scenes images of photoshoots, snaps of famous faces like It-girl Gigi Hadid, and unfiltered product swatches giving followers a first hand look at how their product looks and performs.
While Instagram and Snapchat offer fewer chances for cross-platform traffic than other social sites due to its lack of hyperlinks, it does offer the chance for direct conversations with consumers. Maybelline capitalizes on this by keeping its Instagram content aligned with what its audience members post on their personal accounts. Rather than posting over-produced images sourced from stock photos, the account features organic images with authentic copy. Like its social campaigns, Maybelline's blog is intuitive and interactive. Its content focuses on beauty and fashion, while its social channels consider the user's beauty experience every step of the way. The interactive nature of the blog's content really makes the platform shine. Instead of just sharing an image of a makeup look alongside a "Five Easy Steps to Achieve the Look" post, the blog takes a page from the world of social media and involves the audience with a built in call-to-action. Maybelline does this by placing another look next to the original one, encouraging users to click on the one they like best, driving engagement and interaction with the brand directly on the blog. Those who vote are treated immediately to the current tally of votes. Pushing for this level of interaction encourages audience members to be active rather than passive participants in the blog and builds up brand affinity.
Blog
Maybelline is not a premium or luxury brand; however, it is evident that the designers put great care into the appearance of the blog, ensuring cohesiveness with the overall branding. Maybelline's target demographic is young and hip, so it's fitting that the blog has a vibrant aesthetic with pops of bright color. It's more difficult to mix and match video, photo, and text content and make it look polished, but the blog succeeds with help from bold fonts that tie it all together visually.
The creators of the blog put great consideration into their customer's buying journey. Visitors to the site are exposed to promotions of new items and trends, creating awareness of product ranges and a desire to keep up with the latest fashions. Video content is embedded throughout the site, encouraging website visitors to spend more time on the site and engage with brand, while reviews are available for each product so customers can establish trust with Maybelline, with the option to purchase easily accessible across the website.
Conclusion
As these five best-in-class beauty brands demonstrate, creating an engaging mix of text, photo, and video content can help to target consumers online in fresh ways. When considering how to approach building a content strategy for your brand, it's important to consider the following factors:
How broad will your content be? Will it extend beyond the beauty vertical? What content makes the most sense for your audience?
What is the aesthetic of the content? How will its appearance contribute to a fully branded experience?
What will the individual content pieces and pages look like? How will the design impact users and how they access content?
What is the tone of your content? How will this correspond to overall branding?
What is your competition doing to reach audiences and promote their brand? How can you compete while standing out?
How can you get creative with ways to engage your audience and encourage them to contribute their own content to your channels?
You have already taken a vital first step in reading this guide! Now that you've discovered the tactics behind the successful content of esteemed beauty brands, you are on track to determine the approach to creating content that will work best for you.