Every content marketer preaches that content marketing is NOT social media, advertising or PR…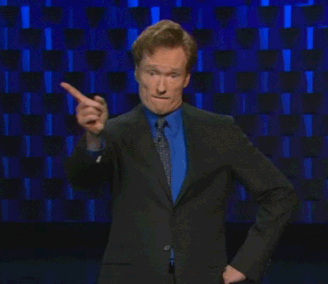 But, you really do need all three of those to make your content marketing thrive!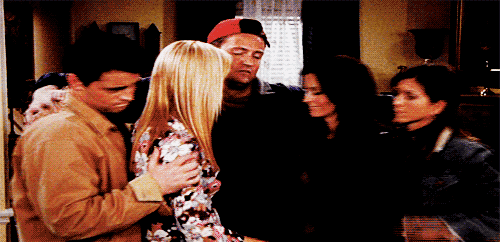 Content marketing, at its heart, is about creating assets your audience actually needs and wants. However, having incredible content isn't enough – your audience needs to know these great resources exist.
That is where distribution comes in. We break distribution down into three main categories: paid, owned, and earned. In the past, these distribution channels were managing separately and in silos. There were rarely instances where paid, owned, and earned media would cross over. However, in recent years the lines between the three have blurred and they have undoubtedly began to converge. The convergence of all three is essential to the success of your content marketing.
If you are totally new to distribution, here are the absolute basics of what you need to know.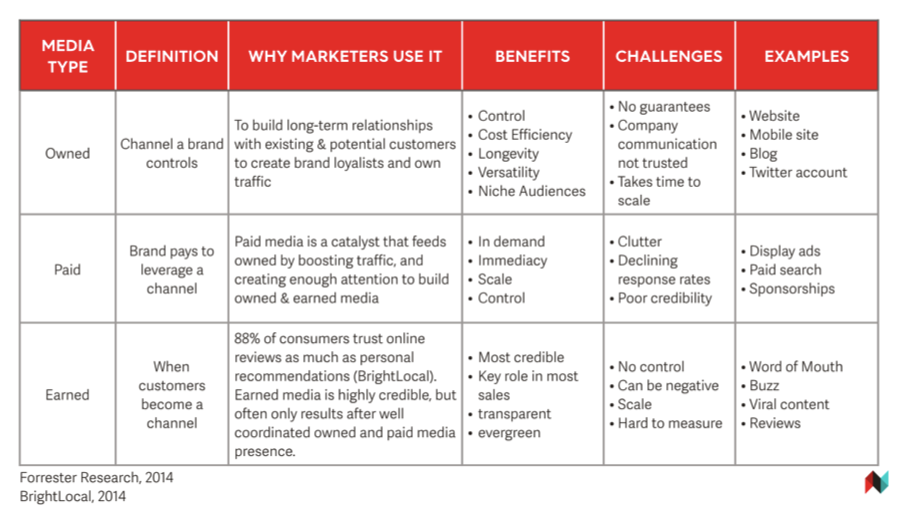 The most important take away here is that each of these three play together nicely
Owned media is important because it builds loyalists. Your audience can find your website or blog and any of your social accounts at any time to get immediate access to your content. It's essential you update your owned channels as often as possible to capitalize on SEO. You also want to make sure your audience has a reason to keep returning to your owned channels. The only way to do this is to create and post fresh content at the cadence your audience is consuming. When owned channels are managed well, they provide a baseline for how interested your audience is in your content – and you can measure this in your site traffic. The only problem is building loyal followers and visitors can take a long time to build up. This is where paid media comes in.
Paid media helps you increase the viewership of your content by boosting traffic – it's essentially a very strong shot of expresso for your marketing. There are many targeting tactics that can help bring more qualified leads to your site, but more often than not, the spikes in traffic from paid media are a result of less qualified impressions. Paid media's major downfall is that it's expensive, so it's imperative to test which channels perform best for your business over time and constantly optimize to get the most bang for your buck.
That brings us to earned media – this is where you get the real bang for your buck. Great content provides value – and paid + owned media are the best way to get your incredible content in front of people – but earned media is how you get people to trust you. Earned media is all about using your audience to reach people more effectively. 92% of consumers look to referrals from people they know (Tapfluence and Intuitive), and 88% Of Consumers Trust Online Reviews As Much As Personal Recommendations (BrightLocal). If you can reach your loyalists on a deep, personal level, you can get them to become your influencers and actually create free media for you that encourages others to love your brand.
Really strong earned media is often the result of well coordinated and well executed paid and owned media, working in conjunction to provide awareness of your products and services as well as encourage users to organically share your content on their own channels. Paid media is often most effective when it is driving traffic to your owned channels – especially your content hub. The chart below identifies the three major elements at their cross section: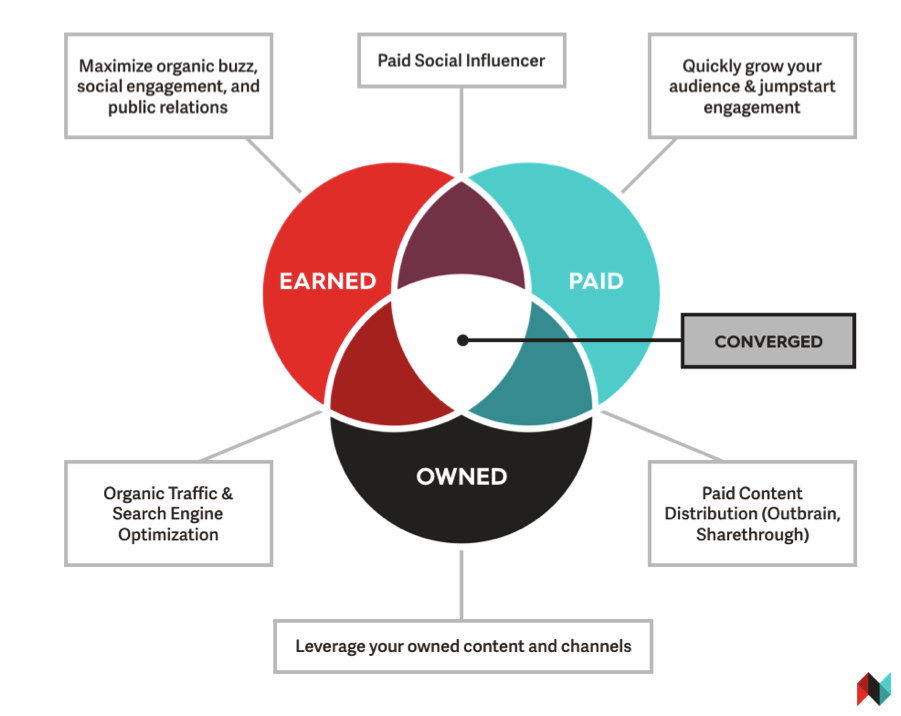 After learning the benefits and challenges of each media type, as well as seeing them overlap in the venn diagram above – how can we really convince you that you need ALL three, working in conjunction, to get the most out of your marketing? In fact, 72% of consumers prefer an integrated approach to marketing rather interacting with your media channels operating as distinct silos (OneTouchPoint).
Today, consumers touch thousands of pieces of media everyday. The brands that are able to capture consumer's attention and cut through the noise are the ones who create a consistent identity across every channel. If you think of your favorite brands, they likely have an incredibly consistent voice across all channels, including social, blog, advertising, and influencers. They have an identity you recognize immediately. The compounding effect of every consumer touchpoint maximizes the brand's reach within your brain space. As a consumer, you need to make choices and ads exist to influence your consideration set. Orchestrating a blended strategy across all distribution channels provides a holistic benefit beyond content marketing and across your entire brand positioning. When your paid, owned, and earned media are all working together to inform and iterate upon each other, you will trigger the right ideas and considerations to move customers down the funnel in a more impactful and effective manner.