Every B2B marketer knows that engaging prospective and current customers and anticipating their needs is crucial to earning their trust and business. But people are often skeptical when companies toot their own horns. However, if you can find influencers who are well-respected and well-followed to collaborate with you and share your content, it can serve as a ringing endorsement of your offerings.
Working with B2B influencers is becoming a popular way for brands to share their content in a way that's authentic, while subtly helping audiences move further along the funnel. Think of it as if a friend makes an introduction to someone you want to meet at a party – it's much more effective than if you were to approach a total stranger on your own.
When you look at the stats, it's hard to ignore the potential impact that B2B influencers can have on your content marketing strategy:
Now that the power of influencer marketing is clear, the next step is to learn what it is, and how to leverage it as part of your B2B content marketing game plan.
What B2B Influencer Marketing Looks Like
In the B2C space, influencer marketing is easy to spot. It can be a popular YouTuber posting makeup tutorials using a brand's products, for instance, or a much-followed Instagrammer sharing photos from a free stay at a swanky resort. With B2B, it can look a bit different.
Although Neal Schaffer, a social media power influencer in his own right, identifies 15 types of influencer marketing in the B2B realm in his forthcoming book, "The Business of Influence," he says the most popular types are: content-centric, social media, and event coverage and participation. "The common theme is tapping into other people and incentivizing them in different ways to help power your brand," he says.
Here's a closer look at the three key types of B2B influencer marketing:
Content-Centric Influencer Marketing
Any brand that is curating content from influencers or co-creating content with them is engaging in this form of influencer marketing. And in the B2B space, there is a lot of this going on – from guest blogging to producing special article series that live on an influencer's website, and more.
Here are two brand examples:
Dell's Podcast Collaboration with Walter Isaacson
Dell Technologies' Perspectives content hub (which helped Dell land on a spot on the NewsCred Top 50 content marketing brands), features the "Trailblazers" podcast that highlights stories of innovation and disruption with former CNN CEO Walter Isaacson. He's also well-known and widely respected as a writer, journalist, and professor of history, famous for his "Steve Jobs" biography.
While Adweek points out that it's "a way to subtly pitch Dell Technologies," there aren't any hard sells. Isaacson simply mentions that Dell is the sponsor of the series, and there's a call to action for users to go to Dell's brand website.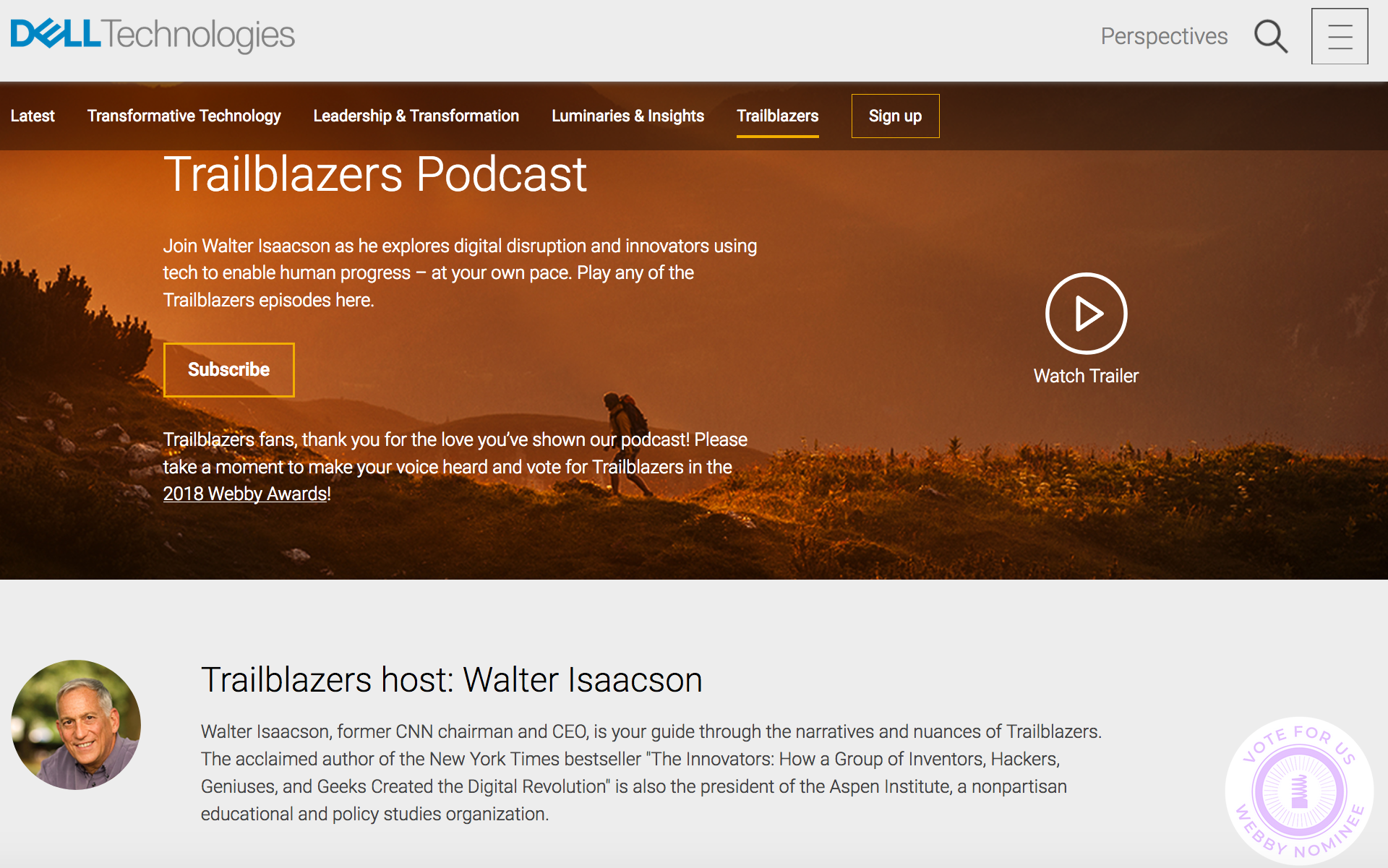 Cisco's Digital Advocacy Community
The Cisco Gateway is a site that is fueled by user-generated content straight from the mouths of Cisco customers (many of whom happen to be industry influencers), says Emma Roffey, Cisco's EMEAR Marketing Director.
The Gateway is an exclusive community to help customers grow their personal brands, position themselves as industry thought leaders, and showcase their success. In return for sharing content, Cisco offers them an exclusive networking group, the chance to earn rewards by participating in challenges, and access to attend or speak at Cisco Live events.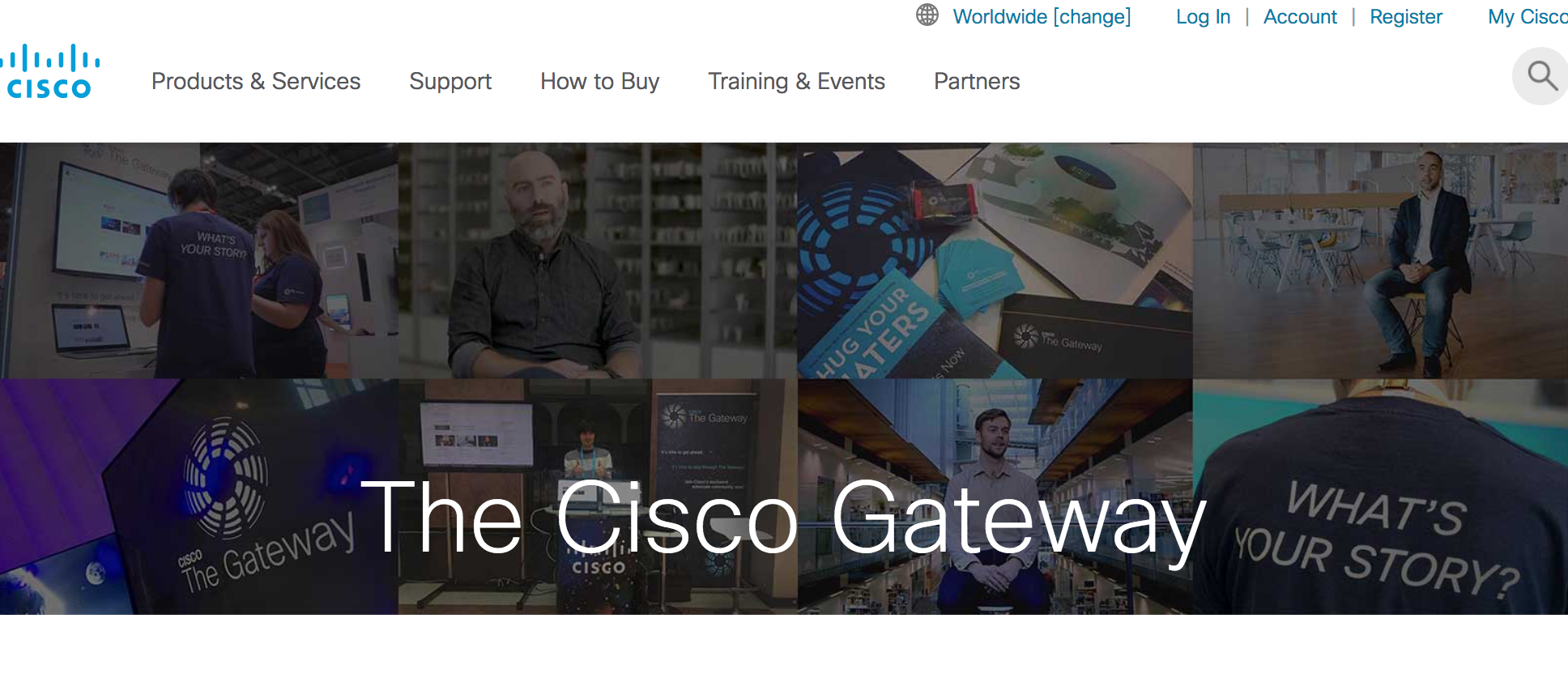 Social Media Influencer Marketing
From account takeovers to hashtag campaigns to guest hosting Twitter chats, there are numerous opportunities to bring in B2B influencers into your social media content. The benefit is that you'll be able to reach their followers and hopefully gain some of them moving forward.
Dell's Brand Ambassadors
Another influencer marketing play for Dell comes in the form of partnering with people who have strong social media followings. For instance, Mike Libecki is a National Geographic Explorer and Dell Rugged brand ambassador, who explores exotic places using Dell products and posts about it on various social platforms including YouTube and Instagram.
GE's #GEInstaWalk
Another brand leveraging Instagram's popular photographers is GE, with its #GEInstaWalk feature. Here's how the company describes the initiative: "The #GEInstaWalk is a real-time tour inside GE's most cutting-edge facilities, as seen through the eyes of Instagram's best photographers and avid fans of GE technology." The first time it ran in 2013, the campaign resulted in more than 3,000 new followers and 200,000 engagements, and it continues to grow each year.
Event-Related Influencer Marketing
Among all of the types of B2B influencer marketing, Schaffer says events have seen the most significant uptick. "Brands have industry and company-wide events and bring in influencers to speak, amplify, and promote the event," he says. "There are lots of case studies that illustrate success at doing that."
SAP's Live Event Coverage
The software solutions brand has found B2B influencer video marketing very effective. "We know that most consumers rely heavily on reviews and testimonies, and that's where influencers can have the biggest impact on your consumers," said Amisha Gandhi, now VP Influencer Marketing, SAP Ariba, in an article.
The first time the SAP team tried to use influencers to promote the Sapphire Now conference, they chose 11 industry influencers to create live video content on social media and the SAP blog. This helped generate 17 percent of the total online chatter about the event.
A few months later at its IoT Launch event, SAP influencers helped the event become a trending topic on Twitter.
Avoid these potential pitfalls when starting an influencer program
Getting started with an influencer program doesn't have to be too complicated, but there are some common traps that brands sometimes fall into, says Schaffer. Here are a few to avoid:
Creating inauthentic influencer content. In order for an influencer to truly help your brand, he or she must convey brand affinity without it feeling like a sales pitch or paid promotion. This is why Schaffer says getting a celebrity to endorse your brand in a tweet is not really the same thing as influencer content marketing, nor is it as effective. Having microinfluencers who are relatable and who "get" the industry will resonate more with audiences.
Not developing a relationship with the influencer before you approach them. You might have people in mind that you'd love to align your brand with, but don't assume that they'll jump at the chance to work with you. Influencers are busy people, says Schaffer. "There are so many chances you have to socially engage on social media. Do that and build a relationship before you reach out if you want to be top on their list."
Having unrealistic expectations of your influencers. Handing a prospective influencer a laundry list of items you want them to do is too transactional, says Schaffer. Unless you enter into a formal contract (which sometimes does happen with more complex influencer programs), all you need to give influencers are any assets they'll need and some initial guidelines. Then, let them do what they do best so it sounds natural.
Get Started
If you're ready to start working with B2B influencers, follow this checklist and grow your program:
Find influencers in your space by seeing who has a lot of social media followers, guest columns in industry magazines, or speaking gigs at industry conferences. Then, make sure their values align with your brand.
Start a dialogue with potential influencers to gauge their interest in working together. Once you're ready to begin, communicate your key campaign goals, but leave influencers plenty of room to be creative.
Discuss incentives that might entice someone to help market your brand. It could anything from compensation, the opportunity to speak at an upcoming event, free access to your service or product, or sharing cross-promotional content.
Collaborate on content marketing goals. Work with your influencer to discuss the nature of your relationship and what they might be able to do for you, from hosting a podcast on your content portal to using your hashtag in their Twitter and Instagram posts to sharing a Facebook live stream at your event.
Measure success. In order to take your influencer marketing forward, you have to get a sense of what works and what doesn't. Implement a way to measure the traffic and/or conversions that an influencer drives to your business.
Influencers can help drive your content marketing and expand your brand reach, and often, the investment is minimal. By identifying the VIPs in your space and entering into a mutually beneficial relationship with them, you can amplify your content and maximize your content marketing.

Dawn Papandrea is a NewsCred Contributor.