When it comes to recent startup success stories, Away is the first that comes to mind in the travel category.
Since 2015, the company has raised $31 million in funding and sold more than 300,000 suitcases to eager fans.
Key to Away's massive success: content, which has been core to the company since the beginning.
Back in December 2015, Away Co-founders Jen Rubio and Steph Korey saw that their first run of suitcases wouldn't be ready in time for the holidays. But they still wanted to start building their brand with in-the-know travelers. Rubio came up with the idea of creating a hardbound book that featured artists, writers, and photographers on their favorite destinations. The finished product, "The Places We Return To," sold out and put Away on the path to exceed more than $12 million in first-year sales.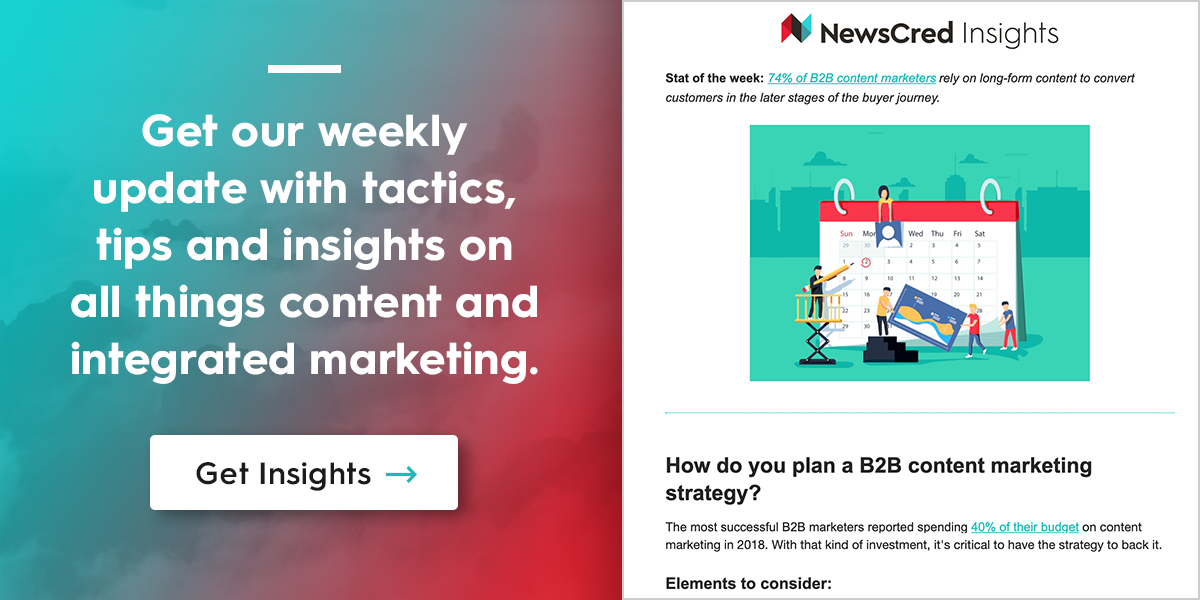 Since then, Away continued to fuel its growth with content. Last year, it launched Here, a beautifully designed print and digital travel magazine, and "Airplane Mode," a podcast that "explores the reasons we travel and places we find ourselves."
Away's content has earned the brand a spot on The NewsCred Top 50: Best Content Marketing Brands of 2018. Here, Rubio, Co-founder, President, and Chief Brand Officer, and Ally Betker, Editorial Director, share more about building their brand through storytelling and how they're evolving Away's content marketing strategy in 2018.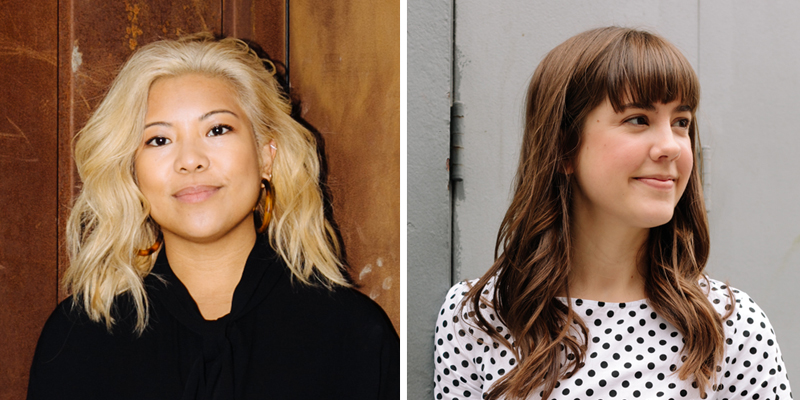 Jen Rubio, Co-founder, President, and Chief Brand Officer, and Ally Betker, Editorial Director, Away
How did the idea to launch Here come about?
Jen Rubio: We launched Away in 2016 with a goal to fix everything that's currently wrong with the travel industry and, today, we create products and experiences that allow people to travel more seamlessly. We wanted our brand to stand for something, and to inspire people to plan their next trip. And it worked.
We'd created a brand that was so synonymous with better travel that customers were calling us to get our thoughts on way more than just luggage – they were reaching out to our customer service line asking for tips and recommendations ahead of upcoming trips! We realized there might be a gap in the traditional travel journalism space, and that we could use that to our advantage to a) further share our brand's unique voice and perspective, and b) do it in a way that would solve a real need for travelers. Enter Here! It's an in-house print and digital magazine that curates travel stories from people around the world – influencers, writers, celebrities, and friends – that we wanted to read and couldn't find anywhere else.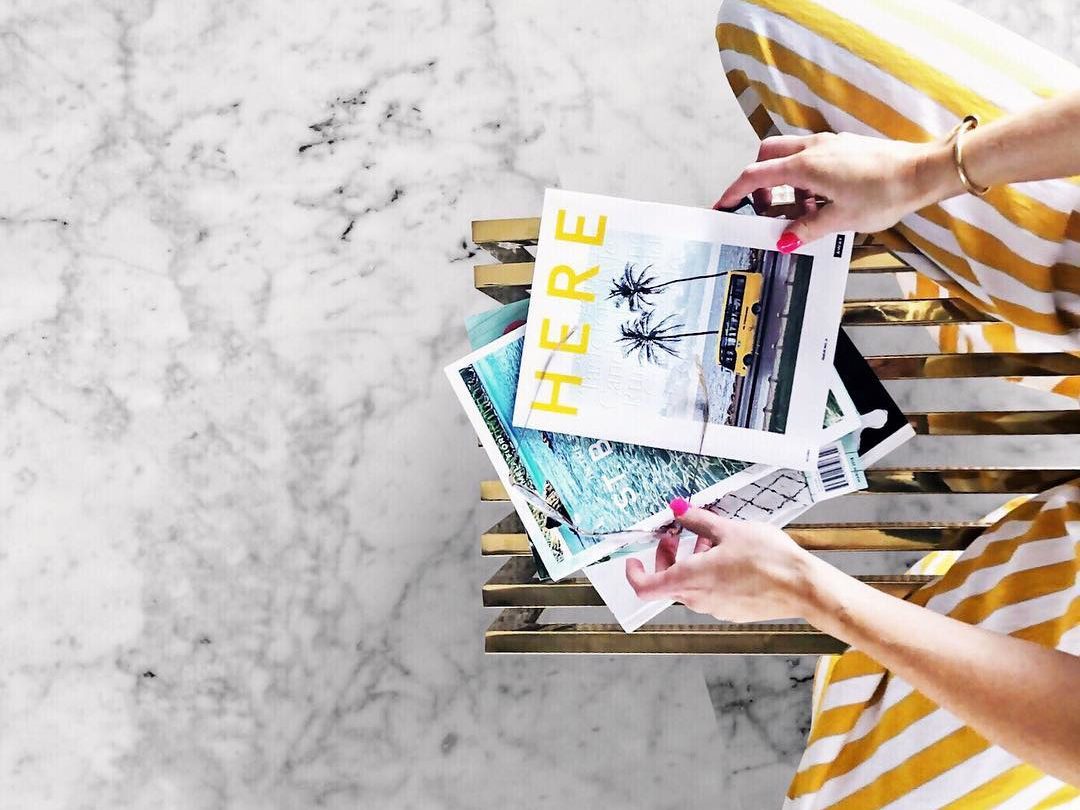 Why has content and storytelling been so important to Away's brand since the beginning?
Jen Rubio: When we looked at the luggage industry as a whole, brands were talking about the features of their products, but none were talking about travel. At Away, we know that the difference between a good product and a good brand is emotion, and that context is everything. To that end, while the wheels or the zippers on our suitcases are great (and, really, just table stakes in today's economy given the incredible amount of choices consumers have), what gets people more excited is when they think about what they can do with that suitcase.
So we've always thought about the need to develop the product and the brand simultaneously – neither can succeed without the other.
Whether it's through Here, our podcast "Airplane Mode," or through the content on Away's Instagram, all of our brand channels are designed to showcase thoughtful content that tells a broader story.
Before launching Away, I had built my career as a storyteller. I've always been really aware of the relationship between a brand and its consumers, so I actually didn't consciously create the brand this way, necessarily. I just didn't know how to do it any other way.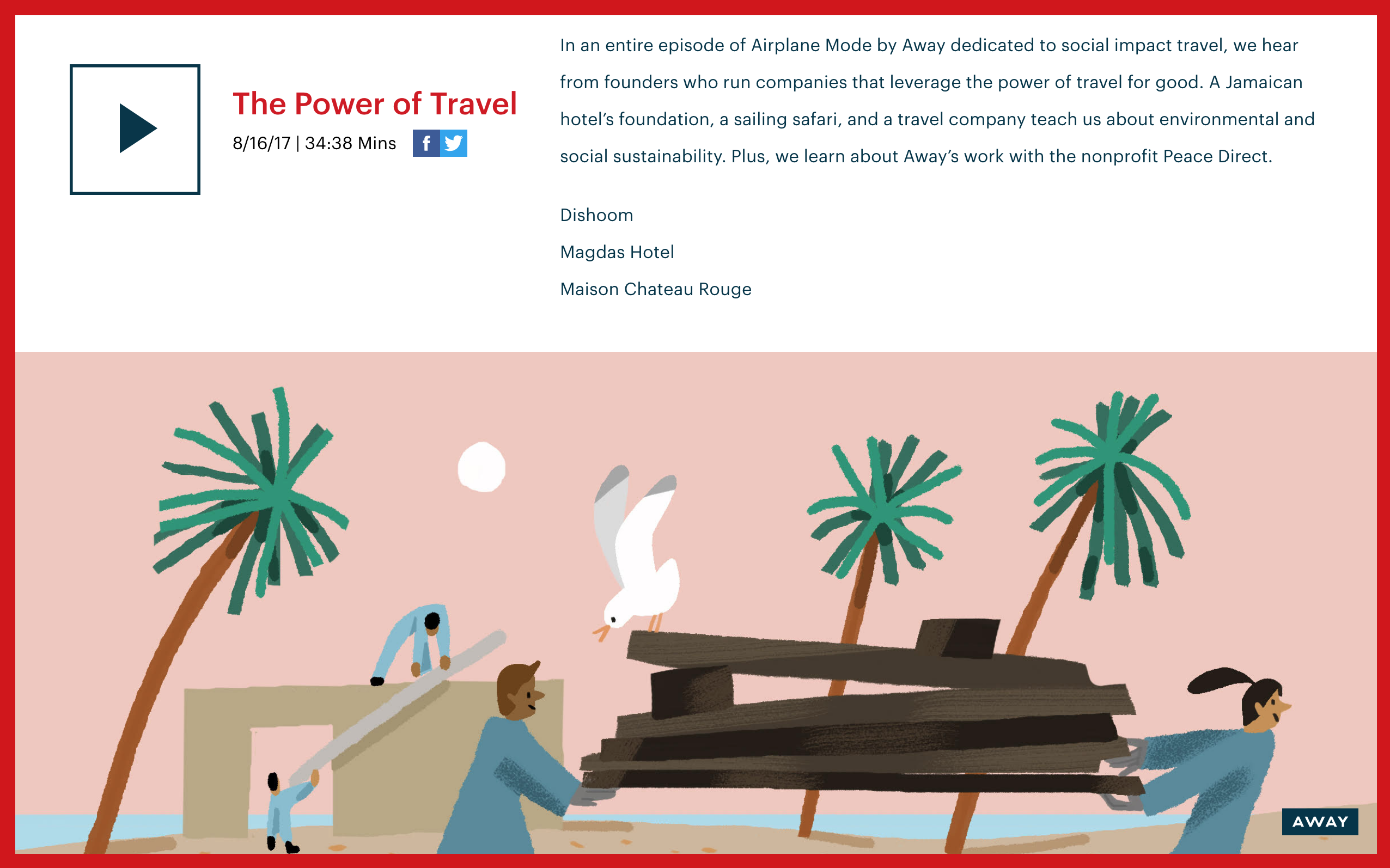 Why do you think Here has really resonated with your customers? What value do you see it adding to the business?
Ally Betker: We're curating stories that don't exist elsewhere, and a from point of view that feels like a familiar friend to a wide range of people. I think that combination is where the magic happens. Yes, you can find great recommendations for your next trip, but the content goes far beyond that.
An example that comes to mind is a piece from Here online by an Irish ex-pat living in London, born to a Caribbean mother and a Nigerian father. She wrote about her experiences mixing and living within several cultures and how that has affected the way she moves through the world. The overwhelming response we received to her story took us all a bit by surprise; honestly, we didn't anticipate how deeply her encounters with cultural dislocation and confusion around identity would resonate with readers. So many people could see themselves reflected in this writer and in her story, and I think that really speaks to why Here has become what it is.
Jen Rubio: I loved that story, and I think it's such a great example of how sharing meaningful stories from our community can inspire people in unexpected ways. Here has given us such an amazing outlet to strengthen that relationship.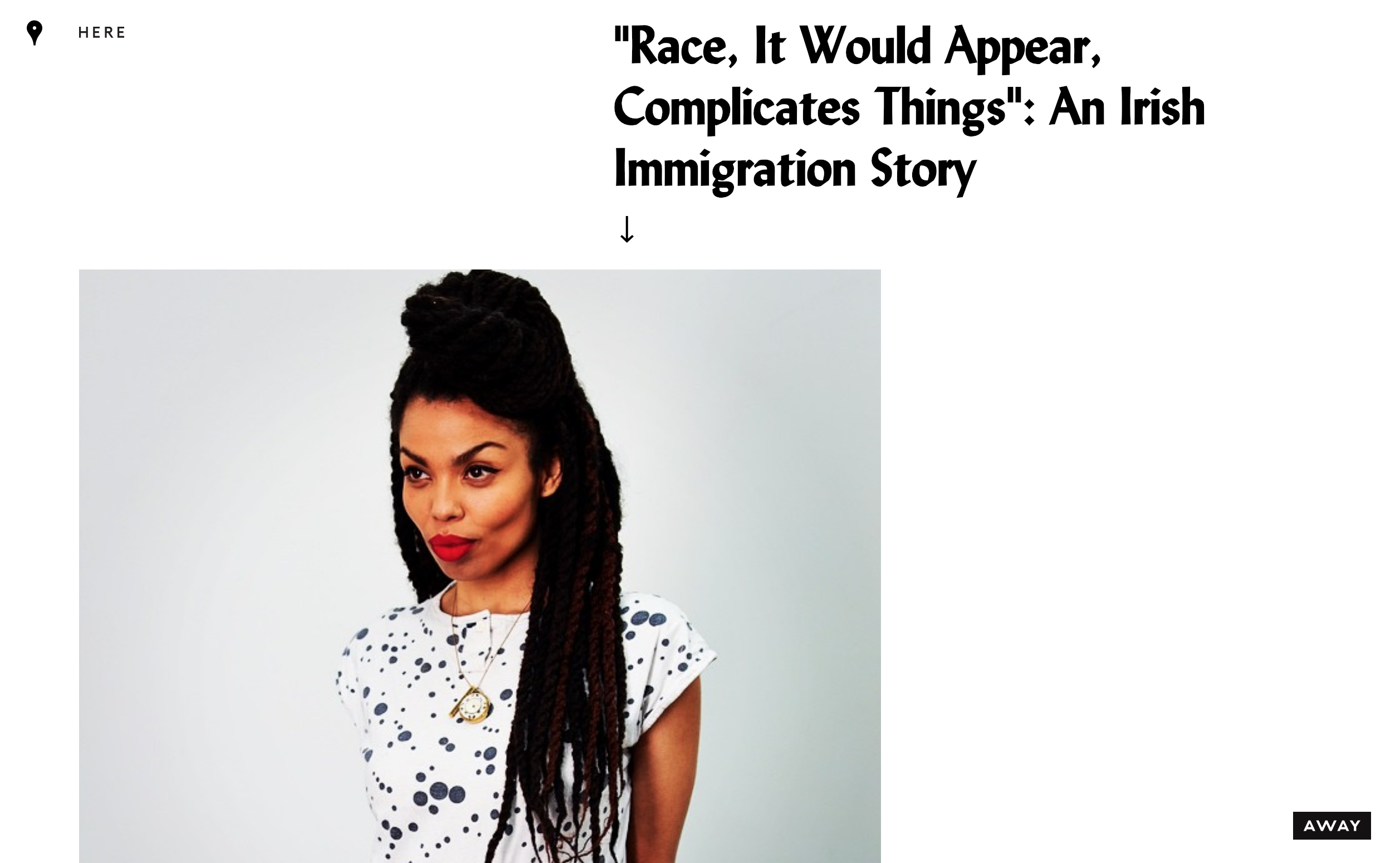 How have you seen your content strategy evolve since the launch of Here?
Ally Betker: When I joined Away, there was already a deep connection and authentic dialogue going on between our customers and the brand. I view my role (and the role of Here) as being a bit of a megaphone for the conversations that were already happening, as opposed to inauthentically manufacturing content that tries to force them. We've earned their trust by showing them that we hear and understand the types of stories they're looking for.
With Here, we've been able to share so many new perspectives and experiences from people all over the world, so we've taken storytelling to a deeper level and created a new kind of publication.
Jen Rubio: Here is a creative outlet that celebrates the voices and experiences from people all over the world, which is so authentic and meaningful to our brand identity. We're going to continue to evolve our content strategy and iterate on what works so we can keep sharing great stories and amplify the voices of our community in the most meaningful way.
What would you say has been Away's most successful content initiative, and how do you measure success for content initiatives like Here?
Jen Rubio: I think all of the content we've produced has been valuable in its own way. We've intentionally built each channel (whether awaytravel.com, our social media channels, or the editorial platform) in a way that shares meaningful information, stories, and experiences that provide the most value for our community, wherever they are.
I'd say the biggest success is not in one content initiative on its own, but in how they all complement each other. For example, on Instagram, we can serve up beautiful, contextual imagery in a straightforward way that shows followers how and where they can travel with Away. On Here, we can take that a step further for the readers who want to get inspired and read stories from the people or places they see on our Instagram.
When we first launched Here, we hadn't tied its success to revenue. Instead, we wanted to create something that would bring the brand to life in a way that we couldn't do with any other platform, so the measurement was tied to value-add for our customers. Would it inspire people to travel? Would people engage with the content?
Ally Betker: We recently heard from a reader who told us that she moved to the U.S. as a DACA recipient and Dreamer when she was just four, and how traveling abroad has felt like a far-fetched dream ever since. She shared that although she's able to explore places all over America to fulfill her desire to travel and to feel a sense of belonging within the country she calls home, being able to read different perspectives in Here has given her a sense of optimism for other places she'll hopefully one day discover. To me, that type of deeply personal feedback is the real measure of success.
How do you see content marketing evolving in the next year? Any tips for other companies who are considering expanding their efforts?
Jen Rubio: In order to truly be successful, you have to understand who you're trying to reach, and what they want to hear. I think more and more brands are starting to recognize and appreciate the importance of people-first marketing. It can't just be about the consumer, but about the human who's making the choice to interact and consume.
I think another increasing focus will be around the data. We've already seen how important it is to be able to collect and quickly interpret feedback from our customers – we rely on it to be nimble in informing our responses and developing (or pivoting) our strategy to serve content in a way that continues to add value.
What has been your biggest personal learning in building Here? What advice would you give to other brands thinking of expanding in this way?
Ally Betker: We just closed the fourth issue, and it feels like we've already come so far! With each issue, our brand voice and ability to recognize what stories are most valuable to our readers have grown so much. It's proven to me that there's an appetite for good content, and that the relationship between brand and customer doesn't need to be limited to a monetary transaction. We're still so early on with Here that we're continuing to iterate on what it means for us to have an in-house editorial arm. There are so many great stories to tell!
My advice to others is to evaluate what's working (and what's not) in real-time, and to fuel a culture that embraces taking some thoughtful risks. At a time when print journalism is changing so dramatically, it might have seemed counterintuitive to some to launch Here. But we believed we had a unique perspective that people might want to hear, so we were confident enough to try.

See all of the NewsCred Top 50: Best Content Marketing Brands of 2018 here.