What happens when your content marketing strategy outgrows itself?
That was the question Dusty DiMercurio, Head of Content Marketing and Strategy for the software company Autodesk, recently faced.
Line//Shape//Space, the standalone blog DiMercurio launched as a pilot project in 2013, had become a victim of its own success.
It won numerous awards and was widely seen as a best-in-class, content marketing industry leader. But it had also grown too big and was struggling to serve many more functions and a much larger target audience than it originally set out to reach.
Growing with Its Audience
When DiMercurio first launched Line//Shape//Space, the blog targeted very small businesses – or as DiMercurio says, "VSBs."
Autodesk had recently moved from a perpetual software licensing model to a subscription model, thus making its suite of products more accessible to smaller business owners. DiMercurio saw an opportunity to reach this new niche by offering valuable content aimed at addressing VSBs' pain points.
Within a few months, Line//Shape//Space gained a loyal following that included VSBs, but larger businesses and clients began to take notice, as well. In addition, AutoDesk's internal industry teams (architecture, engineering, and construction; manufacturing; and media and entertainment) began leveraging the blog's content, and DiMercurio's team saw value in trying to engage with businesses of all sizes.
"We starting expanding to address larger trends in each of Autodesk's industries and our expanded persona sets," says DiMercurio. Instead of just targeting a VSB owner with general service articles, they began creating content aimed at personas like mechanical engineers, architects, indie game makers, and other people who could potentially benefit from Autodesk's products.
"Over time, the site evolved from a small business advice site into one that celebrated the successes and articulated the vision of its customers," says DiMercurio.
Eventually, the team decided Line//Shape//Space needed more room to flourish. DiMercurio saw that in order to ensure the blog's ongoing success, it was necessary to regroup, rebrand, and relaunch.
This September, Line//Shape//Space officially evolved into Redshift, a new blog that now lives on Autodesk's domain. Redshift is designed to scale with Autodesk's content marketing strategy and help bring the company's mission to life: Exploring the future of making things.
Autodesk Takeaway: Your content marketing strategy always needs to be evolving – even if it requires drastic changes to set yourself up for long-term success.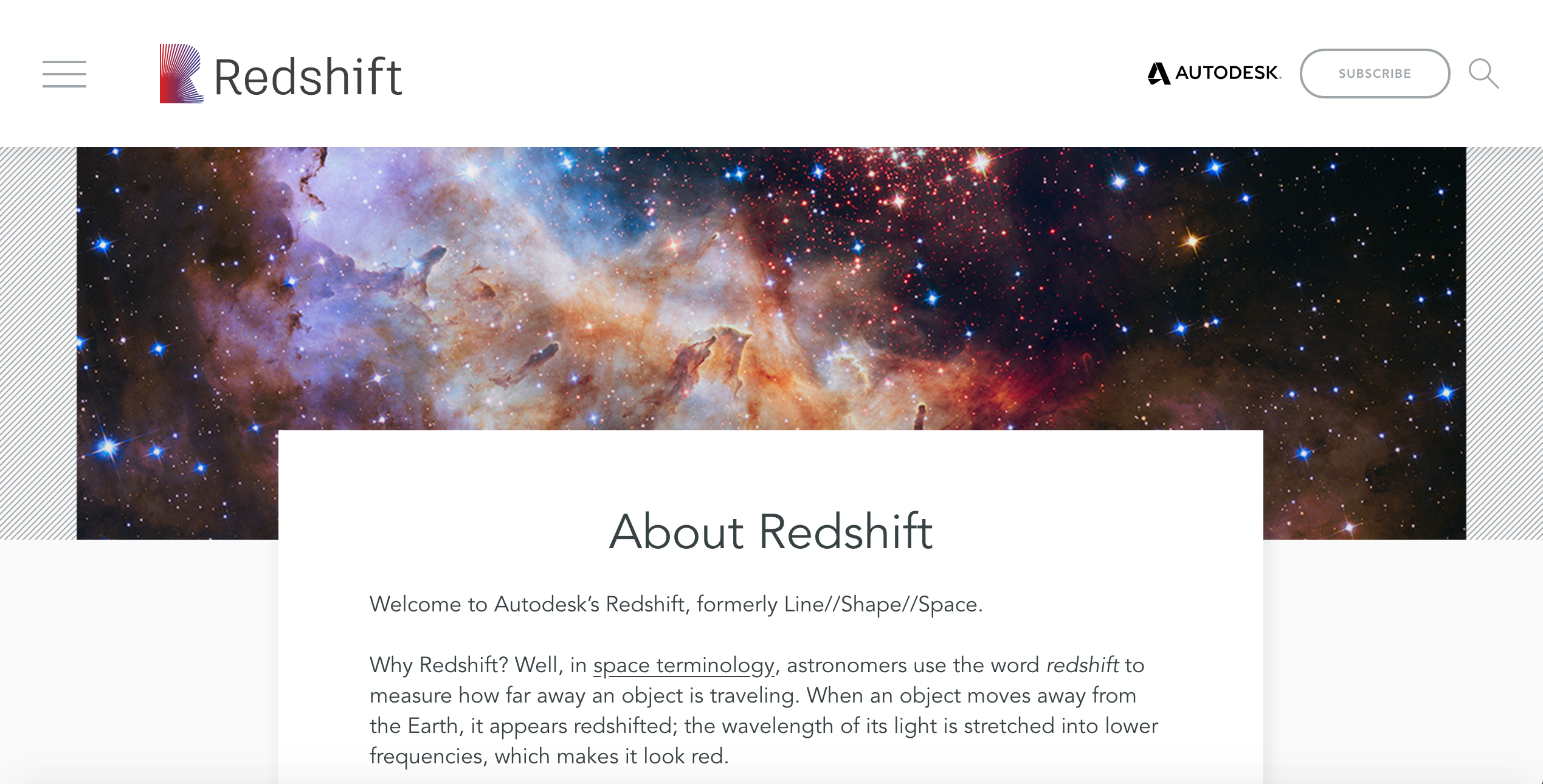 Shifting Towards Personalization
As explained on the site, the term "redshift" refers to how astronauts measure how far away an object is traveling: "When an object moves away from the Earth, it appears redshifted; the wavelength of its light is stretched into lower frequencies, which makes it look red."
"We wanted to rebrand with a name that we felt better fit with our expanded and shifted editorial charter," says DiMercurio.
Although Line//Shape//Space had gone through a couple of redesigns over the years, this was by far the most drastic.
"What led up to it was looking at the way our readers were interacting with the site, and looking at the problems we had," he says.
For instance, a major wishlist item for Redshift was to offer a more customized experience, especially since its content encompasses many personas.
"We wanted to enable people to make this publication personalized for themselves," says DiMercurio. "It was important for us because of the breadth of industries we serve – what we wanted to do was move in the direction of turning the site into more of a platform that will personalize over time."
Now, visitors who sign into the site can choose to follow particular authors and content categories, save articles to read later, and leave in-line comments. New technology also serves up customized content selections based on a visitor's actions.
Try this: Click into an article, and when you get to the bottom of it, you'll notice that there's a brief pause. That's because the site is selecting what it thinks you'd like to read next. This "infinite scroll" feature is just one example of how Redshift is hoping to redefine a personalized content experience.
Autodesk Takeaway: Consider the user experience of your site. Can you implement personalization features to give users the most relevant content?

Using Content to Meet Business Goals
For Redshift, growing subscribers is important, but not a top objective. They are more concerned with attention metrics.
"Looking at total time read, for us, is essentially a proxy for influence," says DiMercurio. "We want to earn time, earn attention, and deliver the audience in the right direction."
Ultimately, the goal of Redshift is to be Autodesk's owned media channel, much like CMO is to Adobe, Longitudes is to UPS, or GE Reports is to GE.
That's why the push for personalization has become such an important part of the redesign. Once Redshift establishes trust among its audience, it can then encourage them to click on "recommended content banners" that will bring them to relevant Autodesk product category pages that feature lower-funnel content.
"That kind of content is all about helping people understand our portfolio and offerings," says DiMercurio.
However, he points out, even some of Redshift's pre- or top-of-funnel content ends up being relevant across the entire buyers' journey, attracting current customers as well as prospective ones.
"There might be an engineer who already uses our software but wants to stay on top of trends," DiMercurio says. "We aim to influence audiences outside of a buy path."
For that reason, DiMercurio works closely with Autodesk's industry teams, and his top editors have an industry focus to manage the needs of the company's stakeholders.
"Editors get invited to team meetings to brainstorm content for nurture campaigns. They'll share research about personas, and we'll help them brainstorm ideas for content to engage these audiences," he says.
The result of that collaboration is that industry teams routinely share articles with their prospects.
"The content isn't just about getting Autodesk on the radar, but building it as an authority in the space," says DiMercurio.
Autodesk Takeaway: Build relationships with other divisions in your company that can influence, utilize, and distribute your content. This can result in more strategic and effective content creation, distribution, and conversions.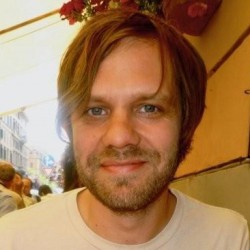 Dusty DiMercurio, Autodesk's Head of Content Marketing and Strategy

Driving Strategy through Data
"Balancing the experience you are trying to create for your reader with the needs of the business is always a challenge," DiMercurio says. "Even though we're lucky our executives buy in, I still want to connect what we're doing to the business. I'm a data-driven marketer because I want to see my contribution to the bottom line."
DiMercurio does this by looking at different KPIs depending on what the function of the content is.
"ROI for Redshift is attention earned, so we look at things like total time read, completion rates, and organic traffic growth (to see how SEO is helping us earn attention from audiences we want to connect with)," says DiMercurio. "For content that helps influence buying decisions, we will align KPIs accordingly, such as how it converts to a trial of our software, or how many are downloading something or joining a webinar."
The team relies on a variety of measurement tools including Google Analytics, Adobe Analytics, social tools, and custom analytics they developed in house.
Autodesk Takeaway: Your content success metrics don't have to be uniform. Determine KPIs for your different content types based on what you're trying to achieve.
Raising a Culture of Content
Having senior executives who understand the value of storytelling and thought leadership is the key to Redshift's success, says DiMercurio. In fact, many members of the executive team are actually Redshift authors.
That buy-in developed over time as DiMercurio's team kept delivering results.
"You have to build a coalition," says DiMercurio. "Find people who have a vested interest in what you're doing and get their help."
Once you can show them positive results, they'll rally – and even contribute – to your cause.
"When we win awards and get featured in publications about the content marketing we're doing, those kinds of things help our senior executives have validation that we're doing the right thing," he says.
Another example of the content's value is when media partners like Gizmodo, The Huffington Post, or Forbes republish Redshift articles.
"Being able to see our owned media turn into earned media is a big indicator of success for us," says DiMercurio.
Autodesk Takeaway: Building a coalition of content marketing champions takes time. Identify influential people within your organization who can benefit from and eventually buy in to your program. Determine what success looks like to those potential champions, and be sure to track and report those metrics.
The Future of Redshift
Even though Redshift is in its infancy, in the spirit of what Autodesk is all about, DiMercurio is always thinking ahead to the future. In fact, he recently sat his team down to discuss what Redshift might look like in 2020.
The vision included:
Expanding content formats including video, which they don't do a lot of today.
Getting smarter about repurposing and recycling content.
Experimenting with virtual reality and real-time 3D graphics.
"We actually have some pilots in house now that make our content more of a video game experience," says DiMercurio. "We definitely see the future of storytelling changing."
In the meantime, Redshift will keep publishing its world-class editorial features, and work to solidify its connection with users through an increasingly customized content experience.
"It's all about building relationships through trust," says DiMercurio. "You've got to have empathy for the audiences you're trying to reach."

Dawn Papandrea is a NewsCred contributor.