Last summer's unprecedented proliferation of Pokémon Go proved that augmented reality (AR) can be a mainstream technology. And since then, the experience has improved and become more accessible. Forward-looking content marketers are already using AR to promote everything from makeup to humanitarian campaigns.
In a world where we're all vying for each other's attention, AR grabs a hold and doesn't let go. From the basic to the bizarre, the entertaining to enlightening, these virtual experiences have the potential to engage audiences in new and exciting ways that they're curious to explore.
Unlike virtual reality, AR doesn't require a headset, which makes it easier to adopt. The technology overlays digital content onto the real world in front of you, altering the existing space – all you need is a smartphone and forward-facing camera in hand.
Tech companies have committed to making AR experiences more seamless, impressive, and widespread. At April's F8 developer's conference, Mark Zuckerberg announced that Facebook would be doubling down on AR efforts, launching a beta AR Studio with developer tools. Meanwhile, Apple's new iOS 11 mobile operating system includes ARKit, a new feature that allows users to easily create AR experiences for the iPhone or iPad.
AR may not make sense for everyone, but nowadays companies across industries stand to benefit from adding the technology to their content marketing mixes. Take a look at some of the creative ways the world's top brands are using AR, and how their learnings may apply to your company.
Ikea Place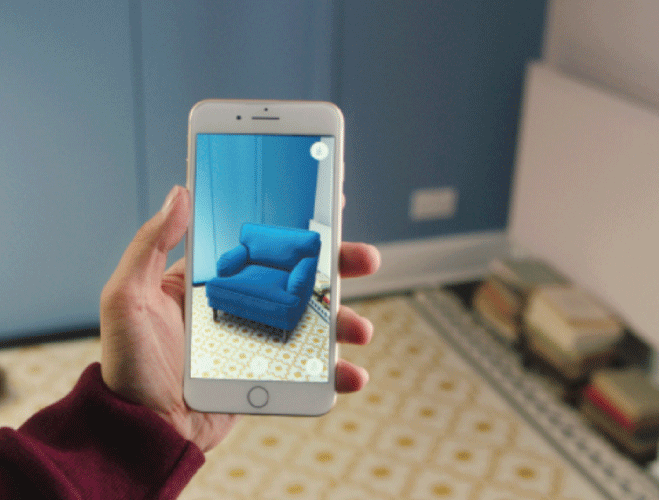 Coinciding with this month's iOS and ARkit unveiling, the Swedish furniture giant announced the launch of Ikea Place. The new app allows users to scan a room with their Apple devices and see how furniture looks and fits in various locations. An extension of the company's catalog, the app makes browsing and selecting objects as simple as possible, with easy repositioning and 98 percent scale accuracy for optimal viewing.
By virtually placing potential buys around their home before purchase, customers make sure the items they want actually look good before they schlep to and from the labyrinthine warehouse. But the free app's not just for serious shoppers; anyone can use it for fun. Users can fill an entire room – or street – with Ikea wares, and redesign to their hearts' content. Then, they can share images and videos of their interior design creations on social. When they're ready to buy, the brand's banking on direct conversions through local Ikea websites.
Top Takeaway: With Ikea Place, the company is aiming to alter the way people buy furniture from now into the future. "Augmented reality and virtual reality will be a total game changer for retail in the same way as the internet," says Michael Valdsgaard, Leader of Digital Transformation at Inter IKEA Systems. "Only this time, much faster." Take a moment to imagine the range of possibilities when it comes to virtually representing all kinds of products, from homewares to fashion, accessories, and so much more. How might your brand look in AR? And will you rely on mobile alone to activate the experience and drive users to purchase?
Pepsi Max – Unbelievable

In a famous stunt a few years back, Pepsi Max rigged a London bus stop with an AR experience that added a little something to locals' daily commutes. Wired with a camera to capture and display a live feed of the street ahead, the window-like six sheet screen did more than that, using AR to create a series of heart-stopping scenarios. From alien abduction to wild tiger chases, passersby were stunned and delighted by Pepsi's antics.
As part of the brand's Unbelievable #LiveForNow campaign, the accompanying video went viral, garnering nearly 8 million views on YouTube and more than 50 million views across campaign videos. The campaign also reportedly led to a 30 percent sales increase in single serving bottles and made Pepsi Max the second biggest UK brand channel by subscription – in part thanks to that thrilling, memorable impact created by AR.
Top Takeaway: In an example that brings AR to the audience instead of making the audience engage independently, Pepsi Max's AR experiment was "created from insight that the brand's audience looks for unique experiences and stories to share with friends," according to Marketing Week – and that resulting video received an earned view rate of more than 87 percent and 120,000 mentions, likes, and shares across Facebook, Twitter, and YouTube. Start thinking outside the box. What kind of viral moment potential might your brand have?
Sephora Innovation Lab

Sephora has gone so far as to build an in-house Innovation Lab, tasked with discovering digital breakthroughs for the brand. Working with AR platform Modiface, the beauty powerhouse developed a feature called the Virtual Artist that scans users' faces to determine exactly where their features are located with incredible accuracy. Once that's done, makeup mavens can try on lipsticks, eye shadows, false lashes, and more, without having to go through an entire box of cotton balls.
Like the in-store guidance and makeovers the brand is loved for, the tutorial tool offers further how-tos on day and evening looks while an AR-powered video reflecting the user's skin tone and face shape plays alongside. As each step is explained, the product is applied – and a handy "add to cart" button appears for each item. Sephora Virtual Artist lives within the brand's existing app, a fan favorite, and also makes it possible to share looks with friends on social so users can get a second opinion before purchasing.
Top Takeaway: Other beauty brands have also turned to AR in an attempt to engage audiences and bring them closer to their products. But remember: "When it comes to augmented and virtual reality, it can only be successful if it's truly useful," says Bridget Dolan, VP of the Sephora Innovation Lab. If you're thinking of experimenting with AR, be sure you're ready to commit – and invest – in making something truly worthwhile.
Detroit Institute of Arts (DIA) – Lumin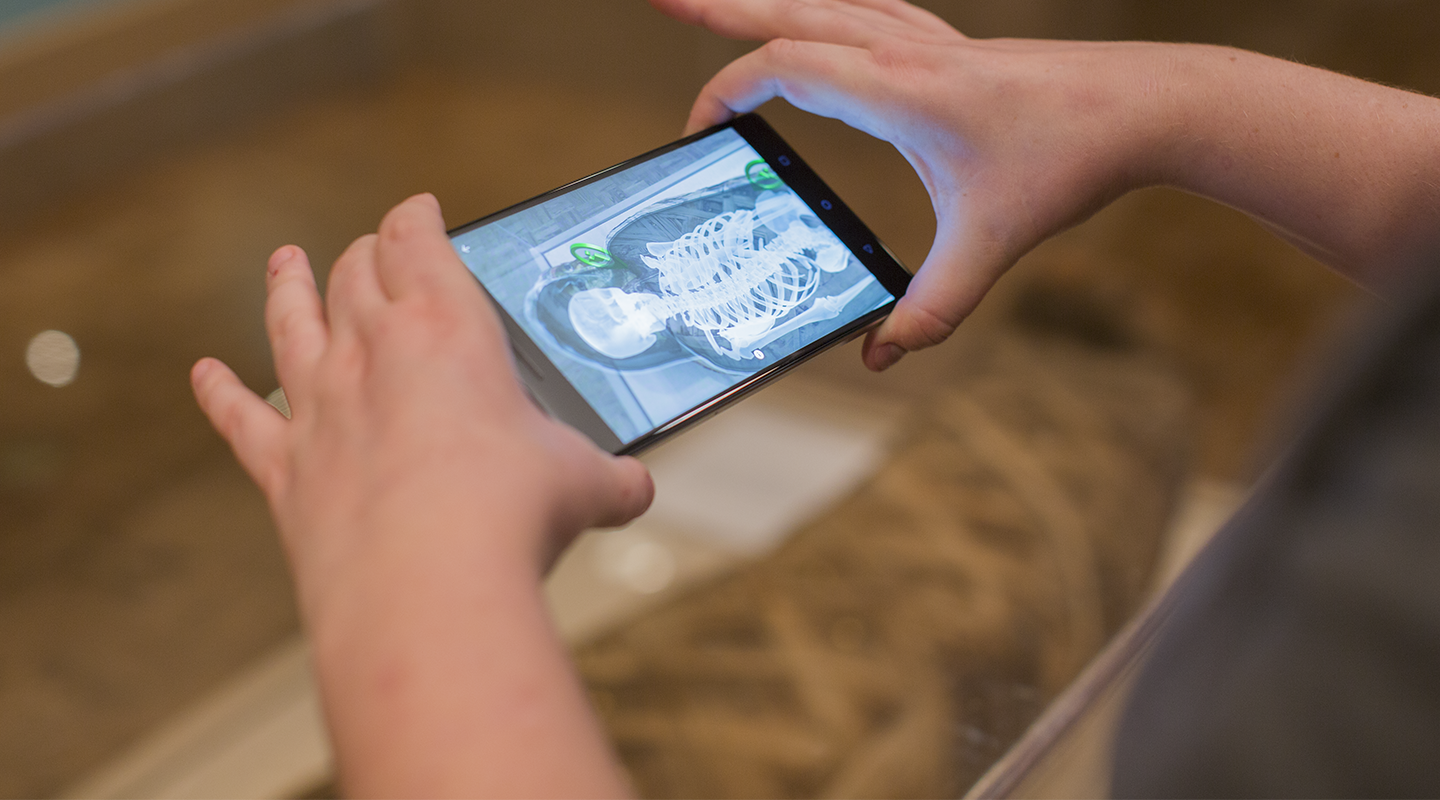 Earlier this year, the Detroit Institue of Arts partnered with Tango, Google's augmented reality platform, to create a groundbreaking AR-powered mobile experience called Lumin. The first of its kind, the high-tech tour runs on a smartphone given out at the museum's front desk and set to reveal a digital wealth of information behind certain artifacts and works of art.
Whether it's a view of a mummy's X-ray or a walk through the gates of Babylon, the experiential, educational, and engagement potential is nothing short of astonishing. And on a practical level, Lumin helps visitors navigate the museum, and can be useful for hearing or visually impaired guests, as well. No matter how it's used, the technology provides an undeniably enriching experience – and its capabilities only show the tip of the iceberg.
Top Takeaway: "Augmented reality allows the user to see the unseen, imagine art in its original setting, and understand how objects were used and experienced in people's everyday lives," says Salvador Salort-Pons, DIA Director. "It's an exciting way to incorporate the latest technology into the visitor experience." How can that translate to your company or brand? Is there something below the surface or behind-the-scenes that's worth exploring and sharing with your audience?
The United Nations – Not a Target
After a series of successful VR films, this summer, the U.N. turned to Facebook's Camera Effects Studio for a World Humanitarian Day campaign. Using Facebook Live as a virtual teleprompter, ten black and white filters allowed users to read real-life stories from human rights victims and aid workers from around the world. The result made for a poignant experience for users and their viewers alike, meant to raise awareness on civilians trapped in conflict.
Part of the larger #NotATarget campaign, which is aimed at educating and inspiring millennials to take action, the AR effort helped drive people to sign a petition at WorldHumanitarianDay.org, racking up more than 25,000 signatures from across 197 nations. The response was powerful on social media as well, with celebrities like Michael Douglas and Charlize Theron recording their own takes, and thanks to a display of user-generated clips in none other than Times Square.
Top Takeaway: Never underestimate the power of thinking outside the box using existing tools in unexpected ways. Challenged with relaying these untold stories through a digital experience, VML New York, the creatives behind the campaign, found new potential in the platform. "Up until now, these filters have been fairly fun and playful… [but] we saw this as a citizen-journalism platform," says Craig Elimeliah, the agency's Managing Director of Creative Technology. The team realized, "We can flip this on its head and use something that everyone's using and playing with [as] something meaningful." What could you use it for?

Anastasia Dyakovskaya is a NewsCred Contributor.