In this field, it pays to think outside the box. Creativity drives performance, and smart content marketers are starting to approach old tasks in new ways.
Take the annual report, for instance. Generally of interest only to stakeholders, executives, and some employees at best, the dry, numbers-filled document has largely been known as a long and boring corporate legal requirement.
In recent years, however, a number of forward-thinking brands have begun to transform their year-end findings into attractive, engaging content whose readership has the potential to go far beyond the company itself. As a result, they're leading to increased traffic, brand awareness, and distinction – along with a surge of social shares.
One can argue that annual report season never ends. No sooner have you gotten one out the door before it's time to start thinking about how to make the next one more innovative, clever, and creative. No matter where you are in the process, take a cue from how these five brands (and their designers) revamped their annual reports. They used technology, quality visuals, and a healthy dose of creative thinking to turn them into core pieces of content, perfect for promotion and repurposing.
Shoppable

Estée Lauder is taking e-commerce to new heights with a fully shoppable annual report – the first of its kind in the beauty industry. The web version, which is followed by a link to the more traditional PDF, starts off with a hero image of some of the company's most popular brands and products. Each bottle, tube, and item works as a link back to the product page, making immediate purchasing as easy as possible.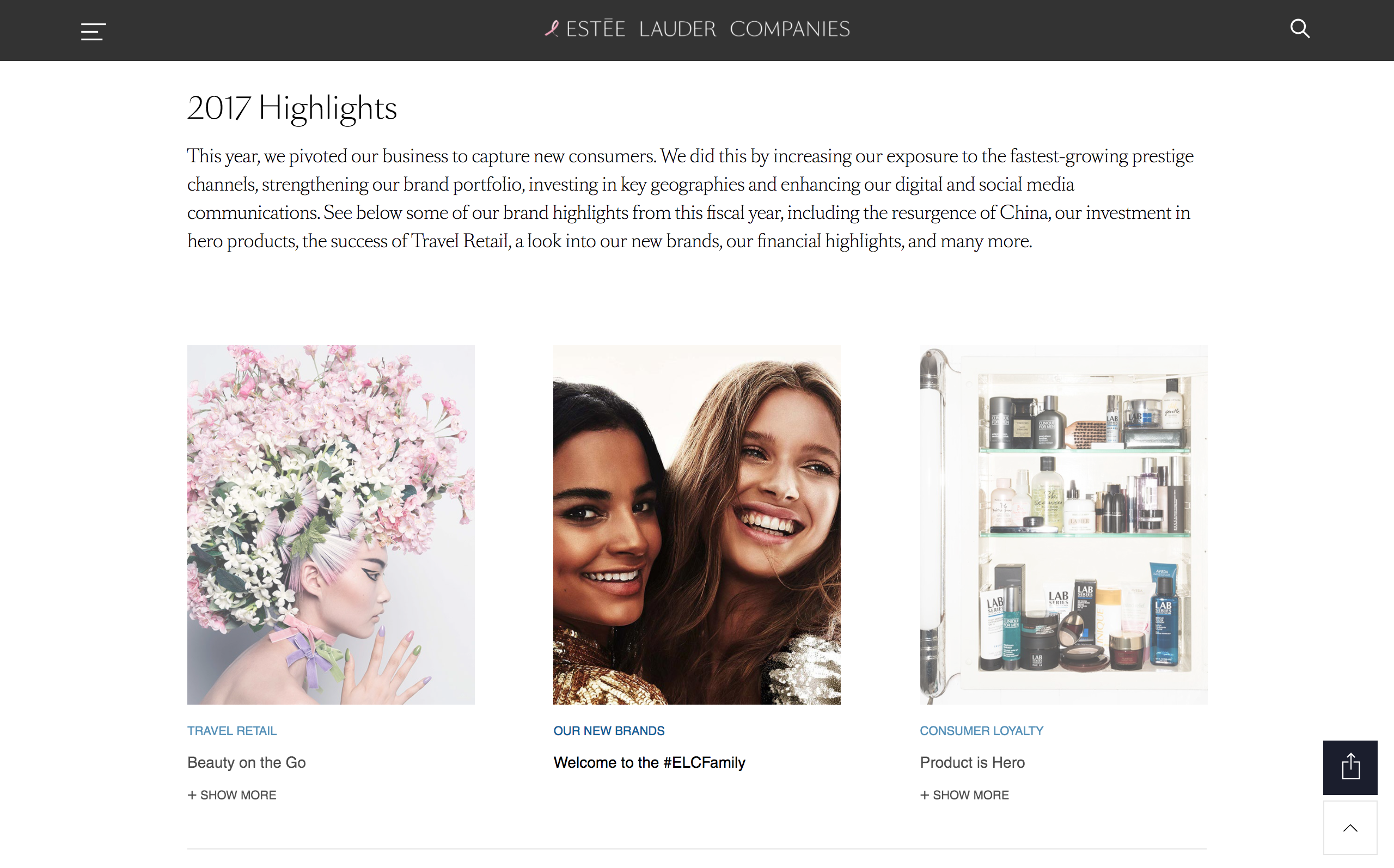 Readers are also invited to explore curated topics, like news about the Chinese market, travel retail, and new offerings, complete with shoppable links throughout. It presents just the right amount of information in an easily digestible, opt-in or out kind of way – not so much as to leave an audience bored or overwhelmed, but enough to pique curiosities they might not know they had, whether they're related to business, marketing, makeup, or all three.
Consider: Within your report, how can you make it easy and engaging to connect readers to your products? How can you spark their curiosity to get them to click on product pages or continue reading more of the report?
And what are other major brands in your field up to? What can you do to play along or stand out completely?
Design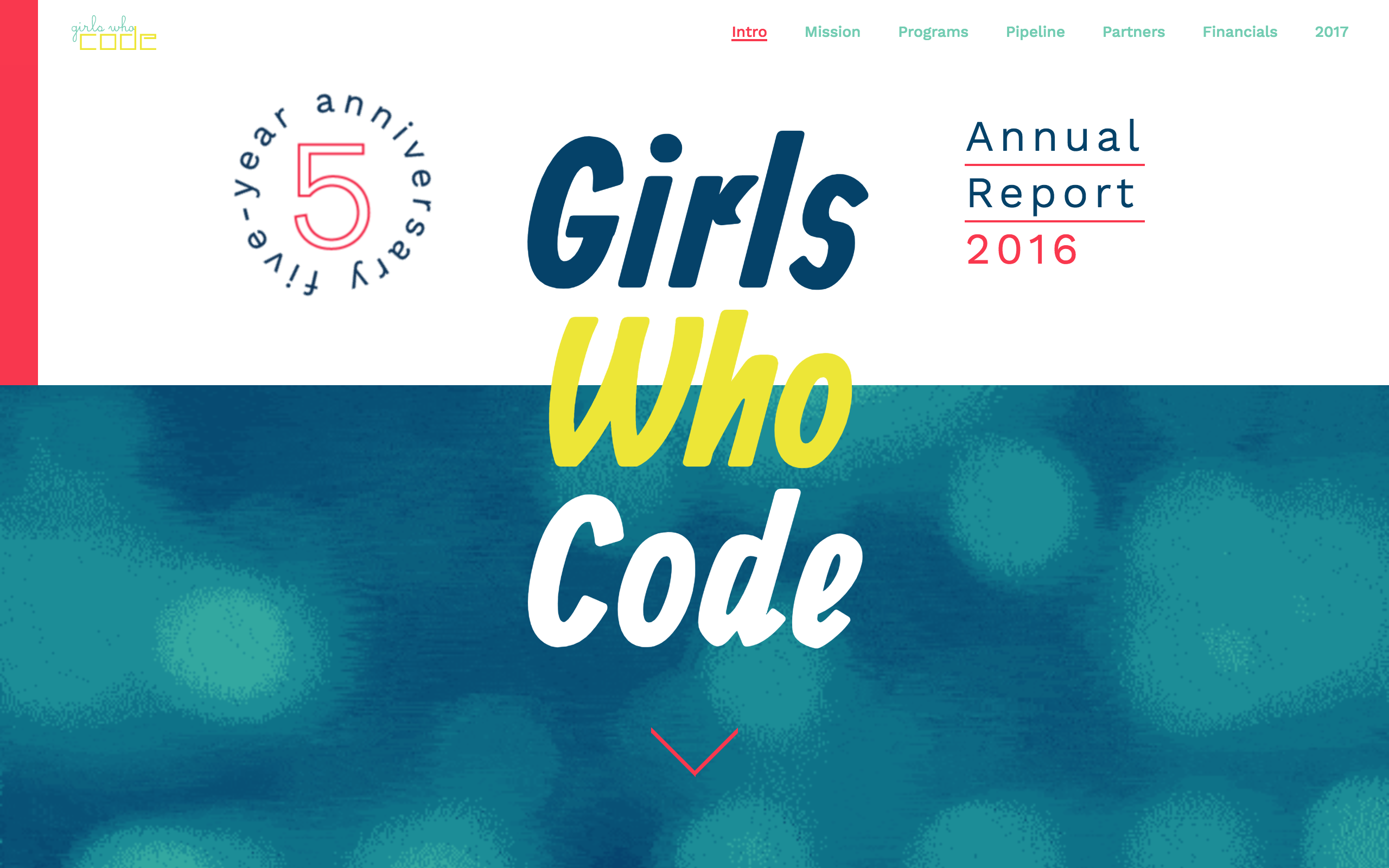 A fantastic example of simple design at work comes from Girls Who Code, a nonprofit that empowers young women to become engineers. Using basic animations, GIFs, and Boomerang videos, plus bold, primary colors to accent and backdrop the organization's biggest news and developments, the 2016 annual report builds interest and excitement around the Girls Who Code community and their accomplishments.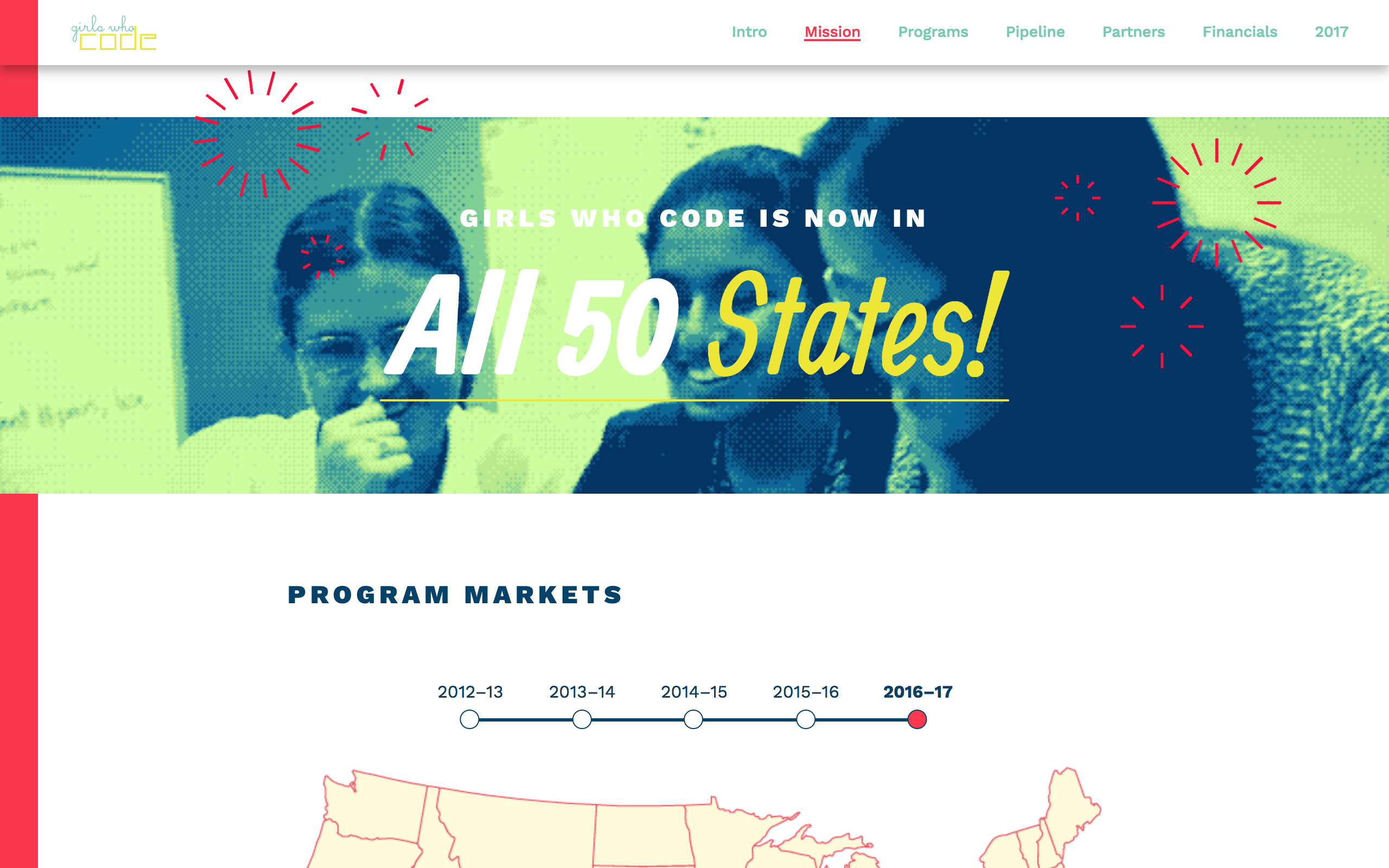 A fluid layout encourages the eye to move throughout the copy, which outlines what the organization does and how much its program has grown. Then, it dives into company highlights and real-life stories from young women whose lives have been changed.
Information that may not interest or concern every target audience – like financial specifics, for instance – is neatly hidden in a dropdown menu toward the end of the report. Still there, just in case an executive or potential future partner is reading.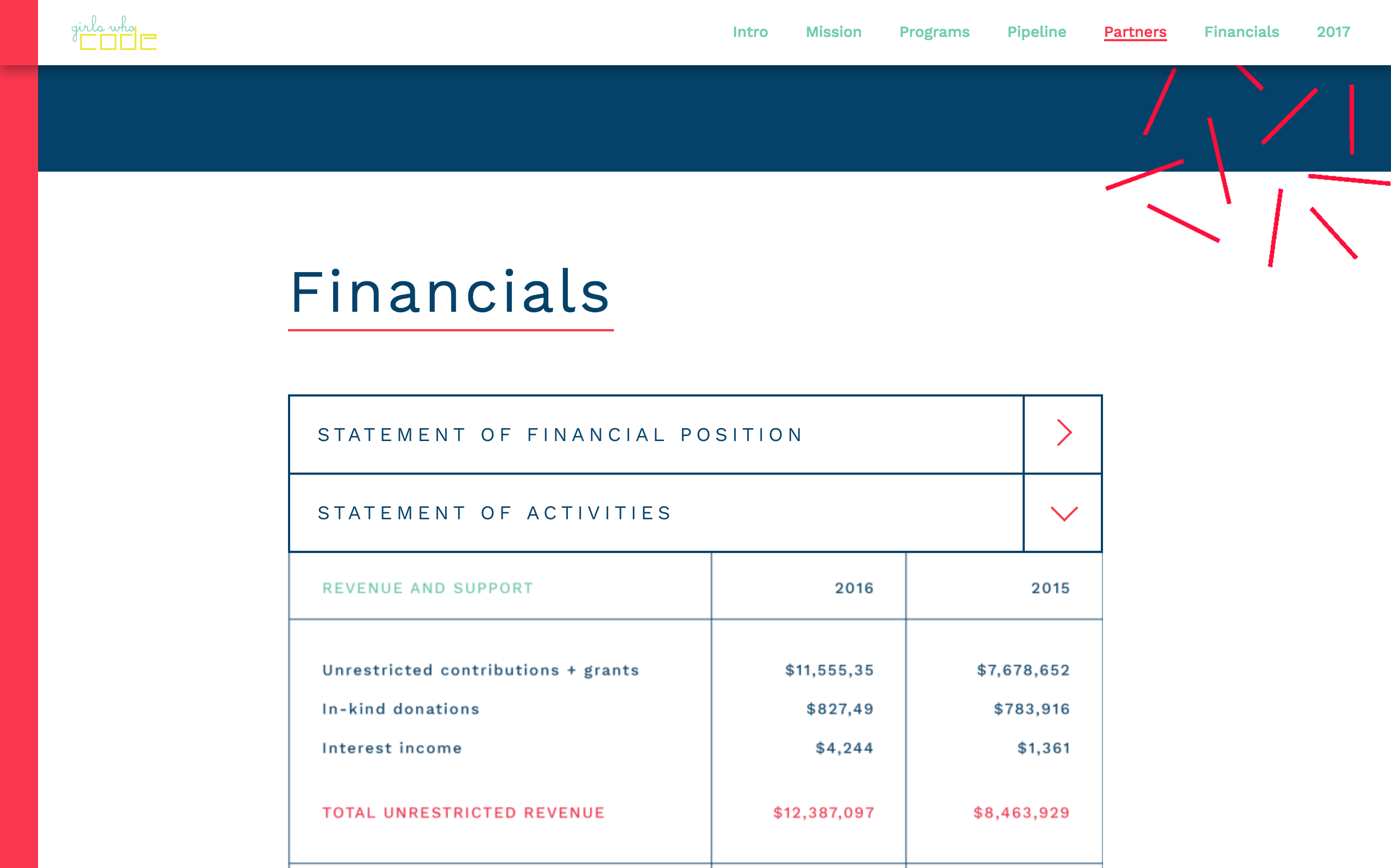 Consider: What kind of stories could be relevant and worth sharing in your annual report? How can you do so in a visually interesting way?
Illustration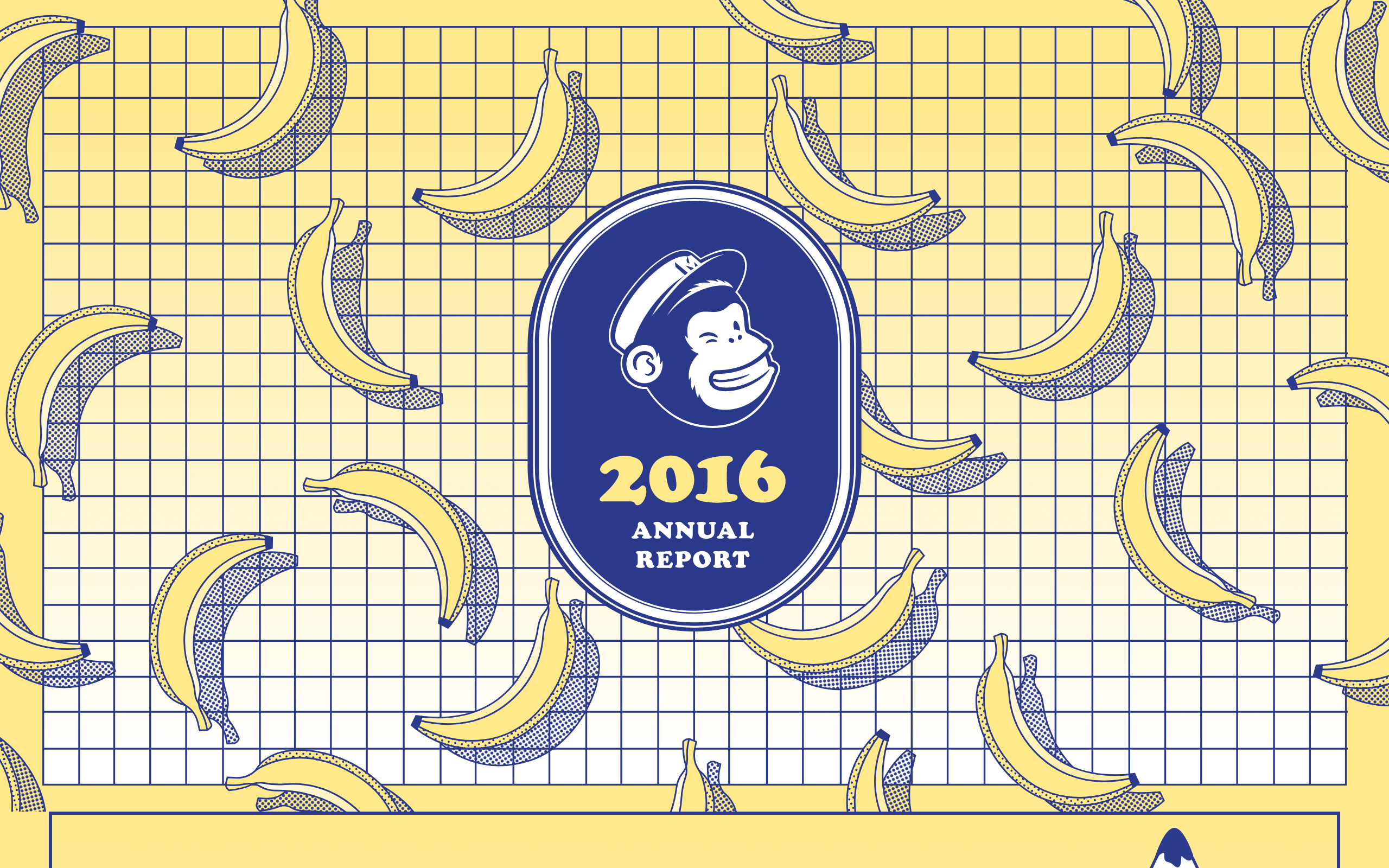 MailChimp has long been known for its light-hearted and engaging content, thanks in part to its penchant for fun design and omnipresent mascot, Frederick von Chimpenheimer IV – or Freddie, for short. The brand infuses everything it does with a playful irreverence, and its last few years of annual reports are no exception. While they're each strikingly different in look and feel, ranging from photo- and color-fueled lists and layouts, 2016's iteration delivers big on digital illustration.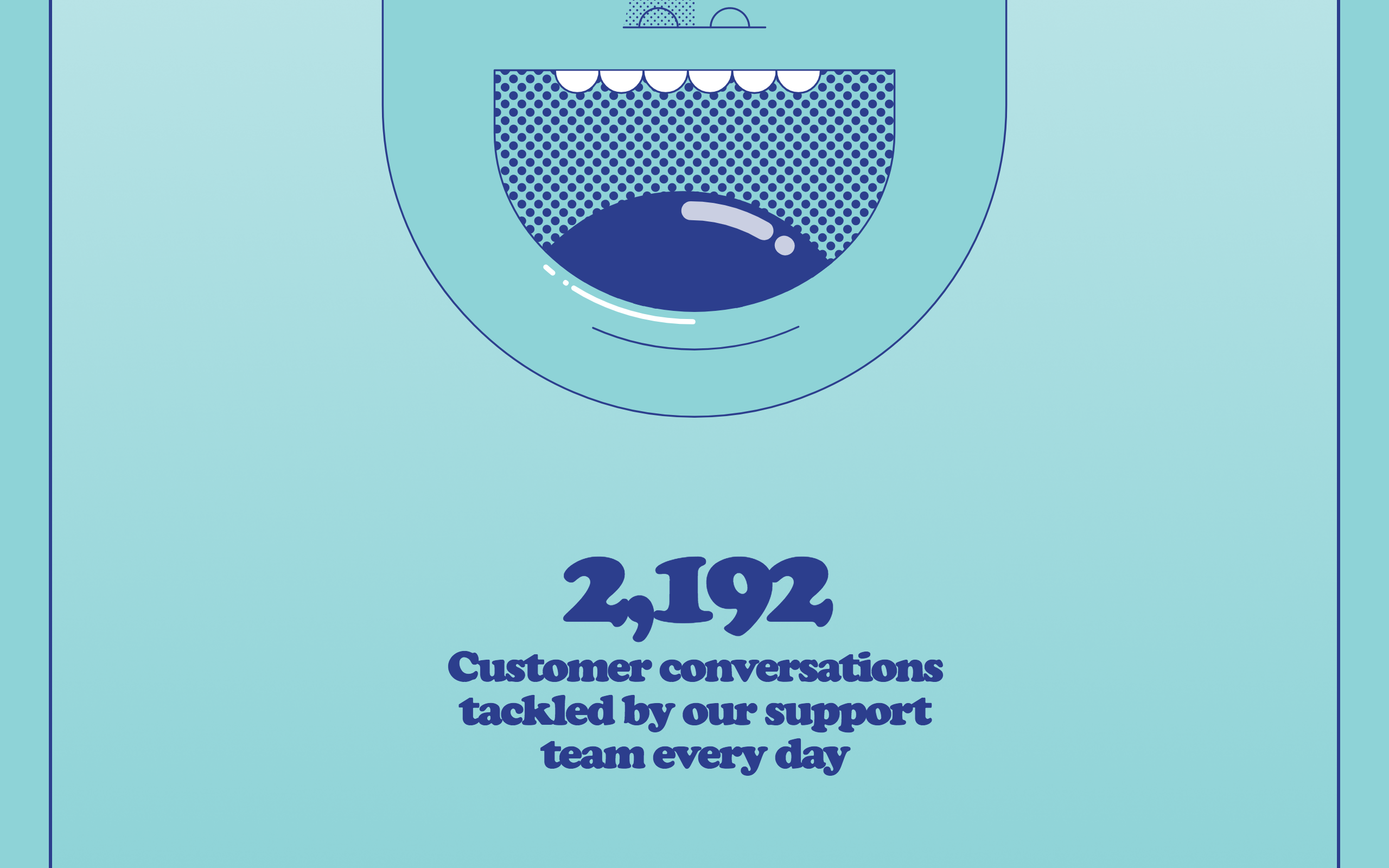 Readers scroll through company facts and figures, made engaging by their variety and MailChimp's quirky graphics. At a glance, and because of the ever-changing and unexpected visuals, the information provided can apply to any audience, though certain readers may find more value in some statistics than others. Prospective employees may appreciate details about company sports opportunities and other fun extras, while other interested parties might pay more attention to business-related information. The key here is the seemingly effortless mix of the two.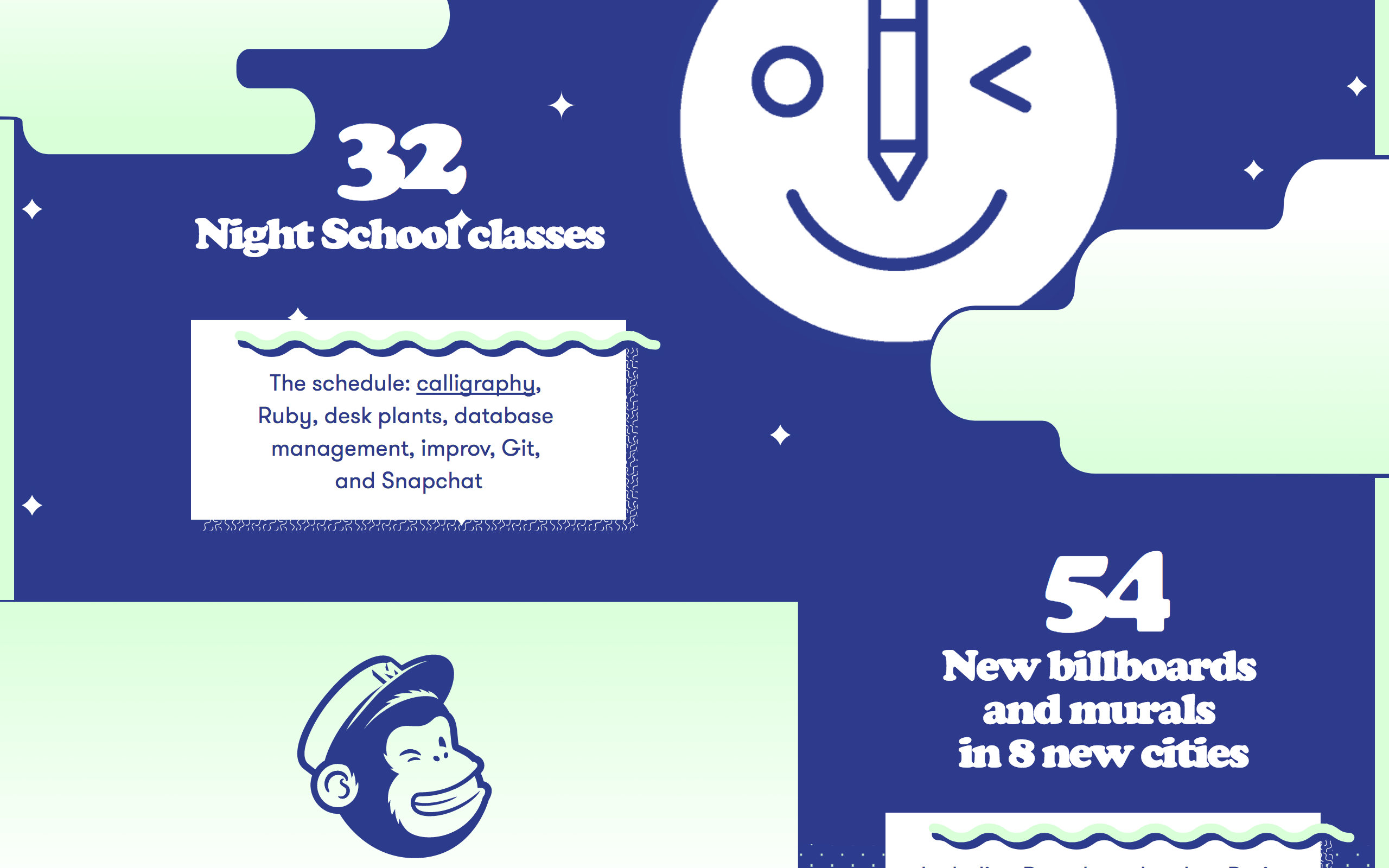 Consider: Who's reading your end-of-year-reports? And who could be reading them? Think bigger, and make sure your design and content choices reflect your brand as well as all potential readers.
Interactive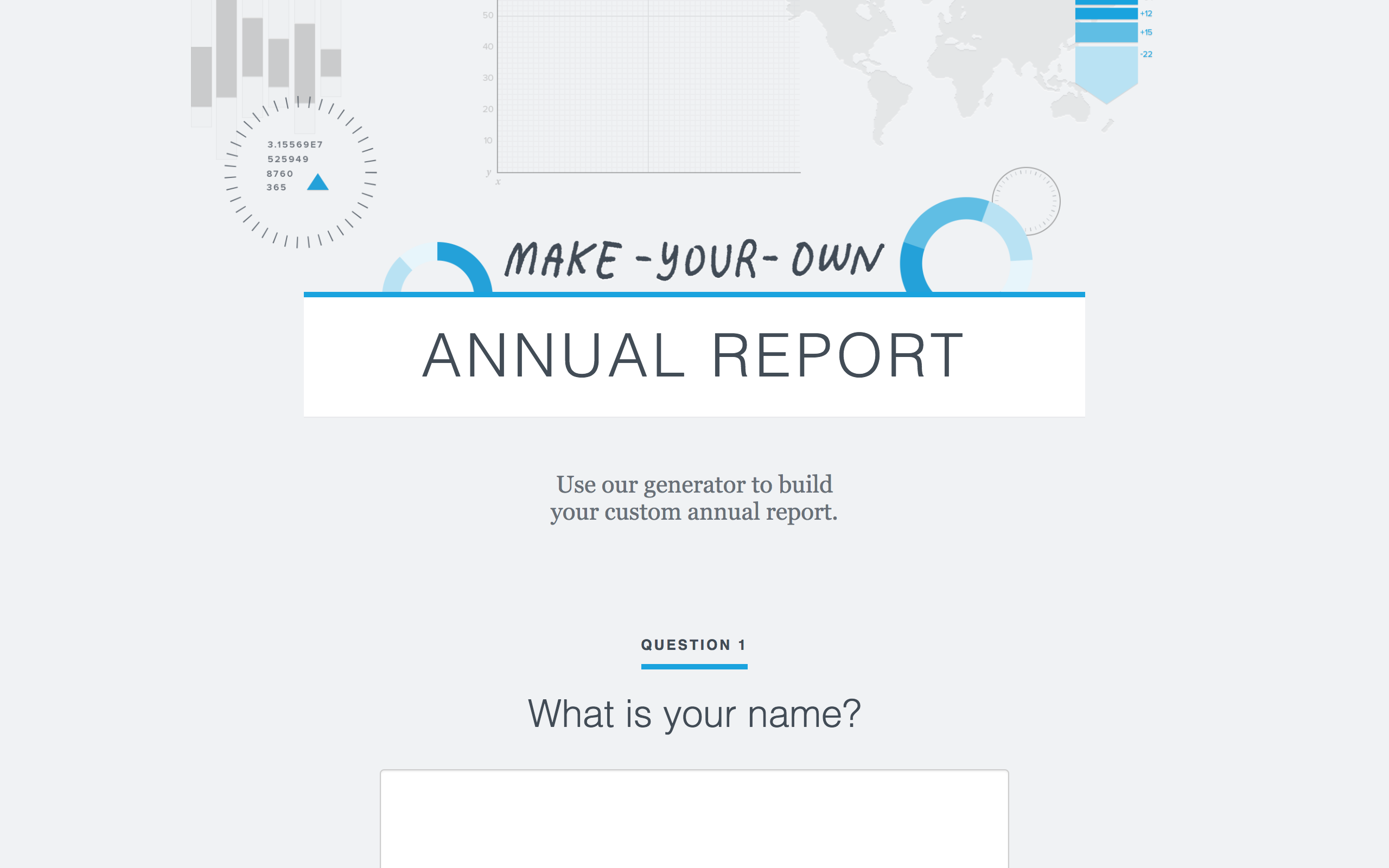 Warby Parker is another brand that's not afraid to improvise and experiment with annual reports. And, as a private company, it's not beholden to the typical rules, like having to divulge long lists of financials. Instead, 2013 and '14's efforts are particularly interesting in their interactive natures, encouraging readers to engage and answer questions for personalized results.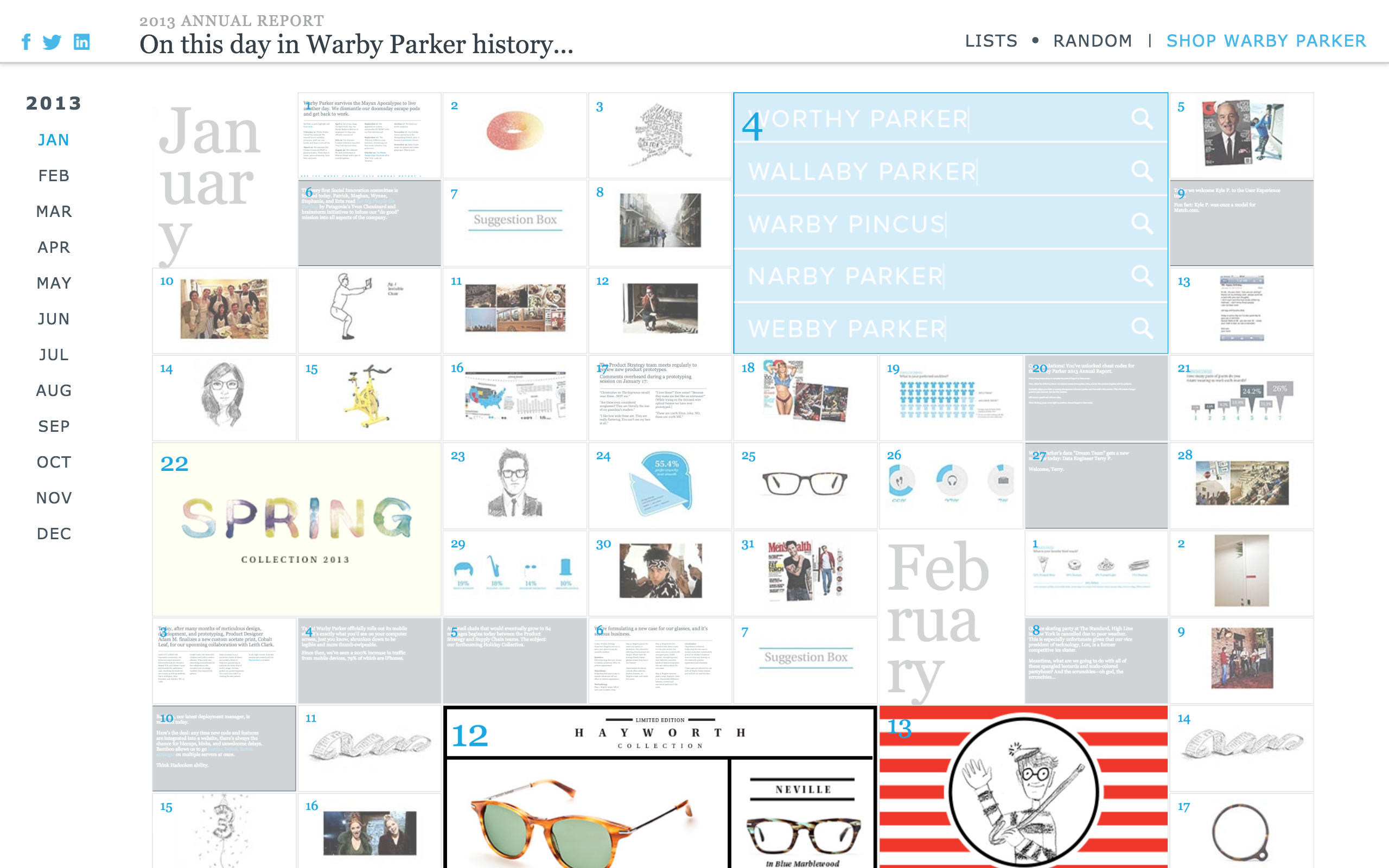 The 2013 report offers an entire year's calendar view, featuring different micro-content for each "day in Warby Parker history," ranging from company milestones, press mentions, and product news, to random details and bits of comedic relief – like the fact that Ryan Gosling wore the brand's specs on the 26th of March that year, or a behind-the-scenes peek into an office full of Where's Waldo lookalikes.
The 2014 report features a unique "Make-Your-Own Annual Report" questionnaire that, when answered, generates a humorous assemblage of projected personal statistics and suggestions. Want to know your spirit animal, reading recommendations, and approximate time spent napping? Fill in your answers and find out.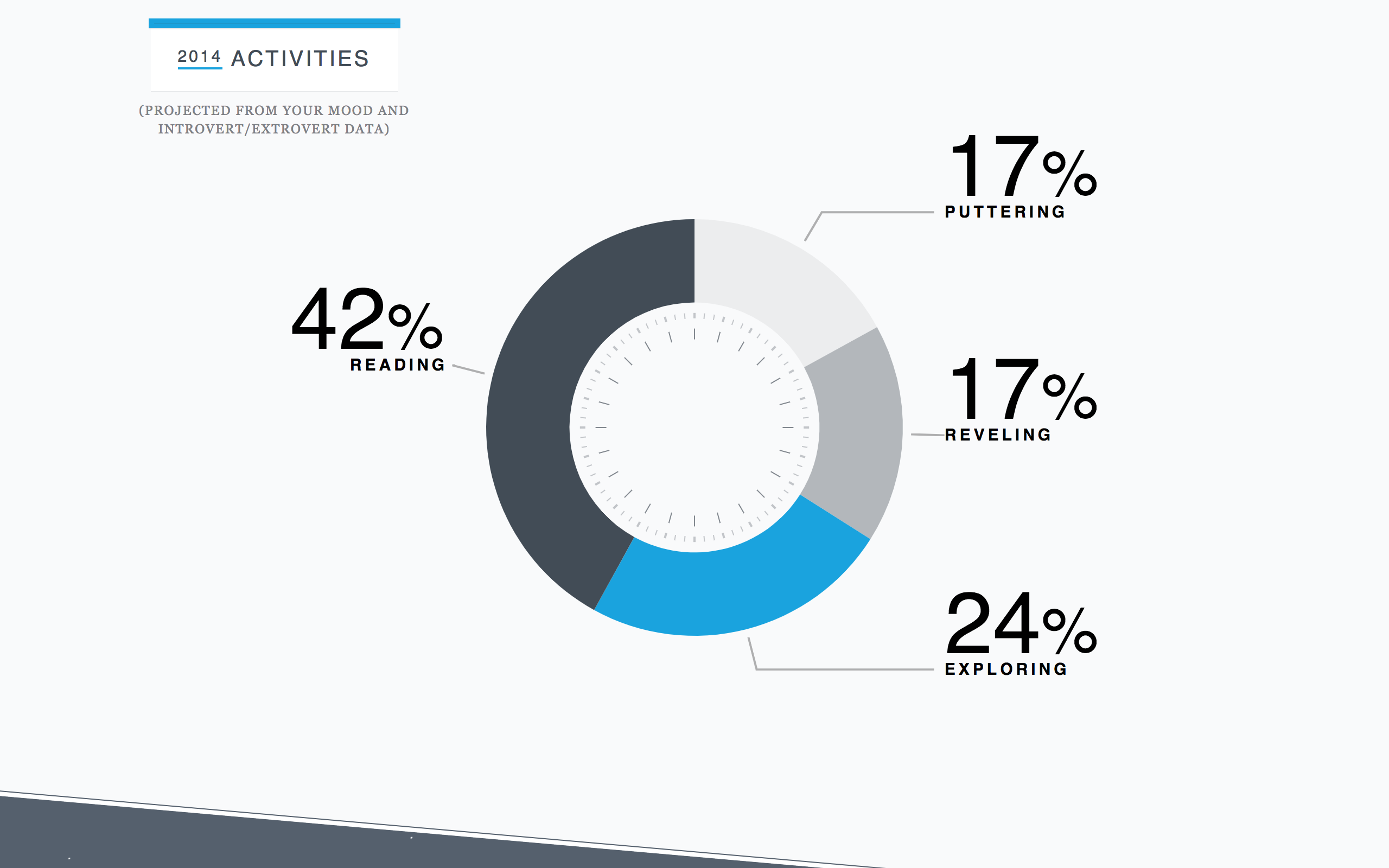 Consider: Sound different? That's because it is. Warby Parker's 2014 effort is "not a report as much as it is an interactive viral advertisement," writes Max Chafkin of Fast Company, "complete with a personalized URL for Warby customers to pass around on Facebook and Twitter." Might your brand have the potential – and the guts – to try something similar?
Outside the Box
Austria Solar may be the winner here, if we're basing prizes on sheer ingenuity. For its 2011 annual report, the company produced something akin to a magician's coloring book at a children's birthday party, and the reaction it provokes is on par. So, what can get grown-ups riled up about a sustainable energy company's end-of-year findings? How about blank, solar-powered pages that reveal their content only once exposed to the sun?
It's the kind of creative thinking that has the potential to go viral – because you have to see it to believe it:

Footage of Austria Solar's 2011 annual report has been viewed more than 200,000 times across YouTube, Vimeo, and beyond.
Consider: With creative ideas and the right talent, nothing is impossible. A valuable piece of content goes a long way, and an annual report has the potential to be just that. How can you maximize its potential and take your efforts to the next level?

Anastasia Dyakovskaya is a NewsCred Contributor.