It's been a subtle shift, but artificial intelligence (AI) has begun to permeate our everyday lives, automating more and more of the world around us. AI now powers Google Maps, Siri, smart cars, internet radio, and your favorite online shops.
And now that AI is coming to content marketing, the industry is poised for disruption.
AI has the power to optimize nearly all our projects and processes, augmenting human skill and creativity to generate ever more relevant, appealing, and effective content for any audience. Beyond marketing, the technology also has the potential to bolster and streamline sales, customer service, and operations efforts while improving productivity and performance.
Some fear the machine's potential to replace (wo)man. But it's human creativity paired with the power of AI that has truly revolutionary potential when it comes to understanding users and data while scaling content and engagement rates. And industry leaders have taken notice.
According to the 2017 Economist Intelligence Unit report, which surveyed more than 200 global business executives, 75 percent said they would implement AI in their companies within the next three years. Seventy-nine percent believed AI will make their jobs easier and more efficient. By 2025, the artificial intelligence market is set to surpass $100 billion.
Will your business be investing? Read on to discover the AI systems and technologies that have already begun to revolutionize the content marketing industry.
Personalization


AI Technology: Machine learning (ML), a field of artificial intelligence that can help marketers understand massive amounts of data, analyze user intent, and generate enhanced and more customized customer experiences.
In Action: AI drives all kinds of personalization efforts, from customized email blasts and landing pages to tailored apps and shopper journeys. Brands are striving to provide ever more individualized experiences to cut through the noise of so much content and competition. And, these days, their success depends on high-level data analysis that goes far beyond human ability.
Several companies have started using IBM's Watson Analytics machine learning and cognitive computing technology, which guides data exploration, provides insights, and is capable of answering human-posed questions. In hopes of facilitating user decision-making, WayBlazer is one such B2B company tackling travel information overload by using the technology to power a personalized recommendation engine. Watson's artificial intelligence technology deciphers conversational language, pulling "in declared (facts shared when a user signs up), observed (information from a linked social media profile), and inferred (evidence from previous searches) data from users," before offering suggestions based on specific needs and user preferences.
With APIs and web and app interfaces, WayBlazer offers its Watson-powered cognitive solutions to a variety of forward-thinking travel brands, agencies, and hotels, like Visit Orlando and Hilton. The latter now has the hospitality industry's first-ever robot concierge, Connie.

Forecast: By 2018, organizations that have fully invested in all types of personalization will outsell companies that have not by 20 percent, according to Gartner.
Chatbots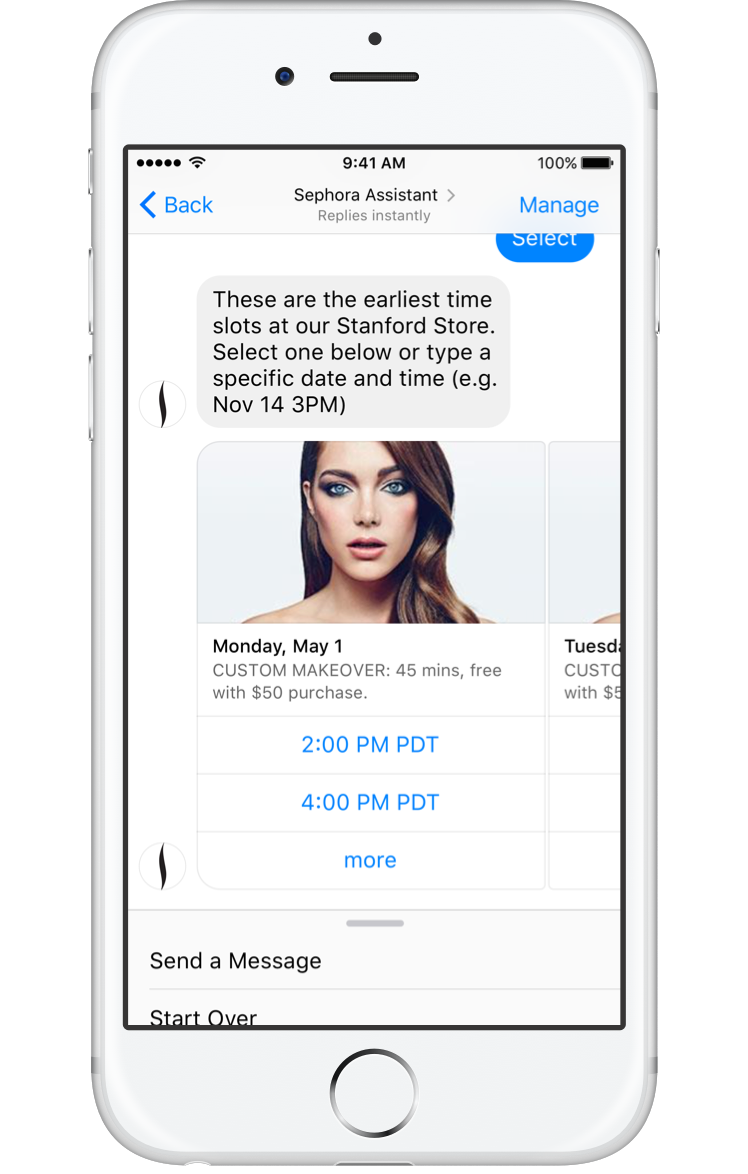 AI Technology: Natural Language Processing (NLP) focuses on the interactions between humans and machines in an effort to optimize machine voice recognition and reading comprehension.
In Action: Watson uses natural language processing as part of its AI systems. So do personal assistants like Siri, Alexa, and Cortana, and the multitude of branded chatbots that simulate human conversation via text messaging. While most chatbots today are not quite true AI and far from market-ready, popular messaging apps have developed ways for companies to communicate with potential customers.
Thanks to the popularity of the medium, brands now have lots of options when it comes to creating a bot for their marketing efforts. For now, many are taking advantage of tools like Facebook's Messenger Platform – which boasts 1.2 billion monthly users – to cash in on conversational commerce without making people download an additional app.
After integrating peer-to-peer payments in 2015, Facebook launched a full chatbot API, allowing businesses to build their own bots, complete with natural language processing that enables direct communication. With 100,000 active monthly bots on the platform already, Facebook Messenger has seen its share of serious success stories. SnapTravel was able to drive more than $1 million in hotel bookings via Messenger, for instance, while Sephora saw an 11 percent increase in makeover booking rates versus other methods of booking.
Forecast: Chatbots will be responsible for cost savings of more than $8 billion annually by 2022, up from $20 million in 2017, according to Juniper Research.
Recommendations + Predictions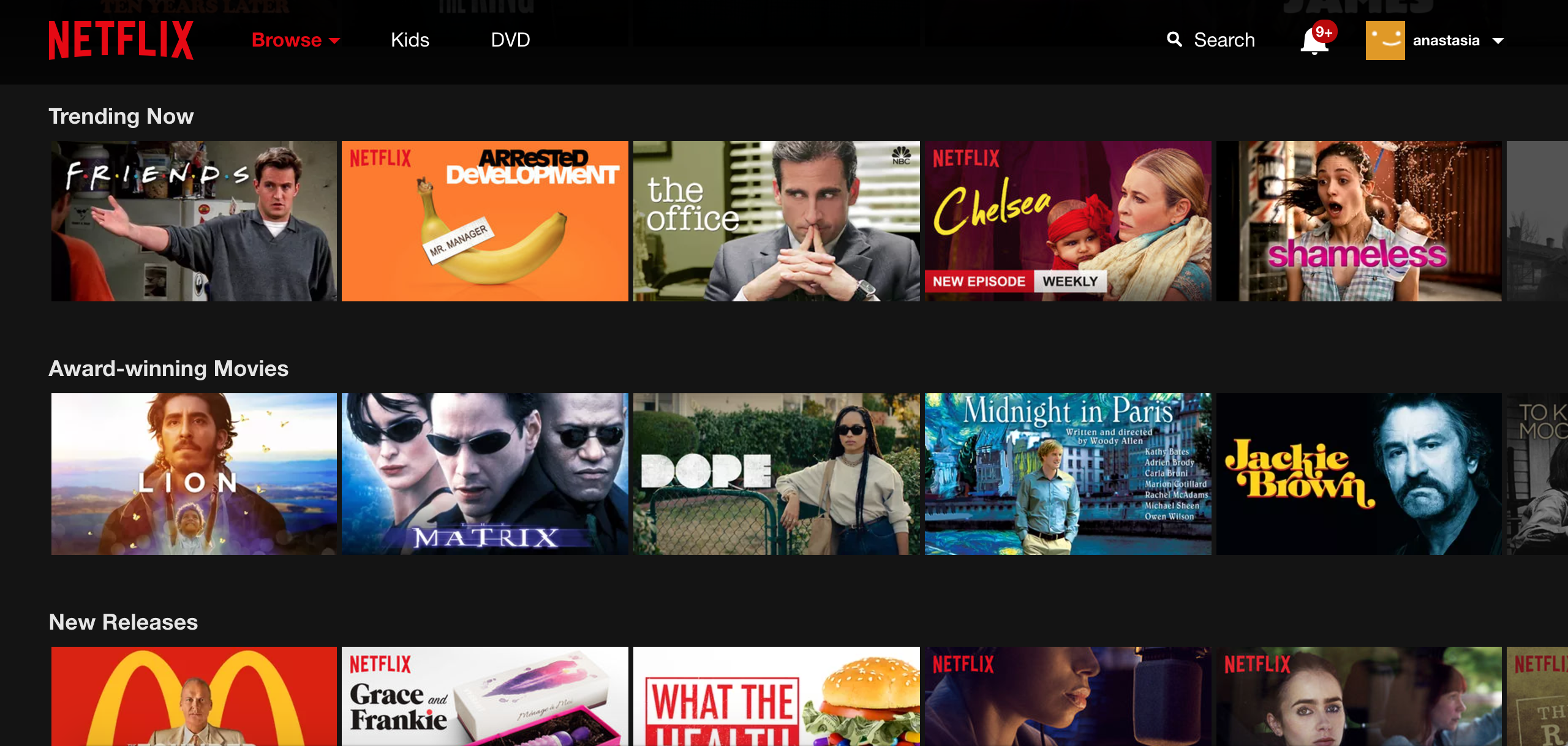 AI Technology: Deep learning is an area of machine learning that deals with processing and analyzing massive amounts of data in any form, from machine signals to audio, video, or text. It functions via algorithms inspired by the human brain's decision-making neural networks.
In Action: Brands and companies, like Netflix, Spotify, and Amazon, use AI to propose relevant suggestions on what to watch, listen to, or buy. Leveraging massive amounts of data, deep learning makes it easy to understand who likes what – and more importantly, who's likely to like what.
But this kind of technology isn't just for our users' benefit. Marketers working on content strategy and production can use AI-powered predictions and suggestions to optimize their efforts. In fact, it's already happening at NewsCred.
"We've built a machine learning model that can predict how much engagement time an article will get before anyone ever reads it," says NewsCred CEO and Co-founder Shafqat Islam. "We're able to scan it, use our model, and come up with a prediction that is +/-11 seconds accurate. It's pretty remarkable."
When it comes to content marketing, the goal isn't to predict, but to give editors suggestions and tips like, "This article likely won't perform because of these reasons. Try addressing these issues." Or, "Of these five articles, this one will likely do the best." But these types of recommendations are set to go beyond a focus that's solely on engagement goals. NewsCred already has an initial version of a machine learning model that can predict social shares with a high degree of accuracy.
The team will next train the model to do the same for actual business results like conversions or sales. "We have data from across our customer base, tens of thousands of published articles, and hundreds of thousands or even millions of outcomes that we can use to train our machine learning models," says Islam.
Forecast: Insights-driven businesses will steal $1.2 trillion per annum from their less-informed peers, according to Forrester Predictions.
Content Automation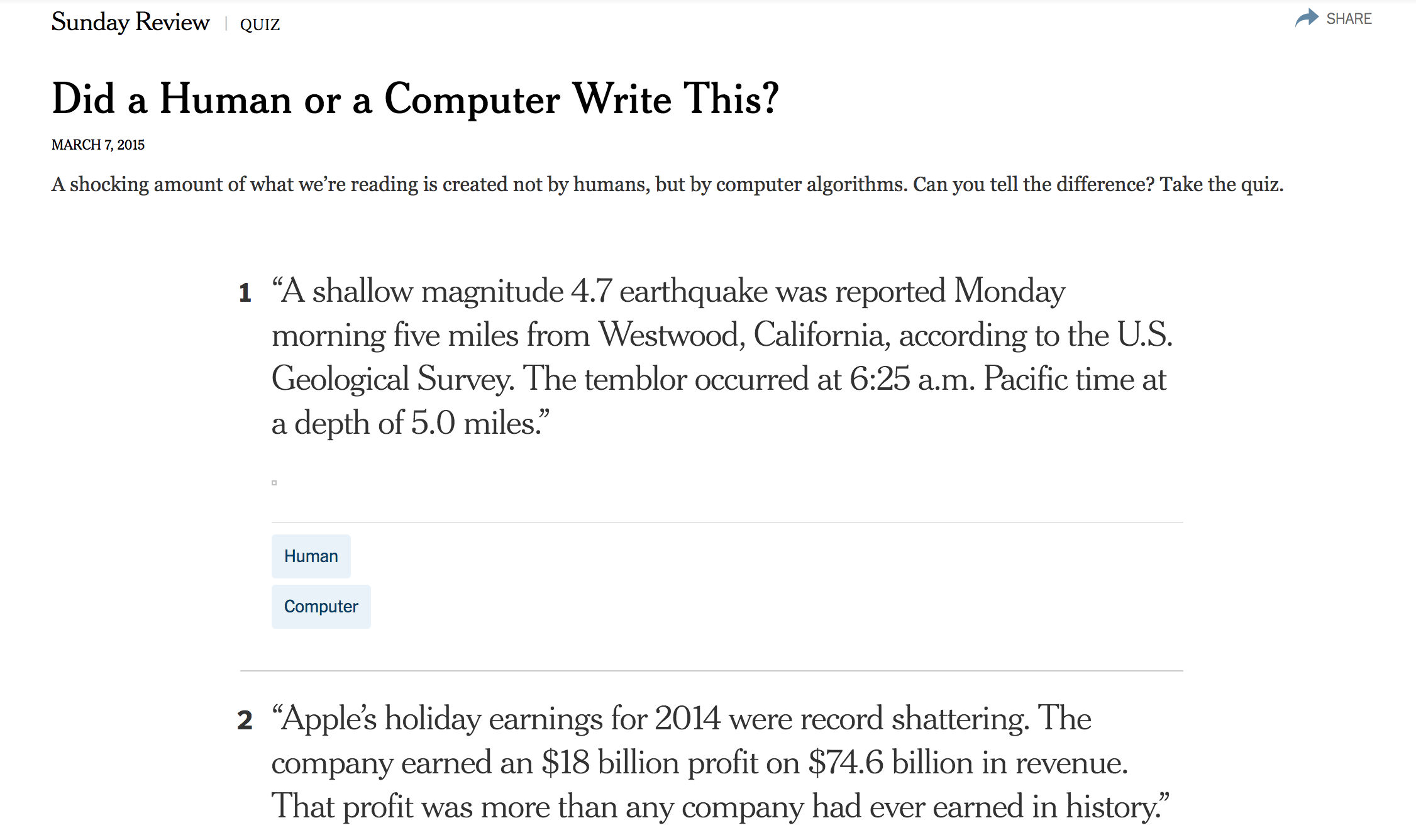 AI Technology: Natural Language Generation (NLG), like NLP, is an area of AI that uses algorithms to translate data into human-like language in the form of auto-reportage, headline production, and more.
In Action: Companies and publishers like the Associated Press, FOX, Samsung, Comcast, Yahoo, and The Washington Post have employed automated content generation for years, mostly using the technology to produce basic news, business, and sports stories. The articles are generally so convincing that a study at Sweden's Karlstad University even found that its subjects couldn't tell the difference between simple sports coverage written by robots and humans.
There's no need to worry, though; the bots won't be taking over any time soon. Even automated content production requires a manmade template, for starters. And then there's that emotional factor that's missing.
"Opinion pieces, which require tone and emotive storytelling, are still better told by humans. But AI can be used to augment that writing," says Ankit Malhotra, NewsCred's Director of Engineering. "Be it suggesting textual changes or coming up with titles, the tech will optimize that piece of content for its particular goals."
While NLG platforms like Narrative Science's Quill and Wordsmith by Automated Insights promise data-driven, comprehensive storytelling for the time being, most other kinds of (creative, authentic, empathetic) content will benefit more from augmentation than automation.
"Natural language processing, coupled with learning algorithms, is where we are headed," says Malhotra.
And in joining forces between human talent and the power of AI, the possibilities for standout content and sky-high engagement seem limitless.
Forecast: Nearly 20 percent of all business-oriented content will be generated by machines by 2018, according to Gartner.


Anastasia Dyakovskaya is a NewsCred Contributor.