Marketers live in a fluid, ever-changing world. Campaigns shift, goals change, and directives come from all over the marketing organization. In order to manage all of the intricate details, marketing teams must have solid and reliable communication tools and processes to keep everyone in the loop and enable agile marketing.
Learn how today's marketers are turning to tech to keep the lines of communication open and facilitate agile project management so they can thrive in a fast-paced digital landscape. But first, more on what an agile marketing approach entails and the methodologies behind it.
What is agile marketing?
Stemming from the agile methodology often used by software developers, agile marketing is the ability to adapt, continuously optimize, and pivot quickly without waiting on key information and approvals to come down the pike. It ensures marketing teams are operating efficiently and collaboratively.
Agile marketing has become more than trend, with half of traditional marketing teams say they're planning to begin their agile transformations within a year.
Why adopt agile marketing?
Nowadays, marketers need to be nimble, as things are in a constant state of flux – and that's especially true for B2B marketers who must be able to meet client needs and goals. "A single data point on a digital campaign could trigger a significant pivot," says Shahed Ahmed SVP, Partner at Merritt Group, a digital marketing and PR agency. Or, an influencer action might present a great opportunity. "Keeping up with micro-interactions across the buyer journey with a constant stream of associated data demands more integrated teams," he says. In other words, agility is at the forefront.
For most marketers, the three main drivers for marketing agility are to improve productivity, be able to change priorities, and increase innovation — among other factors (see graph below.)
How to get started with agile marketing
In a recent survey done by AgileSherpas, agile marketing teams said that the consistent use of processes and practices across teams (45%), online training and webinars (33%), and the implementation of an Agile project management tool (32%) are the most important components of a successful move to Agile.
In addition to choosing the right platforms and tools to meet all of your needs, here are some important must-haves for creating an effective marketing communication plan that encourages agile marketing.
The Scrum framework
If you're entirely unfamiliar with agile marketing, "scrum" may sound a little odd. However, any team that is going agile should instate a Scrum framework as a way of working together effectively and efficiently.
What is a Scrum Team?
A Scrum Team is a group of cross-functional individuals (in this case, members of your marketing organization) who collaborate to execute on a deliverable(s), which is done in a "sprint." Each Scrum Team should be led by a "Scrum Master," someone who ideally has experience in agile marketing and has the ability to lead the team.
To ensure optimal outputs, there must be a balanced set of skills among the members of each Scrum Team. For example, you might have your social media manager, content manager, demand gen director, email marketing manager, and event marketing manager as part of a single Scrum Team to execute on an upcoming event and all of the surrounding deliverables. This framework supports an agile marketing approach as it allows small, pre-determined teams to continually update, optimize, and iterate on the campaigns for which they're responsible.
Responsibilities of a Scrum Team
When practicing agile marketing, each member will have their own responsibilities that tie to the larger purpose of the group. The "Scrum Master" holds the most authority, as they are responsible for setting priorities, delegating stories (known as "tasks" in the marketing world) managing the backlog (meaning a prioritized to-do list), identifying necessary resources, and managing sprints.
It is the overall responsibility of the Scrum Team to execute on the specified sprint — in marketing, this would equate to a campaign (e.g. product launch, event, eBook, etc.). As explained by agile training agency AgileSherpas, these are the 4 actions that a Scrum Team needs to take throughout the duration of a sprint:
Sprint planning: Determine the primary objective and a plan to reach it
Daily Scrum: Use a daily standup to provide quick updates on the sprint
Sprint review: Once the work is completed for the sprint, present it to your Scrum Team
Sprint retrospective: Discuss what went well, what could be done better, and what should be changed
Scrum Team best practices for agile marketing
Use a backlog to determine the focus for your next sprint
Sprints should last less than 4 weeks
Limit Daily Scrums to 15 minutes for maximum time efficiency
Use sprint reviews as a time to update your backlog and iterate based on sprint (i.e. campaign) success
Make sure your retrospective results in an actionable takeaway for your next sprint
Measure time spent on stories (i.e. tasks) to ensure operational efficiency
Integration, communication, and collaboration are the keys to Scrum success
Centralized briefs and calendars
Centralized briefs, shared calendars, and a way to post comments and insights are all important for agile marketing and from a Scrum Team
perspective.
When Lisa Camerlengo, marketing leader at StoneTurn, a global advisory firm, led her team through a rebrand in 2017, there were a million moving parts from a communications perspective, both internally and externally. "We managed it successfully — with an extremely lean team — by establishing a solid agile marketing management plan at the outset," she says.
The plan not only included regular Daily Scrum meetings (both in-person and through phone calls), but also frequent communications via e-mail, spreadsheets, calendar notices, and data maintained through a project management tool with shared access for the entire team. "This helped to keep us all informed of upcoming deadlines and action items. Without this communication and close collaboration, it would have been impossible to complete the project within the tight timeline of approximately nine months," says Camerlengo.
Clear deadlines and change notifications
Not only does your Scrum Team need to be able to refer to the marketing brief and deadline schedule as specified during the sprint planning stage, but when things change, everyone has to get the memo. This is key to successful agile marketing.
"In the professional services world, direction can change on a dime, so it's critical to ensure that all team members are connected," says Camerlengo. In addition to daily standups, natural checkpoints are built into the project lifecycle and embedded in the project management tool her team uses as well. "These check-ins during the process and final reviews before distribution provide a record to refresh our memories when necessary, or work as a way to coordinate if someone is unavailable and needs to catch up later," she says.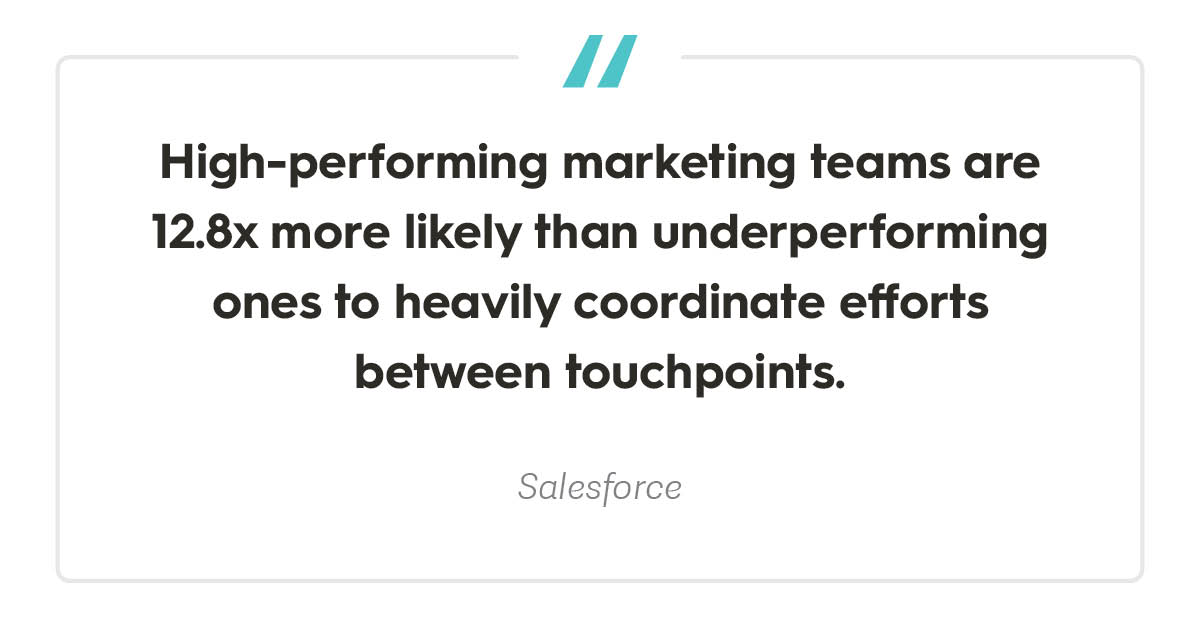 A commitment to integration
It can be challenging for a marketing team to communicate if everyone is working in their own tech or spreadsheets. For instance, the social media team is in one platform, the content marketing in another, and the demand gen group is working in a CRM. Having the opportunity to work in the same system is an integration — and agile marketing — win.
"Integration is the name of the game when it comes to marketing today," says Ahmed. "Especially for buyer's journeys that can last more than 18-20 months, prospects need to feel like they are interacting with one company," he adds. "The marketing and sales teams need to be able to stitch together all those micro-interactions to have a broader impact of driving sales," he says. That's why he calls silos "anti-marketing."
Camerlengo agrees, noting that when teams are operating in silos, it forces everyone to update information in multiple places. "That's an extremely bad use of time," she says. And even worse, sometimes the information isn't shared at all, which greatly inhibits teams' abilities to execute agile marketing and continually optimize campaigns.
Adoption of purpose-built agile marketing tools
Some cloud technology platforms are starting to pull together marketing automation software, CRM, social tools, creative suites, and more. The marketer's job is to figure out which platforms are best for workflow, collaboration, and reporting. Keep in mind that just being centralized isn't enough. For example, Google Docs is centralized, but it doesn't necessarily enable agile marketing.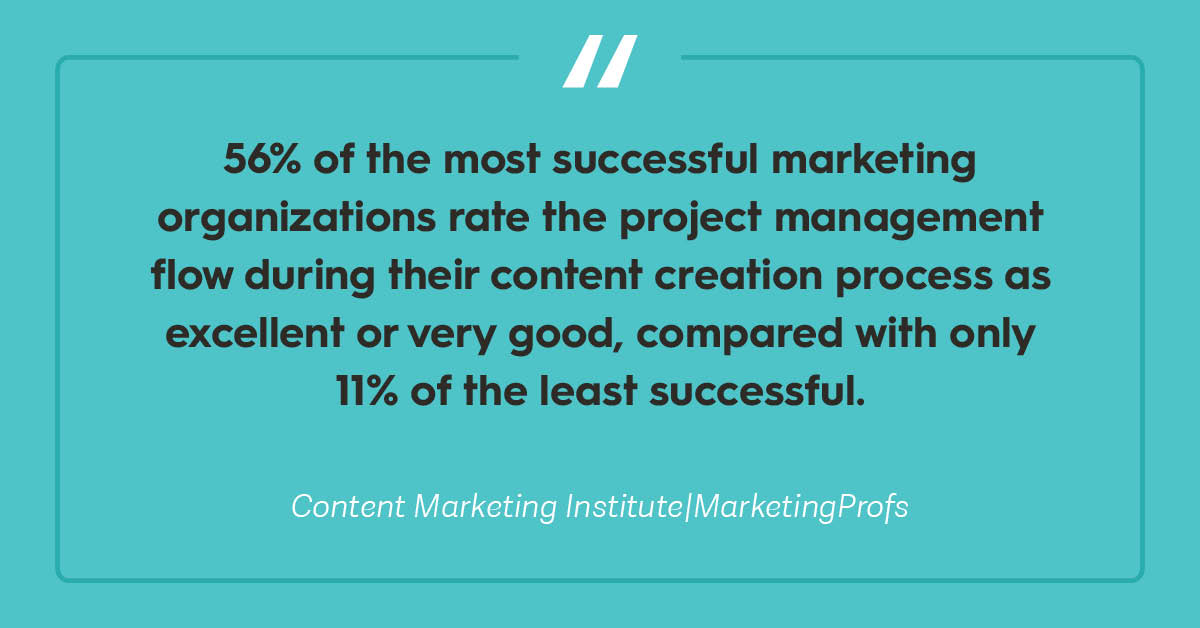 Request a demo to see how NewsCred's CMP can help your marketing organization be more agile.
Communication to avoid campaign mistakes
Poor communication often leads to mistakes, particularly on the content side. "For example, when a communication is distributed before it has been reviewed by all of the appropriate parties or hasn't been properly proofread, it can damage a firm's reputation if the information is inaccurate or positioned incorrectly," says Camerlengo.
Even with a robust campaign strategy, it's hard to predict and plan out every action and outcome, which is why good communication and an agile marketing approach is so important as things evolve and change, says Ahmed. By using the Scrum framework, your team will have a concrete plan for reviewing, optimizing, and retrospecting — all of which are critical components of communication throughout the integrated campaign process. "A great campaign strategy still matters a lot, but you should be listening to the campaign data, and be able to quickly respond to tweaks in-market."
Ultimately, marketers need to ensure that all boxes have been checked before pressing 'go' on a new launch and be able to make ongoing iterations throughout a campaign, says Camerlengo. Having the technology and agile marketing processes in place can help set your team up for success.
Interested in learning more about NewsCred and our solutions for cross-collaboration and agile marketing? Fill out this form.