For enterprise marketers, there are key factors that contribute to the overall success of your email marketing strategy.
Technology is becoming more sophisticated, and so should your success metrics.
As Marketo states, "A riveting subject line or persuasive email copy is only as good as the revenue it generates: You don't just want opens; you want actual sales." That's where email engagement and ROI attribution come into play.
So, how do you define email engagement, you may ask?
It's a question that has plagued marketers for some time, and marketing automation programs have different ways to measure it.
For example, Marketo uses a proprietary algorithm that quantifies those core metrics, plus a statistical algorithm, to create a single numeric value. They use 50/100 as a threshold for an "average" email send performance, benchmarked against nurturing emails:

On the other hand, Pardot creates a data report for how your recipients engage with your email over time. They use activity as a means of engagement: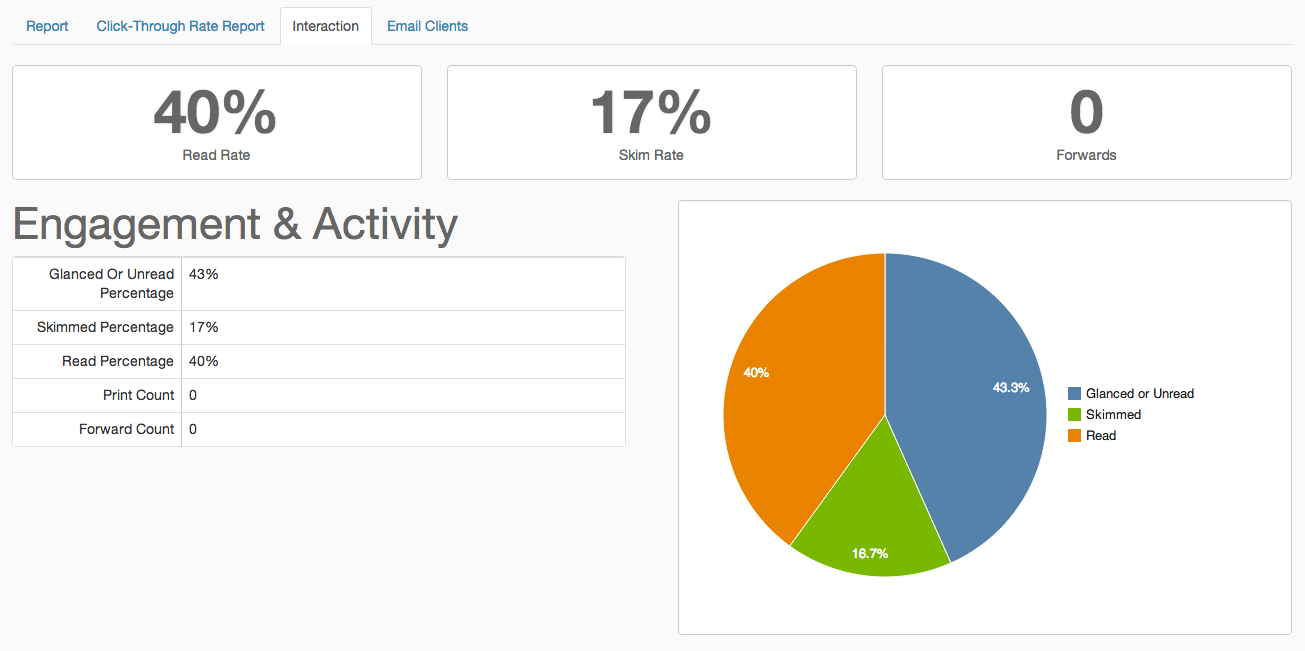 Whatever platform you're using, the important thing to consider is what success looks like for your company and your subscribers. You can begin by asking questions such as:
What is the long-term engagement of your subscribers?
How are you measuring lifecycle engagement at each stage of the funnel?
Are certain behaviors or categories more important than others?
Are certain lead segments more important than others?
Once you've defined success, you can put a plan in place to get there.
When you're looking to attribute email engagement to your overall marketing KPI performance like increasing brand equity or driving marketing-influenced revenue, you must first determine the basics: Your purpose, goals, and plan for optimization.
From there, you can then dive into nurturing, lifecycle marketing, and database management for a 360-degree view of marketing engagement across your brand.
While the process of managing an engagement strategy can be multi-faceted and time-consuming, developing the core understanding and putting a plan in place is actually a lot simpler than you think.
In this post, we'll look at what this strategic process looks like. We'll cover how to:
Develop an optimized newsletter strategy
Build a welcome series
Personalize and segment your lists
Offer subscription preferences
Re-engage dormant leads
Develop the fundamentals of good database management
Ready to get started?
Let's begin.
1) Develop an Optimized Newsletter Strategy
At the core of your email strategy (and to an extent, your marketing strategy) is a well-thought out newsletter program. In its simplest form, the newsletter is your opportunity to showcase your thought leadership, industry or company news, and calls-to-action for premium content, events, webinars, and other brand-specific marketing programs tied to your lead nurturing strategy.
In a recent post, we detailed five important ways to take your newsletter strategy to the next level. As you consider each step, be sure to consider your newsletter's purpose and goals, and make sure that every decision will work towards them.
Step 1: Create a Documented Strategy
When setting up your newsletter strategy, you should look at the following aspects to determine your overall approach:
Email cadence
Number of articles per newsletter
Target open rate
Target clicks/traffic
 This will allow you to create a framework from which you can benchmark and improve.
Step 2: Determine Layout and Formatting
Next, you'll want to consider the look and feel of your newsletter. This involves determining the amount of information you'll provide, your branding, and how the design can impact your goal performance numbers.
There are generally three options when it comes to your newsletter layout:
The Simple Newsletter Format: A minimalist layout that you can customize to your needs and use for testing.
The Complex Newsletter Format: A more detailed layout with many different pieces of content to draw readers' attention. You're going to want to focus on click-throughs, when choosing this option.
The Choose-Your-Own-Adventure Format: If you have the time and resources, you can allow your subscribers the option to pick the format they want. This feature is better supported through the use of a marketing automation platform like Marketo or Pardot.
Consider using Litmus' free selection of newsletter templates that have been pre-tested to be responsive and email client-friendly. You simply opt-in to download their entire template database and cherry-pick what you want.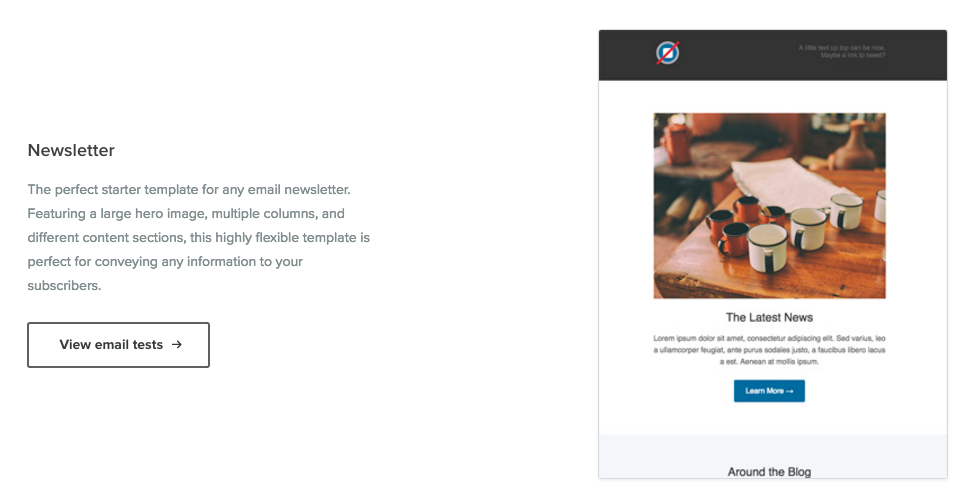 Another option is to check out ReallyGoodEmails.com. It's a personal favorite of mine because they provide inspiring examples of newsletters used by famous brands around the world.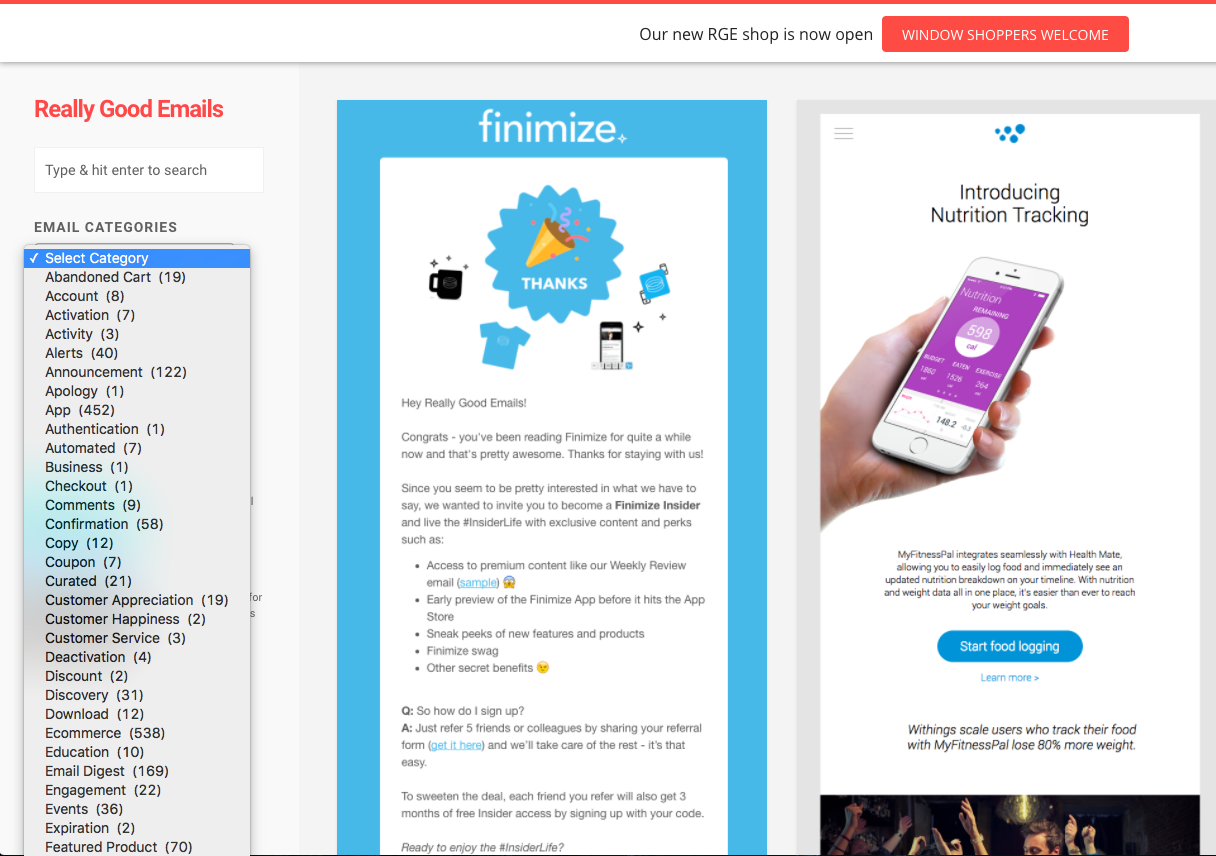 They are also broken up into categories and most offer the actual code of the email so you can extract and re-purpose the layout to suit your own brand.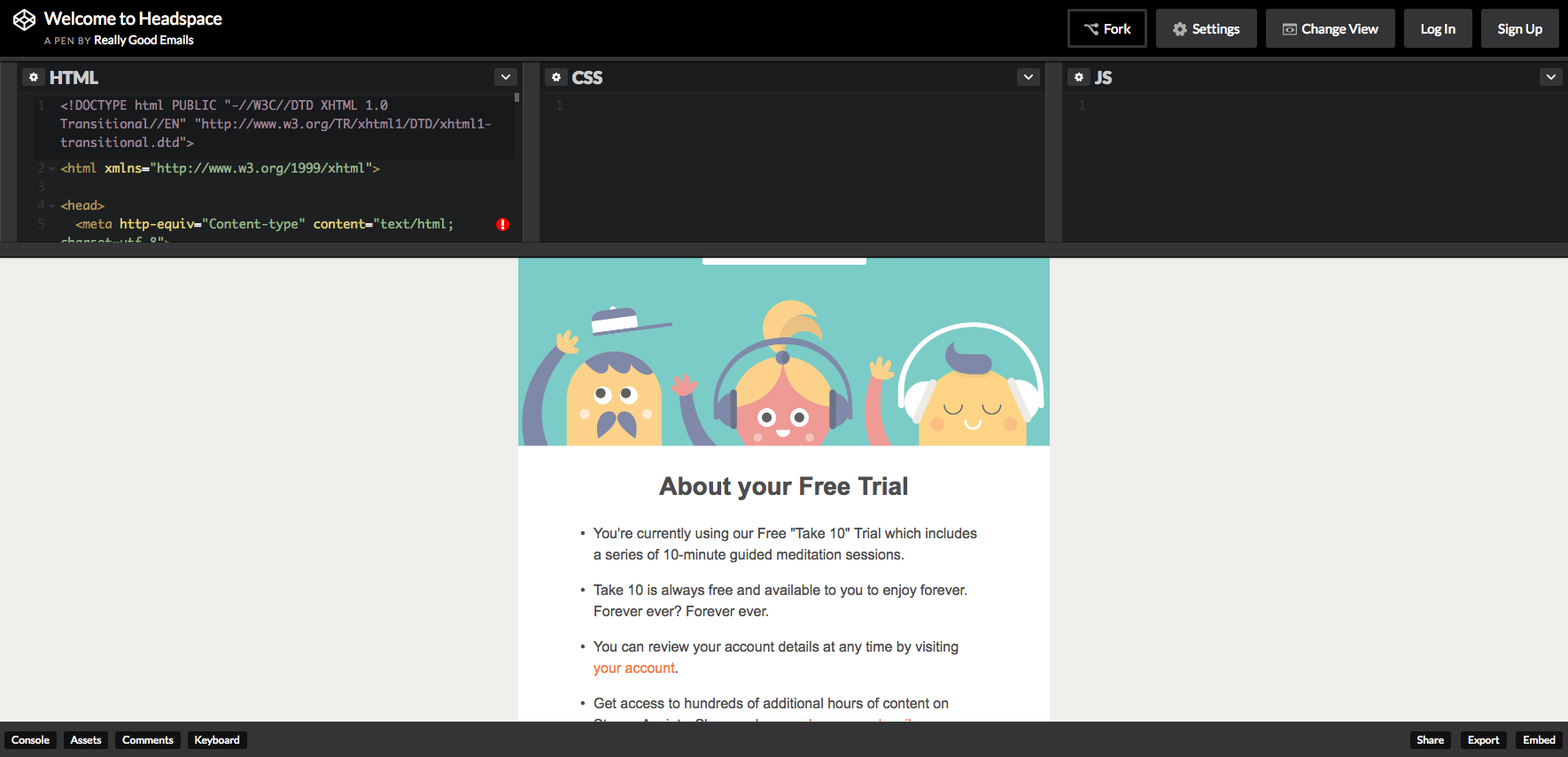 Step 3: Set up Newsletter KPIs
This step is key: Developing a KPI plan will allow you to effectively measure the success of your newsletter program. You can do this a number of ways including, but not limited to:
Developing a scorecard
Creating an analytics framework
Using channel traffic information
Setting UTM parameters
Understanding behavioral goals
Read more about each of those KPIs here. By developing the foundation for measuring success, you can then build out the plan to optimize your newsletter program and ensure it's meeting your engagement goals.
Step 4: Optimize Newsletter Performance
With a foundational strategy, smart layout decision, and core metrics to benchmark against, you can work to increase the overall performance of your newsletters through the following steps:
Create a newsletter name. Think of catchy names that will make your newsletter memorable. Check out HubSpot's post on some of the best newsletter examples around to help get your creative juices flowing.
Be mobile friendly. According to Litmus' Email Analytics Report, as of September, 2016, 56% of email open rates occurred on a mobile device.  
Be inbox friendly. Consider the subject line, avoid spam triggers, and consider preheader text and any sort of personalization to attract your audience into opening the email. The more engaged they are with your newsletter, the more likely it will continue to show up in their inbox.
Step 5: Always Test!
The last key area of developing a newsletter plan is create a testing strategy and calendar. Determine what you plan on testing, for how long, and what you plan to do with this data.
Ask yourself questions, such as:
What am I focusing on improving? Open rates? Click-throughs?
How long do I need to test this to have enough data to support my hypothesis?
What kinds of tests can I run based on what I'm focusing?
By focusing on benchmarks with your tests, you will always find room to improve and keep your newsletter as fresh and engaging as possible.
2) Build a Welcome Series
The great thing about new subscribers is that they're a more highly engaged bunch! However, unlike longer term subscribers who understand your story, new subscribers are, well, new.
As email service provider MyEmma puts it: Think of it this way. When someone walks into your store, do you immediately ask for their credit card number? Nope. First, you craft an experience that creates connection and warmth – a helpful associate, a gorgeous product display, a cool video tutorial. The email equivalent? A welcome series.
The welcome series is statistically the best email (or series of emails) you will ever send.
The reason?
You can predict the level of engagement and improve list quality at the same time.
As MarketingLand stated in their post on predicting subscriber engagement and value, 64% of overall engagement levels were attributed to the welcome series (see image below). They also determined that a welcome series resulted in 42% greater read rate based on tests from Google, Yahoo, and AOL.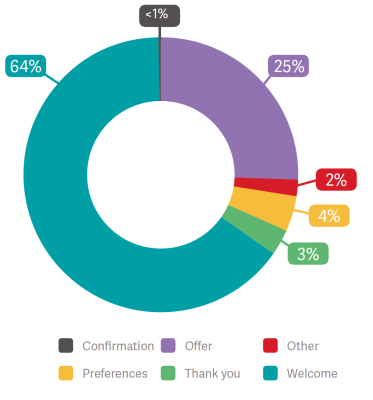 MarketingLand also saw that the success of a welcome series directly correlated to the engagement of a list overtime. In the same analysis, "it was found that subscribers that read the initial welcome message were far more likely to read subsequent messages from a brand. While messages being read by subscribers dropped dramatically after the first welcome email was read, future messages were read at about a 50% rate for 180 days after.
Look at the welcome series as an opportunity to increase overall conversion rates, upsell readers to higher value content, and move quality leads further down the funnel.
For example, HubSpot does a fantastic job laying the foundation of what to expect from their welcome series, while also providing opportunities to download more high value content. I guarantee that if HubSpot still does any sort of manual lead scoring, I was scored according to what I clicked.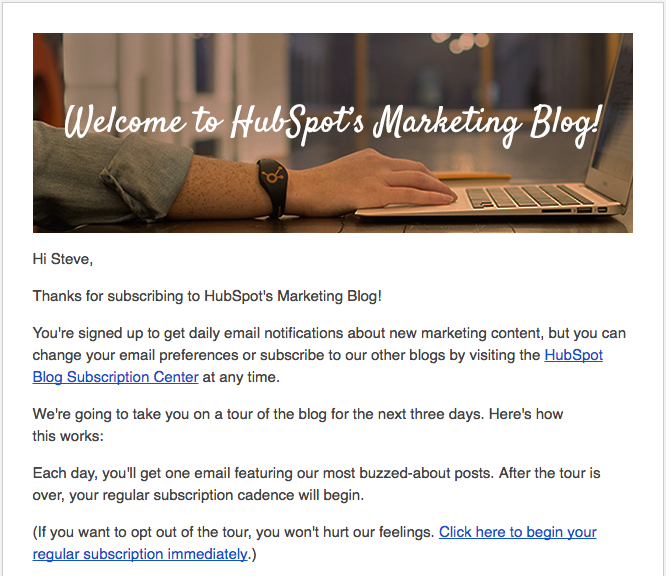 Here at NewsCred, we have subscribers and members on our Insights blog. Subscribers enter their email addresses to sign up for our newsletter. Members provide more information, including their company name and job title, to not only sign up for our newsletter, but to access our high-value content, like whitepapers and webinars.
Subscribers and members receive different welcome series.
Our goal with the subscriber welcome series is to upsell you to become a member. While we value subscribers and members, we consider members to be slightly more engaged since they're providing more time and effort to obtain our content.
The takeaway here is that you can learn to determine the quality of your data based on the performance of your welcome series. If you're seeing low open rates from your welcome series, that will have a direct impact on the rest of your emails and how successful you can tie them conversion rates and overall revenue.
Like any first impression, you can win or lose a subscriber by your first series of touches with them. You spend so much time on your website experience, so why not consider the same with
your welcome series emails?
3) Personalize and Segment Your Lists
As I mentioned before, here at NewsCred, we segment our lists immediately. The reason for this is to not only determine who our new subscribers are, but how they opted-in.
Our goal is to create an extremely personalized experience off the bat that we constantly look to improve overtime.
The Need for Personalization
According to research conducted by Experian Marketing Services, personalized emails deliver 6x higher transaction rates.
And a study from Ipsos MORI with eMarketer shows that personalized emails will result in an 82% increase in open rate as well as a 75% increase in click-through rate.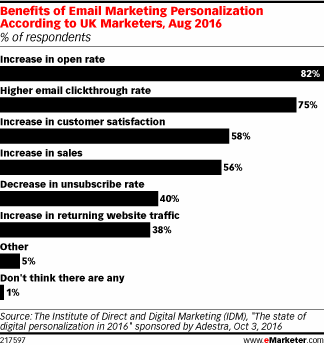 The short of it: Personalized email simply works better.
The Need for List Segmentation
Depending on your goals for email engagement and optimization, you can segment based on just about anything. If you're just starting out, you can create cluster groups for new or existing subscribers:
Vertical
Interest groups
Territory
Job role
Activity levels
Lifecycle stage and/or status
Bounced, suspended, or blacklisted
Once you get a little more sophisticated with your segmentation, you can build out models from multiple pieces of data to bucket your lists into groups, such as:
Customer lifetime value
Propensity models
According to EmailMonday's article on smart email segmentation, propensity models are "a group of statistical methods and scorecards that is used to predict future behavior of customers." You can use propensity models not only for current customers but for your lead database as well. You can look at factors such as:
Propensity to unsubscribe
Propensity to engage
Propensity to buy
Propensity to churn
Using this information, you can segment your leads and customers to more effectively engage with them.
4) Offer Subscription Preferences
Another easy way to increase the likelihood for higher engagement is to simply ask your leads how they want to receive your emails. This is where operational emails that offer this option or subscription preference centers can majorly increase the level of lead engagement.
A Subscription Preferences page can replace the existing unsubscribe page that is required under the US CAN-SPAM Rules. With an unsubscribe page, your subscribers have no option to actually choose what they want to receive. Some may want to just unsubscribe, but others may want to simply change what they receive. This is where a management center comes in.
According to a recent CampaignMonitor survey, 53% of subscribers say that email frequency is too high. In order to offer a highly customized experience while reducing your opportunity for unsubscribes, you need to create a subscription preferences center to allow subscribers and leads to choose the types of emails they receive. There are four key reasons you should look to create this preference center:
Reduce the number of unsubscribes, complaint, and spam reports
Showcase your email offerings and allows subscribers to choose their own emails or lists they want to be a part of
Help with your own segmentation strategies
Improve email deliverability and company transparency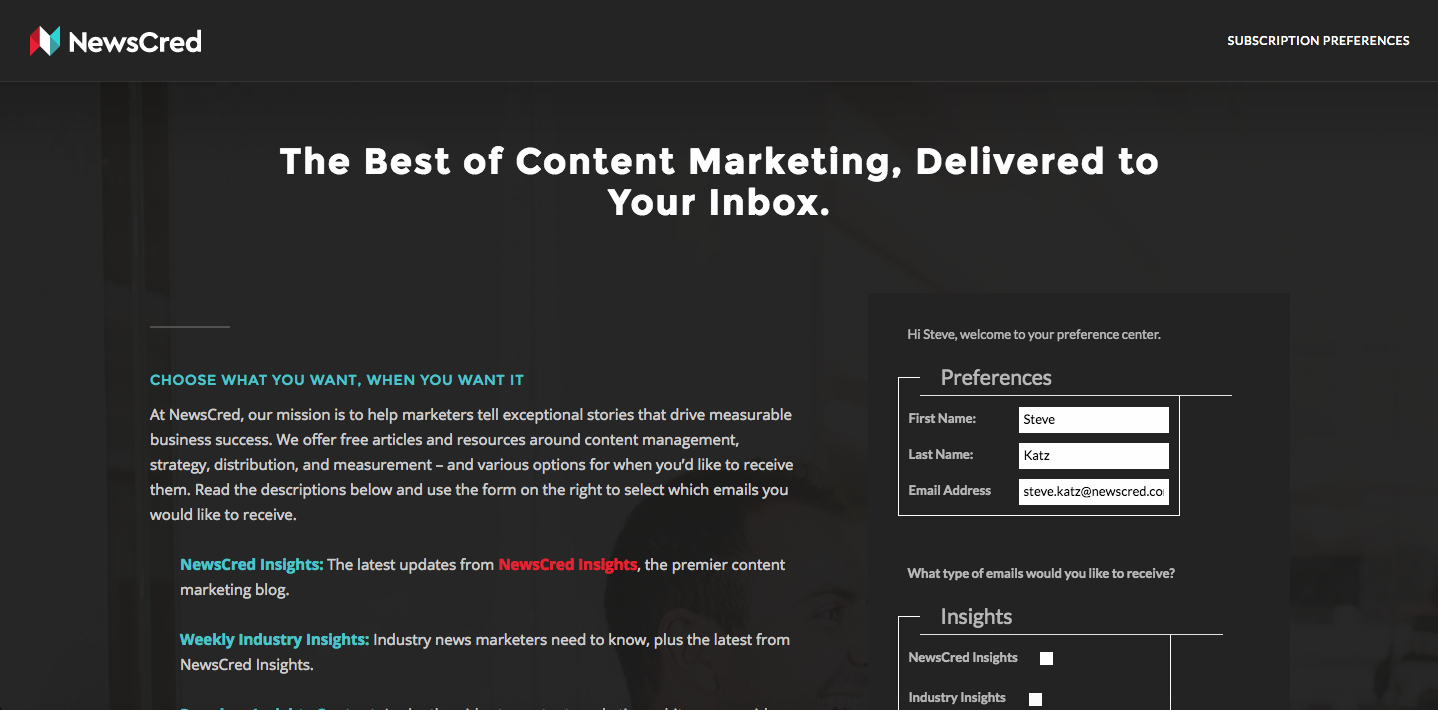 As you can see above, when you receive a marketing email from NewsCred, you can click on the footer option to update your preferences. It will take you to this page, describing the types of content we offer you via your inbox. You have the option to choose the types of emails you want to receive or pause your subscription for 30 days.
Now that we have a solid understanding of the purpose of building a subscription preferences center, let's dive into the process of developing your own:
Step 1: Determine the Database Fields in Your Email Software or Marketing Automation Platform
If you're using a marketing automation platform like Marketo, HubSpot, or Pardot, you can use existing fields, or create additional ones based on what customization you're providing your subscribers. 
Some options to consider are:
Frequency
Email types (e.g. Daily, Premium Content, Webinars, Events)
Product types
Vertical-specific
Job role-specific 
The possibilities are endless. HubSpot, alone, has roughly 36 different subscription options on their page; here, just a few examples: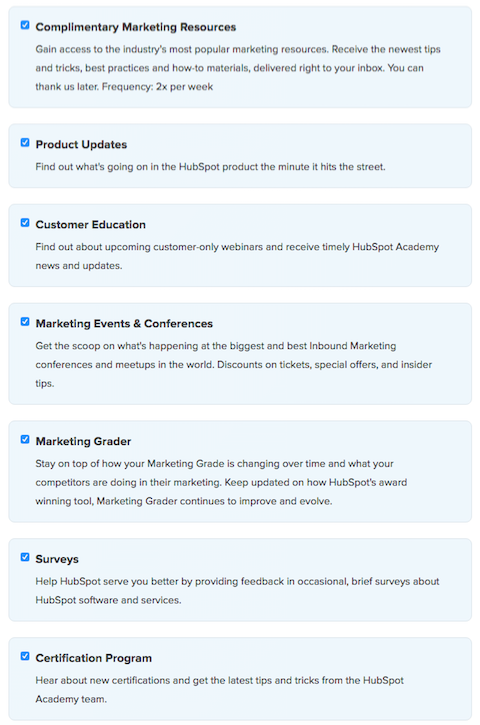 Step 2: Create the Appropriate Smart Lists
Once you have the particular fields you want to use or create, you will then want to build smart lists in your marketing automation platform to pull in both "opted-in" and "opted-out" leads.
Step 3: Build the Form, Landing + Subscription Saved Pages
Next step is to actually create the major assets for your subscription center. This involves building the form with the appropriate fields and making sure that any submissions of the form will redirect to the subscription saved page. Build the subscription saved page and then the actual landing page. Connect the form to the landing page. Here are links to specific automation platforms and how to set up management centers within their systems:
Step 4: Build the Workflows or Campaigns
The final step is to program the logic of your subscription rules. This will be done with campaigns or workflows. This may be an optional step, but having had experience with both Marketo, HubSpot, and to a lesser extent, Pardot, I can attest that these are extremely necessary steps for building opted-in and opted-out logic instantaneously.
5) Re-Engage Dormant Leads
Just like any relationship, there will be periods of peaks and valleys. Early on, subscribers are excited about what you have to say – they opted-in for a reason!
However, over time, that excitement can begin to wane. You may have offered them discounts one too many times, or sent them the latest guide in which they may not be interested.
When subscribers become disinterested, their activity levels decrease. Before you know it, they've gone silent for months.
But, that doesn't mean you've lost them forever. No, quite the contrary. But first you have to ask yourself: Are they worth keeping?
According to an interview between Campaign Monitor and Sri Somanchi from Gmail's Anti-Spam Team, "Gmail wants to see evidence that your recipients love, or at the very least, want your messages as a determining factor for whether or not you land in the Spam folder." If the balance is off between your active and inactive subscribers, your deliverability may begin to suffer and you'll get blocked all together.
Litmus offers a great post on how to build your re-engagement strategy. They offer three key areas that comprise a program:
Determine if the subscriber is worth re-engaging
Develop the program or campaign to execute a re-engagement strategy
Develop a program or campaign for saying goodbye to your inactive subscribers
Step 1: Determine if the subscriber is worth re-engaging
When developing this re-engagement strategy, you'll need to first define what an inactive subscriber means to you.
You can ask yourself if there are certain types of behavior like inactive opens or clicks, or if the email address is still valid.
You can look at the frequency of your emails to determine an appropriate activity level. For example, if you send out a weekly roundup email, then 4-6 months may be a suitable amount of time to measure. If it's a daily email, then maybe 2-3 months works best.
Once you have a working definition of what your inactivity level is, you can then work to build your re-engagement program.
Step 2: Develop the program or campaign to execute a re-engagement strategy
This is where you can get creative. You can consider a single or series of emails, or something more elaborate like a multi-channel campaign with a microsite, discounts, or promo codes if they're higher value inactive subscribers.
For example, Pinkberry re-engaged with their subscribers with a free yogurt that was added to their "Pinkcard."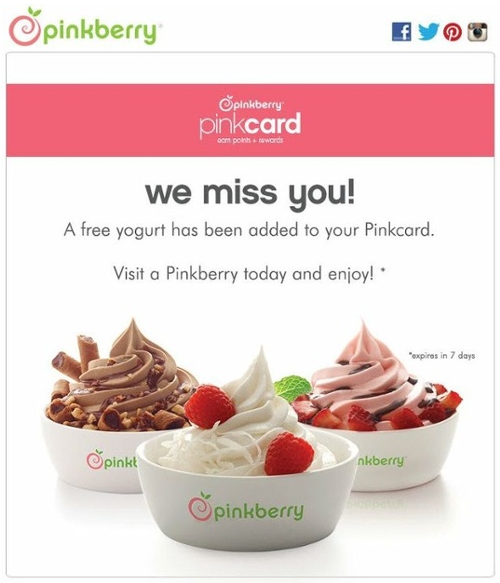 A simple B2B example is Vital, a design and marketing agency out of New Hampshire. They sent me an email not too long ago asking if I was still interested in their content.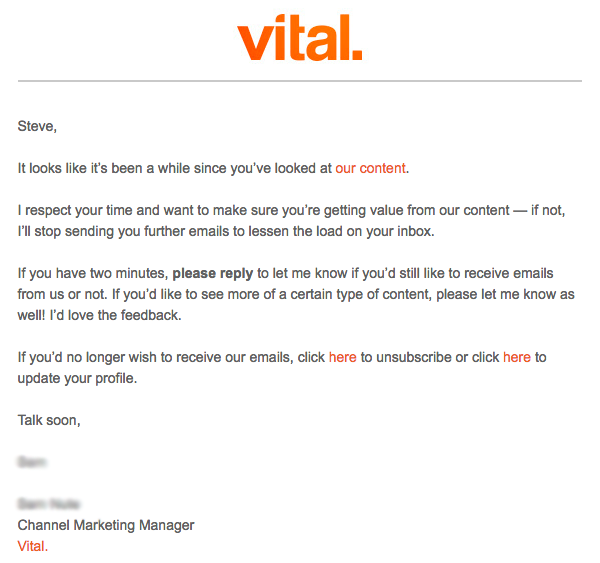 The point is you can be as simple or as elaborate as you want to be. It all depends on how much you value these subscribers. For less important subscribers (or lower tiered), you can maybe offer something like Vital sent above. If it's a very high value subscriber, maybe it can be a microsite devoted to a reason they became a lead in the first place.
Step 3: Develop a program or campaign for saying goodbye to your inactive subscribers
Sometimes these subscribers will simply not want your content or respond to your best efforts for re-engagement. You have to decide whether or not to delete them from your database or not.
There's a pro and con to this decision:
Pro
You're keeping an extremely clean database and this can cut down on costs, as well as keeping your overall database health high. This also decreases the overall amount of work you need to do to maintain a cleaner list
Con
While it's recommended that you remove them from your active lists, you don't have to delete them. There could come a time when they do open an email or click a link and they can automatically be moved back into your active list. This removes the possibility for missed opportunities.
A great way to do this is to run a series of programs in your marketing automation platform to flag these subscribers, run them through a re-engagement campaign, and based on their actions or inactions, you can:
Segment the active leads back into your general marketable list
Add inactive leads into a program or campaign to remove them from your database
Add them to a suppression or operational-only list so that they are not being marketed to, but sales can still reach out to them
There are additional options as well, but the point is to make sure you have a process in place for re-engagement and lifecycle management. It is just one of the key points of the following bonus section: maintaining good database management.
Bonus: Develop the Fundamentals of Good Database Management
Good database management plays a crucial role in the overall engagement of your email campaigns.
We've already discussed subscription preferences, segmentation and re-engagement strategies, which are all part of good database
management. Another area to focus on is accurate ROI reporting based on the performance of subscriber preferences, segmentation, and the success of re-engagement.
To get started, I would recommend reading Josh Hill's guide to database management. While it's focused more on Marketo, the same can be put together across other marketing automation platforms. You should follow five key steps:
Find the right leads to fix
Use automation to correct data values
Use data appending tools
Determine what you should automate
Do your research and test first!
Step 1: Find the Right Leads to Fix
Create a spreadsheet or table that reviews the overall impact of your database management strategy. Take the example below, breaking down your database into segments.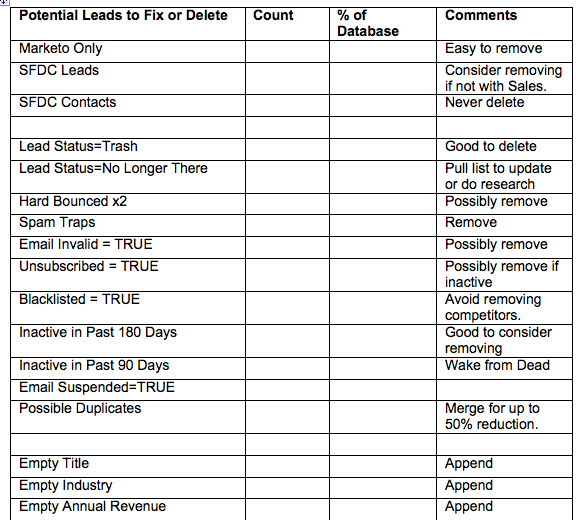 Step 2: Use Automation to Correct Data Values
Because customer experience and engagement has such a crucial impact on overall revenue and brand perception, a misplaced word or subject can cause major repercussions. That's why database cleansing can become very important. Make sure you associate certain subscribers and accounts into certain buckets with fields or values that can help to properly segment.
Step 3: Use Data Appending Tools
Another option is to use outside vendors that will append this data for you. Companies like Reachforce, RingLead, and CRMFusion all offer database management and appending services.
Appending data can be extremely helpful when you need more accurate information on your subscribers and customers.
Step 4: Determine What You Should Automate
Moving even further into database management, you can flag bounces, competitors, and spam traps, in order to prevent your database from becoming clogged with unhealthy subscribers.
Also, it's important to note that when you want to delete leads, you should always manually run a program or campaign, preventing the risk of mass deletion via automation.
Step 5: Do Your Research and Test First!
Piggybacking off of step 4, you must understand the potential repercussions of adding new database management programs to your automation platform. While automation can be extremely helpful for so many tasks, the flip side is that if put together incorrectly, it can create a quick mess of your data, leaving you with inaccurate information and potential deletion.
Summary
Now that you have an idea of what it takes to create a robust email marketing strategy and to fully understand email engagement, you have what it takes to go on and develop your own plan for success.
I know we've covered a lot and there are endless amounts of material out there that will expand on these core topics. But with the basics, you have a foundation to start measuring the engagement and performance of your emails.
Whether it's developing a newsletter welcome series, or setting a plan for segmentation and optimization, make sure you get buy-in from the major players that will be contributing to the overall success of this initiative.
Talk with your manager or VP, brainstorm with your operations manager (or team), and work with your data team to put a process in place to report on the performance of these emails.
As we stated earlier, "A riveting email is only as good as the revenue it generates."
Now you have the tools to prove that.
Steve Katz is NewsCred's Marketing Operations Manager.